In:
Today was a busy day spent in Nassau on Wonder of the Seas, filled with celebrations, entertainment, and great food.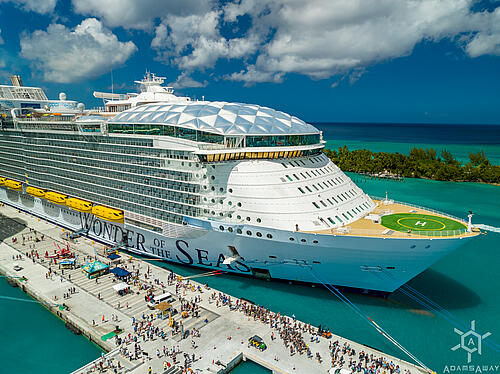 Photo by @AdamsAway
I started the morning with a workout at the rock climbing wall. If you go to the rock climbing wall (or any other signature activity) right when it opens, you'll find very few people there, meaning you can try the activity over and over again.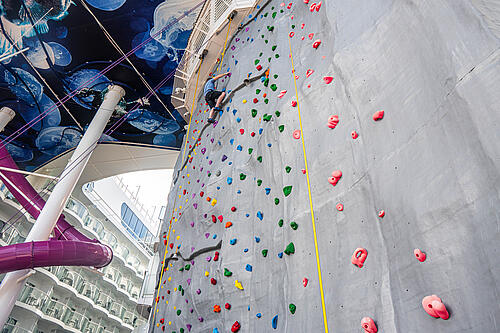 We were sailing into Nassau as my workout ended. Each time I sail into Nassau, I am intrigued by the strip of land on Paradise Island where Royal Caribbean will build the Nassau Beach Club. I think this area will really enhance Nassau as a cruise destination for both guests who are visiting for the first time and those who sail to Nassau frequently.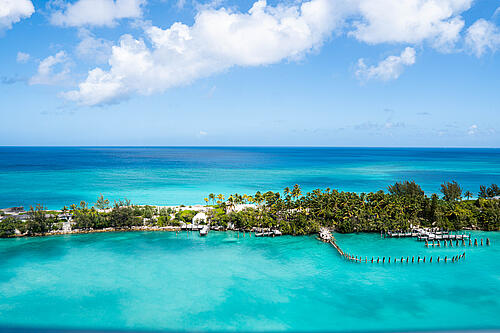 Today we had a full day of activities planned in the Bahamas. We took part in a tour of a few locations in Nassau to learn more about how Royal Caribbean contributes and works with the Bahamian people and institutions.
Our tour started off with a catamaran ride in Nassau harbor, offering views of all five ships docked in Nassau today.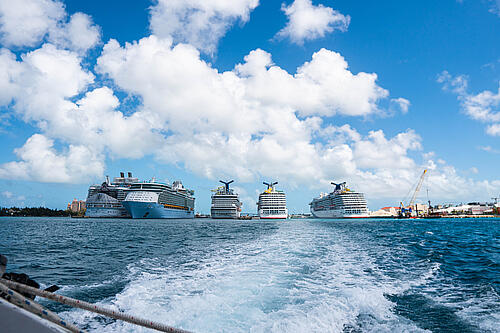 The first stop was the LJM Maritime Academy. LJM aims to be the leading maritime institution in the Caribbean region, producing seafarers and industry leaders. The academy has a three year Cadet Officers Training program, in which students obtain a Diploma in Nautical Science of Marine Engineering. Following the LJM academy, graduates work on ships around the world.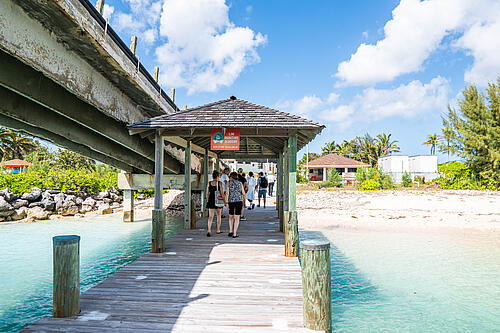 Royal Caribbean aspires to add more diversity to its bridge crew by training and hiring Bahamian officers and seafarers. They offer select scholarships to students who will work on a Royal Caribbean ship after graduation.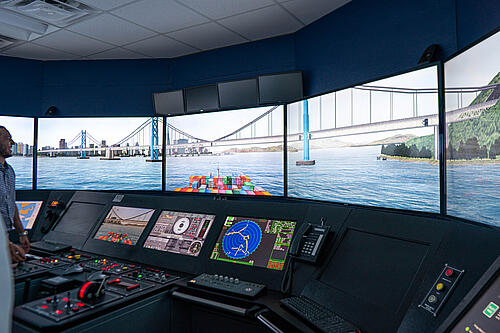 The academy has extensive training facilities for both traditional classroom material and hands-on simulation. One interesting facility was a simulation room of a bridge, in which students can train to sail in over twenty locations around the world, practicing maneuvering in and out of port and working with the equipment. Weather conditions can be modified as well, simulating a real life maritime experience for students.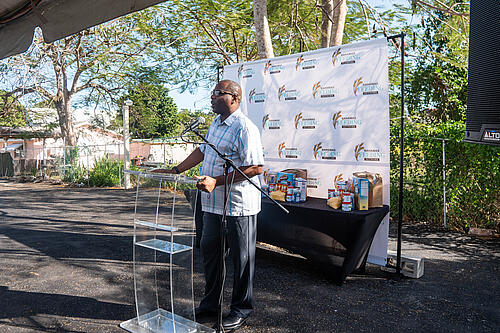 Following the LJM Maritime Academy, we headed to the Bahamas Feeding Network, a nonprofit organization that distributes thousands of meals per week throughout Nassau. Royal Caribbean is a significant donor to the Bahamas Feeding Network.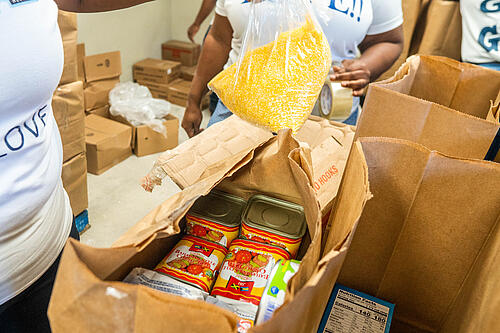 In April of 2021, in fact, Royal Caribbean donated over $1.5 million worth of food to the nonprofit, enough for 2 million meals.
Our last stop on the tour was to John Watling's Distillery. Here, we heard from Cherelle Cartwright, founder of Mamma Sassy's Gourmet Foods. Cartwright's pepper marinades were recently selected to be distributed on Royal Caribbean's ships, following a tasting competition to ensure the best of the best would be sold onboard.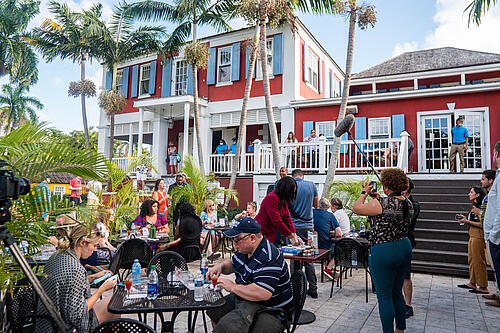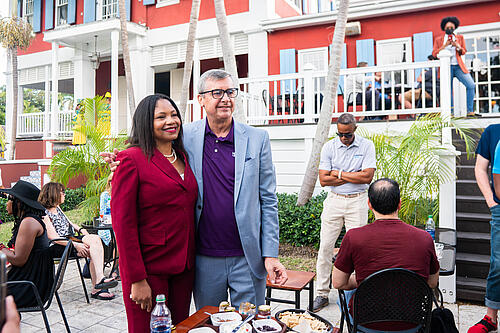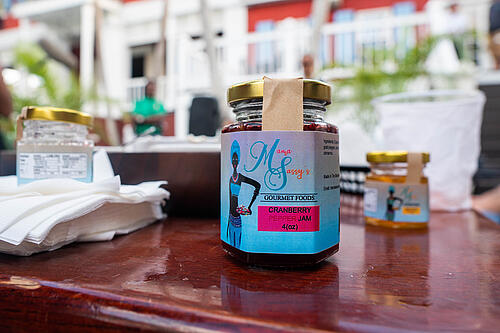 Royal Caribbean aims to include more products from small businesses in its onboard shops, and Mamma Sassy's products will soon be available to purchase on ships in Royal Caribbean's fleet.
Following lunch was a colorful performance by Junkanoo dancers. We then continued on a tour of John Watling's Distillery, where we were able to dip our own bottle of rum in wax.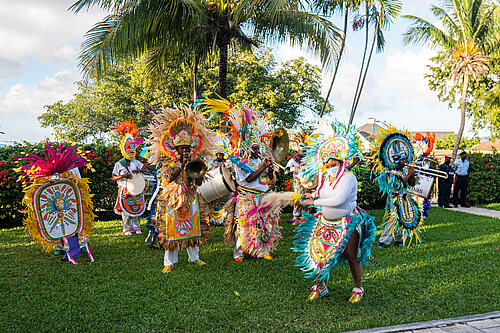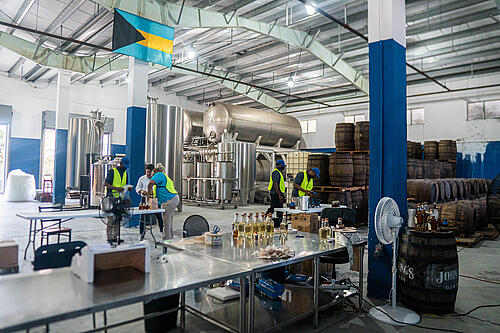 John Watling's Distillery is a free activity to do in Nassau, with complimentary tours of the facility available as well. The property is beautiful, historic, and has green space where visitors can relax. A bar is located at John Watling's, too, so visitors can order a signature cocktail while taking in views of Nassau.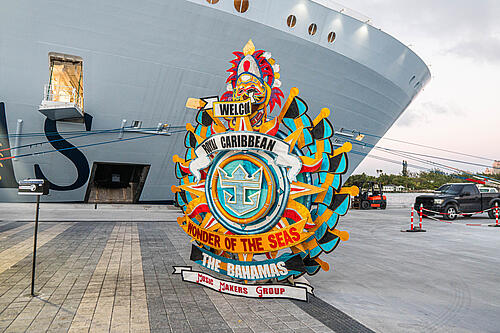 As we arrived back at the port, a celebration was waiting for us. As this is the first time Wonder of the Seas has docked in Nassau, there was plenty of excitement for her arrival. Local vendors were set up on the pier and a Bahamian band played for a few hours.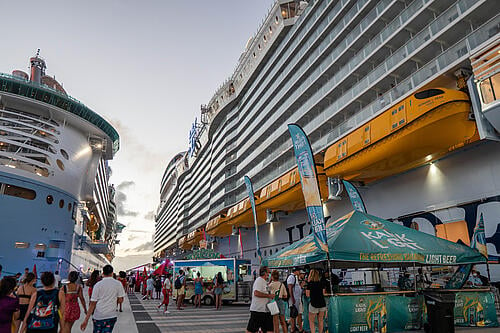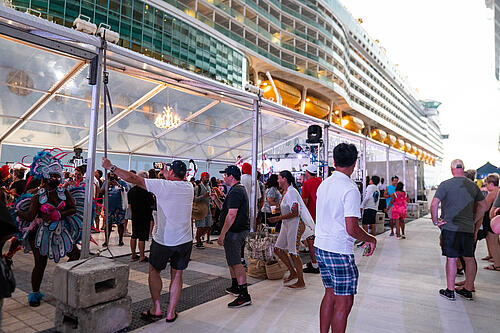 Plenty of guests from Wonder of the Seas and Freedom of the Seas (docked next to us) were outside enjoying the party, and the band was fantastic!
Back onboard, I headed to Solarium Bistro for dinner. As usual, the Mediterranean-style buffet offerings were delicious, with the hummus, falafel, and breaded zucchini being the highlights.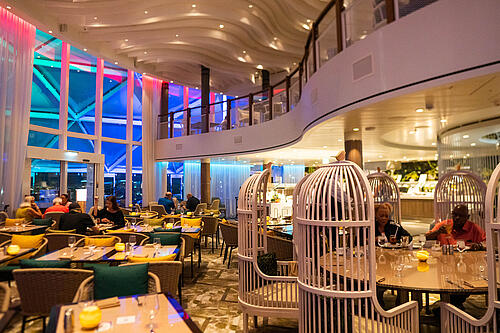 I then went to the inTENse AquaTheater Showcase and it was undoubtedly intense! While the full show is not yet ready, the first fifteen minutes were performed by the all-female cast. There was so much happening on the stage, from a swinging basket to divers and an aerialist, that I found myself constantly wowed throughout the performance.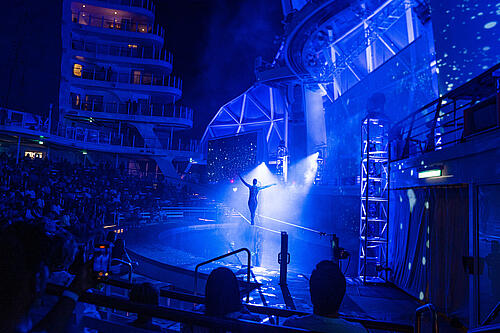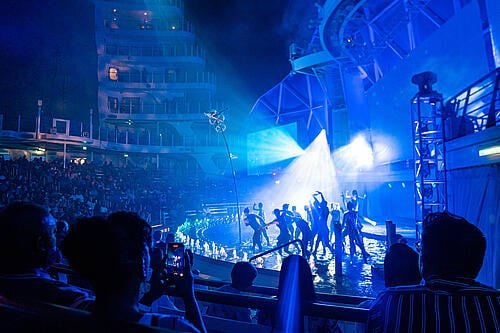 Because the full show is not ready, Royal Caribbean brought in two other performers to add to the showcase. First was a highliner whose tricks and skill walking on a slackline sixty feet in the air was truly jaw-dropping.
Next was a performance from Viktor Kee, a Ukrainian juggling extraordinaire. His performance and skill juggling up to five balls at once was absolutely unbelievable. I had never seen anything like it before and, like the rest of the show, I was completely blown away.
If you have a cruise booked on Wonder of the Seas, you definitely cannot miss inTENse.
Have you seen our full ship tour of Wonder of the Seas? Check it out on the Royal Caribbean Blog YouTube channel:
Stray Observations
Sailing on an inaugural cruise is definitely a different experience than a normal cruise, but I've enjoyed the increased celebrations throughout the week and excited energy from guests and crew onboard.
Solarium Bistro is an under appreciated dinner option on any Oasis or Quantum Class ship. It's complimentary and, while served buffet style, offers a more formal atmosphere than the Windjammer.