In:
While Royal Caribbean's Wonder of the Seas is front and center at the moment, there's still other things happening in the world of Royal Caribbean that you should know about.
Of course, if you want to read more about Wonder of the Seas, check out photos from around the ship!
In an effort to highlight some other changes and happenings, this blog post summarizes the changes from this week that may not have made big headlines.
If you ever have a news tip, feel free to email it to [email protected] for possible inclusion in a future update!
Lounge access is back for Pinnacles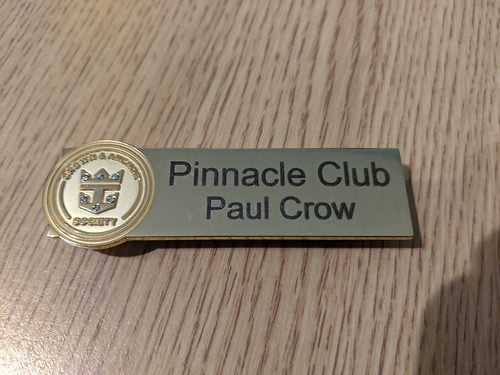 The top cruisers in Royal Caribbean's Crown and Anchor Society loyalty program  got some good news this week.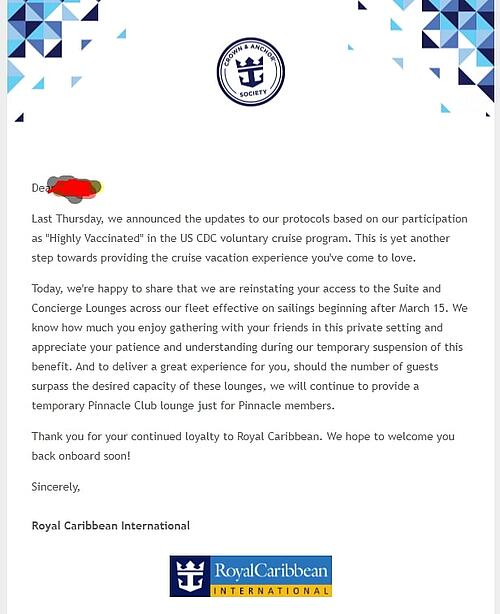 Due to Royal Caribbean's participation in the CDC's "Highly Vaccinated" program, the cruise line can now reinstate access for Pinnacle Club guests to the Suite and Concierge Lounges across our fleet effective on sailings beginning after March 15. 
Should the number of guests surpass the desired capacity of these lounges, the ship will continue to provide a temporary Pinnacle Club lounge just for Pinnacle members.
US prevents Ukrainian and Russian crew members from getting off cruise ships
One consequence of the Russian invasion of The Ukraine has been seafarers from those countries are not allowed to disembark the ship in U.S. ports.
Royal Caribbean International President and CEO Michael Bayley explained that this new rule is not a cruise line policy, but instead a new policy of the U.S. Customs and Border Protection.
"All foreign crew are typically granted a visa and entered into the USA as seafarers and are processed and given a I95 form. Kind of like a permission slip to go ashore in USA ports.  

"Our latest information to be confirmed, is CBP (U.S. Government agency) has stopped shore leave and repatriation for all Ukrainian and Russian crew. This impacts all seafarers.  
"We are working with our Government relations team and industry to see if this can be relaxed.  They are free to come and go in all other non USA ports (so far)."
Save $50 with a promo code
A RoyalCaribbeanBlog reader spotted a new promo code that might save you a little bit of money on your next cruise.
While browsing Royal Caribbean's website, em.down.the.rabbit.hole saw a popup to sign up for $50 off their next cruise booking.
The voucher code appears to be only for Americans, but promo code "WELCOME" is good until it expires on March 8, 2022.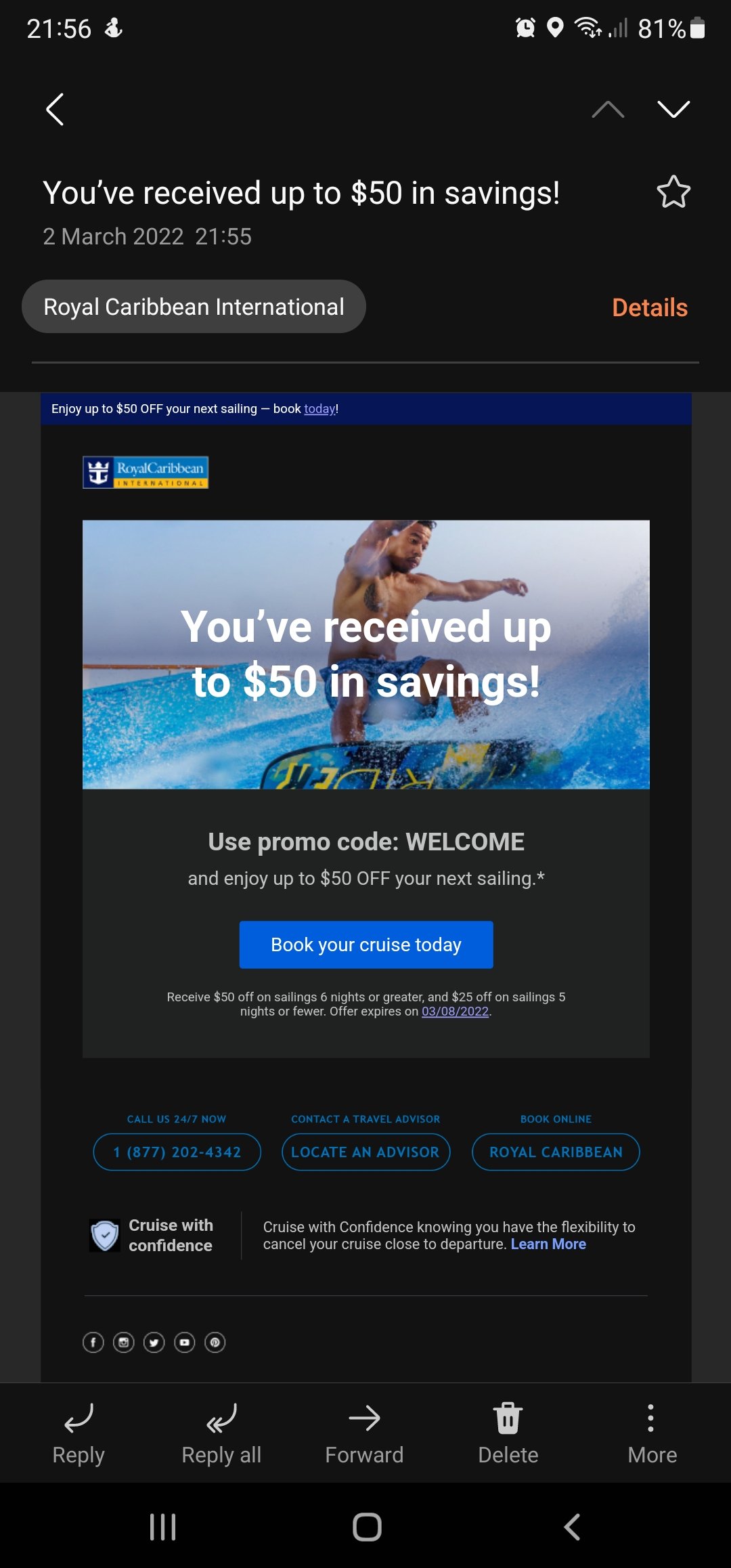 The fine print says it is $50 voucher for sailings 6 nights or greater and $25 off sailings 5 nights or fewer.
I can't promise it will work for you, but give it a try!