In:
Before the cruise industry shutdown, I did a short cruise (almost always a three-day weekend on Navigator of the Seas out of Miami) about once a month for over a year. In addition to my trips on the Navigator as a solo cruiser, I did an occasional longer trip with my son on a variety of other ships including Independence, Explorer, and even once on Majesty).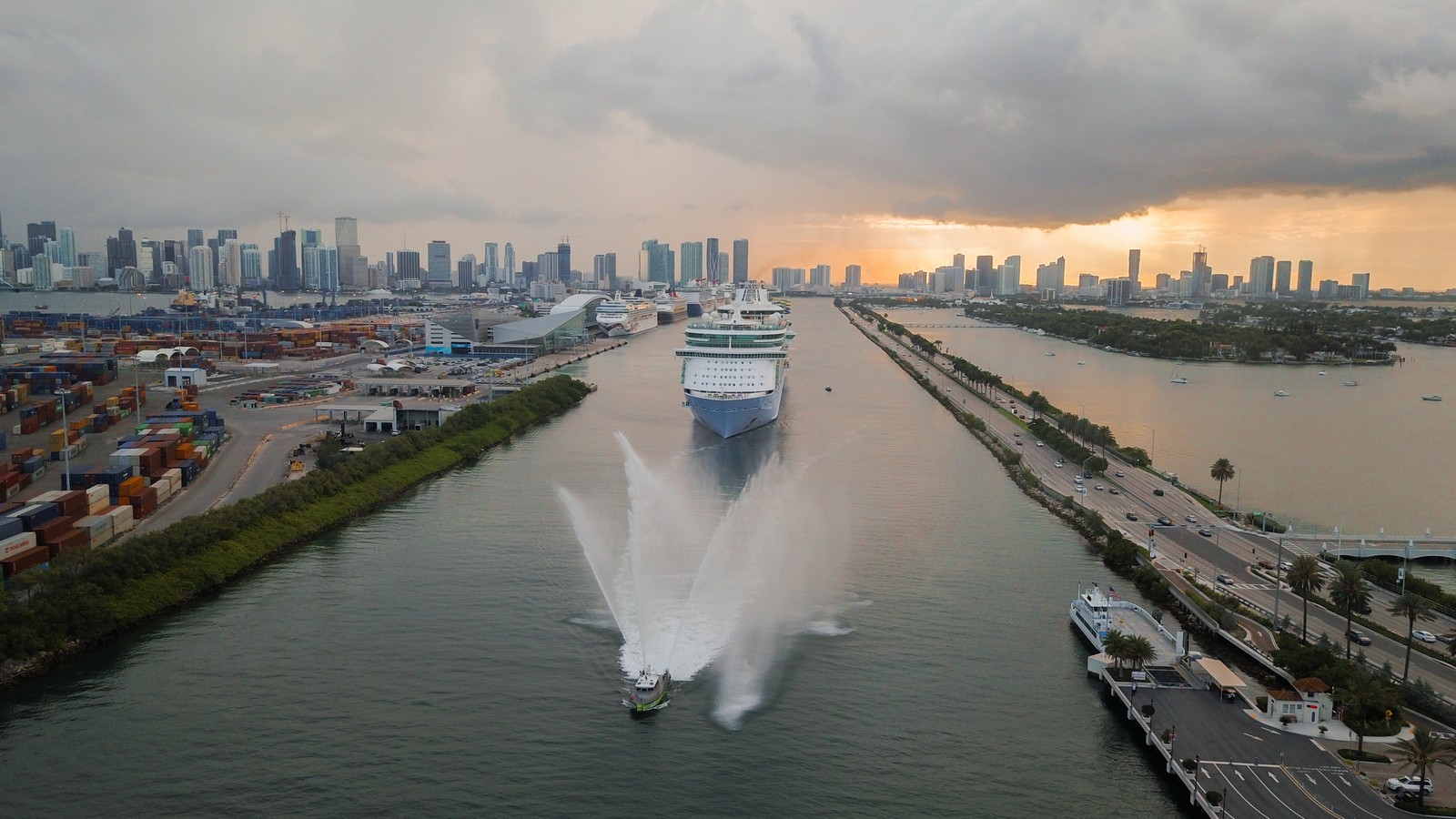 When Royal Caribbean began its comeback in July, I was lucky enough to be on the first revenue sailing of Freedom of the Seas over the 4h of July holiday. That trip was tremendous fun, but it also wasn't typical of what cruising would be like as the company mounts its comeback because that trip had a lot of Royal Caribbean executives on board as well as some celebratory touches (lobster on the opening day buffet, free drinks on the 4th of July during the fireworks display) that are not part of the new normal. In addition, that July 2 Freedom sailing did not have a typical crowd as there was a large media and social influencer presence onboard.
My most-recent trip -- Sept. 13-17 -- on Freedom was, perhaps more typical of what it's like to cruise now and, while it was one of my favorite trips ever, there were some things that remain different from the pre-COVID world.
Protocols and testing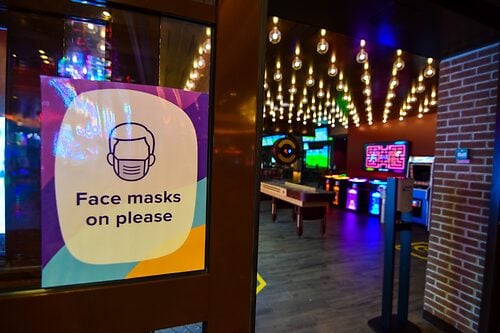 New requirements from the Bahamas made it so every person over 12 on-board had to be vaccinated and show proof of vaccination (a CDC card) when boarding. Passengers were also asked to upload pictures of their vaccination cards when checking-in for their cruise but doing that did not exempt you from showing it three separate times during the onboarding process which was perhaps more times than will be typical because there were computer issues at Terminal A in Miami when we boarded.
All passengers also needed to show proof of a negative Covid test taken one or two days before the cruise. I used the Royal-approved at-home test and that was a very easy process. In theory you could show the email you got with your negative results but having it printed out made the process go much faster. In fact, printing your set-sail pass also led to getting processed and boarding faster.
I carried my luggage on-board, but people who used the porter system seemed to get their bags very quickly because there were only an estimated 1,300 people on board (roughly 33% capacity). Boarding times were semi-strictly enforced but because the computers were down there was a line for my 2:30 boarding time when I arrived at about 2 and I was actually at my room a few minutes after 2:30.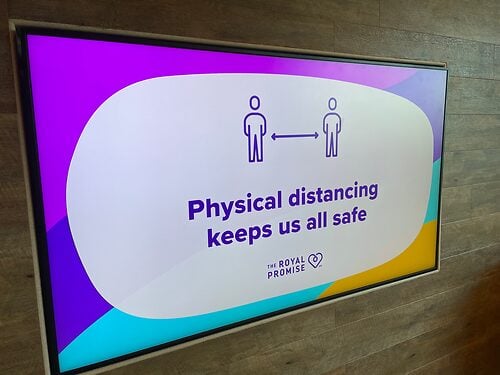 Masks were not required in the outdoor part of the queue and there wasn't much distancing. Once you entered the terminal masks were required until you reach your room. In general, you had to wear a mask walking indoors but could remove it in vaccinated venues, which were most of them aside from Playmakers which allowed masked, unvaccinated kids under 12.
In a broad sense, wearing a mask wasn't as enforced as it was on the July 2 sailing. This wasn't an official change in policy, but when people forgot to put their mask on or had it on incorrectly, I did not seem them corrected as they were on my previous trip. Still, most people wore masks when walking indoors and nobody seemed to be overtly ignoring the rules.
Fun, sun, and a whole lot of water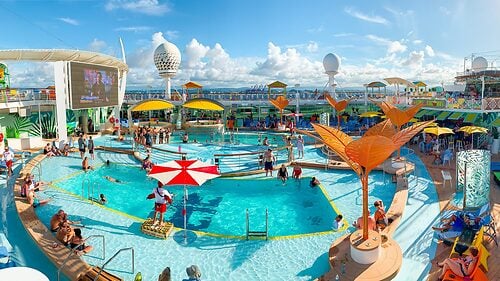 Despite the well-below capacity crowds, the beautiful weather made the pool areas very popular on the first day of the cruise, which was a sea day. The main pools had a healthy crowd and there were times the Solarium pool had limited open space along the walls or seated areas. There were even a few times when the Solarium hot tubs were filled to capacity (meaning there was no place to sit as no capacity rules were enforced),
Still, at no point did the pools feel crowded and getting a chair in a desirable location was easy. It rarely took more than a minute or two to get a drink at the various pool bars (and being a responsible reporter I believe I tried them all). Lines were limited at the walk-up soft-serve station and, while El Loco Fresh sometimes had a bit of a crowd, it was quick by normal standards even with crew members serving passengers instead of the normal self-serve procedures.
I spent most of the sea day bouncing between hot tubs and pools. It was busy enough to have people to talk to (something I find important as a solo traveler) but never crowded. The only notable difference aside from crowd size is that on my pre-pandemic trips there were generally more movies playing on the poolside screen with more showings of each film. This trip had a couple of movies each night but lacked the daytime repeats and the overall number of films screened was smaller than usual.
What was the crowd like?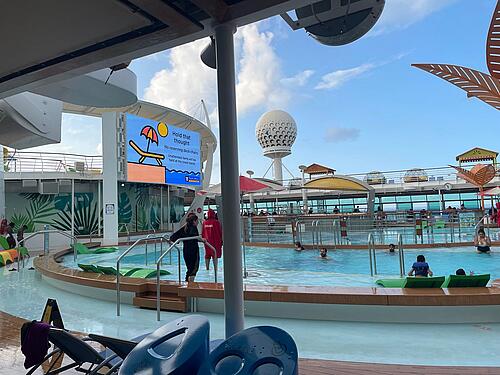 Many of the people onboard were frequent cruisers and a lot of the people I met were not on their first sailing this summer. Much like the July 2 sailing, the passengers appeared very happy to be there and people were very friendly. 
I had joined a pre-cruise Facebook roll call for the trip and that group did an unofficial meetup at the Lime and Coconut pool bar on the first afternoon. It was a well-attended kickoff and the group got together in various combinations throughout the cruise getting bigger along way as we added new people we had met. 
One of the nice side effects of there being fewer people on board was that it was almost impossible to avoid seeing people you knew. I'm a pretty outgoing guy and generally make friends onboard, but this was the first time I have ever been part of large group that remained loosely affiliated for an entire trip (and I suspect this will be the most people I ever keep in touch with post-cruise). 
There were very few kids onboard with most that were there being below school age since this was a weekday trip.
Way too much food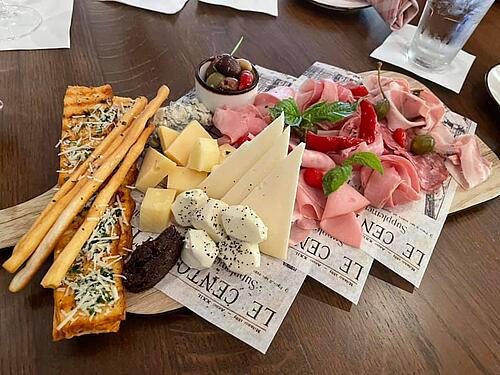 Normally, I start my cruise in the gym (as a way to avoid the buffet) but I was not that disciplined this time. Instead, I went to the Windjammer and sampled a few dishes. Since it was already about 3 p.m., however, I kept it to a few bites. Service was quick with crewmembers dishing out the food and drinks. Seating was easy to come by even though half the tables were marked as not available due to social distancing
On my way into the buffet I stopped at Chops where the woman working the reservation desk greeted me by name and helped me make reservations for the next four nights. As a solo traveler I tend to book the Ultimate Dining Package as it was around $70 when I booked it (prices can vary a lot) and eating alone in specialty restaurants by yourself has always felt more comfortable to me than eating alone in the main dining room (especially now when singles are largely not being sit with larger groups due to the pandemic).
There was, however, a major change on this trip compared to the policies on my July 2 sailing -- Royal was allowing people not travelling together or on linked reservations to dine together. I found that out late in my trip after learning that some members of our informal group had been allowed to dine together in the main dining room.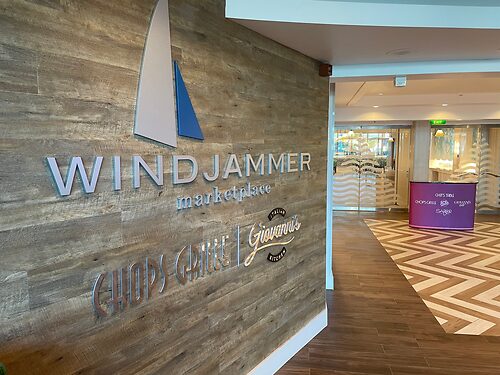 One of the big advantages (or disadvantages) of the limited number of passengers meant that you never waited for food. Places like the Promenade Cafe, El Loco Fresh, and Sorrento's, which often have long lines, almost never had more than a few people waiting. That made it way too easy add that post-midnight slice of pizza or pre-dinner dessert that you maybe didn't need.
I ate at Chops the first and last night and Giovanni's Italian Kitchen on nights two and three. Originally, I planned to eat at Izumi Sushi on one of those middle nights., but a scheduling snafu on my part led to a change in plans.
Dinner was largely excellent but the lack of crowds led to service being, perhaps, a little too quick. Dinner normally takes me closer to 90 minutes than 60 and I was in and out in under an hour all four nights.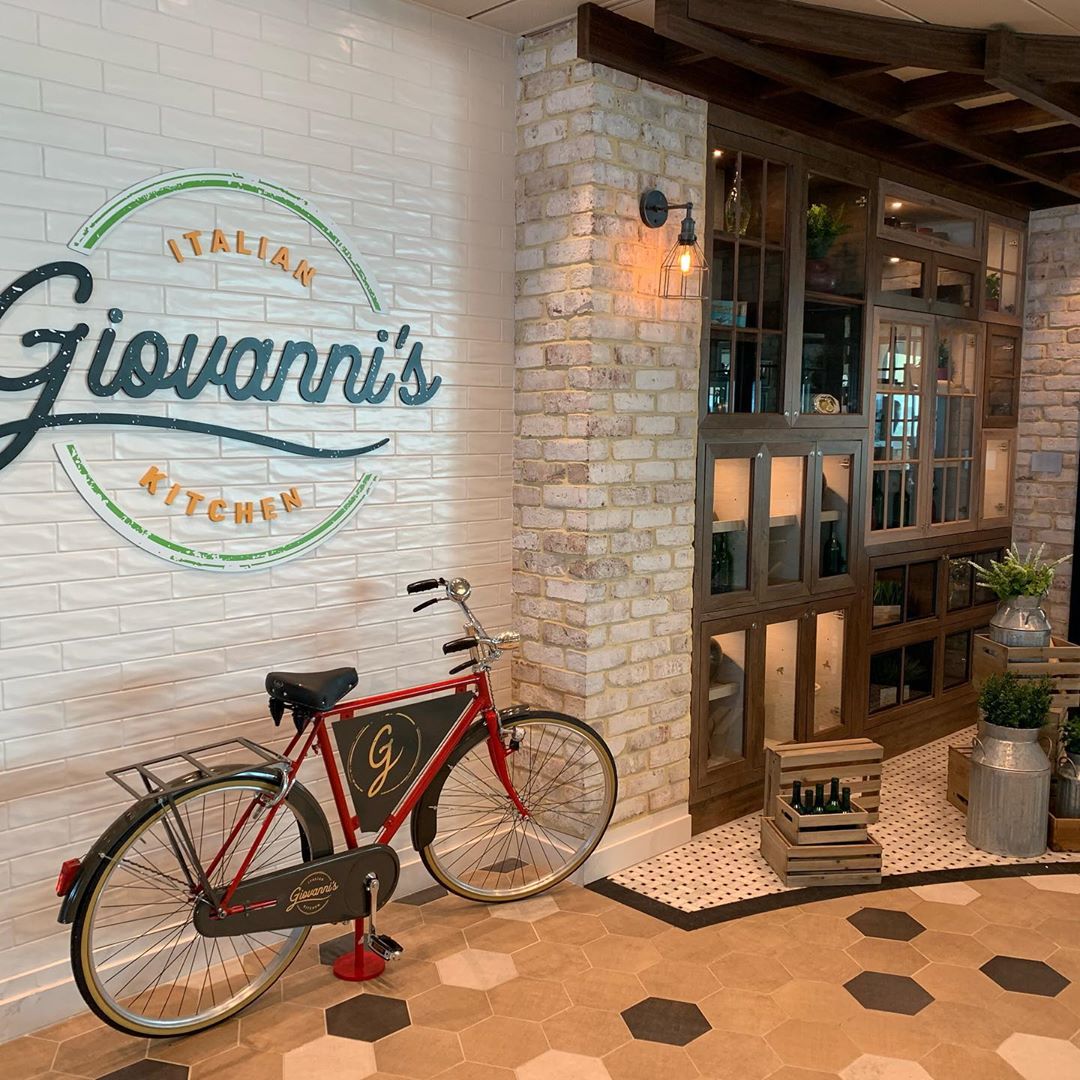 At Chops I had the wild mushroom soup both nights which may be my favorite dish in any Royal Caribbean restaurant I have sampled. I also particularly enjoyed the lamb chops the first night and had specifically saved the ribeye with the peppercorn sauce for my last night.
I treated Giovanni's as essentially two separate experiences going with the calamari and polenta as an appetizer the first night (alfredo dipping sauce is excellent, but I prefer the zesty marinara with the already fried dish) and had the linguine vongole as a main course. The sauce was light and the fresh pasta was cooked perfectly. 
For the second visit to the Italian eatery, I decided to sample the pizza (a first for me) going with the wild truffle which includes truffle oil, an egg with a loose yolk, and bacon. The runny egg made the dish truly decadent and I mopped up as much as I could though my waiter was surprised when I left a little less than half of the pizza unfinished.
Both Chops and Giovanni's excel at dessert, I got a shot of espresso all four nights and tried the Red Velvet Cake at Chops, the cannolis and tiramisu at Giovanni's and. A new one for me, the key like meringue at Chops on the last night which was a lighter complement to the ribeye that was my main course.
I skipped breakfast all four days instead opting for lattes (included in the drink package) at the Promenade Cafe while I got some work done for three of the four mornings. On the last day, for Perfect Day at CocoCay, I instead took my coffee to go and sipped it once I left the ship.
Perfect days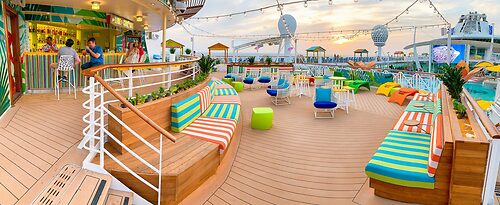 Our trip started with a sea day that I spent largely in the Solarium bouncing between the pool and the hot tubs. Conversation was plentiful and people seemed to be relishing getting back to cruising. This weekday trip did not have bachelorette parties, boys weekend groups, and other heavier partiers I saw often on the three-day weekend version of this cruise so, while drinks were flowing, I never saw anyone overtly drunk.
The lines were minimal everywhere on board and, while I'm not a waterslide or FlowRider person, those activities were easily accessible. I generally like doing a few trivia sessions on board and while some were scheduled, there were fewer than there were in the past. There was also no laser tag which has been missing since the pandemic (likely because it's impossible to distance while playing). 
In general, the activities were exactly the same as they were pre-pandemic with fewer sessions of some things and some minor changes like I mentioned earlier with fewer movies playing.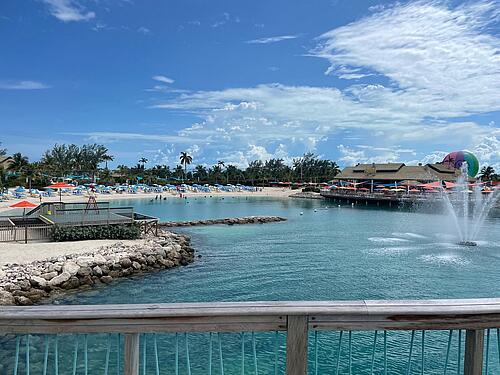 Like most of those onboard, I elected to not get off in Nassau as many of the shops remain closed and, while I enjoy walking about a mile to Junkanoo Beach, taking advantage of the semi-empty ship seemed like a better option. Nassau also has some pretty strict mask-wearing rules and the thought of being masked on a hot day when I could just opt to stay on-board was mildly unpleasant.
Our last day included a much-anticipated stop at Perfect Day at CocoCay. On the July 2 sailing, the Freedom was the only ship that stopped at the private island and with its limited crowd, it left CocoCay feeling very empty and since I was the second person off the ship, I literally had the Oasis pool to myself (well me and dozens of crew) for about 45 minutes.
This time, the Mariner of the Seas was also docked and while the island still had a very light crowd, it was busy enough to not feel empty. It was never hard to get a prime beach or pool chair (I never found it all that hard in the pre-pandemic days) and the bar was hopping at the Oasis pool with seats at the actual bar being the only tough get on the island.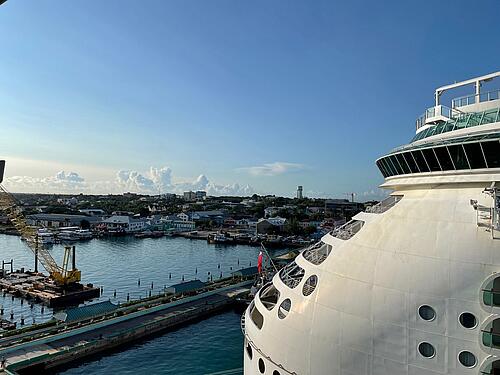 We closed our Perfect Day with a small meetup at Captain Jacks where the crowd was sparse but the music and service were top-tier. 
And perfect nights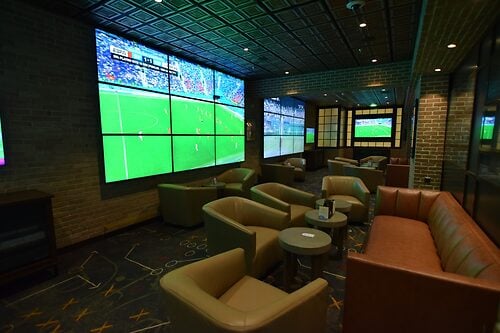 At night, I tend to skip the theatrical productions because when you travel on the same ship repeatedly the stock shows quickly become repetitive. Freedom did require reservations for the headliner shows but walk-ins were accommodated.
I tend to split my nights between the Pub, the casino, and the Schooner Bar, depending upon who's performing at the two music venues. In this case, I had seen John Winters in the Pub and Andy C. in the Schooner on the July 2 sailing and enjoyed both of their work. I spent more time in the pub, however, because I enjoy the mixology menu which might be the best drink selection of any Royal bar I have experienced.
The staff was incredibly attentive and almost too-quick to replenish your drink. They were, however, quite accommodating when I asked for a bottle of water with each drink (and requested they not bring me another until I finished it).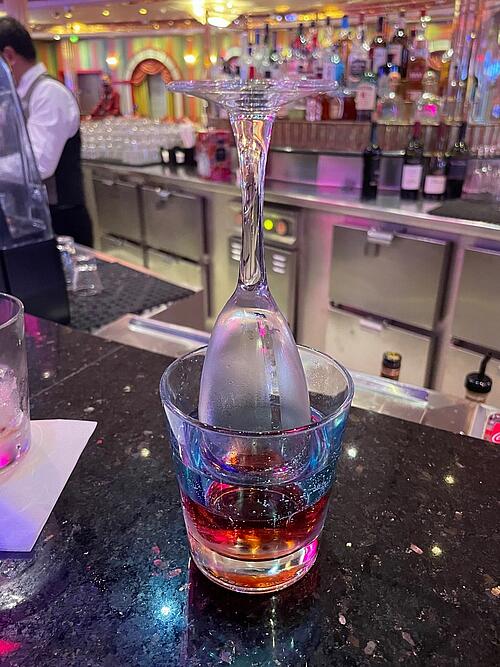 We also had a pretty neat experience in the casino bar when on night three we got stuck in Nassau until after midnight due to a passenger needing emergency medical treatment (I later learned the person involved was brought to Ft. Lauderdale and was expected to make a full recovery). A few of us were waiting for the casino to open and we had been asking the bartenders to make us drinks they thought we might like. Daria started making a few different concoctions that were well received, but Christian was the star of the night. He created the "Emergency In Nassau" which was a layered red and blue drink which mixed when you removed the champagne flute that was served with it.
The small crowds made it easier to connect with staff and from bartenders to waitstaff and room attendants, service was universally more able to talk than usual. 
As for the casino, it was never crowded, but always had a steady audience. My personal luck was mediocre, but it was easy to secure your favorite slot machine or a seat at a table game. Freedom, it's worth noting, has a ton of slot machines, but only four video poker machines hidden in a back corner.
Back to reality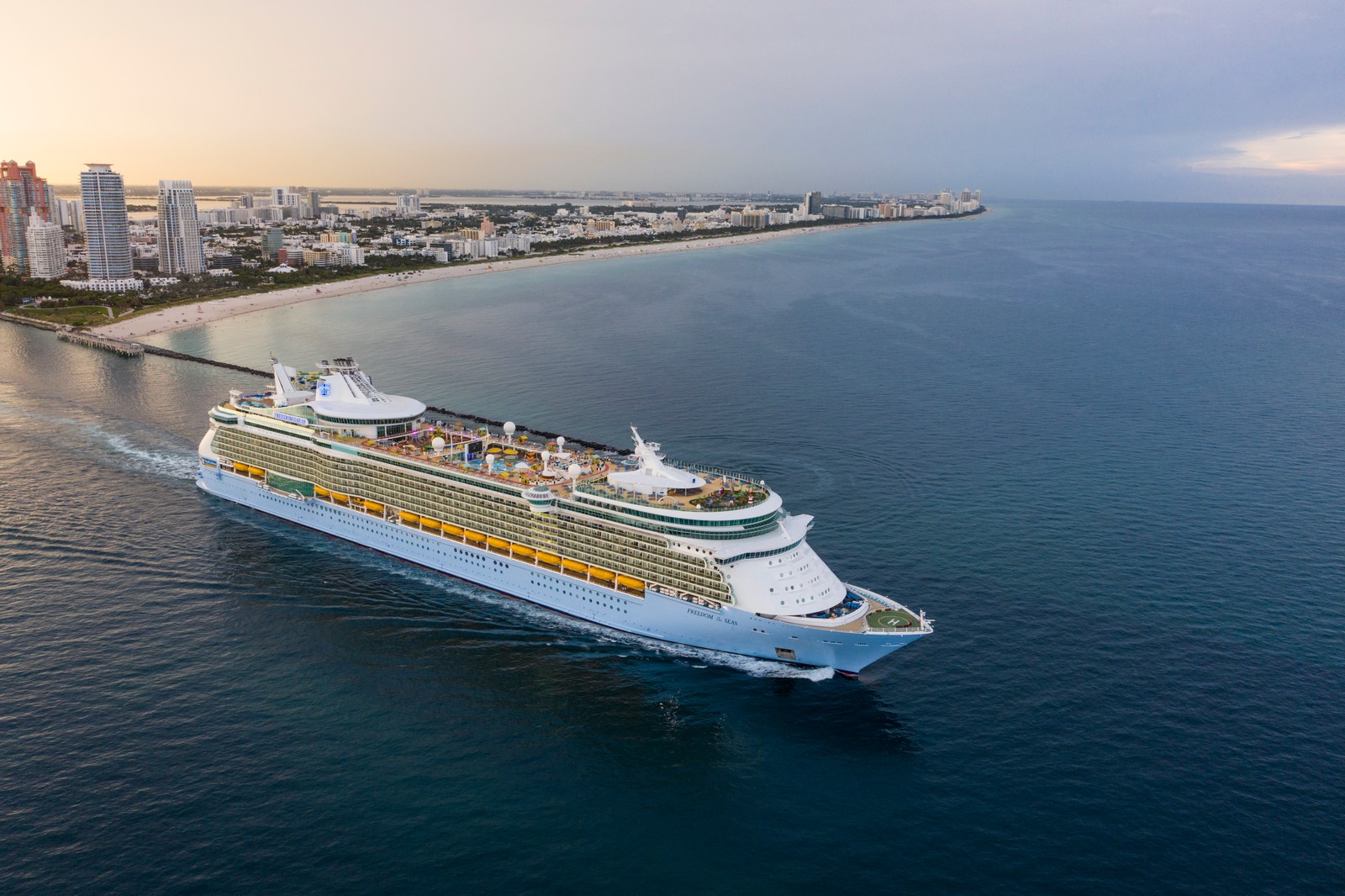 When we docked in Miami I planned to carry my luggage off to get back to my car to make the 90-minute ride back to West Palm Beach. You're supposed to stay in your cabin rather than line-up waiting for the all-clear, but I opted to get coffee at the Promenade Cafe (have to make the best possible use of the drink package) and, while I was drinking it, the doors opened to let people off.
Normally, Miami has a super-easy facial recognition system where you don't need to take your passport out. On this trip, however, I had the bad luck of being flagged (randomly, I think) for added security screening. The officer who pulled me in was super nice and asked if there was anything in my bags he needed to know about. Since I hadn't bought anything and the only addition was some beach sand, I said "no," and two officers went quickly through all of my belongings. It wasn't fun, but it was handled well for what it was and about 20 minutes after I would have gotten to my car had I not been flagged, I was in my car, heading for a long workday, and planning for my next sailing on Oct. 11 (also on Freedom).
Dan Kline covers the cruise industry as part of his work as a lead advisor for 7investing. He also hosts 7investing Now, a free show for long-term investors that airs Monday, Wednesday, and Friday at 1 p.m. ET which can also be found on all major podcast platforms.