In:
Royal Caribbean added a series of new protocols to its ships to detect Covid-19 cases early, and the system in place identified two unvaccinated teenage passengers who tested positive for Covid-19 on Adventure of the Seas.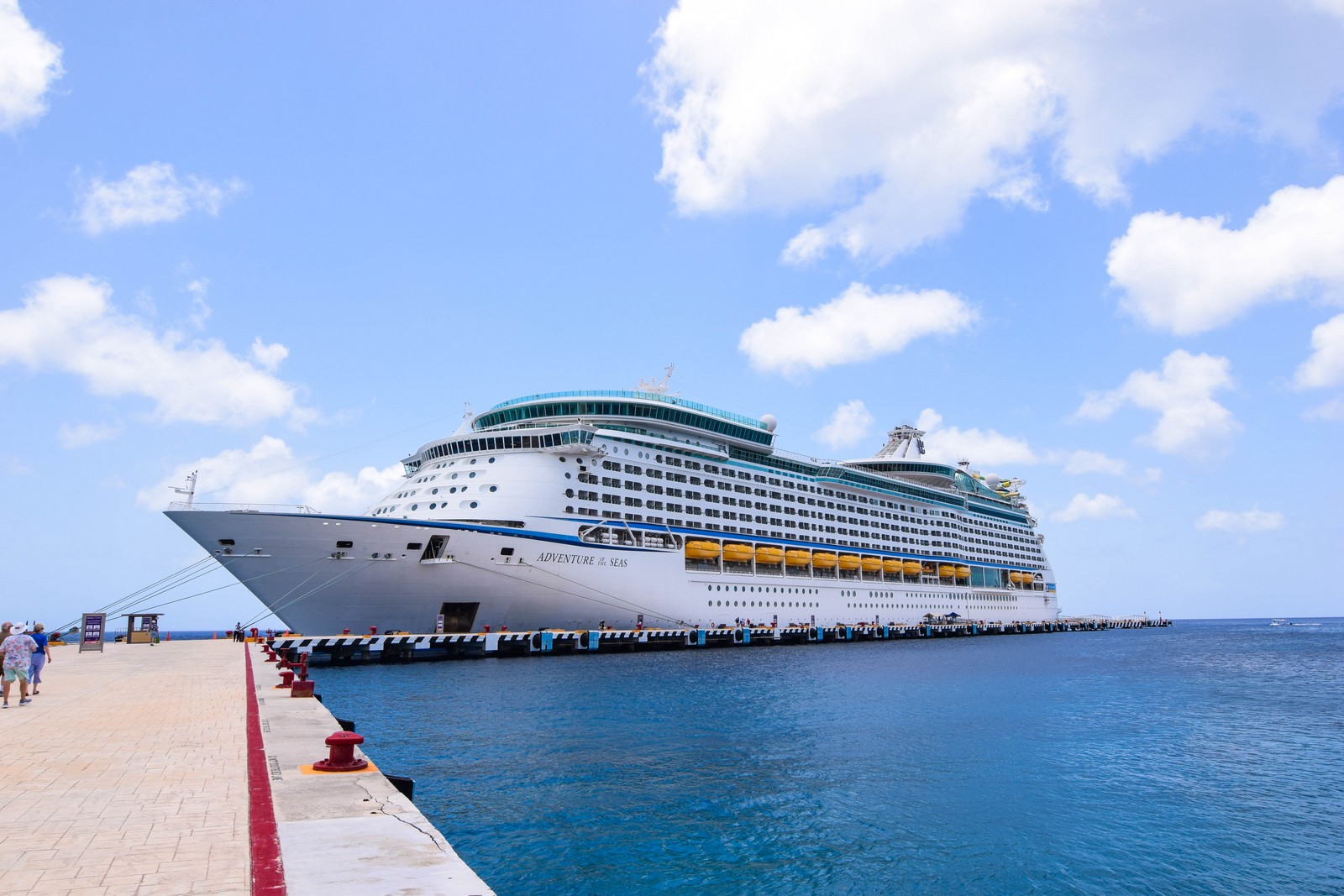 According to Royal Caribbean, two teenagers on Adventure of the Seas were in isolation and then disembarked in Freeport earlier today.
Their parents, who are vaccinated, tested negative.
As part of Royal Caribbean's multi-faceted plan in preparation for a scenario like this, the medical care and transportation home will be handled by the cruise line.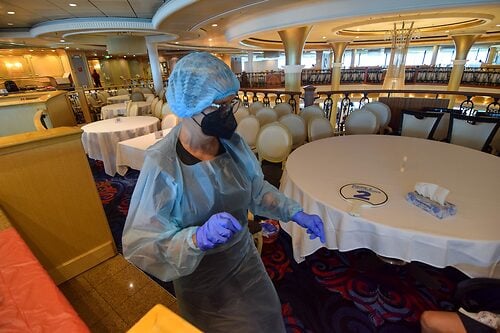 The cases were caught during end of cruise testing, which is required at the end of a sailing.
Here is Royal Caribbean's official statement:
Two guests on Adventure of the Seas tested positive for COVID-19 after routine testing that is required before returning home. Here are the facts:
Both guests, under the age of 16 and unvaccinated, were immediately quarantined. One guest is asymptomatic, and the other guest is experiencing mild symptoms.
Those in their immediate travel party are vaccinated and have tested negative.
Close contacts were quickly identified and tested. All are vaccinated and tested negative.
The guests and their travel party disembarked today in Freeport, The Bahamas and are on their way home to Florida. Ninety-two percent of our guests on Adventure are fully vaccinated and the remaining 8% are under 16 years old. One hundred percent of our crew are fully vaccinated.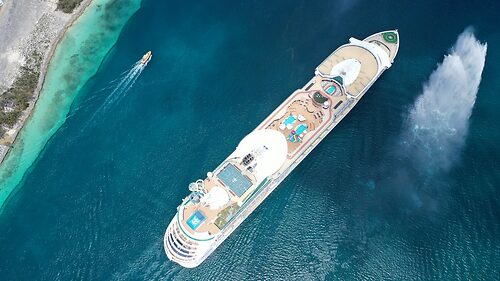 Adventure of the Seas is the first Royal Caribbean International ship to restart operations in North America, and she is on her second sailing back in operation.
On Adventure of the Seas sailings from The Bahamas, guests who are 16 years of age and older must be fully vaccinated against COVID-19, and those 12 and older as of Aug. 1.  In addition, anyone unvaccinated had to get a negative PCR test result in order to board the ship.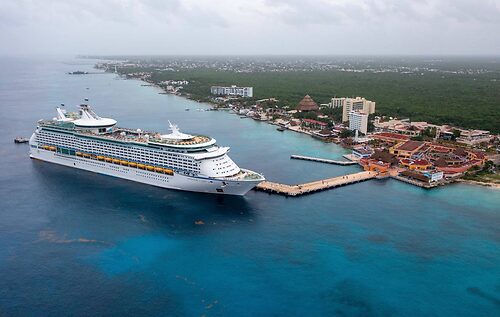 All crew members are fully vaccinated as well.
While the ship is sailing from outside the United States, Royal Caribbean's safety rules have been in development over the past year during the cruise industry's shutdown.  This includes testing, mandatory health screenings, online check-ins and contact tracing through CCTV cameras.
The ships have been upgraded to prepare for a situation like this, with immediate medical evaluations, rapid Covid-19 testing and dedicated zones for Covid-19 care, more critical care beds on each ship, and robust treatment plans.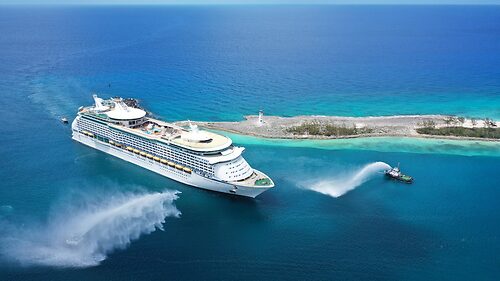 Royal Caribbean has been keenly aware of the statistical likelihood of positive cases onboard, but they worked on how to catch it early and avoid it becoming a major issue.
Royal Caribbean Group Chairman and CEO Richard Fain said the Health Sail Panel of health experts has worked on this specific contingency, "A really important part and a really big focus of the panel's effort was on how to respond if we do have a case that gets on board."
"We respond properly. We have a extensive contingency plan so that we don't have to go through one of these processes of quarantining huge numbers of people. We take care of the the the small number that we catch early and everybody else can go about their business."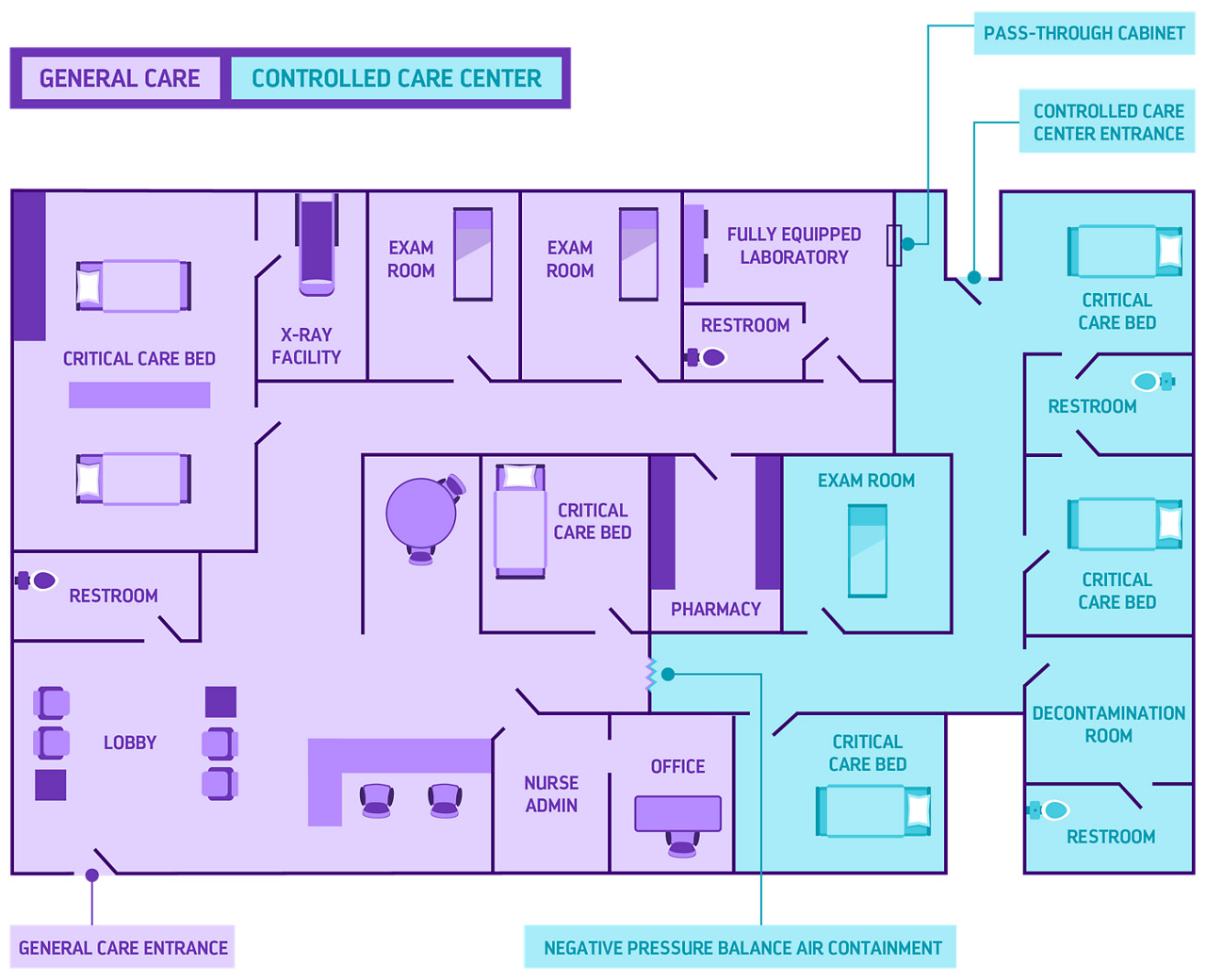 Royal Caribbean Group Senior Vice President of Shared Services Operations recently spoke about the importance of these protocols to keep crew members and guests safe.
"All of the different things that we've done technology-wise as well as with testing and safety, those are going to stay. Those are Royal Caribbean protocols, whether or not they're required of us or not," Ms. Hodges Bethge said.
"We feel very good that we have some of the strongest kind of processes of anywhere you go in the world today."
Response plan
Royal Caribbean developed a plan to respond to a scenario such as this, and coordinated these plans with the Bahamanian government.
According to Royal Caribbean's health protocols, in the event a guest tests positive for Covid-19, a "robust, tiered response plan" goes into effect.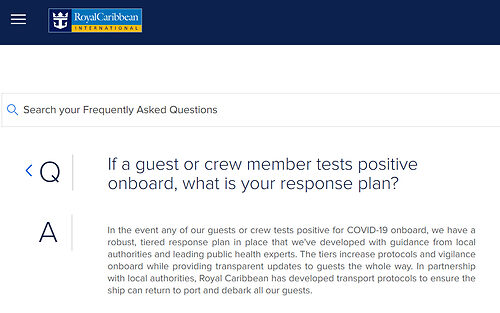 The tiers increase protocols and vigilance onboard while providing transparent updates to guests the whole way.
In partnership with local authorities, Royal Caribbean has developed transport protocols to ensure we can get guests home safely. 
In fact, Royal Caribbean identified early that being "stuck" in quarantine on a cruise ship was not something any guest wanted, and a result, Royal Caribbean has developed transport agreements with local authorities in a situation like this to get everyone home safely.