In:
One company claims to have developed an indoor air cleaning system that can zap away 99.9% of airborne COVID-19 virus particles from any indoor space within 30 minutes.
AtmosAir is the manufacturer of this bi-polar ionization technology, and it has caught the attention of plenty of companies that have large indoor spaces, such as cruise lines.
Norwegian Cruise Line Holdings recently announced a partnership with the company to install the technology on 28 cruise ships in the family of cruise lines, including Norwegian Cruise Line, Oceania Cruises and Regent Seven Seas. Virgin Voyages will also invest in it.
According to the South Florida Sun Sentinel, Royal Caribbean considered using AtmosAir's tech, but "decided there wasn't enough available research to justify adopting it."
Patrik Dahlgren, Royal Caribbean Group Senior Vice President for Global Marine Operations told the outlet they decided to upgrade its indoor air filtration systems using traditional filters capable of trapping virus-sized contaminants.
How bi-polar ionization works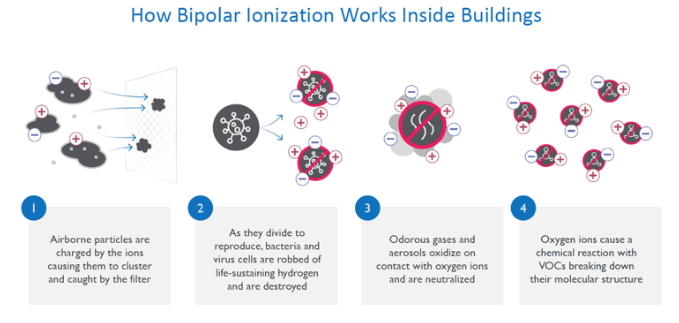 The AtmosAir Bi-Polar Ionization works differently from traditional air filtration. Instead of "catching" virus particles in the air, Bi-Polar Ionization sends charged ions out on air currents that damage the surface of the virus and inactivate it.
These ions travel into occupied spaces, bind with contaminants and pathogens, including coronaviruses, and break them down. Through naturally occurring chemistry, the contaminants are disinfected, and the air is purified to the level seen in most natural environments.
AtmosAir Solutions provided results of tests performed by the independent Microchem Laboratory, which evaluates sanitizing products, that found the technology reduced the presence of coronavirus by more than 99 percent within 30 minutes of exposure.
The technology is used at more than 7,500 locations across the United States, including Hilton and Marriott hotels, Walter Reed National Military Medical Center, Staples Center, Los Angeles International and more.
Royal Caribbean's air filtration plans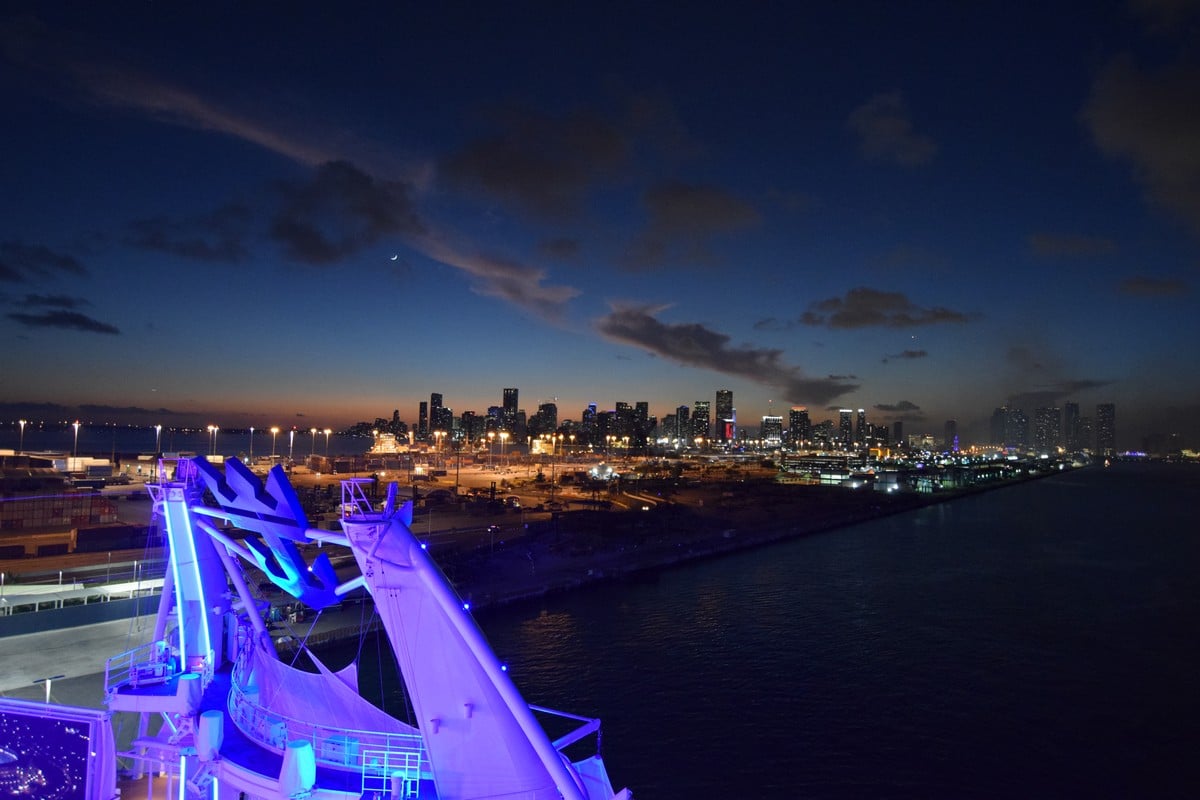 Royal Caribbean worked with the University of Nebraska Medical Center to develop an air circulation solution to keep guests safe.
They conducted a bioaerosol assessment on Oasis of the Seas.
This study involved releasing billions of 1µ aerosol-sized microspheres, each containing uniquely DNA barcoded inert virus surrogate, throughout the ship at certain pre-selected spaces (i.e., crew cabins, guest staterooms, and adjacent public spaces including the casino, Studio-B & Disco/Lounge) to determine the efficiency and effectiveness of the vessel's indoor air management strategies, as well as to understand the spread of the aerosols through the HVAC system and in between the adjacent private and public spaces.
The study found that it was necessary to utilize a HVAC system on its cruise ships that changed the air in the room at least 6 times or more and used a filter with a MERV rating of 13. Doing this cleared the virus droplets from the air in about an hour.
This study confirmed that cross-contamination of air between adjacent public spaces is extremely low, and undetectable in most test cases, thanks to this powerful system.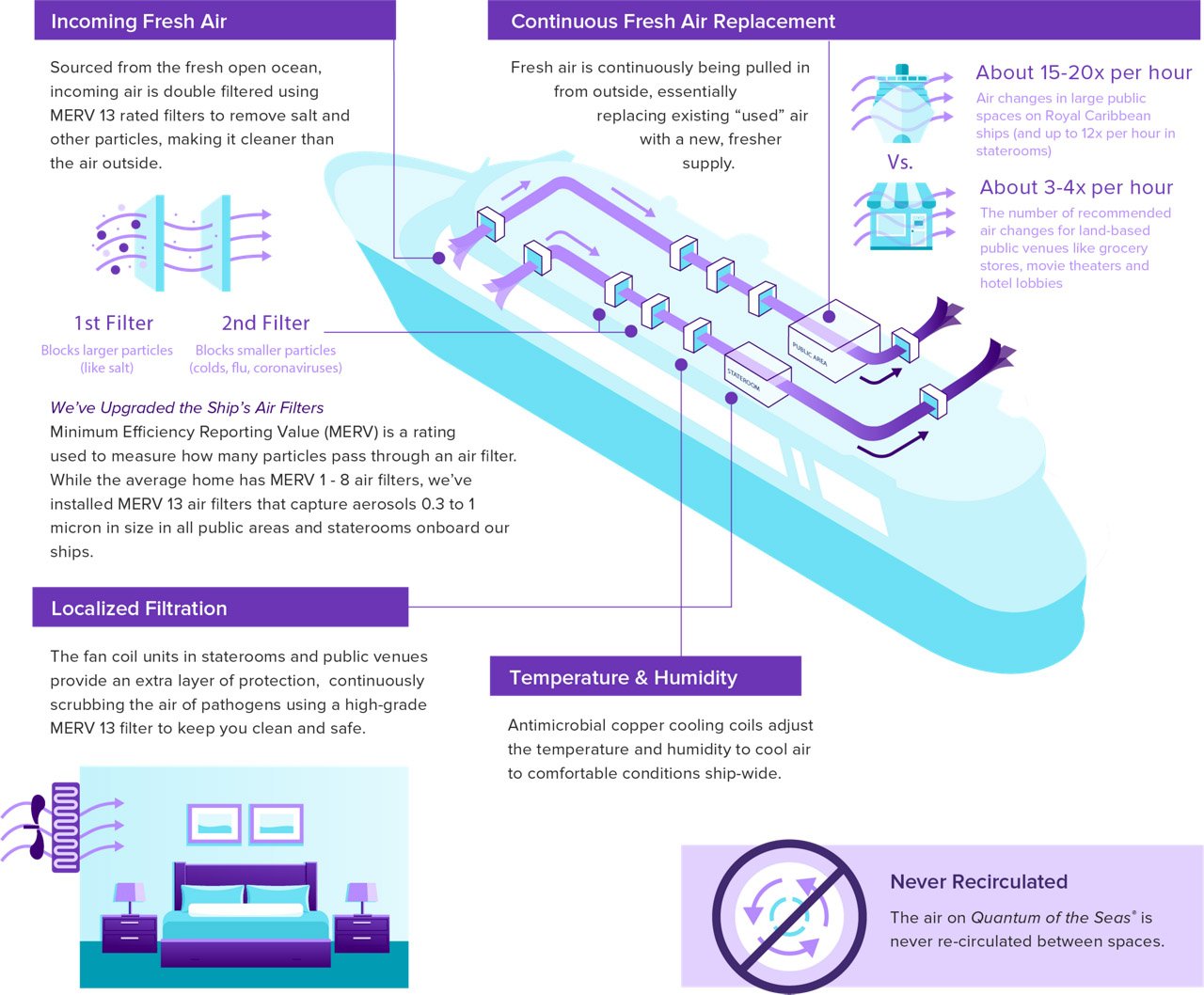 Air filtration is just one part of what Royal Caribbean's plans are to handle airflow on its cruise ships.
The Healthy Sail Panel panel of health experts recommended 7 important steps to manage indoor air.
1. Use HVAC filters with highest level possible (MERV 8 to MERV 13)
2. Optimize airflow so that air is not recirculated.
3. SARSCoV-2 isolation rooms are consistently at negative pressure.
4. Maximize air changes per hour and filtration of air in staterooms, crew rooms, and public areas.
5. Isolation rooms in medical facilities on board should have 6-12 air changes per hour, be at a negative pressure to the adjacent area, and have 100% air exhausted to the outside.
6. Use portable HEPA filters in congregate areas.
7. Reducing indoor functions whenever possible in favor of outdoor activities.