In:
Royal Caribbean International President & CEO Michael Bayley took to social media to urge cruise fans to share their thoughts on cruises restarting, following a number of comments by a "a small anti-cruise group" against cruise lines.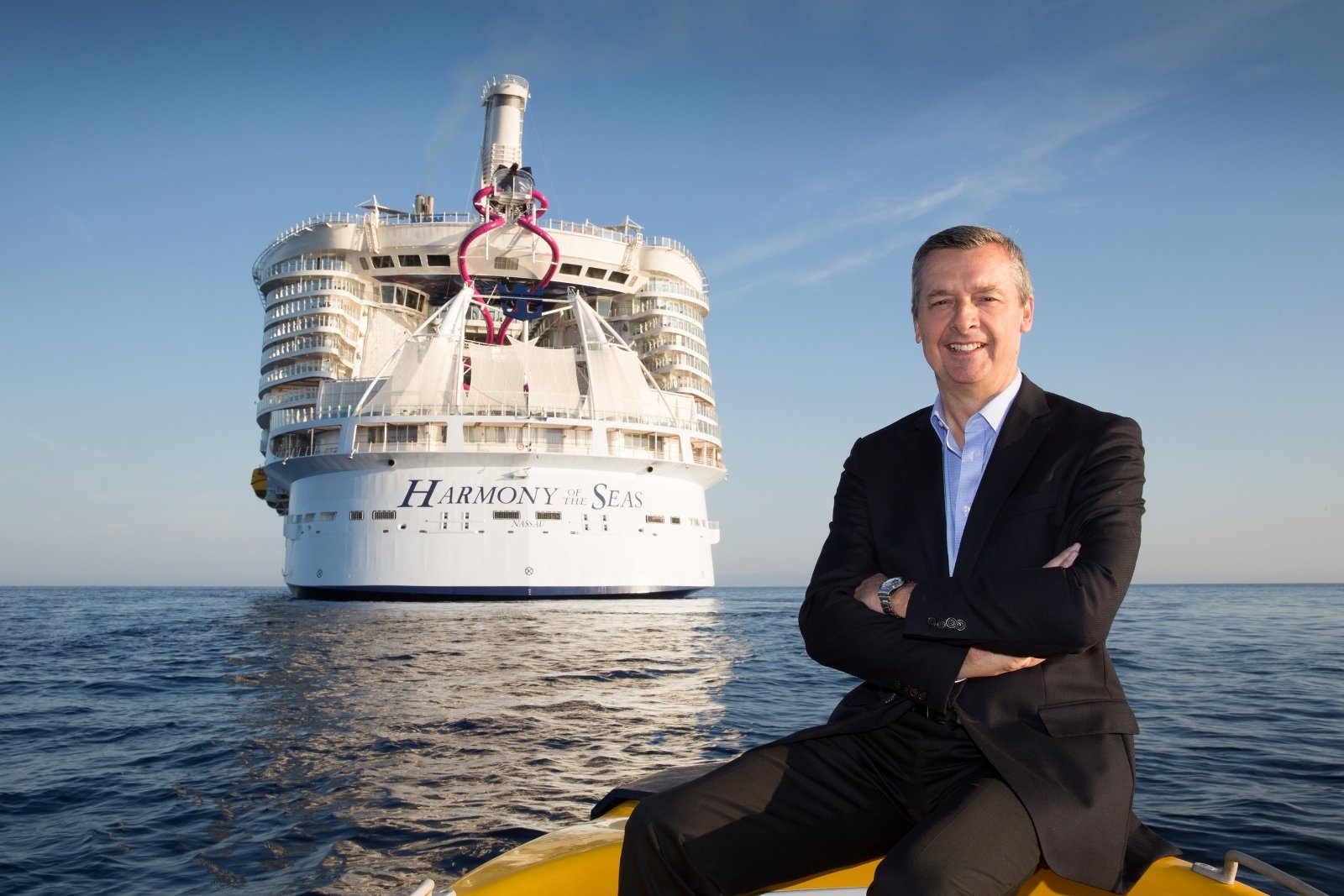 Mr. Bayley posted on his Facebook page a short message urging everyone to submit their comments to the CDC prior to the September 21st deadline for input on how cruise lines should restart cruising.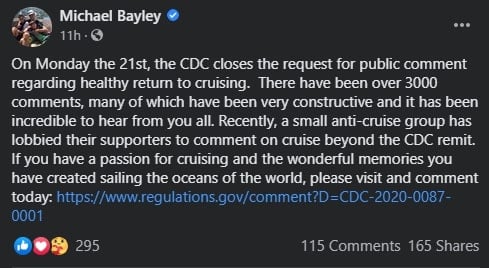 "On Monday the 21st, the CDC closes the request for public comment regarding healthy return to cruising. There have been over 3000 comments, many of which have been very constructive and it has been incredible to hear from you all. Recently, a small anti-cruise group has lobbied their supporters to comment on cruise beyond the CDC remit. If you have a passion for cruising and the wonderful memories you have created sailing the oceans of the world, please visit and comment today."
He did not mention the group by name, but sifting through recent comments in the CDC's database of public comments showed one such post by a member of the group Stand.Earth.
Visiting the group's website, there are detailed instructions for members to submit anti-cruise messages to the CDC before the comment period expires.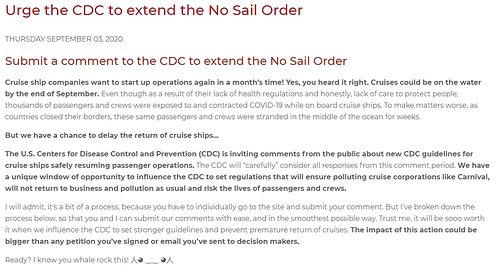 The group went as far as to not only provide instructions on how to access the comments, but also a series of talking points to that bring up a few tropes about cruise ships.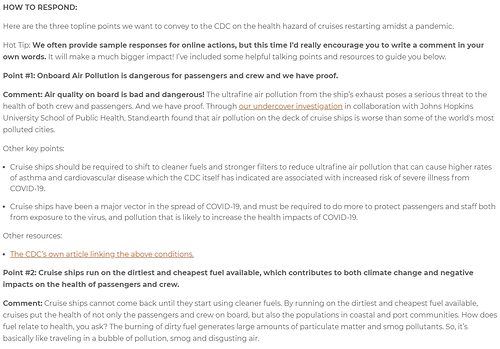 The group asks its members to point out air pollution, the type of fuel cruise ships use, and "multiple reports" of health issues on ships that have resumed cruises.
At the time of this post, a search of the CDC's website returned at least 63 submissions that included the Stand.Earth URL referenced in the submission.

The CDC Public Comment period ends this weekend, on September 21.
The CDC has said they will use these comments in formulating a new policy for cruise ships. According to their website, "This information may be used to inform future public health guidance and preventative measures relating to travel on cruise ships."
How to submit a comment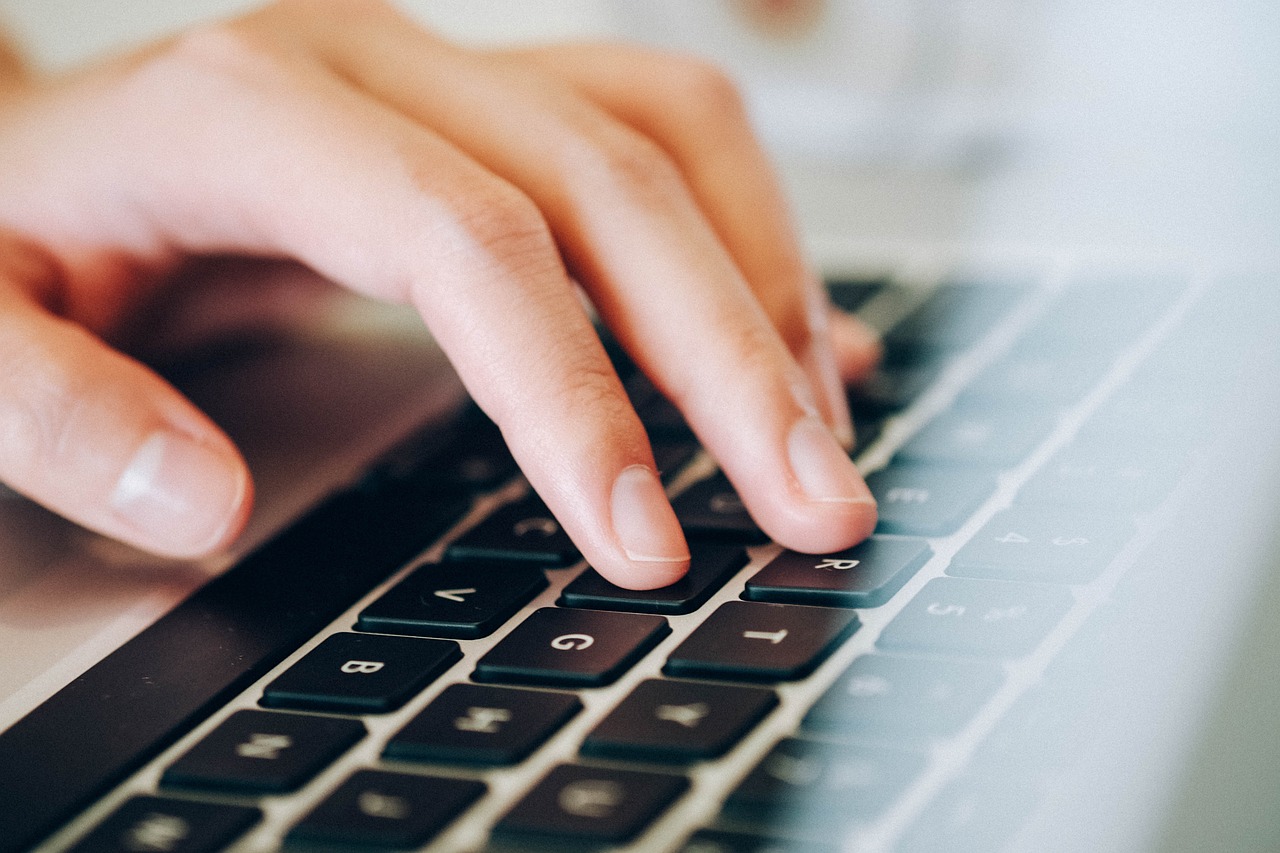 Submitting a comment on how cruises should restart to the CDC is pretty simple and you can do it all online.
To complete it online, visit the Federal Register's E-Rulemaking Portal by going to the U.S. Federal Register's website.
Be sure to use the Document ID to search for this page: CDC-2020-0087-0001.
You are allowed to keep your submission anonymous, or include your name with the submission.