In:
New cruisers often have questions about what to do on a cruise, but are to timid to ask if they are doing the right thing or not.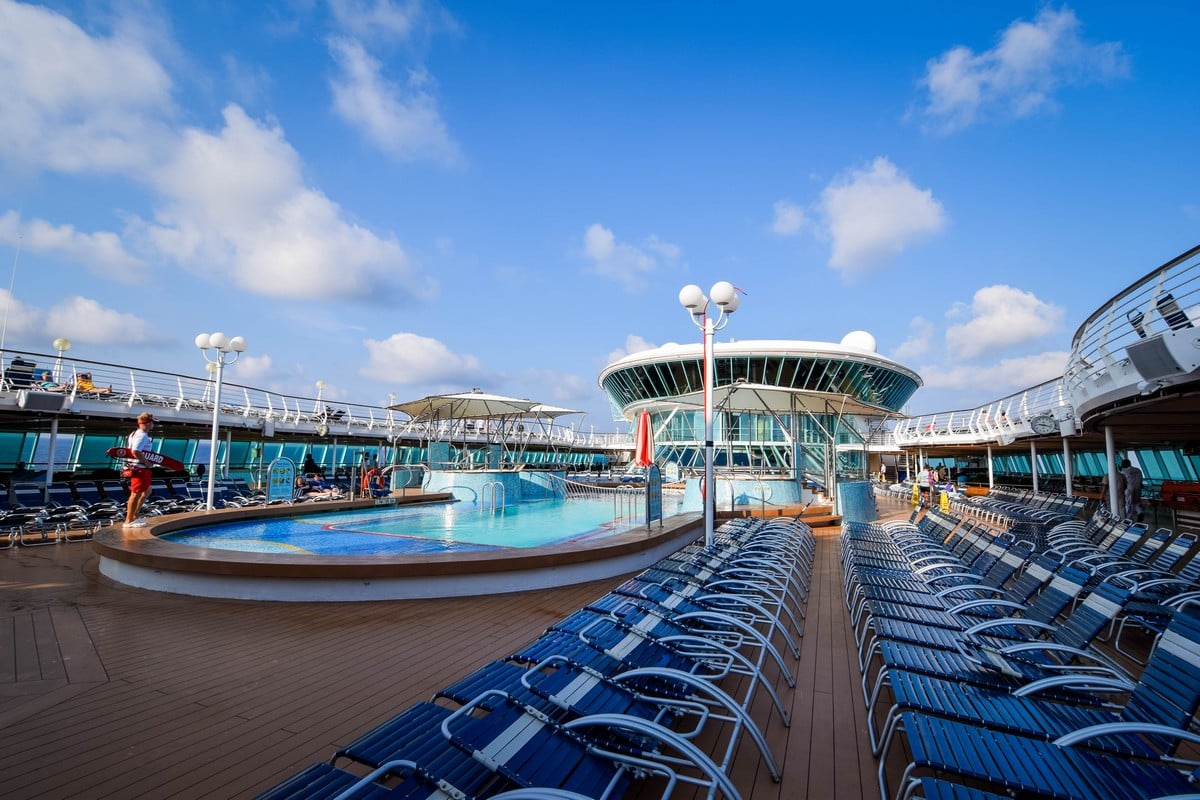 Cruises are a very welcoming type of vacation, but there are definitely some traditions and unwritten rules that you should be aware of before you step foot onboard.
If you are among the many people going on your first cruise, here are the top questions newbies have but are too shy to ask (so I will answer them for you).
How much food can I order at the main dining room?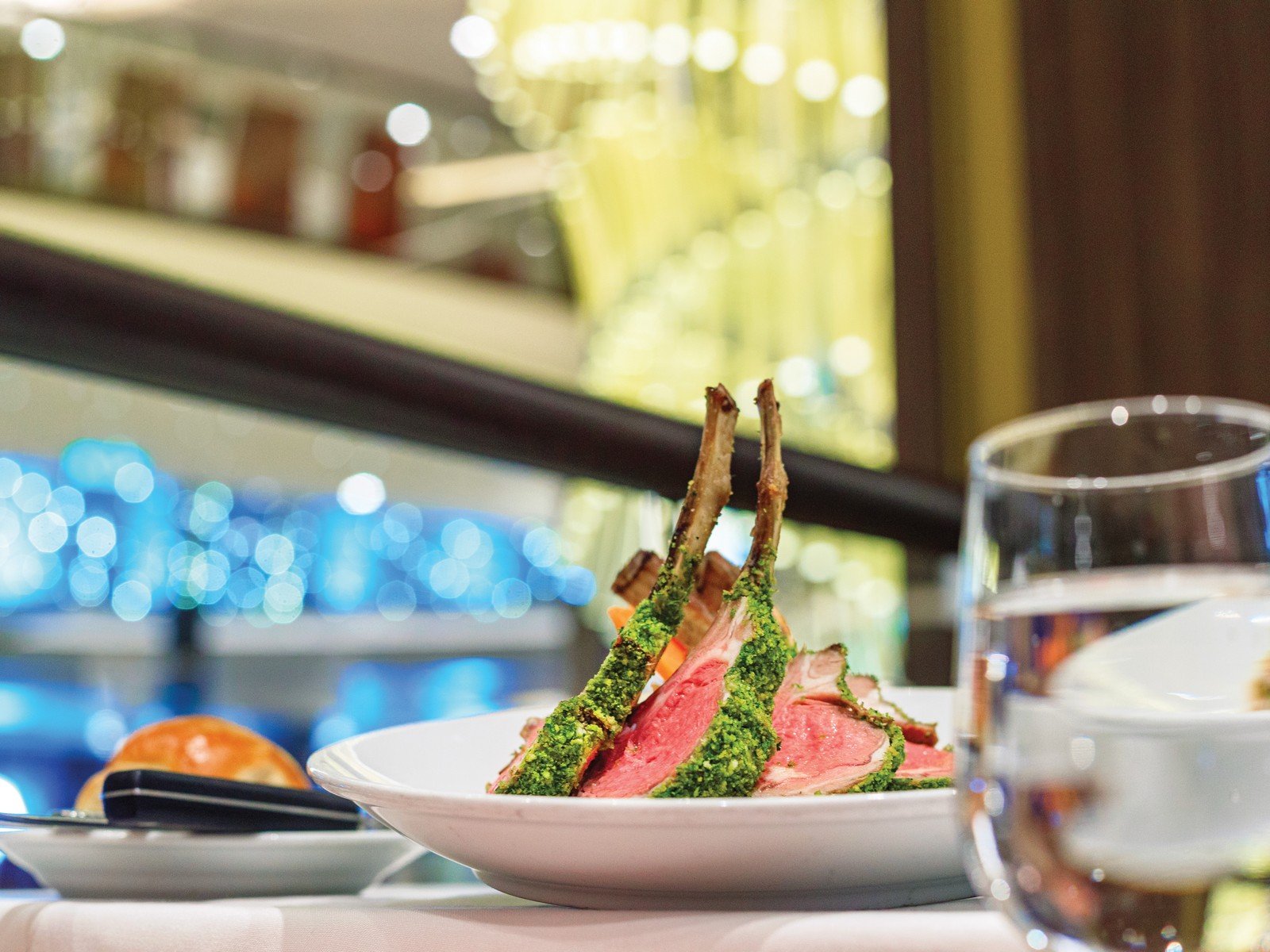 When you eat in the main dining room, nearly the entire menu is complimentary (there are a few add-ons for dinner that cost extra, like lobster) and you can order as much food as you want.
You can (and should) feel free to order as much as you want. In fact, the staff will encourage you to do so as a means of trying things out.
Unlike a land-based restaurant, the main dining room food is included and there are no limits on what you can order. Whether you cannot choose between two options, or want to nibble on a few different appetizers, you can order as much as you like from the menu.
You can even order more food in the middle of the meal.  If an appetizer or entree does not satisfy, you can always order something else off the menu.
Can I change tables if I don't like the people sitting with us at dinner?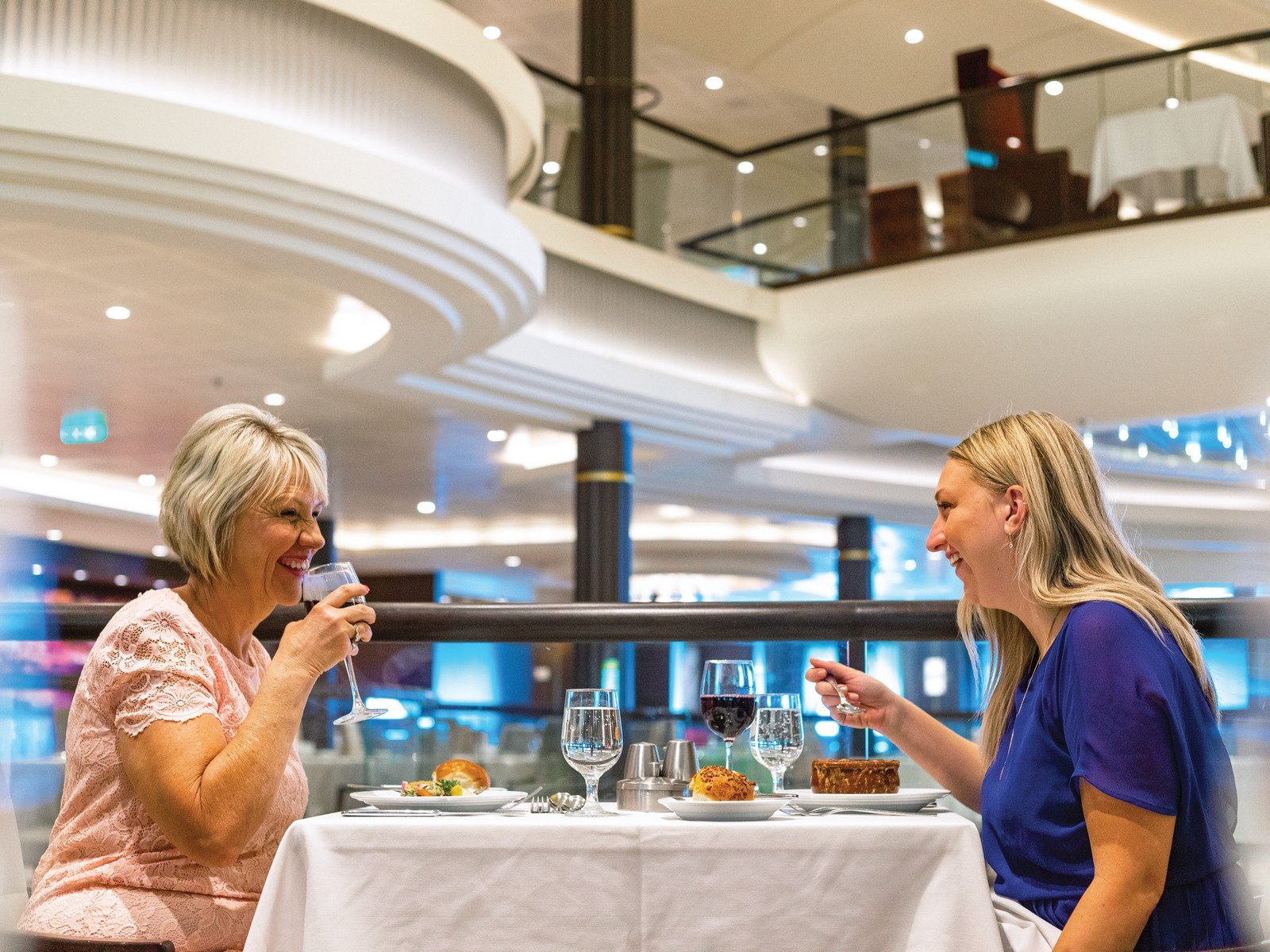 Meeting people on a cruise is a fun maritime tradition, but occasionally you might be seated at dinner with someone that just does not jive with your personality.
The good news is you can be re-seated upon request if the people you are seated with are not a good fit. All you need to do is speak to the head waiter and request a table change.
You might be able to get a table alone, or be moved to a different table with different table mates. Occasionally, you may need to change your dining time or between traditional and My Time Dining.
Should I pack beach towels for the cruise?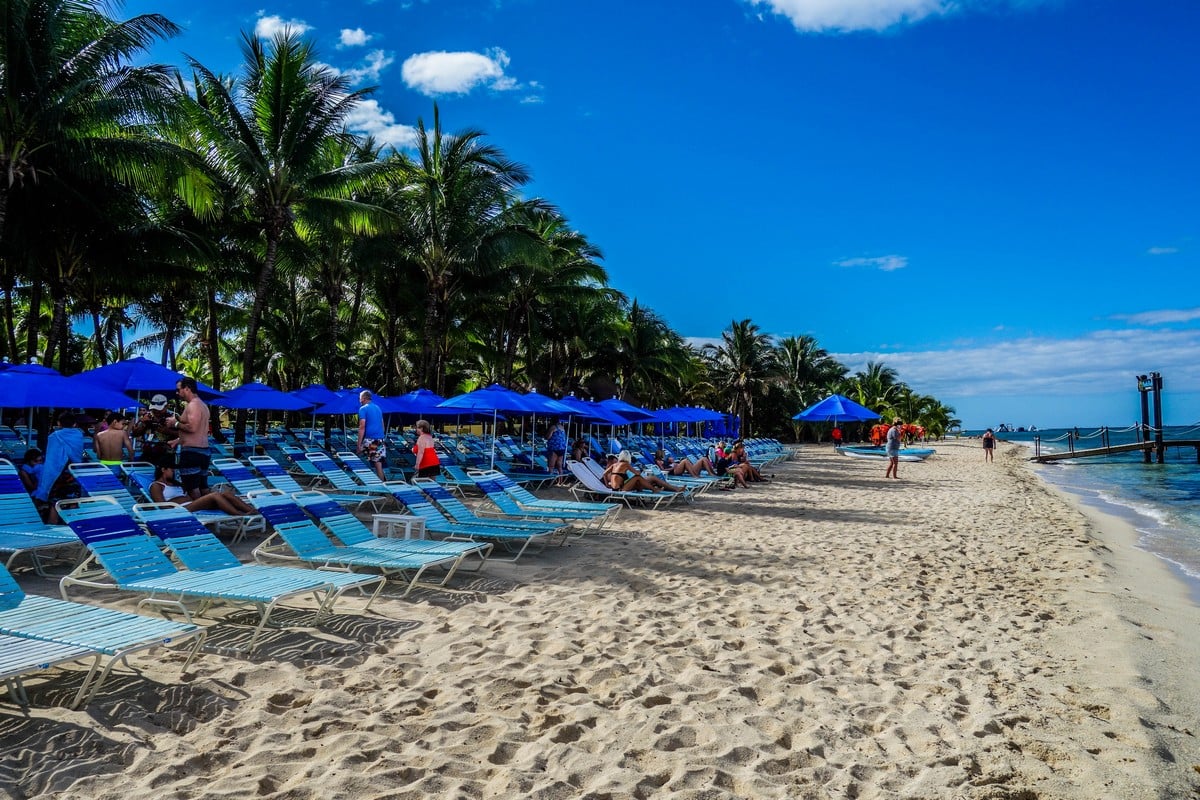 After you break out your suitcases to pack all your clothes, be sure to leave your beach towels at home.
Royal Caribbean provides towels for guests to use at the pools on its ships and to take off the ship on shore excursions.
You can get as many towels as you need from the pool deck, and exchange them for clean ones at anytime.
Keep in mind that you just need to bring the towels back before the cruise ends, or Royal Caribbean will charge you a $25 per towel fee.  
How do I get a chair by the pool?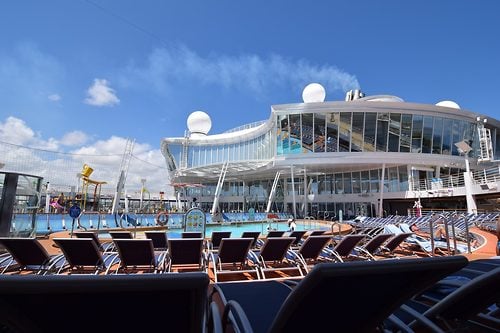 You may have heard that on sea days, the pool deck can get busy with lots of guests wanting to enjoy fun in the sun.
If you are looking to get pool chairs, you can definitely get chairs with a little bit of hustle.
The easiest way to get chairs is to make sure you get up to the pool deck early enough in the morning.  If you arrive before 11am, there are usually some chairs around. Moreover, there are chairs all around the pool deck, with plenty of extra chairs if you do not need to be in view of the pool.
Another tip is to not be shy about asking other guests if chairs are being used. 
Do I have to tip everyone?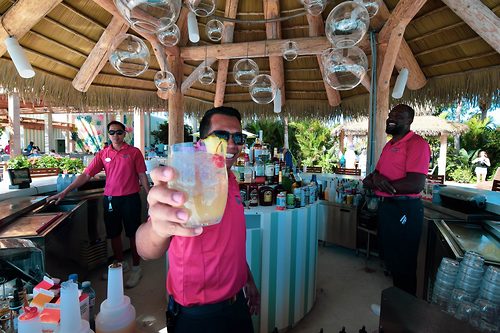 Gratuity on a Royal Caribbean cruise has gotten easier over the last few years, but tipping is definitely part of the cruise culture.
All guests have the choice of pre-paying their gratuities before the cruise, or having a daily automatic gratuity that is charged each night of the cruise.  This automatic gratuity is charged per person, and covers the service provided by your stateroom attendant and dining room staff.
In addition, when you order or buy something on your ship, an automatic gratuity will be charged on top of the base price.  So if you order a beer, or go to the spa, expect an 18% on top of the price listed.
Speaking of drinks, if you buy a drink package, you will pay a service fee on top of your drink package that covers gratuity for all drinks you order with the drink package.
Do I have to dress up on my cruise?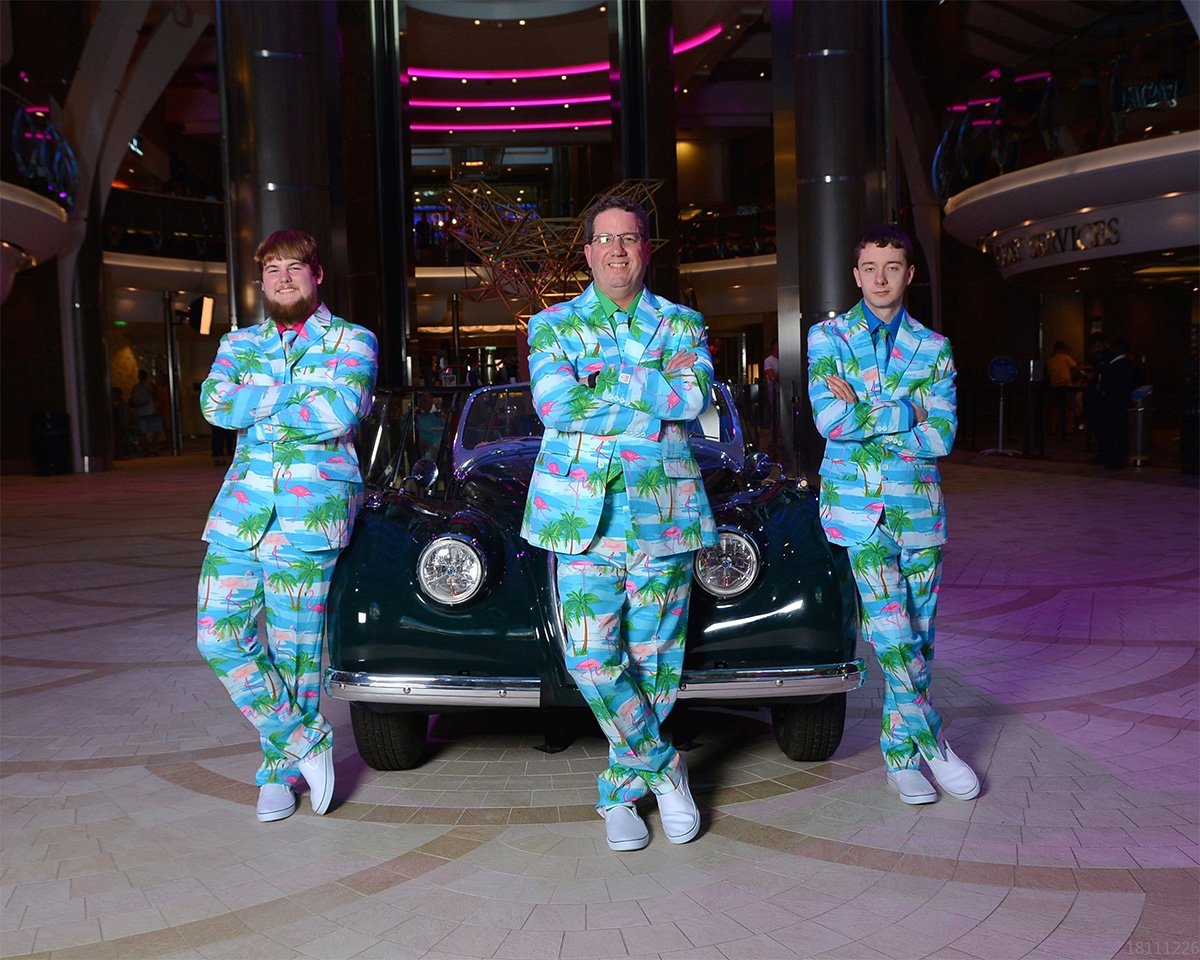 It can be confusing and a little bit nerve-wracking to hear about dress codes on a Royal Caribbean ship, but it is not nearly as fixed as it sounds.
There are daily dress codes, but they apply to the main dining room only. Dress codes never apply to walking around the ship or most venues. 
If you do want to adhere to the dress codes in the dining room, it is far more relaxed than you might think.  Even on "formal night", that just means you wear something nicer than the other evenings, and that can be as simple as a button down collared shirt with slacks for men, or a cocktail dress for ladies.
Specialty restaurants have their own dress codes that supersede the main dining room dress code, and these are usually smart casual. Specialty restaurants can be good alternatives to the main dining room on formal night if you do not wish to dress for that.
In addition, there are plenty of complimentary dining venues that have no dress code you can dine at for any mean (including dinner) to avoid having to wear anything resembling a collar or heels.
Do I need to take my passport with me on shore excursions?
The answer to this question depends on what you have to do versus what you should do.
Unless told otherwise, most Royal Caribbean shore excursions do not require you to bring your passport off the ship with you on excursions.  The exception can be some destinations where you may cross an international border.
I believe you should bring your passport with you off the ship to ensure that if on the very unlikely chance you were stranded in a foreign country, you could easily depart without the hassle of going to a consulate or embassy to get an exit visa. Yes, there is risk of having it lost or stolen, but that is true of any personal valuables you take off the ship with you, such as cash, phones, etc.
Am I going to gain weight on my cruise?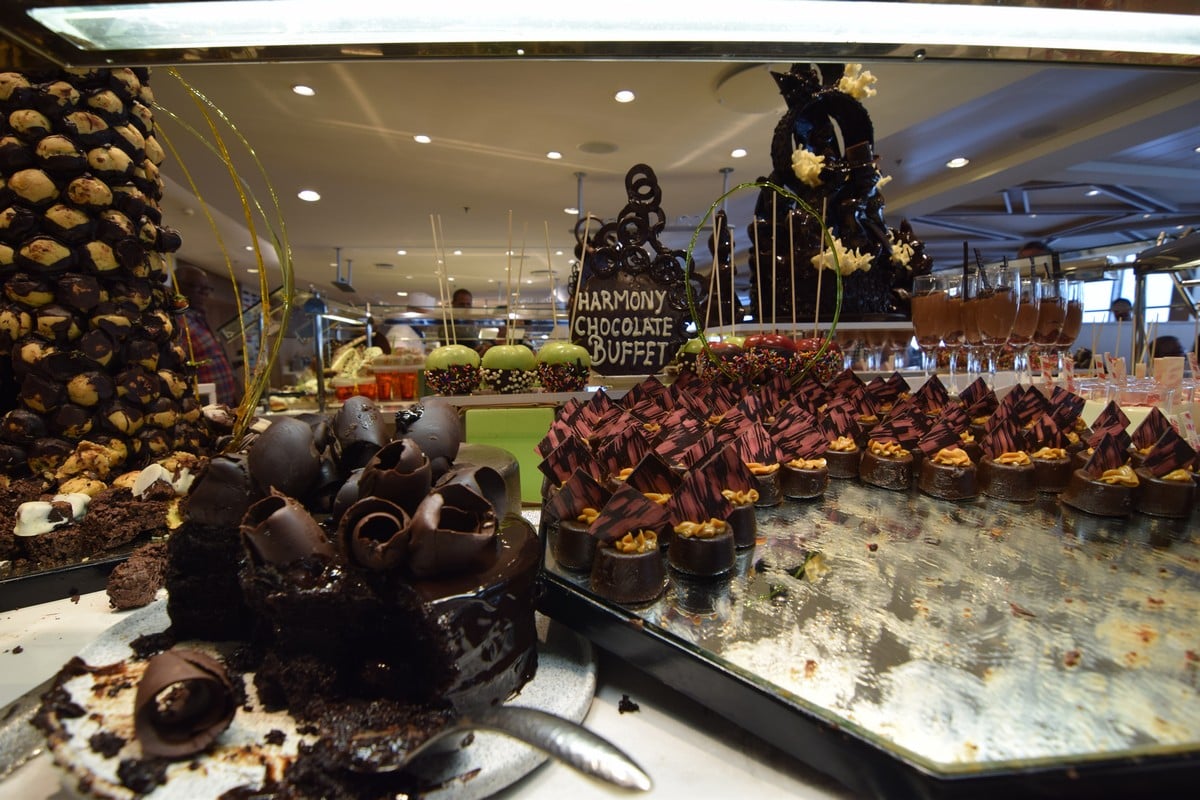 There is no shortage of food on your cruise, as you will find something to eat 24 hours per day around the ship. That sounds like a recipe for gaining weight, but it does not have to be like that at all.
Just like you have access to food at home day and night, just because it is there does not mean you have to eat at gluttonous levels. 
Royal Caribbean provides a good mix of healthy foods, in addition to comfort foods. You will find salads, fruit, stir fry bars, and even indications on main dining room menus of healthier alternatives.
There is also a fitness center available to use on every Royal Caribbean ship. The majority of the fitness center is included in your cruise fare, with access to free weights, weight machines, bikes, treadmills, and more.  Fitness classes are also available on a per-class cost basis.
You can also burn some of those calories by taking the stairs instead of using an elevator, or engaging in active shore excursion.
Will I get seasick?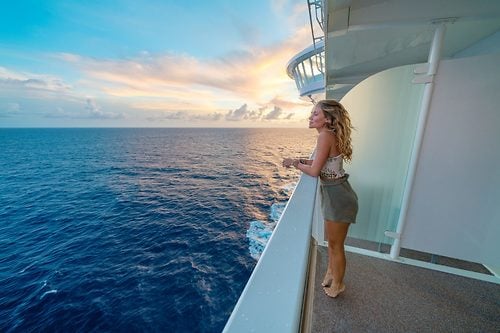 Hopefully not, but getting seasick is a (unlikely) possibility.
Many first-time cruisers are very worried about getting seasick on a cruise, but cruise ships are massive vessels equipped with stabilizers that will chart the smoothest paths possible to ensure a comfortable voyage.
When it comes to cruise in the Mediterranean or the Caribbean, sea conditions are most often calm, and repeat cruisers will tell you that getting seasick is a very rare occurrence.
If it does occur, there are lots of great remedies to quickly and effectively combat the symptoms. You can take over the counter medications, talk to your doctor about a prescription for special patch to put behind your ear, or try out one of the many homeopathic remedies, such as ginger supplements or acupressure wristbands.
Will I be bored?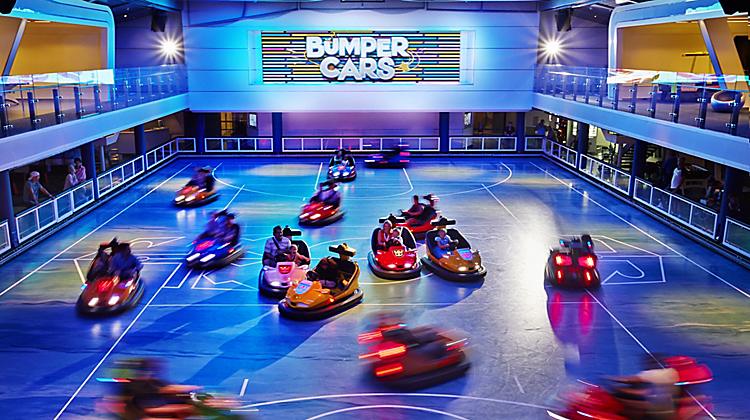 It is not uncommon to hear from someone that has never cruised before that they fear they will be bored and/or feel trapped onboard, but this could not be further from the truth.
Cruises are so much more than bingo, ballroom dancing and eating. Royal Caribbean in particular has built a reputation for offering an incredible amount of activities and things to do on the ship. It is your choice to do as many (or as little) of them as you choose.
In addition to lounging by the pool, there is a wide variety offered. Since the exact offerings depend on the ship, try looking at a past Cruise Compass from the ship you intend to sail on to get a sense of what is offered. These past daily newsletters will give you a ballpark idea of what to expect on your sailing.
In short, you will absolutely not be bored. If anything, you will find too many good things you want to try.
Do you still have a question?
If you still have a cruise question, don't be shy, and please feel free to ask it in the comments below!