In:
A new plan by the Centers for Disease Control and Prevention (CDC) will utilize a color-coded system of identifying potential and existing cases of Coronavirus on cruise ships while there are no passengers onboard.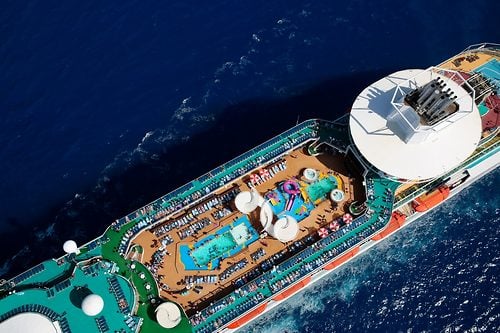 The Miami Herald is reporting that the CDC's new system will assign each cruise ship with a color to signify the ship's status:
Green: no confirmed cases of COVID-19 or COVID-like illness for 28 days.
Yellow: one or more COVID-like illness cases pending confirmation.
Red: one or more cases of confirmed COVID-19 or COVID-like illness within the past 28 days
The new system is one part of the agency's plan to detect, prevent and mitigate the spread of coronavirus on cruise ships. It was developed to assist in simplifying the process of getting crew members home.
If a ship is in Green status, crew transfers and repatriation are possible via commercial transportation, whereas non-commercial transportation would be permitted for yellow or red status.
In addition to the color-coded system, the CDC included recommendations for action to take onboard cruise ships for each color system to mitigate the spread of the disease.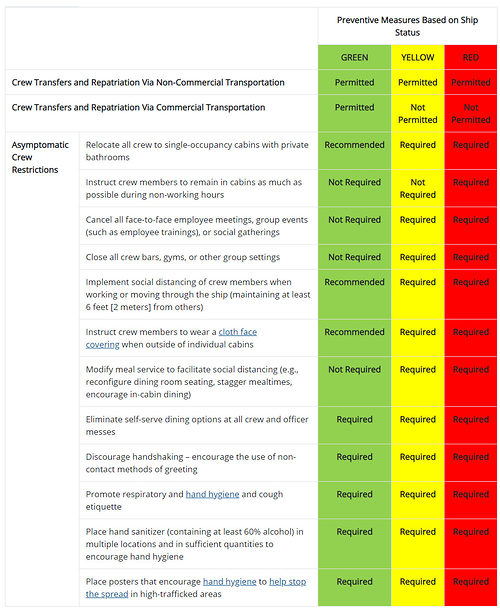 Even while a ship is in Green status, the CDC recommends cruise ships take certain steps to slow the spread if it were to occur:
Instruct crew members to wear a cloth face covering when outside of individual cabins
Relocate all crew to single-occupancy cabins with private bathrooms
Implement social distancing (6 feet) of crew members when working or moving through the ship
It also will require certain other changes for ships in Green status:
Eliminate self-serve dining options at all crew and officer messes
Discourage handshaking
Place hand sanitizer (containing at least 60% alcohol) in multiple locations and in sufficient quantities to encourage hand hygiene
Promote respiratory and hand hygiene and cough etiquette
Place posters that encourage hand hygiene to help stop the spread in high-trafficked areas
Plan for passengers is still unknown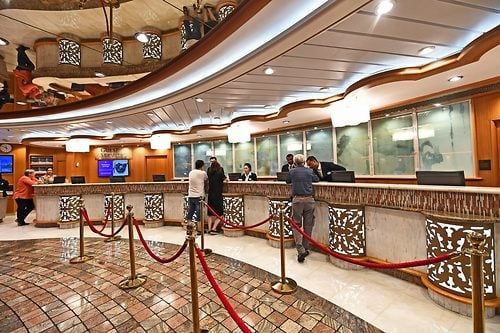 The color-coded system was designed for the current state of cruise ships during the global cruise shutdown, but an entirely different approach needs to be determined for passengers.
The CDC's director of the Division of Global Migration and Quarantine Martin Cetron indicated these plans do not apply to passenger cruises. Furthermore, he told the Miami Herald, "the CDC has not begun to review plans for how to safely operate cruises prior to development of a vaccine."
"This is the bare minimum," Cetron said of the plans to mitigate spread of the virus on ships while cruising is stopped. "If a line ever wants to get back to full density on board, bringing on board people who are at risk of dying of COVID, they have to be able to control COVID on these ships when their occupancy is 90% less. It will be this plan on steroids."
Tourism opening back up elsewhere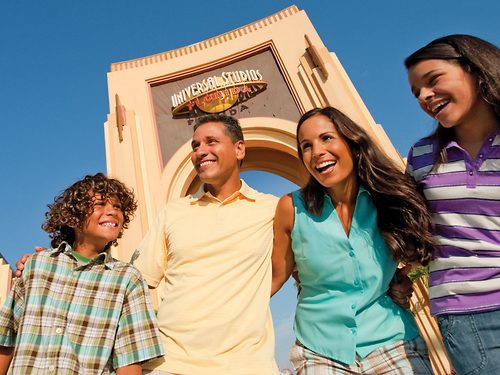 While the cruise industry is under the microscope of government oversight, other aspects of the tourism industry have plans in place to resume operations.
Theme parks in Orlando, Florida are re-opening this month, with Universal Orlando re-opening select resort hotels and parks to guests this week. Walt Disney World will re-open in July, and SeaWorld Orlando & Busch Gardens Tampa will re-open June 11.
The airlines have been operating throughout the COVID-19 era, with regular flights in and out of countries such as Spain, Italy and the United Kingdom.
Port Canaveral's CEO recently said he feels the cruise industry is taking an "unfair hit" from the federal government.