In:
Royal Caribbean's Allure of the Seas arrived to the Navantia shipyard in Cadiz, Spain on Friday to begin her delayed refurbishment.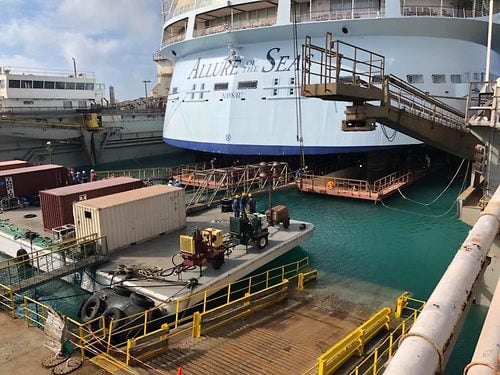 Allure will be in dry dock in Cadiz for about a month to undergo a technical dry dock, where the propulsion and navigation will be worked on.
There is still no word on when Allure of the Seas will receive the other aspects of her planned amplification, including water slides, new dining venues and more.
Spanish media reports Allure of the Seas was scheduled to enter Cadiz last week, but Spain's Department of Foreign Health intervened and prohibited the ship from entering, due to too many crew members onboard. The ban was subsequently lifted when a reduction in the number of crew was confirmed. 
Allure is carrying 301 crew, who will not get off the cruise at any time, according to local security measures. In addition, about 60 Royal Caribbean technicians will travel by plane and will undergo testing upon arrival. They will remain in a hotel and then be transferred to the ship once the medical tests are completed.
The work that will be done during this round of work is estimated to cost about 16 million Euros, and will focus on ship maintenance.