In:
Dinner on a Royal Caribbean cruise for many guests involves a visit to the venerable main dining room. When you book your cruise, you will choose between traditional dining times or My Time Dining. Regardless of which you choose, here is how to change your dining times.
Traditional Dining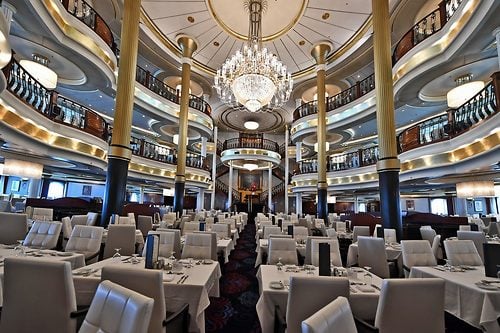 If you are booked in traditional dining, then you are either in early or late eating. This means whichever option you pick, you have a set dining time for the entire cruise. No advanced reservations are necessary, and you always have the same waiters, table mates and table assignment.
Early seating is usually around 5:30pm, and late seating around 8:00pm. The exact times will vary according to your cruise itinerary.
If you want to change your traditional dining time, you can contact your travel agent (or Royal Caribbean if you booked directly) to have the change made.  Assuming there is availability, you can move from one of the traditional dining times to the other, or opt for My Time Dining.
Once onboard the ship, it can be more challenging to make this change, but not impossible.  Ask to speak to the head waiter onboard for assistance.
My Time Dining
My Time Dining allows guests to pick a dining time anytime between 6:00 and 9:30 pm (times vary by ship) each evening. 
Reservations are encouraged, especially if you can pre-book before your cruise, but you have the ability to choose a different time each day.  This allows for a more flexible dinner schedule that you can curtail around your plans onboard or onshore.
You can manage reservations for dinner even before your cruise, by visiting Royal Caribbean's Cruise Planner site and scheduling something.  Reservations can be made, modified and deleted prior to the cruise, as well as once onboard.
If you have My Time Dining, you can change your dining times before the cruise via the Cruise Planner site. Onboard the ship, there is a dining hotline you can call from your stateroom phone to modify reservations. 
If you want to change to traditional dining, you can do so by contacting your travel agent (or Royal Caribbean if you booked directly). Keep in mind that traditional dining has a maximum capacity, and it is not unheard of to be put on a waitlist, especially if you try to change close to your sailing.
Do you prefer traditional or My Time Dining? Let us know which you usually reserve and why in the comments below!