In:
Royal Caribbean cruise ships offer a variety of specialty restaurant choices, and guests have the option of making a reservation in advance.  Regardless of when your cruise is, it is always a good idea to book ahead to secure a day and time for your meal.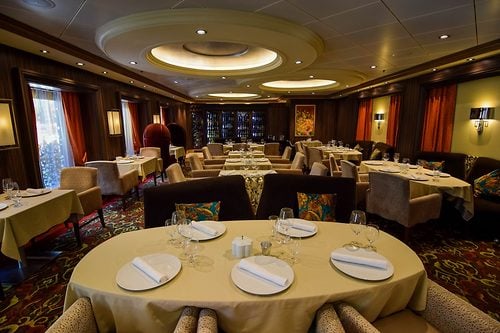 Here is an overview of how to book a specialty restaurant meal for your upcoming Royal Caribbean cruise.
How to make a reservation online
Guests can make specialty restaurant reservations prior to their cruise up until 4 days before your sailing date.  
Keep in mind that Royal Caribbean does not allow specialty dining reservations to be made until you reach amount of days that are left until your cruise. If you do not see the option to reserve specialty restaurants, check back later.
In order to make specialty restaurant reservations online, you will need to pay any cover charges that may exist at the time of booking.
Booking specialty restaurants in advance offers you the opportunity to lock in exact day and times for meals as well as being able to space out the total cost of the cruise.
1. The first step in booking a Royal Caribbean specialty restaurant is to go to RoyalCaribbean.com and click LOG-IN from the top right navigation.  Then click LOG-IN TO MY CRUISES.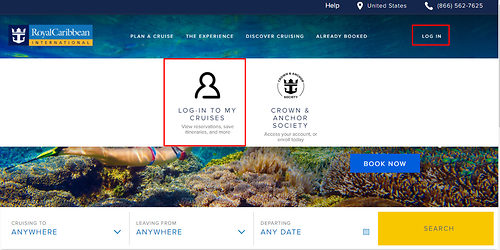 2. Log into My Cruises with your Royal Caribbean username and password.
You will need to have an account with Royal Caribbean (free) and have linked your upcoming cruise with your account.  We won't cover how to do this in this article, but I will assume you have done this earlier.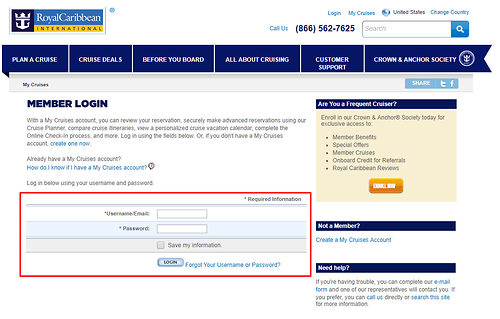 3. Once logged in, click on the Reservation Number for the cruise you want book a specialty restaurant.  It will be located in the middle of the page under PURCHASED & HELD CRUISES.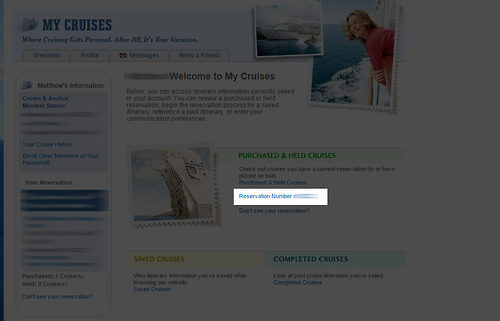 4. From the top navigation, click on Cruise Planner.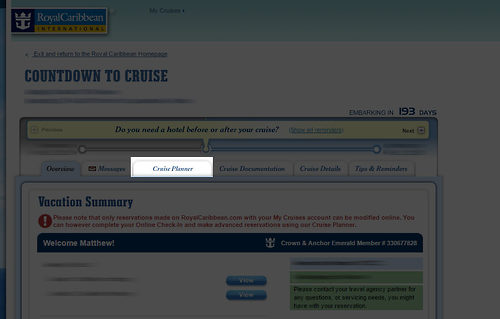 5. Click on the GET STARTED button to bring you to the Cruise Planner.
6. Click DINING link in the top menu.

7. Select the restaurant of your choice.  You will be able to read more about the restaurant, see a sample menu, and get pricing details. 
We keep an archive of Royal Caribbean specialty restaurant menus for your reference.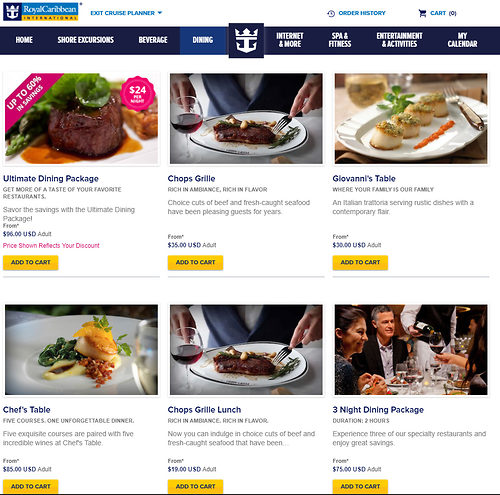 8. Read the description of the restaurant, menu and more and when you are ready, click ADD TO CART button.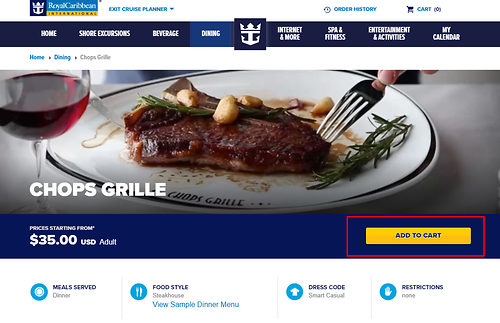 9. At this step, you will select which guests in your booking will be joining you.  Just click on each guest's name to add them to the reservation.  
Optionally, you can add other guests from another reservation via the ADD GUESTS FROM ANOTHER RESERVATION link at the bottom.  For this feature, you just need their last name and their reservation number.
When you're ready, click NEXT button at the bottom right.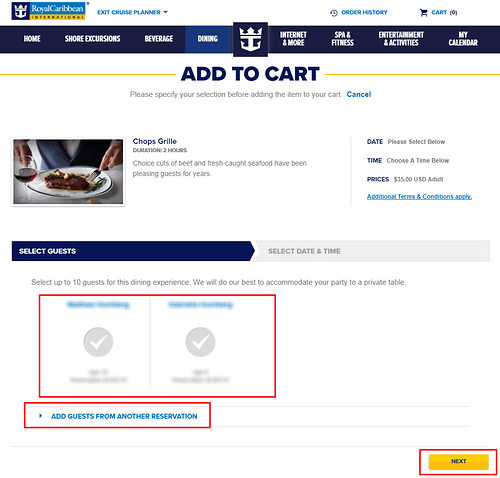 10. For the next step, you will select the day and time for your reservation.  Select the DAY dropdown field first and then choose from the available times from the TIME dropdown.
When you are satisfied with the date you picked, click ADD TO CART.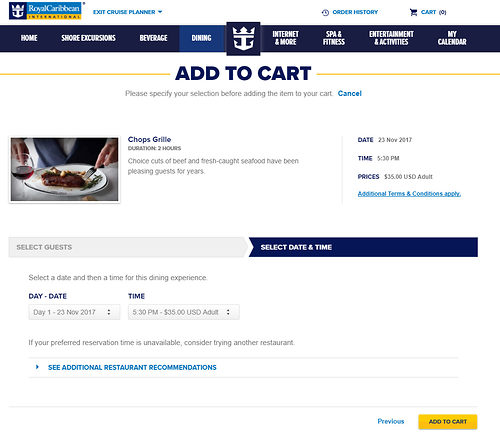 11.You have added your reservation to your shopping cart succesfully and now can either CONTINUE SHOPPING and add other items to your shopping cart, or click CONTINUE CHECKOUT and enter your payment information to finish your purchase.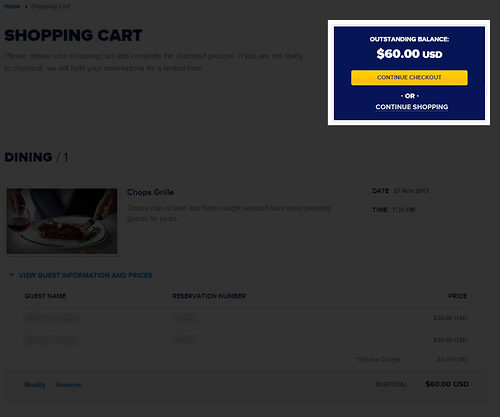 How to make a reservation onboard your Royal Caribbean cruise
If you are on your cruise or have less than 4 days until you go on your Royal Caribbean cruise, then you will need to make a reservation for the specialty restaurants onboard your cruise.
You can book any specialty restaurant from the following locations
Any specialty restaurant
Guest Services
From your stateroom television (on select Royal Caribbean ships)
Via a Royal Caribbean smart phone app (Royal iQ or Royal Caribbean app).  The app is currently limited to select ships.
Helpful Tips
Any dining reservations you make online via the Cruise Planner are fully refundable.  If you change your mind or want to change restaurants or even dates, it is easy enough to cancel and rebook.
Do not make specialty reservations for children.  Children between the ages of 0-5 are complimentary and ages 6-12 are half the adult price.

Royal Caribbean recommends making a reservation for all guests who wish to dine. Adult price will be applied for all guests regardless of age; the difference between the adult price and child price will be refunded in the form of a refundable onboard credit (unless booked with non-refundable credit, in which case OBC will be non-refundable).

If your cruise is too far out, you may not see dining reservations available.  Keep checking back closer to your sail date.  There is no set amount of days prior to a cruise when specialty restaurants appear, so check periodically.
For more Royal Caribbean dining information, such as what food is included with your cruise, drink package options, dining packages, and more, visit our Royal Caribbean food overview page.