In:
A really big photo is being planned by Royal Caribbean that involves all three of its Oasis-class cruise ships in one place very soon.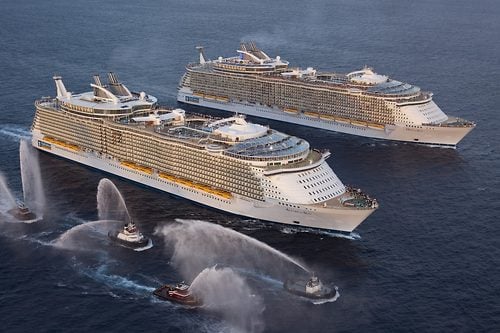 Royal Caribbean CEO Michael Bayley confirmed that the company will take photos of the three ships together in coordination with Harmony of the Seas' arrival in the United States in a few short weeks.
"We're trying to arrange all three Oasis-class to be next to each other, off the coast of Florida on November the 4th in the afternoon," Bayley said at an event aboard Allure of the Seas earlier today.
The plan is for Oasis of the Seas, Allure of the Seas and Harmony of the Seas to appear together on November 4, 2016.  Royal Caribbean will also invite guests up to the helipad for additional photo opportunities.
Royal Caribbean held a similar event back in 2010, when Oasis of the Seas and Allure of the Seas met at sea.