In:
STX France is making preperations to begin construction on Royal Caribbean's third Oasis-class cruise ship by first building a frame to help build the massive ship.  In order to accomodate the massive ship, STX France is constructing a new portico, which started arriving this week.  Formal construction on the portico will begin starting next month. 
Once the portico is complete, STX France expects the shipyard to begin construction of the new Oasis-class ship in the first quarter of 2014.
The new STX France portico, ordered specifically for the new Oasis class ship but will be used for other future builds, just arrived in Saint-Nazaire from China in the last few days.  It weighs 160 tonnes and measures 44 by 10 meters.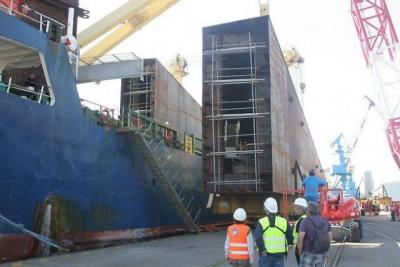 The old portico was built in 1968 and was one of the oldest in the world.