In:
When you wake up onboard Royal Caribbean's Harmony of the Seas, you will probably be wondering where you can get something to eat to start your day. 
There are some obvious choices, but there is also some other options less passengers visit too. Depending on what you're in the mood for, there is something for everyone.
Windjammer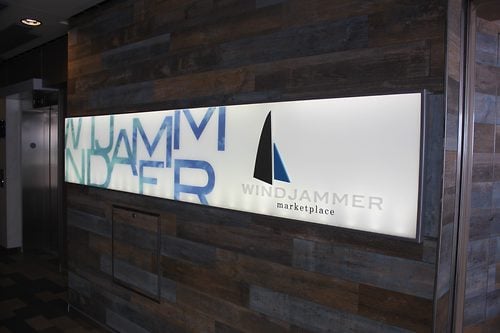 The all-encompassing Windjammer Marketplace is the most popular choice for breakfast, primarily because it offers the greatest variety of food.
For families or just groups that can't all agree on one thing, this is the best option. There is so much to choose from and also has a rather large seating area.  
The Windjammer is also a very popular choice, so it tends to get the most crowded of any breakfast location available on Harmony of the Seas.  During prime breakfast hours on sea days, it can get quite busy and lines to find a table are not uncommon.
Park Cafe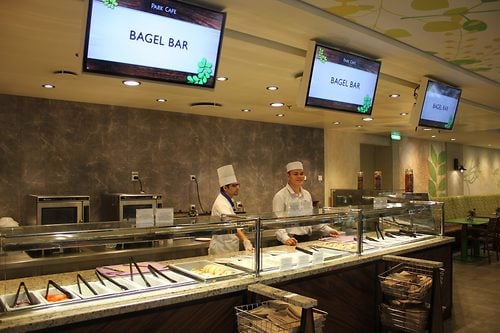 Located in Central Park, Park Cafe is a great alternative to Windjammer because it has a mix of pre-prepared and freshly made breakfast choices. While Park Cafe may not have the variety of choices that the Windjammer does, it does also include some breakfast stations not found anywhere else on Harmony of the Seas.
The menu here offers a little of everything, including a full bagel bar. There's also cereal, pastries, and some hot breakfast items. 
Johnny Rockets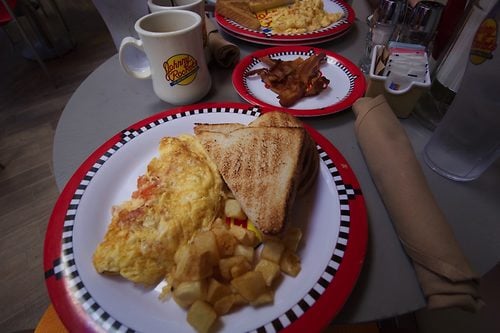 Did you know that Johnny Rockets on Harmony of the Seas is complimentary for breakfast?  All Oasis-class ships offer this option, but many guests are unaware that breakfast is served here, nor that it is included with your cruise fare (Johnny Rockets has a cover charge for lunch and dinner).
The Johnny Rockets breakfast menu on Harmony of the Seas is a traditional American breakfast, with pancakes, omelettes, French toast and the like.  In fact, Johnny Rockets is one spot onboard Harmony of the Seas to get omelet made-to-order.
Johnny Rockets tends to be not very crowded for breakfast, because many guests are unaware of this option, and it also has a large seating capacity (indoor and outdoor seating options).
Mini Bites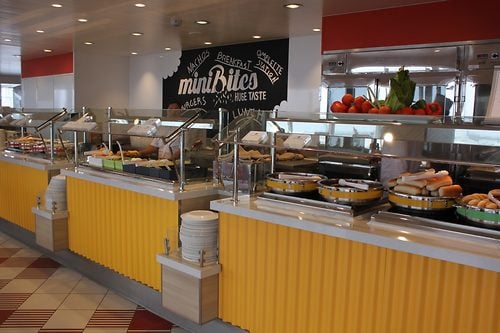 Perhaps the fastest breakfast option that is not named "Windjammer" would be the Mini Bites station on Deck 15.
Mini Bites is kind of like a hotel hot breakfast buffet that merged with the Windjammer.  One particular distinction of Mini Bites is that it offers a custom omelet station.
Whether you choose to enjoy your breakfast at one of the many tables nearby, or take it elsewhere on the ship, Mini Bites is a great choice for someone that wants to get something hot and quick.
American Icon Grill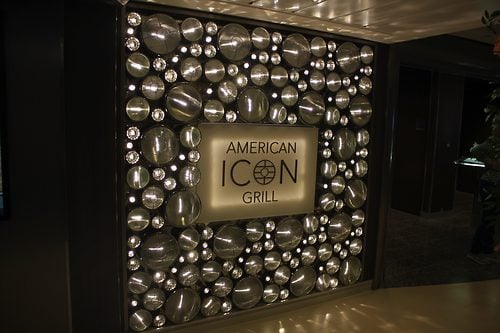 For fans of the main dining room breakfast experience, American Icon Grill is the next best thing.
Having breakfast at the American Icon Grill means you will be seated at a table (sometimes with other guests) and order off a set breakfast menu.  
What attracts most people to breakfast at the American Icon Grill is the table-service experience that is more formal than a buffet. As such, keep in mind that a breakfast in American Icon Grill is designed to be a bit more leisurely, so those looking for a grab-and-go option may want to dine elsewhere.
Just like the Windjammer, it can get busy here too during peak dining times.
Coastal Kitchen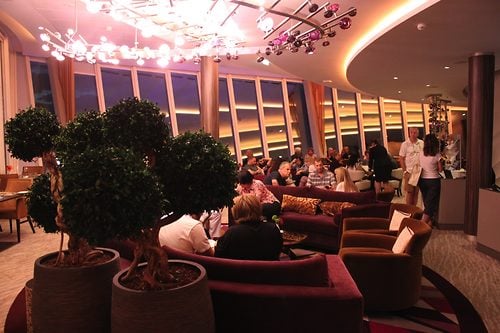 If you happen to be staying in a suite while on Harmony of the Seas, there is a dedicated spot to enjoy breakfast just for you.  
Coastal Kitchen is a complimentary restaurant that is open to suite guests exclusively.  For breakfast, it is only available for guests staying in Sky or Star Class suites and is similar to the main dining room experience in terms of it being a relaxed, sit down environment.
As a suite guest, the appeal of Coastal Kitchen is that it is your exclusive spot onboard Harmony of the Seas to enjoy breakfast without the crowds.
Solarium Bistro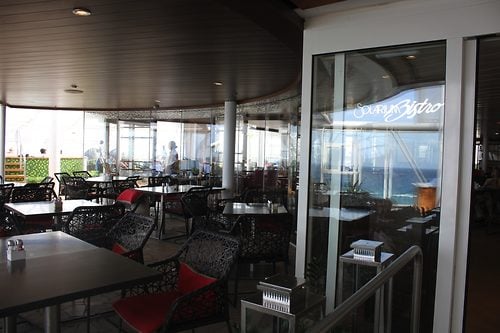 For something "off the beaten path", try the Solarium Bistro on Deck 15. The Solarium Bistro offers a buffet, but the options vary from what you might find at the Windjammer and it tends to be less crowded than some of the other spots mentioned earlier.
What we like about Solarium Bistro is the fact it is less crowded than the Windjammer or Park Cafe, yet offers a good variety of breakfast choices that should satisfy most palettes.
Cafe Promenade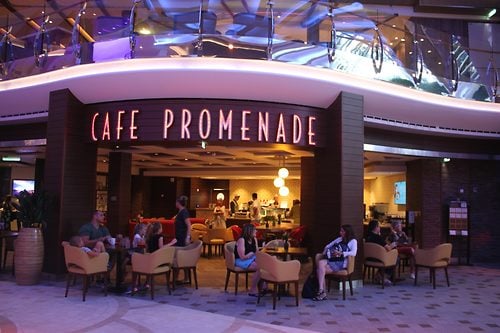 If your idea of breakfast is coffee and a croissant or donut, then head down to the Royal Promenade and grab something quickly at Cafe Promenade.
Danishes, croissants and muffins are the kind of quick grab-and-go breakfast options available (along with a cup of coffee).
Cafe Promenade is great if you are running off the ship for a shore excursion or just want something simple.
What's your favorite spot for breakfast on Harmony of the Seas? Share it with us in the comments below!