In:
September 13 Update: 
We have received further clarification on this change.  
All short itineraries (5-nights or less) offer a "Wear Your Best" evening onboard (in lieu of a formal night).  Royal Caribbean describes it as: Nighttime's the right time to wear your best look.  That means a step up from your tropical dinner wear, and includes collared shirts, dresses, skirts, blouses and pantsuits.  Jackets, tuxedos/formal wear sports coats and blazers are also appropriate. 
Sailings that are 6-nights or longer still have formal nights.  This includes Harmony of the Seas and all sister ships sailing 6+ night itineraries.    
Guests sailing on Royal Caribbean's Harmony of the Seas will no longer see "formal night" listed as a dress code, as it is now referred to as "Wear Your Best".
Mike Chase shared a copy of the Cruise Compass from Harmony of the Seas on Facebook, where the new dinner dress suggestion is listed in lieu of what was formerly known as formal night.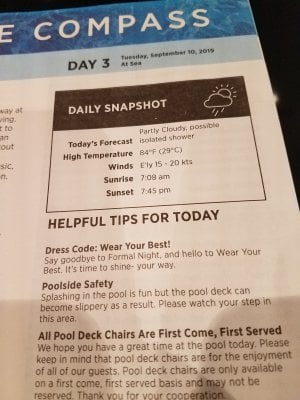 The Cruise Compass on Harmony of the Seas lists a dinner dress suggestion of "Wear Your Best", which is described as "Say goodbye to Formal Night, and hello to Wear Your Best.  Get glamorous. Be Chic. It's time to shine - your way."
The transition from "formal night" to "wear your best" is not new to Royal Caribbean, as we first spotted the change on Mariner of the Seas last year.  That change did coincide with the ship's recent amplification. Similarly, Navigator of the Seas also switched to "Wear Your Best" as part of her amplification. We also spotted the switch on Anthem of the Seas & Enchantment of the Seas.