In:
Royal Caribbean's Harmony of the Seas offers guests quite a bit to see and do onboard, and the ship itself is a marvel, when you consider just how large it is and how much work and coordination is required to make it run flawlessly. Here are some fun facts about Harmony of the Seas that put into perspective the sheer scale of everything on this ship.
General
Flag: Bahamian
Port of Registry: Nassau
Built by: STX France
Place built: St. Nazaire, France
Maiden Voyage: May 29, 2016
Godmother: Brittany Affolter
Neighborhoods: Seven (7)
Adventure Ocean
Central Park
Pool & Sports
Vitality Spa & Fitness Center
Boardwalk
Entertainment Place
Royal Promenade
Ship Stats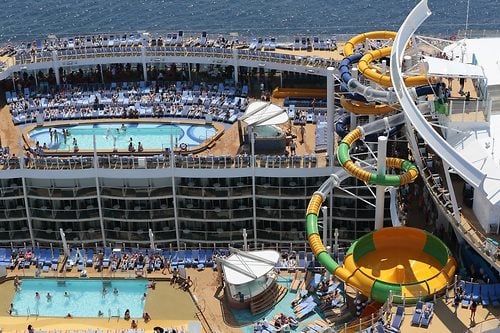 227,000 gross tons
1,188 feet long
46 wheelchair accessible staterooms
5,479 guests (double occupancy)
24 guest elevators
16 passenger decks
30 feet draft
215.5 feet wide
22 knots cruising speed
6,780 guests
2,100 crew
Staterooms
Total: 2,747
Outside: 266
Interior: 524
Balcony: 1,768
Virtual Balcony: 85
Staterooms with additional berths: 717 3/4
Accessible: 46
Promenade: 18
Studio: 15
Technical
Main propulsion: 3 x ABB Azipod, each 20 MW
Motors ABB: 60 MW = 80.500 HP
Generators: 6 with a power of 92MW each for a total of 128.000 HP
Stabilizers: 2 x Blohm & Voss
Bow Thrusters: 4 x Wartsila 5.5 MW each; 7.300 HP total of 22 MW or 29.500 HP
Max Speed: 25.1 knots
Fuel consumption at Full Speed: 16 Metric Ton/hour = 0.7 Metric Ton/Nautical Mile; 
125 Gallon/Nautical Mile; 45 feet/gallon
Fresh water production: 4 x 825 tons/24 hours + 2 x 400 tons/24 hours;
Total of 4100 tons/24 hours
Water Consumption: 1700 Tons/Day
Construction Facts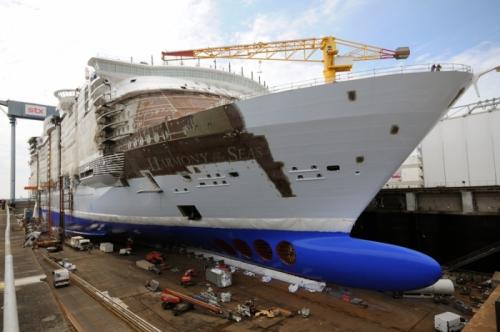 The AquaTheater pool is 17.9 feet deep; the largest performance pool at sea.
Harmony of the Seas is 75 feet longer than Freedom-class ships;
The Central Park neighborhood is the fist ever (along with Oasis of the Seas and Allure of the Seas) living park at sea with 10,600 plants, 52 trees, 2 Living Walls containing 10,240 live plants and 70 tons of plating soil for them to grown in.  All plant material is contained in 2200 modules within 46 planter beds.  The entire park is automatically irrigated with a state of the art system to include a Fertigation unit.
5,070,632 lbs. of water in the swimming pools.
110,231 lbs. of ice cubes made every day.
4,700,000 lbs. of fresh water consumption per 24 hours.
181 grand blocks were used to construct Harmony of the Seas, each block weighed approximately 1,200,000 lbs. (600 metric tons).
Harmony of the Seas was constructed out of 500,000 individual parts.
150 miles of piping.
3,300 miles of electrical cables.
158,503 gallons of paint.
1,614,586 square feet of air conditioned area.
968,751 square feet of carpet.
86,111 square feet of windows.
7,000 works of specially commissioned art.
The building of the cruise terminal 18 in Fort Lauderdale took 62,572,500 pounds of concrete, the weight of 782 18-wheeler trucks; 33.3 miles of conduit; and 153 miles of wire, which would stretch from Fort Lauderdale to Key West.
Food & Beverage Facts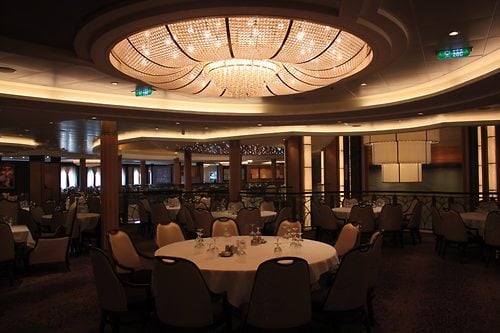 20 Chefs, 222 cooks, 102 sanitation & culinary cleaning crew.
15 Bar managers/supervisors, 188 bar tenders & bar servers.
25 food service areas including a 24 hour Crew Windjammer.
37 front bars and 26 back-of-the-house support bars.
28 galleys operating independently, some with a 24 hour operation.
Total of 108 catering areas, bars, galleys, pantries, provision food preparation rooms.
All breads and pastries are made fresh onboard. Our bakery has a machine that makes 4,000 bread rolls in 1 hour.
Have the most efficient and most innovative galley equipment onboard the Harmony of the Seas.
Each restaurant operates independently with own galleys and culinary & service teams, even each deck of the main dining rooms.
Consumed in an average week
Beef: 15,600 lbs.
Chicken: 16,000 lbs.
Pork: 10,517 lbs.
Lobster: 1,800 lbs.
Seafood: 11,000 lbs.
Salmon: 4,000 lbs.
Fresh eggs: 86,400 pcs.
Flour: 16,500 lbs.
Sugar: 3,500 lbs.
Coffee: 1,500 lbs.
Fresh Fruits: 45,000 lbs.
Fresh Vegetables: 62,000 lbs.
Fresh berries: 600 lbs.
Potatoes: 18,000 lbs.
Ice cream: 8,000 gallons
Milk and fresh cream: 8,000 gallons
Cheese: 5,800 lbs.
Beer: 10,200 bottles
Beer: 8,500 cans
Soda: 11,500 cans
Wine: 2,225 bottles
Whiskey: 175 bottles
Vodka: 550 bottles
Champagne: 175 bottles
Water: 3,500 bottles
Individual yogurts: 4,200
Slices of pizza: 18,000