5 best Harmony of the Seas tips
In:
In short, there is a lot happening onboard Royal Caribbean's Harmony of the Seas, and that means plenty to see and do during your cruise vacation.
For someone going on Harmony of the Seas for the first time, here are five top tips for enjoying what is sure to be a fantastic time aboard.
1. Do not miss Columbus, the Musical!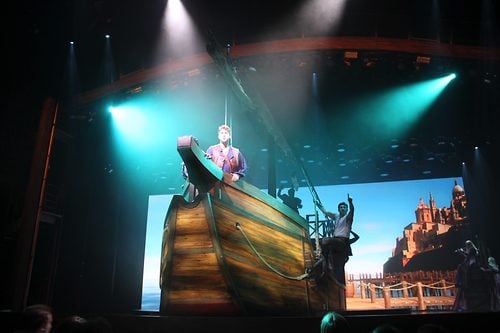 Royal Caribbean packed Harmony of the Seas with lots of terrific entertainment, but the one show we cannot get enough of is Columbus, The Musical!. This original Royal Caribbean production is a fun musical that takes inspirations from hit Broadway shows, such as "Spamalot" and "Something Rotten."
Marvin Columbus is the very, very, very, very, very distant relative of Christopher and spent his entire life 'neath Chris' shadow. Marvin's disappointed nobleman father, sends him on a voyage to find his destiny.
The story is fun, the cast energetic and the music perfect to sing along with. Columbus is at the very top of our list of favorite shows we have seen onboard any Royal Caribbean ship.
2. Ride Ultimate Abyss on embarkation day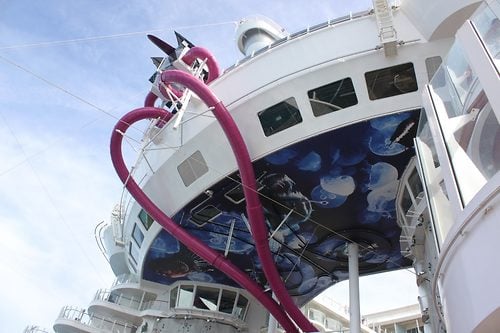 Without a doubt, many guests going on Harmony of the Seas have their eyes set on trying the world's tallest slide at sea, the Ultimate Abyss.  With that kind of anticipation, one should also expect lines to form regularly for this epic slide.
The key to avoiding those lines, is to to get a ride in as soon as you can.  Ultimate Abyss is usually open on embarkation day, and since many guests getting onboard are trying to figure out where everything is, those first few hours onboard are the perfect time.
Looking at a recent Cruise Compass from Harmony of the Seas' first 7-night cruise out of Port Everglades, Ultimate Abyss is open from 11:30am to 3:30pm on embarkation day.
3. Try the escape room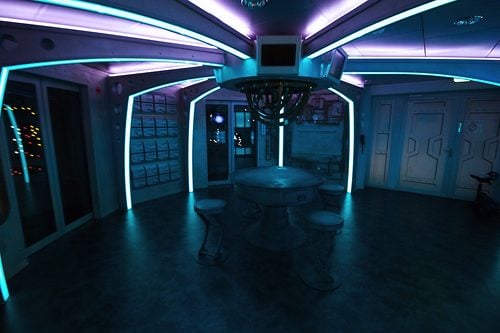 If you want to try something different, challenging and extremely fun, the Escape the Rubicon puzzle break experience is perfect for you.
Escape the Rubicon is a timed game, where guests try to solve a series of clues and puzzles hidden in a room that unlock the secret to "escaping" that room.  
Not only is this experience unlike anything on other cruise ships, it is super fun.  In fact, Escape the Rubicon was the most fun we had while onboard Harmony of the Seas, and that is why it is a must-do.
4. Get the guacamole at Sabor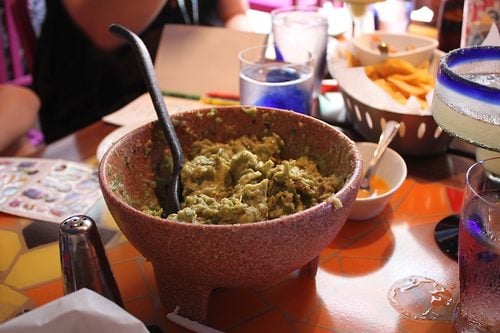 There is lots of great food on the Sabor Taqueria & Tequila Bar menu, but if you eat just one thing at Sabor, make sure it is the guacamole.
Ever since the first Sabor debuted on a Royal Caribbean ship, we have become disciples of the Guacamole faith, preaching to others the virtues of this fantastic dish.  Since Sabor restaurants on Oasis class ships are priced a la carte, one might not order the table-side crafted green treat, but that would be a mistake.
Whether you stop in for just the guac and chips or a full meal, you must try the guacamole while onboard Harmony of the Seas. Your taste buds will thank you.
5. Take a selfie on the bridge wings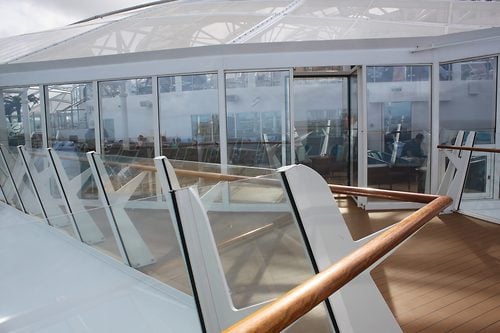 Regardless of if you want to take a selfie or just an epic photo of the ocean around you, make plans to go up to the bridge wings during your cruise.
The bridge wings are observational platforms that jet out from the side of the ship, and offer terrific views of the area around you.  The port bridge wing even features a see-through glass floor that you can stand on to add some panache to your photo.
Sunset, sunrise, sailaways and any other time are great for taking photos, and your album will not be complete without a few shots from the bridge wing.
Bonus: Book the cruise as early as you can
We just could not resist including this tip, because after reading all about these fun opportunities on Harmony of the Seas, you might want to book a cruise on her, and that is why you must do as soon as possible.
With cruise ship pricing in general, the best prices are found the earlier one books.  Sure, there are sales and promotions throughout the year that can change the price, but generally speaking, the lowest fares are attained when guests book their cruise months and years in advance.
As soon as you know which sailing you want to reserve, be sure to book it and lock in your price.  It is still the best tip for getting the lowest fare on Harmony of the Seas, or any Royal Caribbean cruise.