In:
Today we spent the day in Coco Cay, and if you have ever read any of my past live blog's this is my favorite place to visit in the Caribbean.  I like Coco Cay because it's very peaceful and such a relaxing day.
Morning Onboard
This morning, I woke up at 6:00am and decided to go explore the ship and take some photos.
I know I'm on vacation and waking up before the sunrises.  I really enjoyed the sunrise and if you haven't woke up early on a cruise before I really recommend it.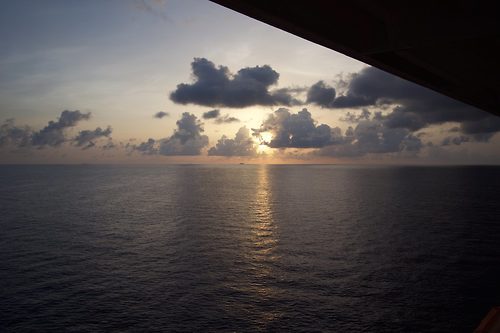 At 7:00am we had scheduled to have room service delivered to our cabin.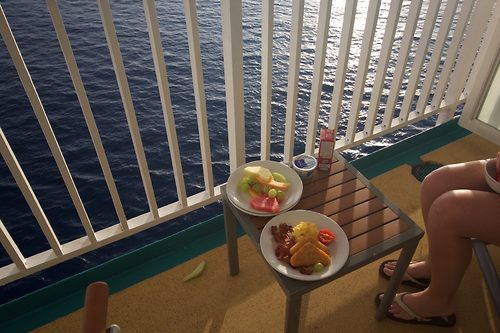 The fruit was very fresh and by far the best scrambled eggs I've ever had on board any cruise. They have breakfast cards behind the cabin door you fill out and place on the outside door handle the night before with your order.
Coco Cay
We had a large group scheduled to take the first tender boat over to Coco Cay at 8:15am.  We met at the Schooner bar and were quickly walked to the tender.  
The ride over to Coco Cay is 5 minutes and it's really a great time to take some ship photos.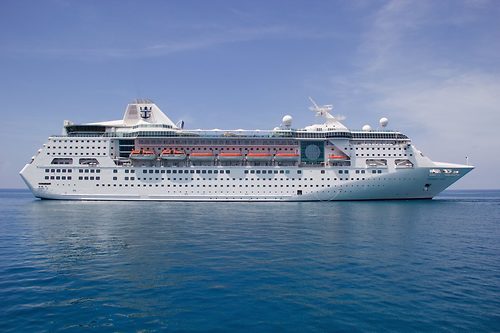 Once we arrived in Coco Cay we headed over to the Cabana area.  These Cabanas are available to rent for the day at $250 and you can bring up to six guests.  When we arrived they had large Evian water chilled for us and beach towels.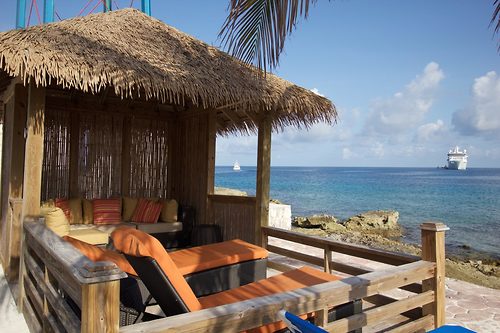 This was my first time in the Cabana area and I was very surprised how nice the experience was.  
At 11:30am, they had a special lunch for us in the cabana area and it was an upgrade from the standard lunch they serve.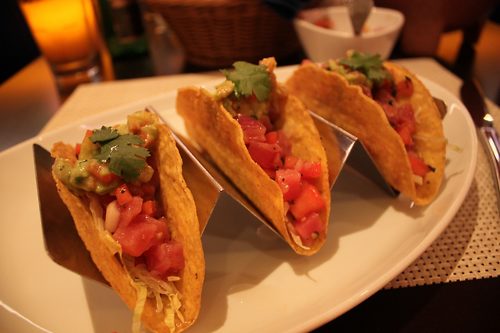 They had salmon, shrimp, salads, and trays of endless fruit.
Snorkeling in Coco Cay
This afternoon we had planned to snorkel, in all my trips to Coco Cay I've never snorkeled here.  
We were treated to some very nice snorkel gear and the staff assisted us putting it all on.  Our group was 8 people and we headed out to a see the ship and plane wreck.  The tour lasted an hour and was very entertaining if you enjoy snorkeling.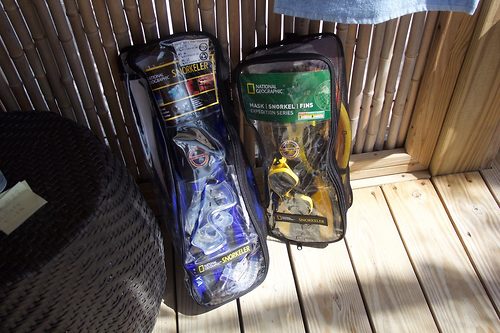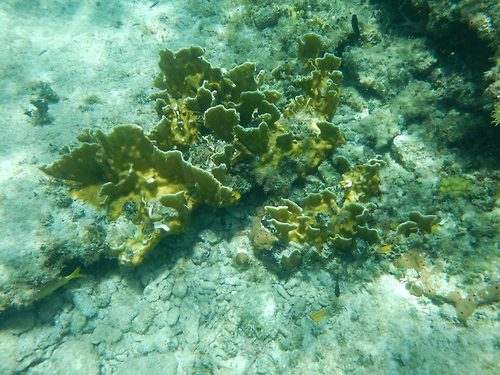 After an hour of snorkeling I helped the production team film a spot with my snorkeling equipment.  They have a full team traveling with us doing all kind of shoots of Empress and Coco Cay.  After filming we decided to head back to the Cabana.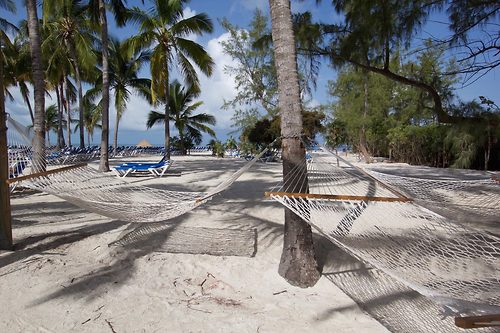 By this point in the afternoon most everyone had headed back to the ship so we enjoyed some relaxing time on the island before heading back.
Coco Cay Upgrades
So right away I noticed things seem different in Coco Cay today.  
I noticed the map they gave us had sites that said closed for remodel, which I thought was strange.  However, once I got on to the island I could quickly tell what they are adding, in the water cabanas like Labadee.   It looks like they just recently started construction on them; it is the second cove when you enter Coco Cay.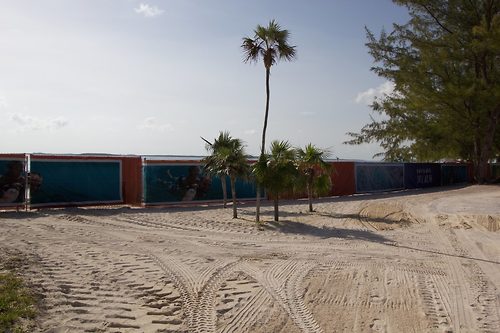 Also, they have a new bar in Coco Cay and its out in the  ocean.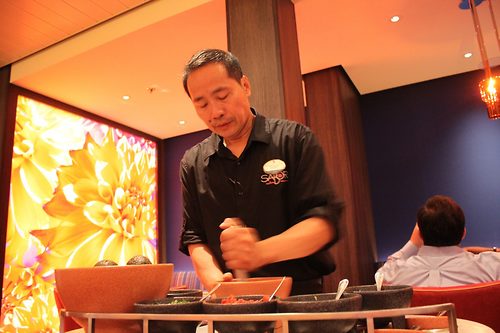 This bar actually floats out in the water, meaning you have to literally swim out to the bar.  This was added around two weeks ago the staff said and it is located right where the South Beach / barefoot beach sign used to be.   
Royal Caribbean continues to push the limit, and here is another perfect example.
Afternoon onboard
This afternoon was very relaxing on board; honestly I think most people were taking naps.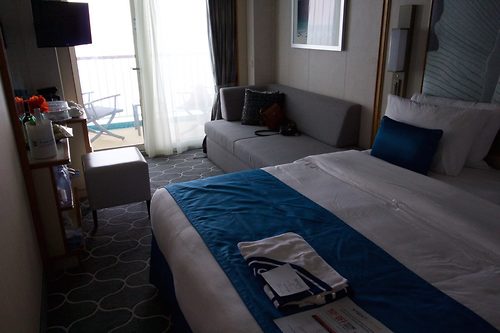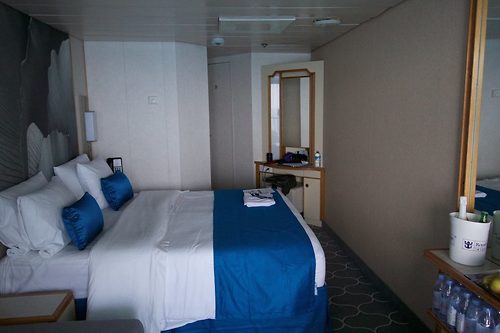 I decided to go have some of their famous Cuban coffee.  They open at 7am and stay open throughout the day.
With our drink package, the coffee is included so didn't have to worry about paying here.  I usually just go for the standard black coffee, but they do not carry cream here so it was all black and strong which is what I needed anyway.  
We moved on to the shops and they were having their $10 table sales, buy 4 get the 5th on free.  I ended up getting my blue coffee mug and a T shirt, however they do not sell ship models yet, which is a bummer.
Dinner Chops
Tonight we decided to enjoy dinner in Chops Grill, again.  
This time was going to be different since it is just the two of us.  The steakhouse was packed tonight, almost every table was occupied, so the service was not like the night before.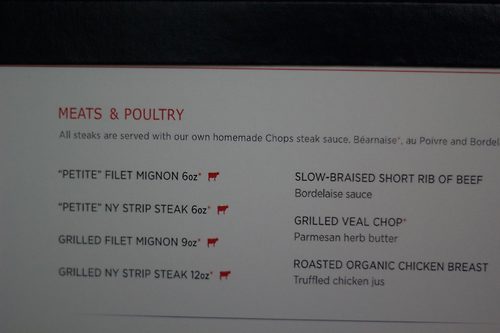 I went with the steak, onion soup, and bacon.  The meal was outstanding; again a perfect steak and I ate every bite.  However, our service was less than what you could expect, our waiter as serving the Captain's table.  The headwaiter noticed we had empty water and wine glasses and actually invited us back tomorrow on him!  Outstanding service by Royal Caribbean once again, they know we left there with a less that perfect experience and want us to come back on them.  
I did use my Diamond Plus coupon valid night 1 or 2 and its buy one get one cover charge free, so I paid $35 for both of us.  
After dinner we decided to call it a night, that is right... we were in bed before 10pm.  We had a really long day and the sun drained us so a good night sleep was calling our name.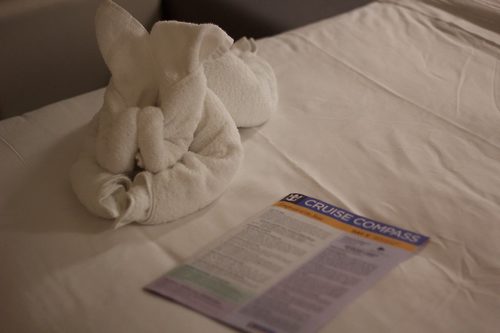 Tomorrow we have a sea day.  A lot of actives planned, stay tuned
Live Blog Index