In:
Boarding Empress 
Well, my cruise day finally arrived! I could not have been more excited to get back on Empress of the Seas.
As I mentioned I flew in from Tampa, FL to Miami, FL today. The flight was on time and I landed in Miami at 8:30AM. With nothing else to do in Miami, I decided to head straight to the ship! I took an Uber ride from the airport to this ship. The ride was $15 and very easy process, pickup and drop-off were seamless.
I had some friends getting off the Enchantment this morning so as my face was all smiles, theirs was no so much. I chatted with them for a bit and then headed over to my terminal.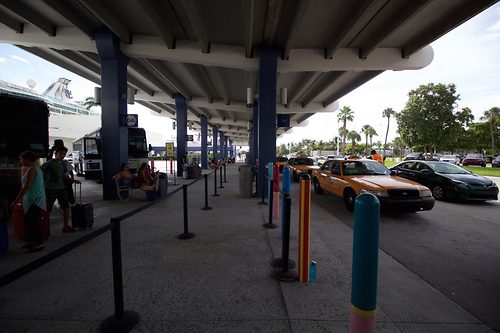 It was around 9:45AM and there were about 20 people in line to check-in. The security process does not open until 10AM, so we just waited in line until then. I checked in and their Loyalty Ambassador recognized me from a previous cruise and invited me into her suite lounge to wait.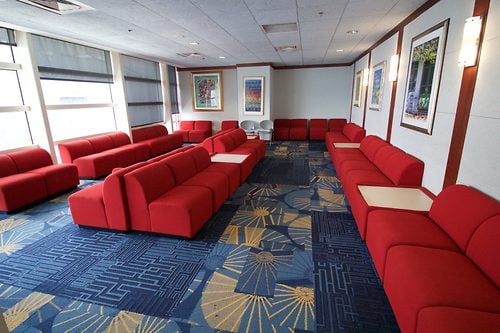 This was a very nice lounge with water, coffee, and small sandwiches. Another perk if you are in a suite, is this lounge you get to board first, she took us right on board at 11AM. 
On board 
Believe it or not, I was the first person to board Empress of the Seas today. Pretty cool experience, reminded me of being on board for a back-to-back.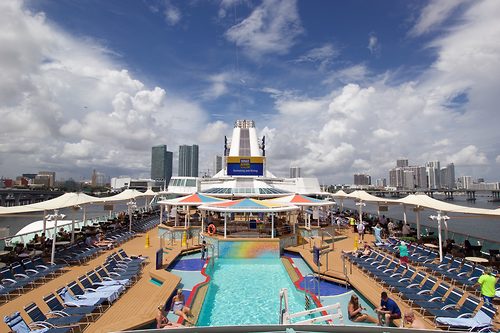 Once I was on board I headed straight to the Windjammer for lunch. I am going to make bold statement here, the mac-n cheese might have been the best I have ever tasted before, all I can say is wow!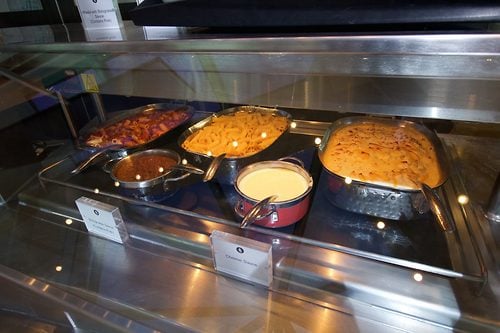 Lunch was outstanding and so fresh; I walked out with a smile that is for sure.
Now that I had a full belly I had to put my Select Drink Package to work. I had pre-purchased the drink package online prior to Royal changing their new drink packages. This package only allows me to get beer and house wines. When I cruise alone this package works well for me, because I get my 3 free Diamond drinks at night between 5:30-8:30. I talked to new friends at the poolside bar until our cabins opened at 1PM. 
Cabin – Ocean View #7000 
For this cruise, I am sailing in a standard ocean view cabin #7000. This cabin is all the way forward facing a little private walkway.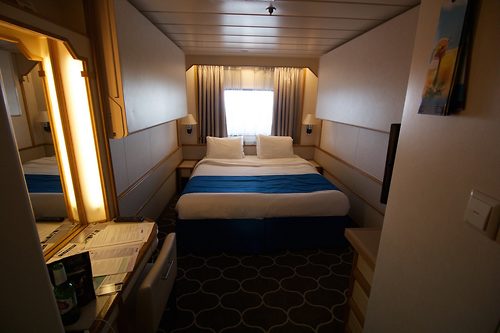 I wanted to try a different cabin that faced forward. On larger ships having a cabin all the way forward might cause some long walks to and from the cabin, but on Empress it iss a very short walk. The cabin can sleep up to 4 adults, so if you notice from my pictures there are two beds that hang on the walls. These beds make it very difficult to get in and out of the bed from the sides, because you have to bend over. I have been getting in from the bottom of the bed, pretending I am a child again.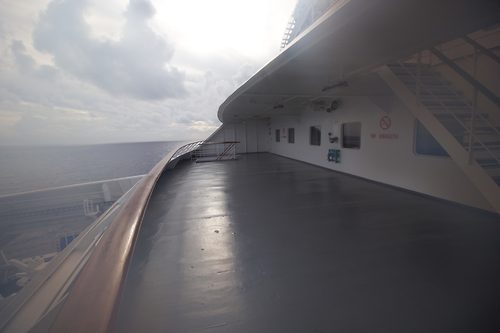 Other than the extras bed kind of in the way, the cabin is nice and everything on the inside feels new from her recent dry dock. 
Sail away 
The muster drill was at 3:30, and we set sail at 4:30. I have learned over the years not to arrive at the muster drills early, it can get hot standing on the side of the ship.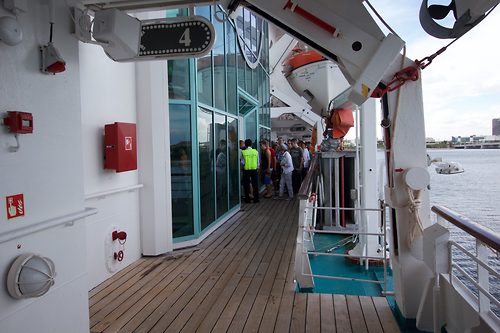 Our drill was very fast and did not take more than 10 minutes. After the drill I headed up to the top deck and wanted to get a close look at the Enchantment of the Seas. She is my favorite ship and it was excited for me to see her again. But I do have a cruise on her next month.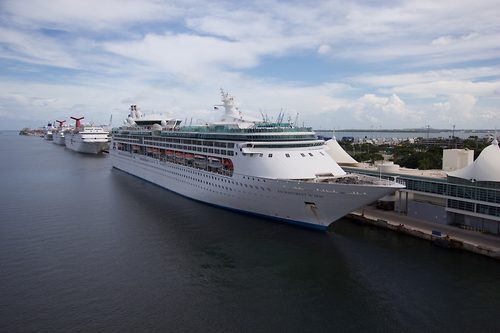 Once we set sail I headed to a top tier event for Diamond and up guest or suites. They usually host private events on Empress since there is no Diamond/Suite lounge.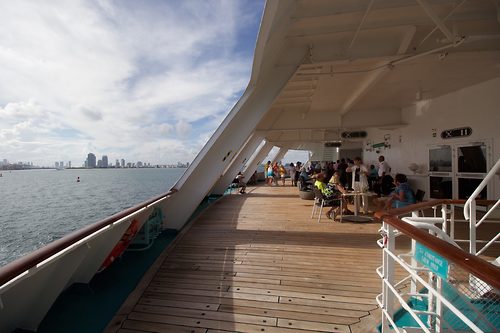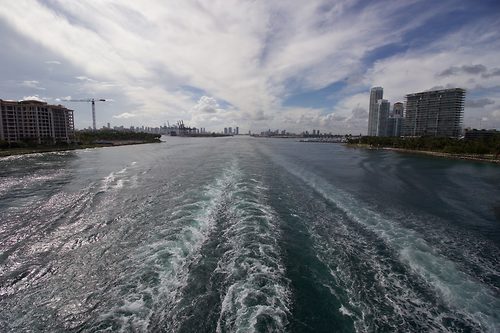 The event was nice, with live music and all the officers attending, including the captain. They served fish and shrimp kabobs, which I do not want to share how many I had… 
Evening On board / Dinner 
Tonight, I headed down to the Schooner bar to use my Diamond drink coupons, which are pre-loaded to my SeaPass card before dinner. I grabbed a window seat and just watched the ocean go by, that view just never gets old. I had made reservations for Chops Grill when I first got onboard for 7:30PM tonight.
One of the Crown & Anchor benefits for Diamond Plus is a BOGO specialty restaurant. Since I am cruising along I paid the cover charge tonight $35 and tomorrow is free. The staff in Chops all remembered me from last month, so that was fun to see them again. I laughed because I ordered without even opening the menu. The restaurant was almost full, but do not feel like you need to reserve online before. I asked my waiter to speed the meal up because of Monday Night Football and since I was dining alone. Overall a great meal and I look forward to going back tomorrow night.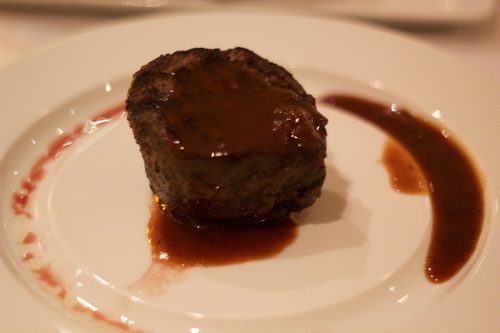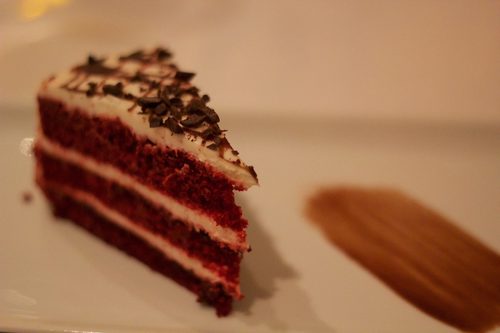 Shortly after dinner I decided to get some rest, day 1 is always a long day and I was ready for bed. 
Random observations
The ships does not feel full at all, there is never any wait at the bars.
My Crown and Anchor VOOM coupon was not loaded, so I had to have them apply a manual credit. However, the VOOM is working great!
The gift shop now has the ship models for $32.95.
The air conditioning is now working in 90% of the casino. 
 Stay tuned, tomorrow we are in beautiful Key West, Florida! If you have any questions, feel free to comment below and I will respond.