Navigator of the Seas Live Blog - Day 8 - Sea Day
In:
The last day of our cruise is here, and it is another sea day.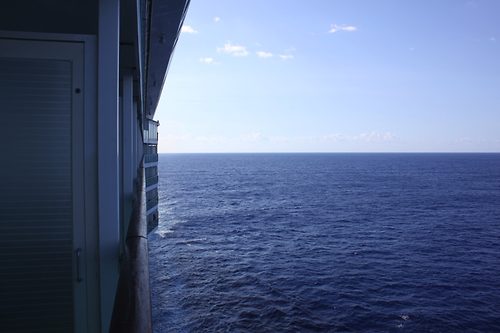 I wanted to take this blog post to look back on our 8-night adventure and share some thoughts on the cruise experience.
If this is the first live blog post for this cruise you are reading, I suggest stopping and going back to read the other live blog posts first, to provide context.
Adventure Ocean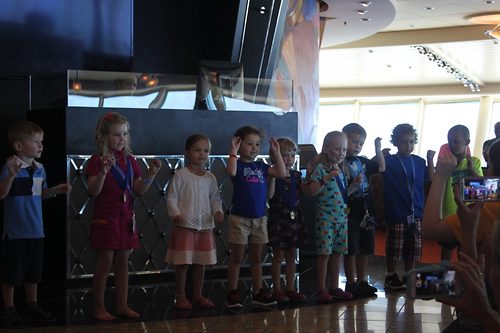 I wanted to start with Adventure Ocean because this is by far what provided the biggest WOW factor to me.
Time and time again, I am impressed by the Adventure Ocean staff for the sheer amount of programming they offer and the staff's passion for the kids they watch.
These are not a bunch of adults, sitting in a corner talking to each other and occasionally breaking up toy fights.  
The Adventure Ocean staff really enjoyed interacting with the kids and playing with them.  They learned the kids names and I really felt like they cared.
Both the Nursery and Adventure Ocean programming amazes me and any family considering a Royal Caribbean cruise should not worry one bit about kids programming onboard, because they do a phenomenal job.
Entertainment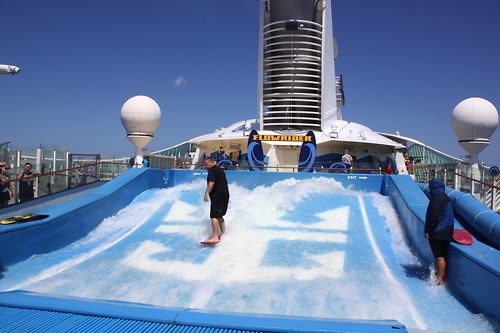 The entertainment that was offered was usually pretty good, and I enjoyed the evening shows, performances and activities the entertainment staff planned.  Great stuff.
What was odd about the entertainment was the scheduling.  It felt like there just was not as many activities as I recall on other Voyager or Freedom class ships.  There were sea day afternoons that felt like we were in port, and evenings where it seemed like they could have offered more.
Again, what they offered was great and the Broadway reveue, ice show and bar entertainment were great.  I would have preferred to have seen some more activities, namely trivia, as well as a classical music group.  
I also believe a great deal of what Navigator of the Seas offers are on-your-own activities, such as the FlowRider, mini-golf, pools, rock climbing wall, ice skating, etc. 
Special recognition to guitar player Jimmy in the pub, the ice skating team and the live band that played the pool and Promenade.  Worth seeing any of them, all the time.
Dining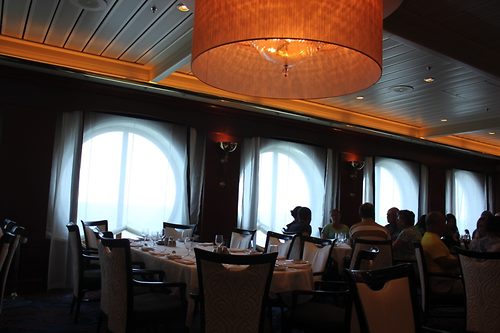 The food in the main dining room, Windjammer and various other spots was all quite good.
I have always said food is such a subjective thing, and something you absolutely love, I might absolutely hate.  Neither of us are wrong.
The food on Navigator of the Seas ranged from "average" to "very good/excellent" and I think overall, Royal Caribbean does a great job with what they offer. 
The breakfast eggs are still inedible (that is a fleet-wide problem), but the omelet bar makes up for it and there was a good variety of food for lunch and dinner.
In addition, crowds were never an issue with any dining venue.  At worst, Windjammer between 9-10am would be busy, but never unbearable.
Our main dining room waiters were great and our waiter might have been one of the best in terms of service. 
Specialty Dining
We ate at three specialty restaurants during this cruise: Giovanni's Table, Sabor and Izumi.
All were great and serve up really good food and present excellent values.
Royal Caribbean is a market leader when it comes to specialty dining and their restaurants are not just another revenue stream.  Rather, they offer fantastic food choices that are well worth your time and money and frankly, if you are not trying at least a couple of them on a cruise, you are missing out.
Ports/Itinerary
A major factor in picking this cruise was the itinerary and the ports did not disappoint.
If I was in charge, I would have changed up the itinerary slightly just to smoothe things out.
We were in Labadee from 7am - 3pm, then San Juan 2pm - 9pm, then St. Kitts 9am - 6pm and St. Maarten 10am - 5pm.
What I would have done is stuck a sea day between San Juan and St. Kitts and then extended our San Juan stay until like 2am or some other late hour that would allow guests to really enjoy San Juan's nightlife.
Not to mention, four port days in a row is tough and by St. Maarten, we were exhausted.
Nonetheless, I would take this itinerary again in a heartbeat.  Great variety of ports and they all were quite lovely to visit.
Crown and Anchor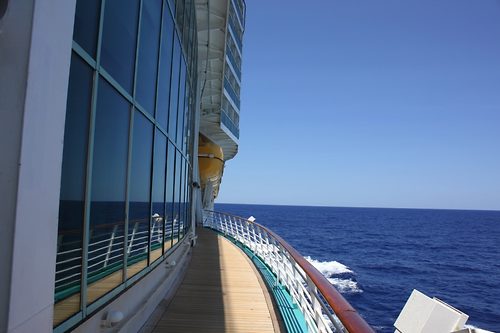 This was our first cruise as Diamond members and we were pretty excited to take advantage of it.
There are two benefits that stood out to us with being Diamond members: access to the Diamond Lounge and the drink coupons each evening.
The Diamond Lounge is quite nice to have and it did get busy there in the evenings.  It is a nice hideaway, although with kids, we did not spend a lot of time there.
I thought the drink coupons would be more useful to me than they were, probably because you are limited to a selection of liquor, wine and beers.  
I admit I am a drink snob and my favorite drinks are mixed cocktails that were not included.  I am also not a huge drinker anyway, so I made my peace with the drink coupons. My wife, on the otherhand, liked her Bailey's on the rocks and just goes to show you different strokes for different folks.
Stateroom
We had a Junior Suite this cruise, with all four of us in one room.
The room was much larger than I was expecting, and we easily fit us all in there, even with the sofa bed that opens up and the crib.
The balcony was also larger than I was expecting and I forgot how nice it is having an ocean-facing balcony.  With this itinerary and great weather, the balcony was such a great perk.
My wife and kids also really liked having a bath tub.
With all of that said, with the kids as young as they are, we will book two staterooms from now on because of the sleeping situation.
Having a second room allows the baby to sleep while the rest of us can be up and about.  At night and during naps, our stateroom became a silent prison, where we all had to remain still, quiet and in the dark so that the baby could sleep/nap.
In addition, two bathrooms with two staterooms is also a huge bonus.
When they kids get older and can understand the concept of going to bed with the lights still on or some other people talking, we might revisit one room.  But for the timebeing, it is two rooms or bust for this family!
Stray Observations
Never underestimate the power of asking. We got luggage tags for a 9:45 departure, which is really late.  A quick trip to Guest Services and we had a much earlier tag.
Speaking of luggage tags, as Junior Suite guests, we had priority embarkation but do not get priority disembarkation.  I could have sworn I read we had priority disembarkation too, but I am mistaken.
The casino is a cruel mistress, who happens to have a lot of my money.
Nursery gives parents pagers instead of phones. That is different from every other Royal Caribbean cruise I have been on to date.
My oldest daughter is the mayor of Adventure Ocean Aquanauts.  When she walks in, she is the Norm to their Cheers.  
The weather today was incredible. No humidity, sunny and temperatures in the mid to upper 70s.  This kind of weather is making it ten times more difficult to say goodbye tomorrow.
Having that extra day (8-nights instead of 7) is such a nice feeling and it did feel like this cruise was longer than usual.
I wonder if I am one of the last Royal Caribbean guests to ever use non-Voom internet?
It is very likely I had more Starbucks beverages than alcohol beverages on this cruise.

Overall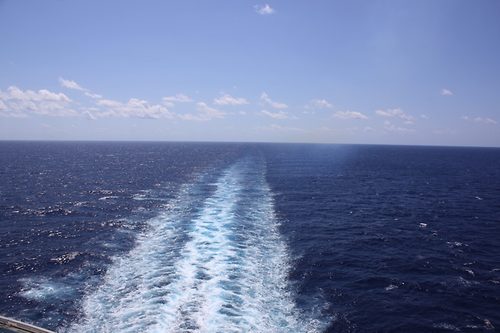 Without a doubt, we had a great time on this cruise and Navigator of the Seas remains my favorite cruise ship.
When you consider the value of what a cruise costs on this ship, the stateroom options and itineraries offered, I really do not think you can go wrong with this or any other Voyager-class ship.
It is a great size, and getting from one end to the other was never the ordeal that it can be on other ships.
The crew did an amazing job onboard and we enjoyed talking with them every day. Everyone would say hello as you walked by and they all paid extra attention to our kids.
I also wanted to take a moment to say a big thank you to everyone that followed along in this live blog.  I really, really, really enjoyed sharing this cruise with you and reading your comments and questions.  It is still an undeniably cool concept that I can be in the middle of the Caribbean and be sharing my cruise experience with all of you, all over the world. Thank you for being a part of the fun!
If you are wondering, my next cruise is on Freedom of the Seas on September 4, 2016, and you can join me for it!