In:
Disney Cruise Line released its Summer 2017 itineraries this week and many Disney Cruise Line fans very surprised by the pricing they found.
I have no words. @TheDCLBlog pic.twitter.com/prTNGWk5Yv

— Laurel Stewart (@helloknitty) April 14, 2016
@TheDCLBlog 8/2/17 5 night Alaska 2 adults and 2 kids 5C $7680.36. 8/21/17 7 night Alaska $9290.12

— cambsuk (@cambsuk1) April 13, 2016
@TheDCLBlog 7 night Med 8/12 2A2C (12,10) : 9A $8879.64, 5A $10279.64, 4E $12099.64

— disneyheather (@hkeller) April 13, 2016
@TheDCLBlog 5-night MED cruise, 2 adults/1 child, cat 5A $7079.46 ....5 nights! I paid $4K in 2014.

— Ana B. Fallas (@abfallas) April 13, 2016
With this kind of sticker shock, there are some fans who have come to a similar conclusion as Dave.
@TheDCLBlog @DisneyCruise DCL has finally encouraged me to check out @CruiseNorwegian and @RoyalCaribbean

— Dave S. (@siouxperdave) April 13, 2016
If you are someone considering an alternative cruise that is just as fun, relaxing and far less costly as a Disney Cruise, Royal Caribbean is a great choice.  
That being said, we understand there is trepidation about changing cruise lines and leaving the warm embrace of the Mouse.  We are here to tell you that there's nothing to worry about and that a Royal Caribbean cruise vacation is very similar to a Disney Cruise (minus that price tag).
Here is our guide to how you can learn to stop worrying and love the Crown and Anchor.
Step 1: Disney and Royal Caribbean offer similar experiences
Before one can consider a Royal Caribbean cruise, I think it is important to understand that both Disney Cruise Line and Royal Caribbean offer very similar experiences.
Both cruise lines are mass-market cruise lines that target family travel.
Both cruise lines embrace a strategy of building cruise ships that offer guests a lot to do onboard.
Both cruise lines have plenty for kids, parents, adults, grandparents and everyone of all ages to do and see.
In my experience, many ardent Disney Cruise Line fans have cruised Disney Cruise Line solely and a DCL cruise was their first cruising experience.  Give Disney credit, they are great at marketing their products and getting those new to cruising to give their cruise line a try simply because of the name recognition.
Believe it or not, I like the product Disney Cruise Line offers but like you, I also see this, frankly, crazy pricing Disney Cruise Line has and it is why we cruise with Royal Caribbean.
The first step in giving Royal Caribbean a try is to believe me when I say there are things Disney does better and there are things Royal Caribbean does better, but the bottom line is the experiences are more similar than they are different.
Step 2: Looking at what Royal Caribbean offers (besides price)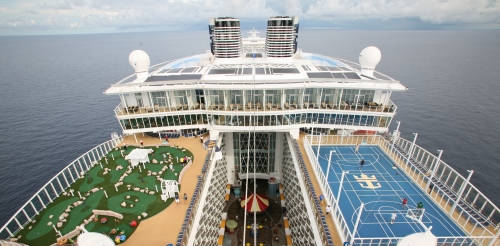 While price is a big deal, no one should book a cruise purely on cost factor alone. If that were the case, this blog post should be focusing on some other cruise line options.
Royal Caribbean has 24 (soon to be 25 next month) ships in its fleet and there are a few areas of the cruise experience Royal Caribbean greatly distinguishes itself from Disney Cruise Line.
Itinerary variety
Disney Cruise Line only has 4 ships in its fleet today, so it can only offer so many itineraries.  Royal Caribbean's fleet size means you can take cruises from Florida, Europe, Galveston, Baltimore, Alaska, New York, Australia, China and many more destinations for most of the year.
While Disney serves many of those areas too, they do so only occasionally and in many cases, there is not much variety in itineraries offered.
With Royal Caribbean, you can opt to explore more of the world via a cruise ship or visit your favorite spots again and again.
Ship features
Royal Caribbean's cruise ships are built to be meccas of onboard entertainment.
Royal Caribbean cruise ships may offer Broadway shows, ice skating, surf simulators, rock climbing walls, water slides, multiple pools and much more.
Royal Caribbean ships offer adults-only pools, a wide variety of specialty restaurants, unlimited alcohol and drink packages, and a casino.
Many Disney Cruise Line fans that try Royal Caribbean often comment about the wide variety of stuff to do while onboard.
Step 3: Kids, kids and kids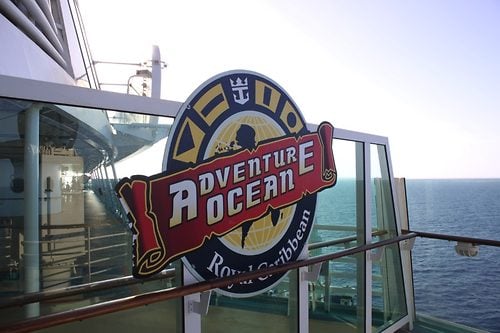 Earlier in this post, Disney's brand recognition was cited as a reason why many choose to cruise with Disney Cruise Line in the first place, but children are also a big factor.
I get it, Disney and kids are nearly synonymous with each other and many parents are concerned how could any other cruise line compare to what Disney offers for kids.
While Disney does a great job with kids and kids programming, Royal Caribbean has stepped up their children's programming in recent years and it is much closer to what Disney offers than you may think.
Royal Caribbean offers complimentary programming for kids in its Adventure Ocean program, as well as teens in their own area.
The dedicated space for kids and breadth of programming has expanded greatly with each new ship class and for parents looking to cruise with children, the child care facilities on Freedom, Quantum and Oasis class ships should offer excellent choices.
Royal Caribbean also features on nearly all of its ships a nursery option, which for an additional hourly cost, can provide day care for children 6 to 36 months old.
Beyond child care, there is lots for kids to do onboard a Royal Caribbean ship.  Mini golf, ice skating, surf simulator, sports decks, video games, aqua parks and soon water slides are just a few of the options available.
In the Cruise Compass, guests can enjoy even more opportunities for activities throughout the day.
Step 4: (Thinking, considering & pondering) Making the jump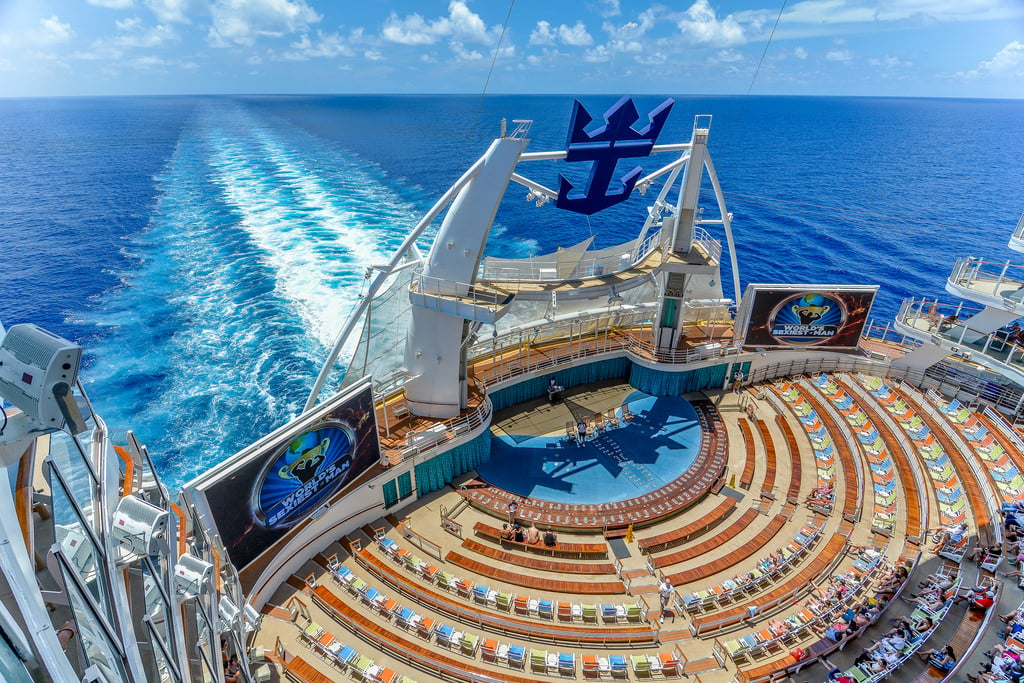 I hope by this point in this post you are thinking along the lines of, "I understand there is a huge price difference and the two cruise lines aren't really that different from each other."
If so, ask yourself this question next, "Why am I paying so much more for a Disney cruise?"
Answering this question may be the linchpin in the proverbial decision axle that convinces you to consider taking a Royal Caribbean cruise.
I think it would be foolish to assume every Disney Cruise Line fan that tries Royal Caribbean would be instant super fans and never look back, but I also believe (based on mine and others experience) that there is a good chance that making the switch would still result in a fun family vacation.
Look at the various options available to you in a Royal Caribbean cruise and consider the various itineraries and ships that might match up with what you are considering.
I often remind people considering Royal Caribbean for the first time, odds are they will still have a satisfying vacation on Royal Caribbean and they will either come around to cruise more with Royal Caribbean or opt to stay with the mouse.  In either case, it will be a good learning experience.
At the risk of shameless self promotion, here are some more resources on this blog to help guide you with what Royal Caribbean offers and what might be of interest to you
Have you cruised with Disney and Royal Caribbean? Share your thoughts on how they compare in our comments!