In:
When it comes to picking a cruise, often folks will consider different cruise lines in their decision of the right cruise for them.  We often receive questions about how Royal Caribbean compares to other cruise lines, especially Disney Cruise Line.
It is a natural comparison since both cruise lines target families and both cruise lines sail out of the same ports.  We wrote an extensive comparison between the two lines but today we have the top 5 ways Royal Caribbean is different than Royal Caribbean.  
If you are considering cruising on Royal Caribbean instead of Disney Cruise Line, here are some reasons why it makes sense.
5. Big emphasis on onboard activities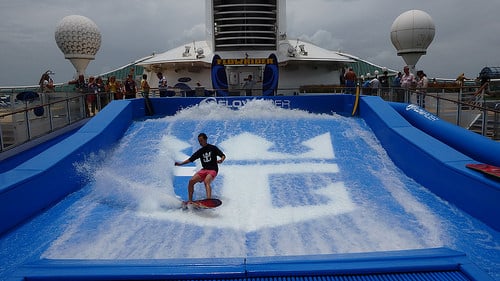 Royal Caribbean has focused on offering more and more onboard activities on its cruise ships over the years, with an emphasis on activities with a "WOW" factor.
Royal Caribbean ships have an ice skating rink, FlowRider surf simulator, mini-golf, rock climbing wall, sports court, bumper cars, sky diving simulator, X-Box gaming room and that is just scratching the surface.
At night, Royal Caribbean really pours it on with Broadway shows, game shows, trivia, comedians and more.
While Disney Cruise Line does offer things to onboard its ships, Royal Caribbean seems to offer a lot more on its cruise ships.  The Disney Tourist Blog put it best, "On our cruise, 'After Hours' was pretty much a ghost town every night after 11 p.m."
4. Many more specialty dining choices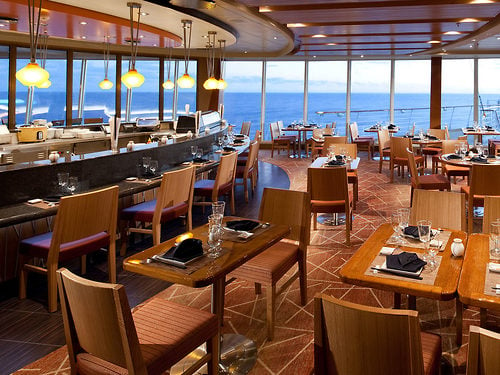 Royal Caribbean has really invested heavily in specialty restaurants over the last couple of years and that means you will find many more dining options onboard a Royal Caribbean ship.
Granted, these specialty restaurants have an additional cost but so do Disney Cruise Line's specialty restaurants. The difference is often Royal Caribbean ships offer much more variety in the scope of specialty dining offerings.
If you relish in trying different cuisines and having a greater variety of selection, a Royal Caribbean cruise can offer you a lot to choose from.
3. Many more itineraries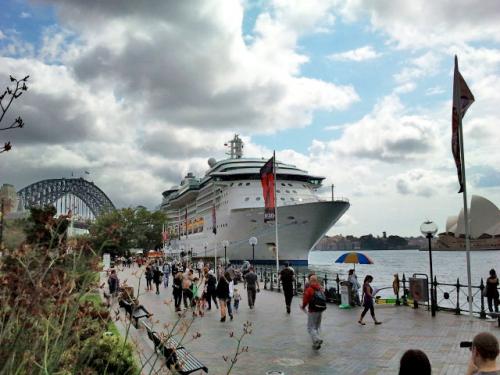 This comes down to simple math, Disney Cruise Line only has 4 ships in its fleet so the itineraries offered are limited but Royal Caribbean has 23 ships in its fleet, so this means you can cruise to places all over the world nearly year-round.
Royal Caribbean has cruises to the Caribbean, Europe, Alaska, China, Southeast Asia, Australia and more. And many of those itineraries are available for a larger portion of the year.    
Disney Cruise Line does serve some of these areas but in far less frequency, so for those looking for a cruise to somewhere beyond the usual, odds are there will be more to choose from on a Royal Caribbean cruise.
2. Mega ships
Disney Cruise Line boasts the size of its Dream class ships, but their ships are no where near as large as Royal Caribbean's ships.
The Dream class comes in at 129,690 GT and a passenger capacity of 2,500 passengers at double occupancy.  On the flip side, Royal Caribbean has ships like the Oasis class that is 225,282 GT and can handle 5,400 passengers at double occupancy.
Then there's the Freedom, Quantum and Voyager class ships that are all significantly larger than anything Disney Cruise Line offers.
Size is not everything, but with a larger ship you get more to do onboard for kids, teens and adults.  These larger ships include so much to see and do onboard, having access to it all makes a big difference.
1. Price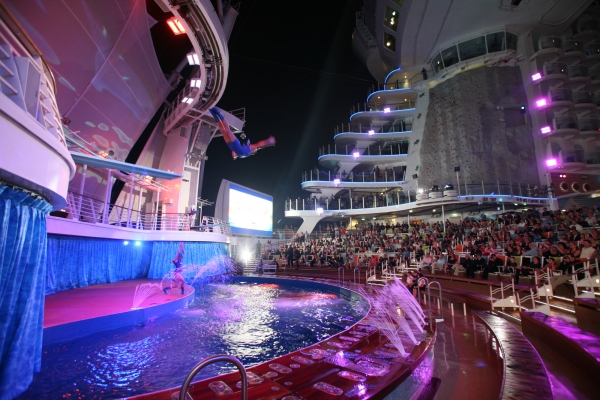 Perhaps no difference between these two cruise lines is as pronounced as the price.
Disney Cruise Line charges a premium for its brand name, but on average, a Royal Caribbean cruise will cost you significantly less for a very similar experience.
I conducted a few checks for prices between the cruise lines to illustrate the differences.  I tried to pick sailings on the same date and same or nearby ports with the same stateroom category at the lowest price I could find.
These prices were accurate as of the date this blog post was posted.
Disney Fantasy 7-night Western Caribbean (April 2, 2016) - Verandah (11A): $4,683.38
Freedom of the Seas 7-night Eastern Caribbean (April 3, 2016) - Balcony (E3): $3,194.32
Disney Fantasy 7-night Eastern Caribbean (July 16, 2016) - Inside (11C): $4,791.00
Allure of the Seas 7-night Eastern Caribbean (July 17, 2016) - Inside (N): $2,536.06
Disney Wonder 7-night Alaska Cruise Itinerary A (August 1, 2016) - Verandah (07A): $6,851.38
Explorer of the Seas 7-Night Alaska Sawyer Glacier Cruise (August 5, 2016) - Balcony (E3): $4,334.02
Disney Magic 12-night British Isles Cruise Itinerary A from Dover, UK (June 5, 2016) - Verandah (07A): $13,185.56
Navigator of the Seas 10-night Canaries Cruise from Southampton, UK (June 6, 2016) - Balcony (D3): $4,325.12
Disney Magic 7-night Western Mediterranean Cruise Itinerary B (August 27, 2016) - Verandah (07A): $4,922.80
Harmony of the Seas 7 Night Western Mediterranean Cruise (August 28, 2016) - Balcony (D8): $3,976.98
As you can see, the price difference between the two cruise lines is often thousands of dollars.  
You can tout all the things you can get on Disney Cruise Line gives you for free that Royal Caribbean may charge you for but I think most cases, the price difference more than makes up the difference.
Having sailed both cruise lines extensively, I can tell you that both cruise lines offer a very similar experience: great dining, terrific crew and fun onboard.  So why pay so much more for one over the other?