Oasis of the Seas Live Blog - Day 1 - Embarkation Day
In:
Royal Caribbean Blog contributor Michael Poole is on Oasis of the Seas this week.
I have been counting down to this day and it's finally here!
My plan was to sleep in since I had such a full day on board, but who can sleep in when they are going on a cruise?
Woke up around 6am and looked at the webcam of the Oasis already dock and watched her sisters, Liberty and Independence pull up. To say the excitement level was up is an understatement. We found a nice local diner for breakfast and cruised around town to kill an hour.
As we were pulling up to the terminal I saw a Walgreens right at the light, so we stopped in there for some last minute items.
10:00AM – Headed to the pier.
Usually I arrive around 11:30AM and walk right on, but we wanted to rent a cabana in Labadee so early we went. Once we arrive to the pier there was very little traffic, so maybe this 10AM stuff is not so bad.
They were not boarding yet so we all sat in the Diamond section. This is one Crown and Anchor perk they allow you to bring non-diamond members with you. At 11:40AM they started boarding suite guest, and down the C&A tiers.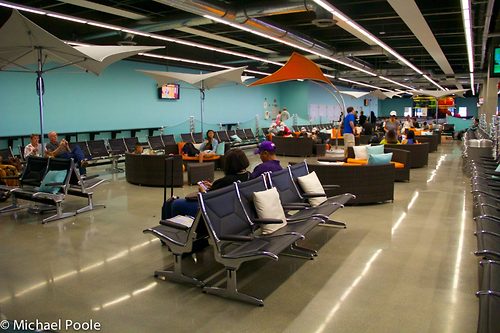 Finally Onboard
We are finally onboard, now what? Well we headed to the excursion desk and didn't have much luck there booking a cabana, "suite only" Oh well.
I decided to head up to central park for lunch at Park Café. I was going to have lunch at Sabor, but I was not that hungry so we all had a small salad. After which we headed over to check out the menu for 150 Central Park – Guess what they are doing ½ off the first night, that's right dinner for $15pp! We are dining tonight at 8pm, so review on dinner tomorrow night.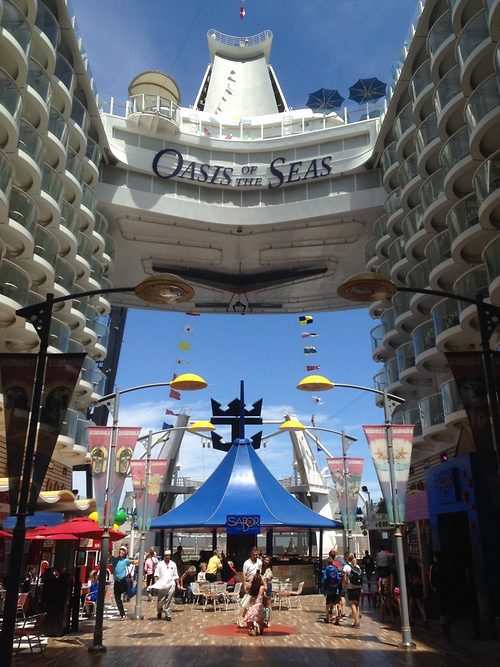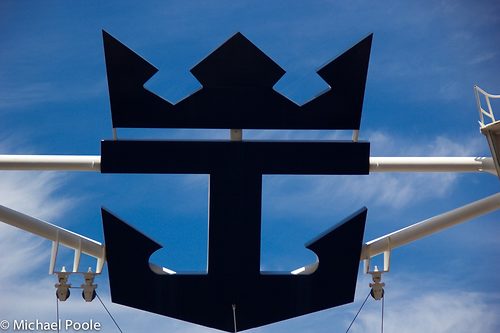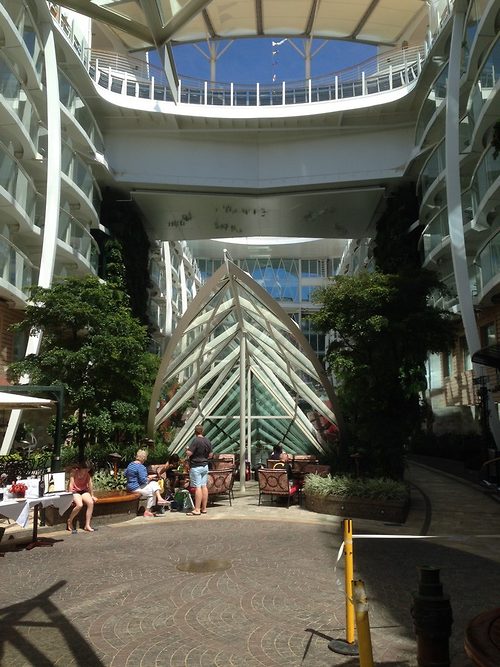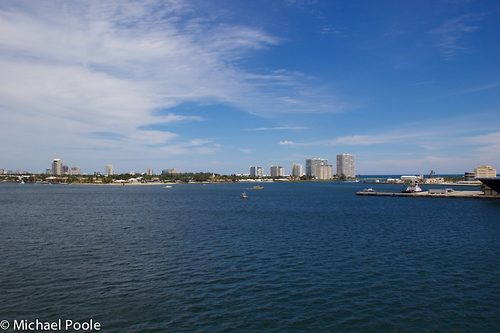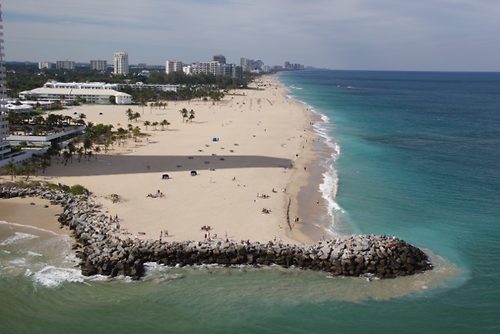 Overall thoughts so far on Oasis. The ship looks great, I can tell the flooring on the boardwalk looks very fresh, and the dining room is ready for dynamic dining. My cabin is on deck six right by the boardwalk, so it's nice to run out there for a cocktail. Also, my cabin is 6274 D8 Balcony on the port side, very nice cabin and I'm so sorry for not taking pictures, but I will.
This evening we are having dinner at 150 Central Park and then headed to the Aqua show, which is my favorite show all week.
Drink Prices 
There are four of us in my group and three purchased the unlimited drink package at $49 per day, totally $404 each. I feel like Royal might be pushing more people to this package, because the cost of cocktail A la Carte have gone up. My girlfriend Courtney ordered a Stella Beer it was $6 + 18% = $7.44, also a Mojito was $12.
So if you are on the fence about the drink package, this might push you over the "value" mark.
PS. I thought you should know I currently at the pub writing this… Let me know what you what to know about Lady O!
For the sailaway we met new friends for the at the wipeout bar.  This is a great place to enjoy the sailaway on the Oasis.  The views of south Florida as you sail into the gulf are quite amazing.  After spending an hour or so we decided to get ready for our dinner at 150 Central Park. 
Dinner at 150 Central Park
As I mentioned earlier, they were doing a half off price to dine here for the first evening, so only $15pp cover charge.  The Oasis was in for a dry dock in November and 150 had some changes.  Previously they had a six course tasting menu, which is actually how it still is on the Allure.  However, now 150 Central Park is a full meal, with four courses, with much larger portions.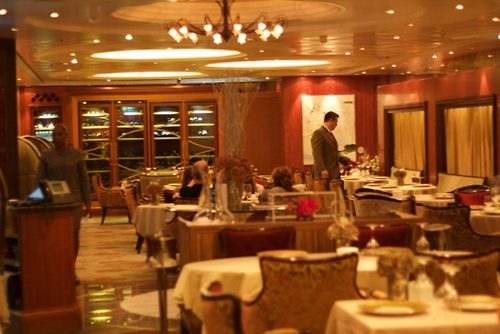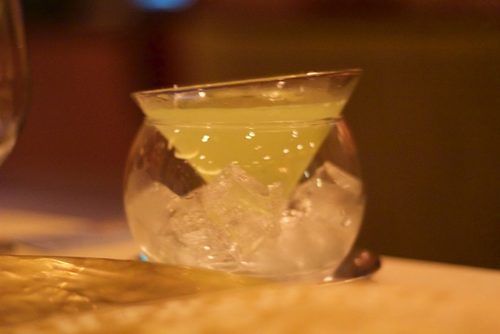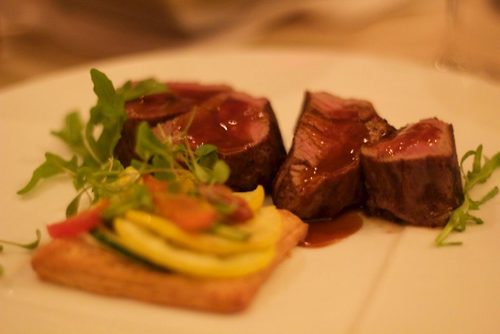 I'm going to be honest I was not really excited about coming back here, because last time I didn't enjoy the tasting menu, but boy am I glad I did!  This meal for $!5 is the best value and quite frankly maybe the best meal I'll have all week.  The service was top notch and yes they try to sell you a cookbook, a kitchen tour, bottles of wine – but I just say no thank you. 
Since my girlfriend did not have the drink package I brought a bottle of wine to dinner, no problem and Royal no longer has the cork fee.  Now I was sipping on the cucumber Martini, which is only serve at 150 and it's the best martini I've ever had.  I usually don't enjoy Martini's because how strong they are, but you couldn't even taste the alcohol.   We had a fresh salad, veal pasta, filet (I asked for two cuts of meat), and chocolate pie.   My brother does not like chocolate, I know who doesn't like chocolate, but they ran over to chops for a blueberry cheesecake for him. 
For the value, quality, and service you can't go wrong dining here. 
Post Dinner - Aqua Show
After dinner we changed and headed to the boardwalk for the aqua show.  I don't make it to all the shows, but this is one I don't miss.  In fact, I might even try to go see it again!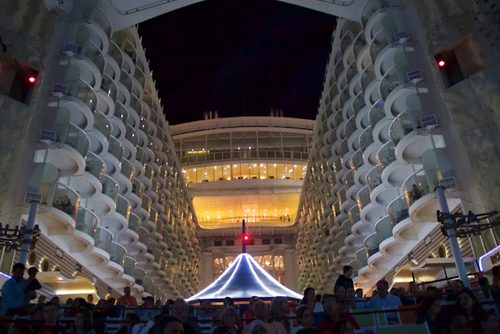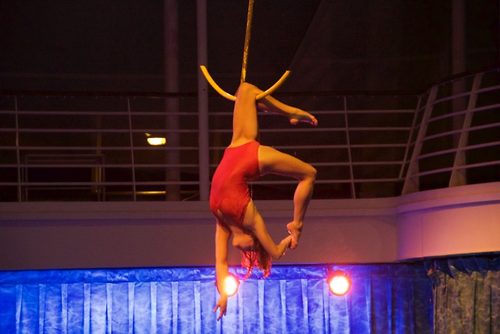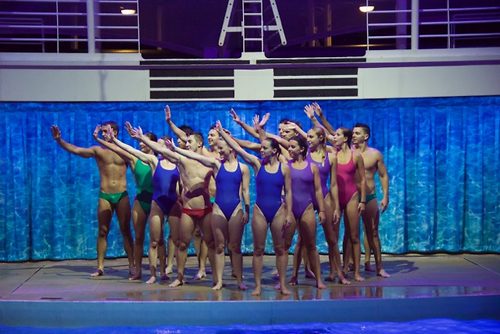 I like the show so much because you can't find something like this on any other royal ship, well maybe you can on the Allure.  The show only last 40 minutes, but you need to arrive at least 30 minutes early for a seat.  After the show we wanted to do a little dancing, but most everyone had called it a night, so we followed and got a greats night sleep.