Looking back at Royal Caribbean's extinct restaurants
In:
These days, Royal Caribbean is rolling out brand new restaurant and dining concepts by the handful.  But not all restaurants Royal Caribbean opens stay open forever.  
We thought it might be fun to look back at the restaurants Royal Caribbean has said goodbye to as well as the ones that are nearly extinct (endangered?).
Seafood Shack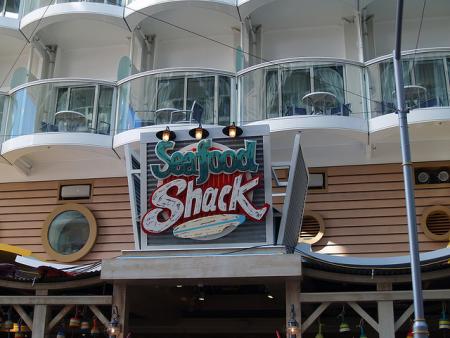 Seafood Shack was a brand new restaurant when Oasis of the Seas first debuted.  As the name implies, it served up seafood in an open-air restaurant in the Boardwalk neighborhood.
Originally, the Seafood Shack charged guests a cover charge but later Royal Caribbean changed it to be a la carte pricing.  
The axe came swiftly for Seafood Shack just a few weeks ago when Oasis of the Seas underwent its 5-year drydock refurbishment and it was replaced by Sabor Modern Mexican.
The Seafood Shack failed to connect with cruisers and the changes in pricing seemed to be indicative of efforts to get more passengers eating there but it never became a fan favorite.
Portofino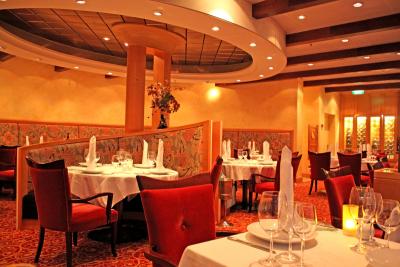 At one point, Portofino was Royal Caribbean's signature Italian specialty restaurant.  Along with Chops Grille, Portofino was being rolled out across Royal Caribbean's fleet.
When the Oasis-class of cruise ships debuted, they noticably were missing Portofino and had introduced a new Italian restaurant, Giovanni's Table. Would there be room for two kinds of Italian restaurants in Royal Caribbean's fleet?
Turns out the answer was no, as the fleet-wide refurbishment replaced existing Portofino restaurants with Giovanni's Table.
Portofino still exists on a few ships, but Royal Caribbean has quietly confirmed they are on their way out in favor of Giovanni's Table.  We will never know the exact reason for the swapping of Italian restaurants, but it's likely a part of a shift in the onboard dining strategy Royal Caribbean instituted.
Seaview Cafe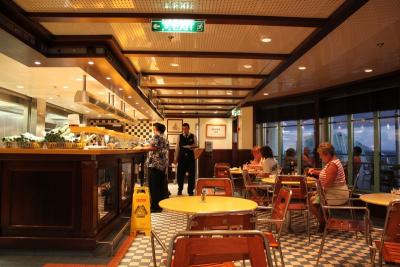 If you've ever cruised on a Radiance-class ship, you've probably dined a few times at the Seaview Cafe.  
Part sit down, part quick service, the Seaview Cafe offers freshly made sandwiches, soups and snacks with a view of the ocean.  It was quite popular among Royal Caribbean fans as being a "hidden" secret.
Like Portofino, Royal Caribbean decided to remove Seaview Cafe in favor of adding new specialty restaurants.  Only one Seaview Cafe remains on Jewel of the Seas, which will also be removed once Jewel of the Seas receives her refurbishment.
Seaview Cafe was an interesting restaurant experience and unique to the Radiance-class.  Replacing it with specialty restaurants made sense from a business perspective, but fans lament its loss for the simple yet incredibly tasty fresh food.
Jade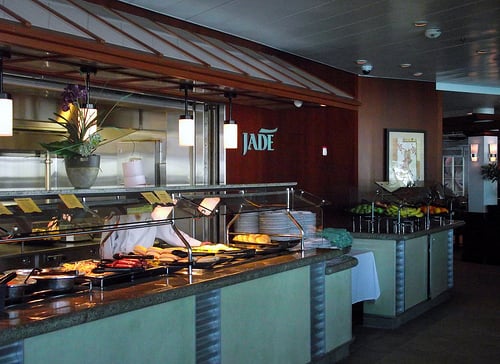 Asian food has always been a popular cuisine and Royal Caribbean looked to capitalize on its popularity with a special section in the Windjammer just for that, called Jade.
Jade offered sushi, a variety of Chinese, Thai and Indian dishes along with a few Asian soups.  I personally enjoyed the make your own miso soup bar.
Jade was never the best Asian food you'd ever have, but it was complimentary and the main dishes changed each evening.  The sushi wasn't great but at the time, it was the only choice we had.
When the Oasis-class of ships introduced the Izumi specialty restaurant, the Jade sections started to be removed in favor of Izumi.  Izumi offered much better quality sushi and Japanese food, albeit at a price.
Much like Portofino, only a few ships have Jade these days and they too will be replaced eventually.
Cupcake Cupboard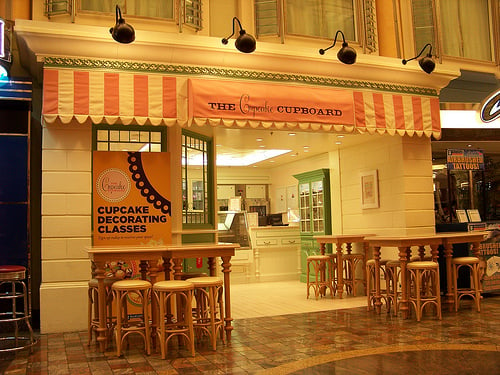 The Cupcake Cupboard was a small shop on the Oasis-class promenade that aimed to capitalize on the rising popularity of cupcakes as a stand-alone product.  
In addition to offering cupcakes to eat, there were decorating classes for kids and adults.
Even after debuting on the Oasis-class, the Cupcake Cupboard made its way to other Royal Caribbean ships during the fleet-wide upgrades.  As ships were upgraded, the Cupcake Cupboard started to go from a small shop to an offering at Cafe Promenade.  
When Oasis of the Seas received her refurbishment, Cupcake Cupboard was evicted in favor of a Kate Spade store.
I believe revenue from Cupcake Cupboard was not great enough to warrant the prime real estate it occupied but on Navigator of the Seas, you could find slimmed down Cupcake Cupboard offerings from Cafe Promenade, which allowed Royal Caribbean to offer the tasty treats without all the space.
Main Dining Room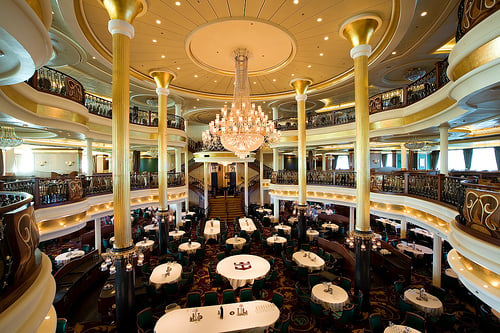 This one is up for debate how endangered the Main Dining Room is because as of the time of this post, the Main Dining Room has only been removed from Quantum and Oasis-class ships but Royal Caribbean waiting to see how its replacement does.
Dynamic Dining is the new dining concept initially introduced on the Quantum-class of cruise ships that eliminates a main dining room and replaces it with smaller restaurants.  The idea is to give guests a greater variety of choice for dinner and without the formality of the main dining room.
Perhaps the main dining room will soon meet a similar fate as other restaurants in this list or perhaps the Dynamic Dining concept will not advance any further.  Time will tell.
Which do you miss the most?
Of the restaurants listed here, which do you miss the most?  Is there a restaurant here you'd love to have one more meal in?  Share your thoughts in this post's comments!