In:
Tucked away on the Boardwalk area of Royal Caribbean's Oasis of the Seas is the Seafood Shack, one of nine specialty restaurants found aboard the world's largest cruise ship.  For those who need a seafood kick, this is your place to go.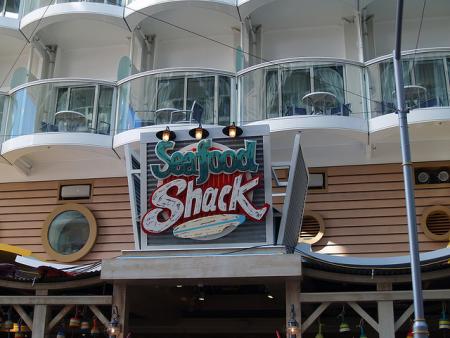 Atmosphere
The Seafood Shack is located in the Boardwalk area of the Oasis of the Seas and fits right in.  In fact, it probably is the best themed element to the Boardwalk motif, as it does feel like the sort of restaurant you would find along an ocean front boardwalk.  The restaurant is decorated with a lot of surf items, from surf boards to water buoys, it's all about the ocean here.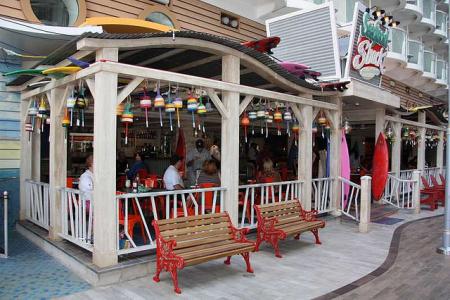 In fact, the menu you get is designed to look like a kickboard and is made of a hard wood.  These little elements really help establish one of the better decorated restaurants found aboard Oasis of the Seas.
The Seafood Shack is an open air restaurant, meaning it's not air conditioned and subject to the outside temperature.  Eating here in the middle of July for lunch, it wasn't terrible as it's shaded from direct sunlight and there are fans overhead to keep the air moving.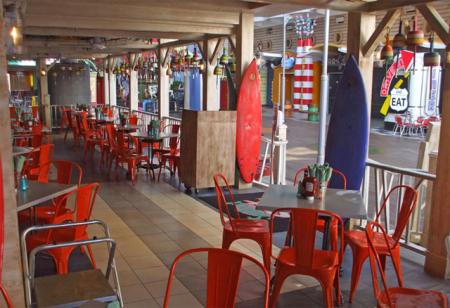 Eats
Before we jump into the food, we need to discuss the ordering system here.  The Seafood Shack has a cover charge you must pay per person, similar to other specialty restaurants.  However, the Seafood Shack differs from the other specialty restaurants in that your cover charge does not allow you to order as much as you like.  Rather, you can order one appetizer, one entree and one dessert.  You can order extra food on top of that for an additional fee per item ($3.95).
At first, I thought this would be a problem as the staple of any restaurant on a cruise ship is ordering as much as you like.  Once I tried it out, I found there to be plenty of food between the three courses you are allowed and it should be more than enough food for most people, especially once you start sharing some food around the table.
The menu at the Seafood Shack features, yes, a lot of sea food.  From fish to crab to shrimp, there's a lot to choose from. I was actually surprised by the amount of non-seafood on the menu as well.  Lots of chicken, beef and pork can be found to choose from, which is good for picky eaters or those who aren't keen on just eating seafood for the entire meal.
Be sure to ask before you order your meal what the fresh catch of the day is.  The fresh catch routinely changes from day to day and if you enjoy fish, you know whatever is freshest is often the best choice.  On the day I ate here, a butter fish was fresh and I opted to give it a try.  But before we get there, let's start with the appetizers.
I had the New England clam chowder, which came in a large sourdough bread bowl.  The soup was good, but the bread bowl was better.  There's just something about the combo that really made it so good and I had to forcibly stop myself from eating the bread bowl because I didn't want to fill up on that before the rest of the food came.  My wife opted to have the cajun potato wedges, which were your typical good tasting large french fries.  In both cases, we found there to be an abundance of food and we barely dented my wife's potato wedges.
Most of the appetizers that aren't soups are served wrapped in faux newspaper to look like the sort of thing you might find in England.  I've only seen this previously with fish and chips, but other appetizers came in this fashion which seemed to give people a kick.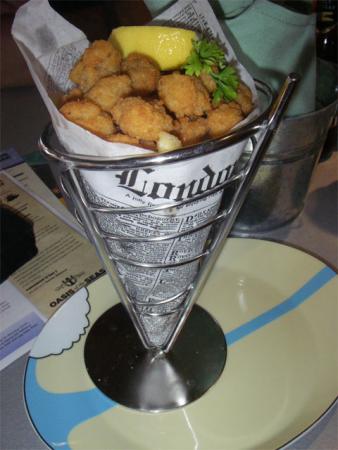 Back to the entrees, my butter fish arrived grilled along topped with a fruit salsa and served with mashed potato and some other veggies.  The fish itself was okay, but I found the salsa on top of it to be really tasty and combining the two really made it a good meal.    My wife opted to get the Bermuda onion burger (can you tell which of us likes seafood?) and found it to be an above average burger.  Not great, but better than the usual burger you find around.
By the time we got to dessert, we were both pretty stuffed.  My wife got the cookies and cream ice cream sundae while I just got a regular ice cream sundae.  The great thing about ice cream is it's nearly impossible to screw up so as you might imagine, it was quite good.
If you have kids (or adults who like to behave like kids), every so often there's a song and dance the staff do for the children.  Basically, they parade around the restaurant singing a song (yes, it's a sea shanty) and the kids that we saw seemed to really enjoy it, so be ready to jump into the parade should it occur.
Overall
The Seafood Shack is an interesting restaurant offering a wide enough selection of food to be able to cater to most taste pallets.  If you can, avoid this restaurant around times when there's something in the nearby Aqua Theater as it seems whenever a show or event ends there, there's a bee line made for the Seafood Shack and Johnny Rockets.  It's best to check out the Seafood Shack for lunch, as it seems to be the least crowded then.
Considering there is no cover charge for kids under the age of 13, if you have young kids, this may be a good option among the specialty restaurants to check out.
Cost:
Lunch: $7.95 per guest fee
Dinner: $9.95 per guest fee
There is no cover fee for kids under the age of 13
Seafood Shack is open for lunch from 11:30am to 3:30pm and dinner from 5:30pm to 10:00pm
And I'd love to hear your thoughts if you've been here! What did you order? Any suggestions or favorite items? Let me know in the comments below!