In:
If you're new to cruising or just Royal Caribbean, dinner onboard may seem different than you're used to, so here's a guide to how dinner is handled in the main dining room on your cruise ship.
There are two types of dinner experiences you can expect on a Royal Caribbean cruise.  Which type you have the opportunity to get to experience depends on the ship you pick.
Traditional dining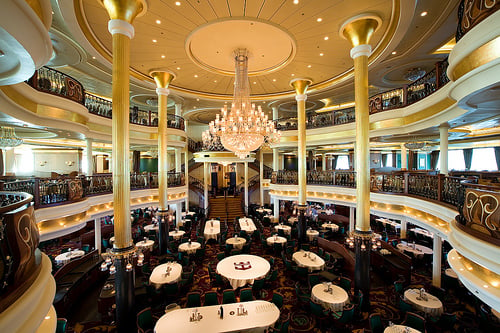 As the name implies, traditional dining is the classic means of experiencing dinner on your Royal Caribbean cruise.
There are two seatings, first and second seating.  First seating is usually around 6:00pm and second seating is usually around 8:00pm. Exact times will vary.
When you book your cruise, you can choose which seating you like. Typically families choose first seating because it's harder to keep kids up later for the second seating.  You will still see kids in second seating, but there tends to be more families in the first seating.
You will be assigned a table in the main dining room that can be as small as two people or as large as 16 or even larger.  Royal Caribbean can also place you at a table with other guests onboard your ship.  Who you sit with (if anyone else) depends on a few factors but it's usually the norm to be seated with others.  
You can change your seating if you prefer not to sit with others or are unhappy with whom you are seated with.  Speak to the head waiter to arrange a change, although changes are subject to availability.
Once seated, you will be taken care of by your main waiter, assistant waiter, and to a lesser degree, head waiter.  
The main waiter takes your orders and brings you your food.  Your main waiter is your primary point of contact and will do most of the serving.  The assistant waiter is the head waiter's help and brings you beverages, bread and otherwise assists the main waiter.
The head waiter largely manages the wait staff he or she is responsible for and can handle special requests.  You may not see the head waiter that much but it's usual to have the head waiter visit your table once every night or two.
Eating at the main dining room is a lot like eating at any restaurant at home in that you get a menu of appetizers, entrees and dessert and you can choose anything on the menu.  In fact, you can order as much food as you want so feel free to get a few entrees and appetizers.
My Time Dining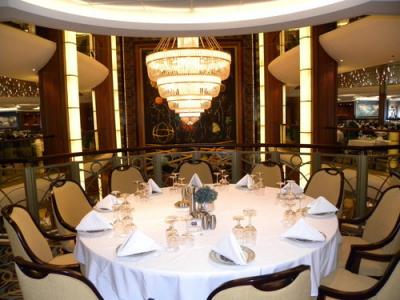 My Time Dining is a lot like traditional dining with one big exception: you do not have a set time that is the same every night of your cruise.
You will still dine in the main dining room, but you can choose between making reservations or showing up and waiting for a table.  
My Time Dining advertises its benefit as being you do not have a set time to eat each night.  So if one night you feel like dinner at 6pm but another night you want to stay at the pool later, you can come eat at 8:30pm.
Like the main dining room, you may be seated with other people at your table.  Where you sit is subject to availability.  Unlike the main dining room, you may not have the same wait staff each night.  You can request certain waiters but you may have to wait to be seated at a table they serve.
The my time dining experience once seated is nearly identical to traditional dining.  You order off of the same menu as traditional dining and can order as much food as you like from that menu.