In:
Royal Caribbean has filed to trademark five new names of cruise shios, which potentially could be names of some of the unnamed cruise ships that are slated to be built.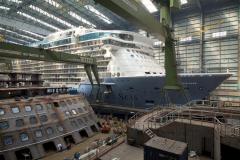 On September 15, Royal Caribbean filed trademark applications with the United States Patent and Trademark Office for the following names:
Spectrum of the Seas
Joy of the Seas
Harmony of the Seas
Emblem of the Seas
Apex of the Seas
Royal Caribbean also added applications for three other cruise ship names it had previously sought to register
Pulse of the Seas
Passion of the Seas
Ovation of the Seas
Royal Caribbean had previously announced this week Ovation of the Seas will be the name of its next Quantum class cruise ship.
Royal Caribbean still has an unamed third and fourth Oasis-class cruise ships that could use one of these names.