In:
Royal Caribbean has trademarked three new ship names that could be the names of new cruise ships in the future.
The cruise line registered Eon of the Seas, Gallant of the Seas and Phenom of the Seas via the United States Patent and Trademark Office last week.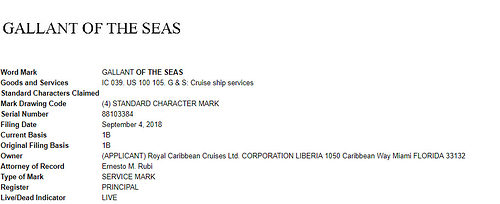 It is worth noting that Royal Caribbean has registered other cruise ship names that it never ended up using for actual ships. Joy of the Seas and Apex of the Seas were registered back in 2017 and have yet to be used.
Royal Caribbean currently has four unnamed ships on order, in addition to Spectrum of the Seas.
Tip of the hat to Lloyd Marchand for alerting us to this news.