In:
Could you be sailing on Titan of the Seas? Or perhaps a new Monarch of the Seas?
Royal Caribbean registered 9 new cruise ship names recently, which could be used for a new cruise ship.
The registrations were made between June 10 and June 11 with the United States Patent and Trademark Office.
Here are all the new names trademarked:
Nova of the Seas
Splendor of the Seas
Star of the Seas
Monarch of the Seas
Titan of the Seas
Majesty of the Seas
Sun of the Seas
Marquee of the Seas
Hero of the Seas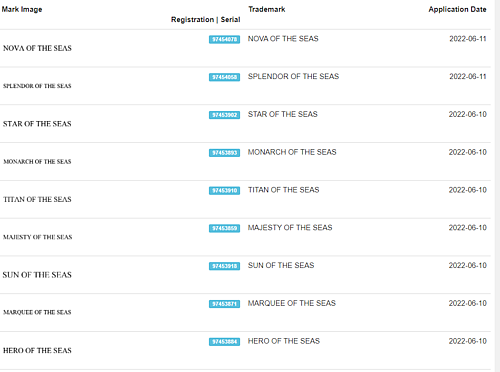 Three of the names are names of former Royal Caribbean cruise ships: Splendor, Majesty, and Monarch of the Seas.
Majesty and Monarch are the names of two former Sovereign Class cruise ships that were sold off during the pandemic. Monarch was scrapped and Majesty's fate remains unclear.
Read more: A last look at Royal Caribbean's Majesty of the Seas
Splendor (spelled previously as Splendour) was a Vision class cruise ship, which is now sailing for Marella Cruises. 
Royal Caribbean had also registered Splendor of the Seas back in December 2021.
To date, Royal Caribbean hasn't ever re-used the name of a former ship, although it did once bring back a ship to the fleet and restore its name (Empress of the Seas).
What do these ship names mean?
Before you start planning your Nova of the Seas cruise, keep in mind Royal Caribbean often trademarks a bunch of names together while it figures out which one it will use.
Quite often they register a few names together before deciding on which they may use. Not only does it give them flexibility in choosing a name, but it keeps the public from knowing a new ship's name before they are ready to announce it.
Think of this list as the finalists in a naming competition. In short, it's better to have more names than you need to ensure no one takes up a name later.
What's your prediction?
Now is your chance to show us how much you (think you) know! Share your predictions what these trademarks will be used for the name of a new ship in the future!