Navigator of the Seas Live Blog - Day 2- Sea Day
In:
Today is a sea day but we actually started the day docked in Galveston.  That's right, we never left Galveston last night due to fog.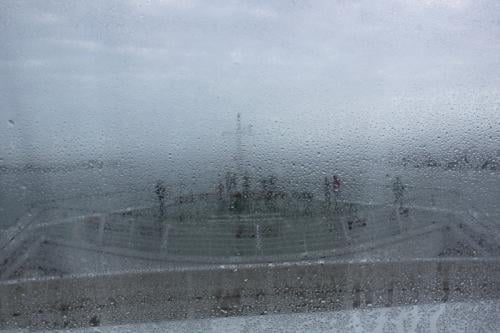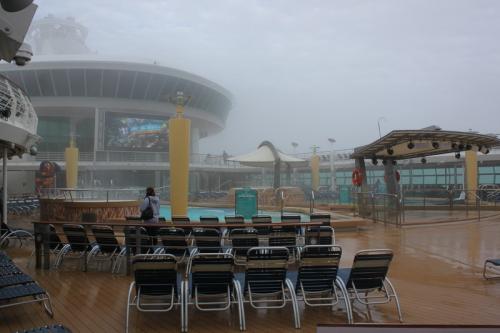 We woke up at 7am for no particular reason and noticed we were still docked.  By the time we started getting ready for breakfast, you could feel the ship's engines start up and minutes before 8am we left Galveston (finally).
The Captain made an announcement shorthly after telling us that we should be in Roatan (our first port stop) by 10am despite the fog delays.  Even after leaving Galveston, there was heavy fog and the ship was blowing its horn every few minutes.  By about 11am or so the fog dissipated and the day got progressively better as time went on.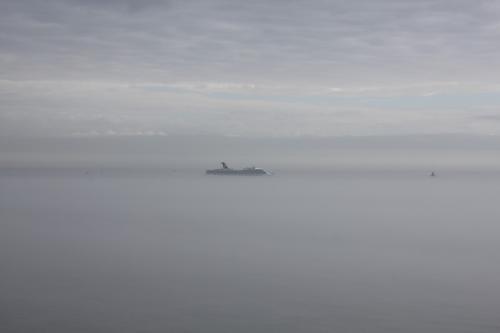 We started our morning with breakfast at the Windjammer.  The upholstery, furnishings and pretty much everything in the Windjammer looked new. Like much of the ship, everything looked bright and new and it really makes Navigator of the Seas seem like a new ship.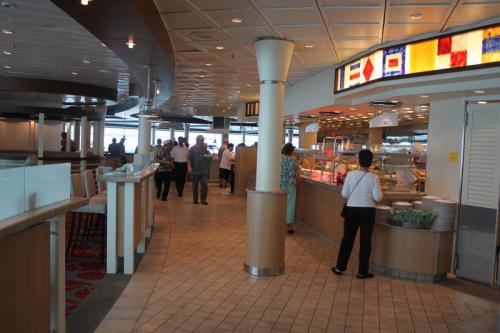 After breakfast we dropped my duaghter off at Adventure Ocean.  Since we had pre-registered her last night, it was a quick process and she was more than happy to get going.
I had also discovered Navigator of the Seas has two new unlimited internet plans available. One unlimited plan is for two logins at once, whereas the other unlimited internet plan is for one login at once.  I opted for the single user unlimited plan but the two-user unlimited plan is good for families or uber-connected groups. The two-login unlimited internet plan is $229.95 and the one-person unlimited internet plan is $189.95. Both plans can have Crown & Anchor discounts applied to them.
I was also informed by someone that the Royal Replinish beverage plan does include Starbucks drinks, which makes the deal quite easy to "break even" if you ask me.
After dropping her off, my wife and I decided to explore Navigator of the Seas some more.  We started by walking around the pool deck and walked backwards to the sports deck where a lot of changes were made.  It was still cold and very windy so not many people were out doing anything here, but we saw the FlowRider as well as the re-positioned mini-golf course.  It's really amazing how much work they put into the ship!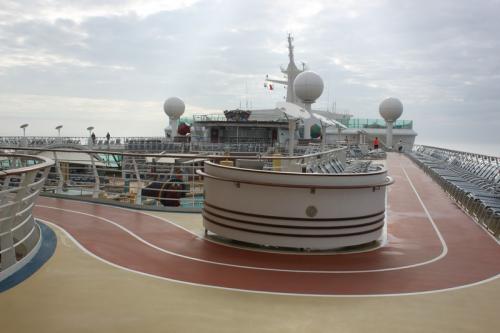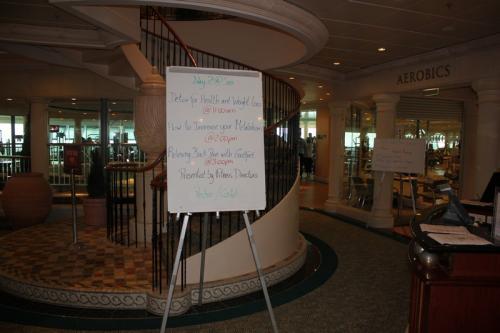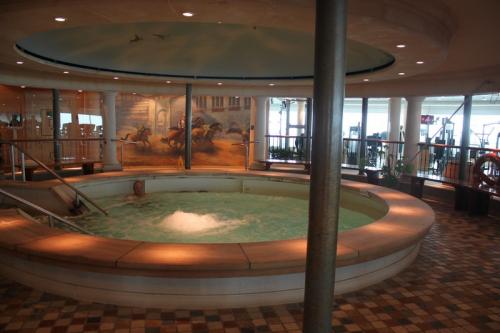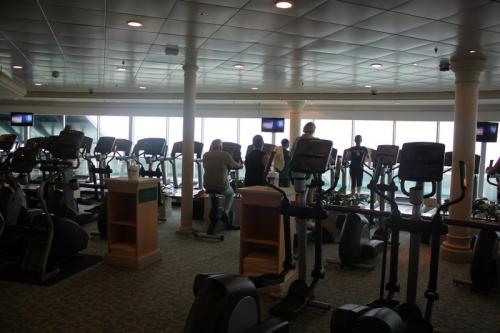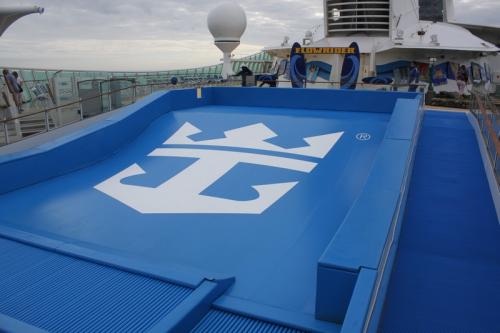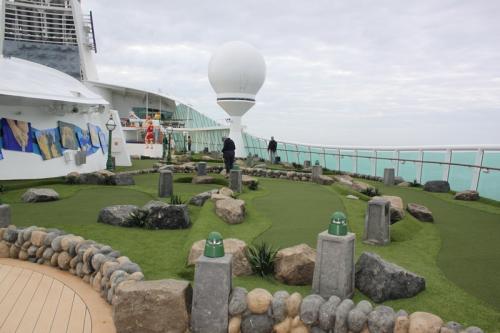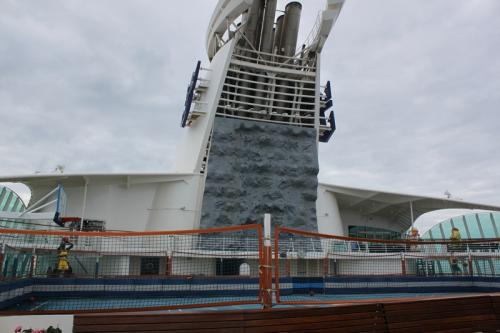 We also took this kid-free opportunity to walk the Royal Promenade and see what wares were available.  The shops had a lot of the same things we were accustomed to seeing on Royal Caribbean ships like logo merchandise, designer clothing and of course jewelry. 
The fun thing about a sea day is there's something going on everywhere and it's up to you what to do.  Due to the cold weather, it wasn't yet practical to be outside so we walked the decks some more.  Enjoying the ambiance of a ship for me and my wife is a fun way to spend the day.  We wandered in and out of venues to see what, if anything, was different.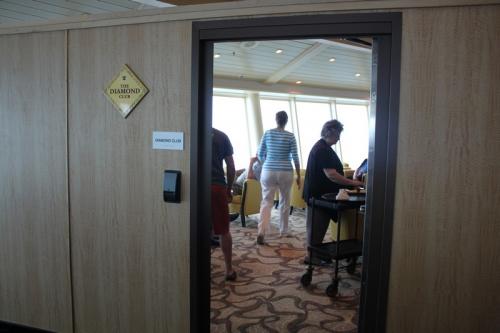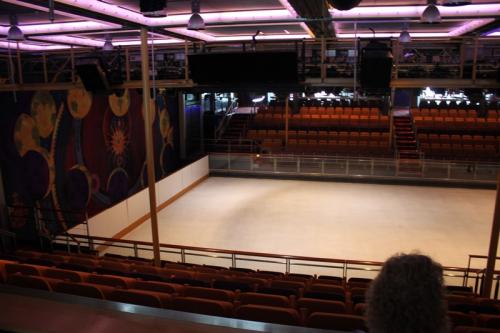 In the weeks leading up to the cruise, a few blog readers mentioned they would be on the same cruise as me so I set up a blog meet up in front of Ben & Jerry's at 10:30, and it was a lot of fun meeting other Royal Caribbean fans who I could "talk shop" with!  
After the meet, I made my way up to the Viking Crown Lounge for the CruiseCritic meet-n-mingle.  For those unaware, the meet-n-mingle's are semi-organized meets for members of CruiseCritic sanctioned by Royal Caribbean.  It's basically an opportunity to meet others you may have been talking with prior to the cruise.
This meet there were a lot of people at this meet, more than I've ever seen. Probably 40 or so, if not more.  There was also free champagne or alcohol fruit punch and a few snacks along with some Royal Caribbean giveaways.  I was lucky enough to win a Royal Caribbean branded laptop bag!
After the meet, we picked up my daughter from Adventure Ocean and went to our lunch reservation at Giovanni's Table.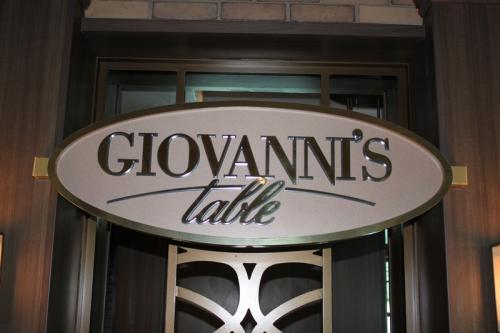 Giovanni's Table is a specialty restaurant that is new to Navigator of the Seas, although I had the chance to try it on Oasis of the Seas a few years ago.  They are open for lunch and dinner, so I decided to try it for lunch.
When we arrived at about 12:15, the place was literally empty.  Even when we left, there was maybe one or two other tables occupied so draw your own conclusions.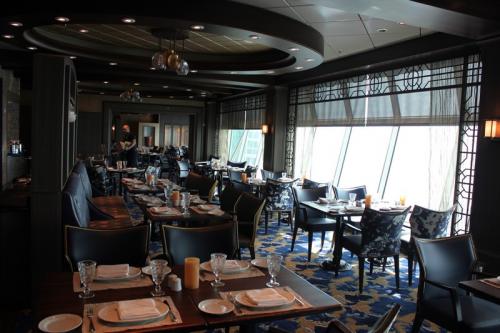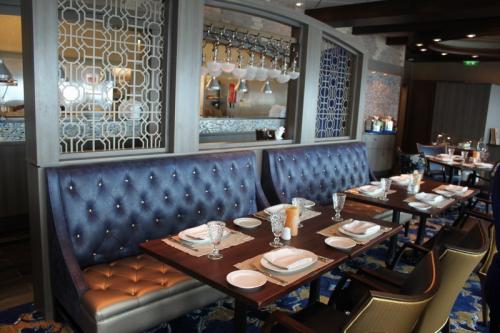 I'll save the entire experience at Giovanni's Table for an upcoming review on the blog but I can say we enjoyed our time here.  The food is served family style, although most of it was small enough for just one person to eat.
The food was cooked fresh and I enjoyed the various sauces.  And you could tell the food was not previously frozen, which definitely added to the taste. Giovanni's isn't the kind of restaurant to turn what you know about Italian food on its head, rather, it's a celebration of classic Italian food.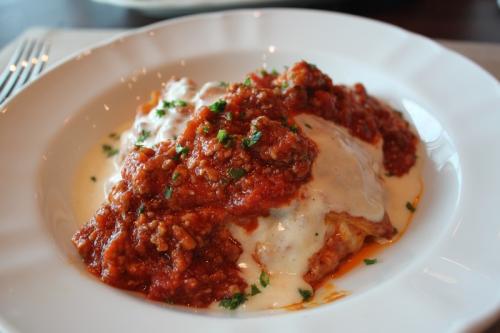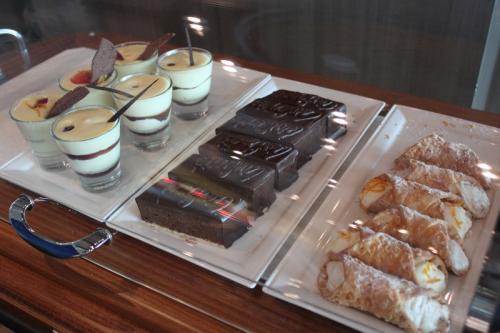 I should also point out how good the staff was here.  My daughter was less than exemplary in her behavior but the staff really went out of their way to cheer her up.  Our waiter in particular did a lot to entertain her, which was wonderful for us.  Royal Caribbean restaurant staff are always quite good but the efforts of the Giovanni staff were better than I ever remember.  Bravo!
In all, I liked Giovanni's Table and for lunch, the cost is less than dinner ($15 per person at lunch) and I felt on a sea day a good choice for something different.
After lunch, my daughter needed a nap in a really bad way so we went back to the room for a nap.  My wife and daughter napped while I decided I wasn't tired enough for a nap so I would go to the pool deck to people watch. Well, within about 10 minutes on a lounge chair and I was fast asleep.  
When I woke up, I went back downstairs to the stateroom and we lounged around the room some and then got my daughter a snack.  She felt special when we went up to the pool deck to get her cranberry juice from the bar and she got to sit at the bar "like a big girl".
Tongiht was also formal night so it was back to the stateroom to get ready for dinner.  Our plan was to get me and my wife dressed, then take my daughter to the Windjammer for her to eat and then drop her off at Adventure Ocean while we enjoyed dinner in the main dining room.
We went ahead with the plan and had her fed, potty'd and in Adventure Ocean a few minutes after 7pm. With my daughter take care of, we went down to R-Bar for a pre-dinner drink and I've become a fan of R-Bar.  Great vibe and the furniture is so odd and retro it's fun to be there.  Plus the drinks offered here are great too!  I think R-Bar is an instant Royal Caribbean classic.
We took a few formal photos too although I doubt we will buy them but the lines were short.  All over the Royal Promenade there was something going on.  Free champagne for the Captain's Reception and a brass band playing really set a fun tone across the ship.
Dinner we were back in the main dining room although it was the first time meeting our wait staff since last night's dinner was such a mess with the fog delay and was open seating.  Tonight we were at our table, which was a 6-top although me and my wife were the only people there.  Not sure if our tablemates skipped dinner tonight due to formal night or are just not main dining room people.  
Nonetheless we had a great time because our wait staff of Daniel and Gabriel were hillarious. Daniel has a dry humor and was very entertaining.  Tonight was also coffee ice cream night, which is my all time favorite ice cream and he brought me the biggest helping of ice cream I've ever seen.  Best dinner ever?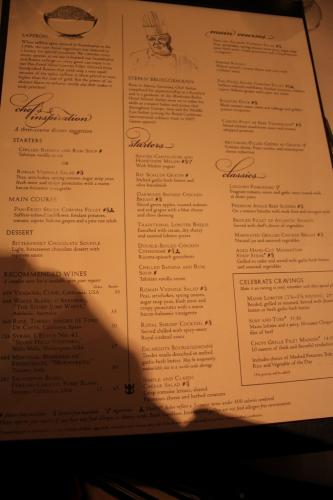 After dinner we took a post-dinner walk around Deck 4, a vested family tradition, and then picked up my daughter from Adventure Ocean.  She had an absolute blast and was sad to have to leave.  It's only 1 day in but she loves Adventure Ocean and tomorrow night they have a program of paying extra to keep the kids there as late as 2am! The gears in my mind are turning...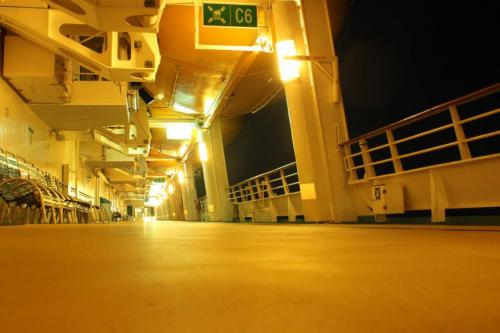 Tomorrow we have another sea day and we have some small plans, like perhaps trying to go for a swim now that the weather is improving.  Otherwise we will play things by ear and I'm hoping for another pool-side nap.