Navigator of the Seas Live Blog - Galveston Day
In:
Today our Navigator of the Seas finally begins and we couldn't have been more excited to get it started.  We weren't going to be boarding Navigator of the Seas today but our vacation can really begin as we flew down to Galveston, Texas to be ready for the cruise fun tomorrow.
Like every cruiser that looks forward to their next cruise, I went to bed too late last night and woke up too early all because of excitement.  I mean, I can sleep later right?  We got up around 6:00am to get the last things ready and be ready for our 7:30am car service to pick us up to bring us to LaGuardia Airport.  
 So up and at 'em we went, getting the last things packed, waking up the daughter and waiting for our town car service from Legends Limousine at 7:30am.  A quick ride to the aiport and we were on our way.
About two weeks ago I decided to surprise my wife with something to make this vacation a little more fun.  I found on eBay people selling day passes to United's airport lounge.  Usually these passes for for $50 from the airline but I was able to get two passes for about $30!  So I kept the whole thing a secret until this morning when we were in the car to the airport.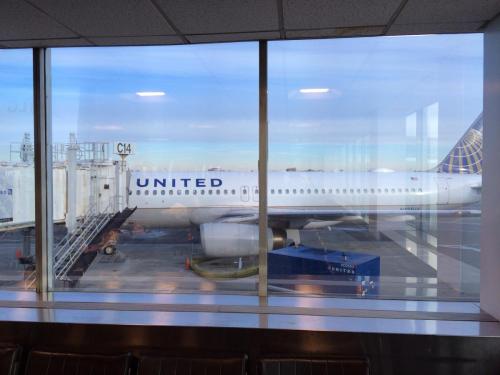 LaGaurdia was quite empty and no lines to deal with.  Unfortunately, there was no United Club in the Terminal we were flying out of, so I guess I will save the passes for our flight home.
The flight to Houston was mostly fine.  I hate flying so I'm not exactly unbiased but there were a few bumpy moments but a majority of the time the flight was smooth and I managed to find an empty row in the back of the plane to lie down and take a nap.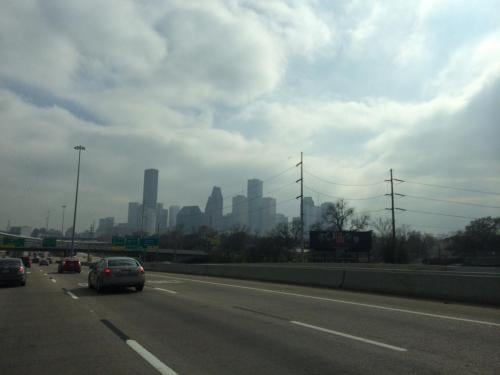 We landed in Houston early and our friend Paul picked us up.  We took the highway from IAH to Galveston, with a stop along the way at Whataburger because I've never been to one before and I had heard its a decent burger.  Considering we were starving from barely eating at 8:00am and no food on the plane, it was a welcome pit stop.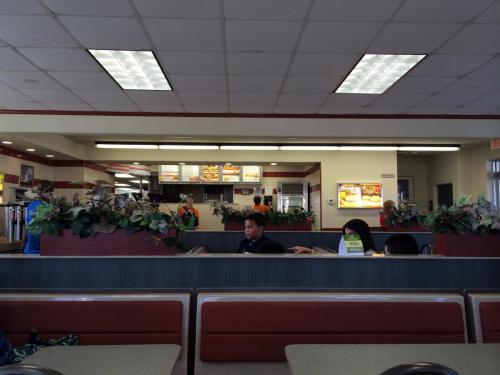 We checked into the Galveston Beach Hotel, which is located right on Seawall Drive.  It's a former Holiday Inn Sunspree and is perfect for what we need: a clean, well furnished hotel room for one night.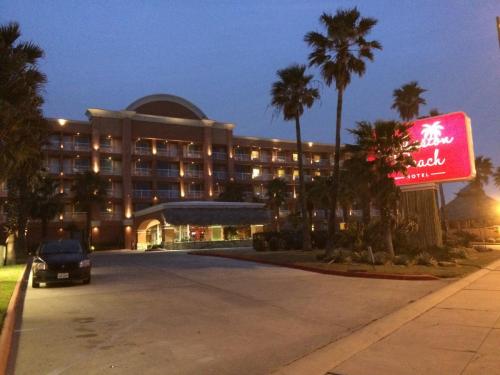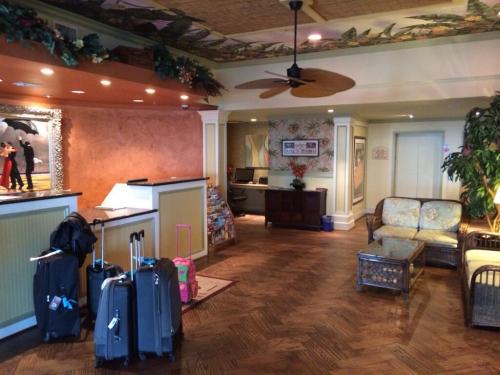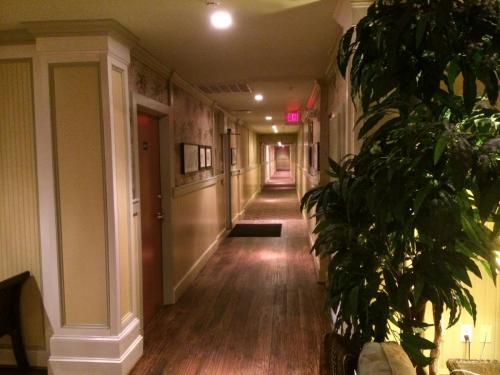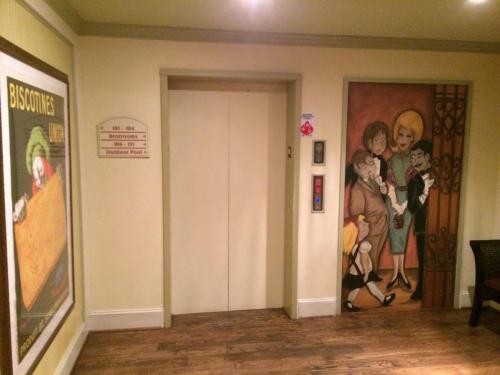 Our room was available and we also booked a shuttle to bring us to the cruise terminal tomorrow.  The shuttle costs $20 per family and originally they said it would leave at 11:00am.  I want to leave for the terminal by 10:00am and so the staff called the shuttle guy and arranged for us to leave at 10!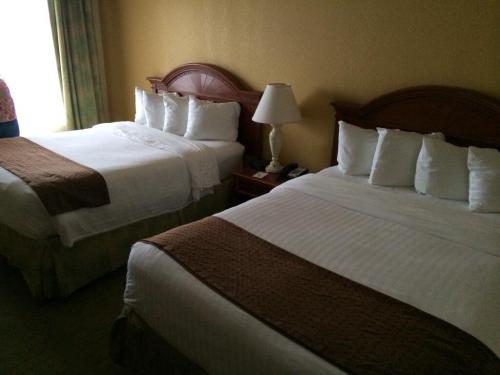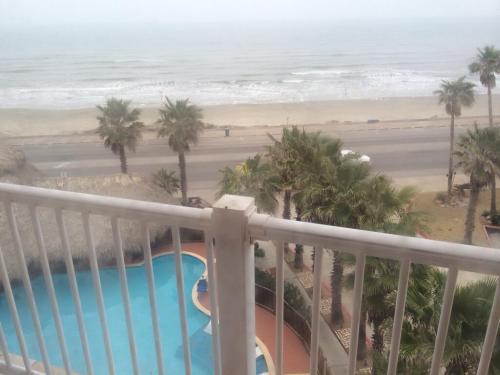 After dropping our stuff off, Paul drove us to Wal-Mart to get some supplies that we didn't want to pack like shampoo and what not.  I also took this opportunity to purchase two bottles of wine to bring aboard the cruise ship, which Royal Caribbean permits.  Wal-Mart's wine selection isn't exactly top shelf, but it'll do for what I need.
By now the early start and lack of sleep was starting to catch up with my daughter and even us so we decided to head back to the hotel and order something to the room while relaxing and hopefully getting some shut eye early.
Seawall Drive, the road our hotel is on, is a real tourist mecca with plenty of restaurants, shops and attractions along the way. It reminds me of A1A in Florida. Being early February, it's off-season here so there isn't a whole lot happening but it's a very nice area.  Paul was telling me in the summer the water front of Galveston is filled with cars and people so it's quite a different vibe right now.  Still, it's a nice area to walk and explore.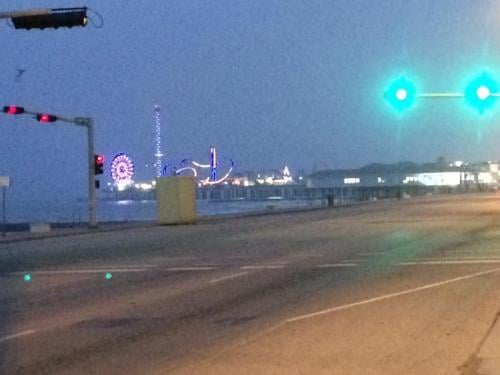 As for the Galveston Beach Hotel, as I said earlier it's clean, quiet and a good choice for someone who needs a place to stay for a night before their cruise.  There's a restaurant in front of the restaurant that shares a pool between the hotel and the restaurant with a swim up bar attached.  It's too cold for swim up bars now but could be a really fun place for adults to enjoy.
For dinner we tried out the nearby Miller's Seawall Grill. It's an American seafood restaurant that has a little of everything.  We ordered a couple of sandwiches and they were just okay. Nothing special but since Paul had left, we had no car and delivery options were limited.  It wasn't great but I can't say I'd order from them again.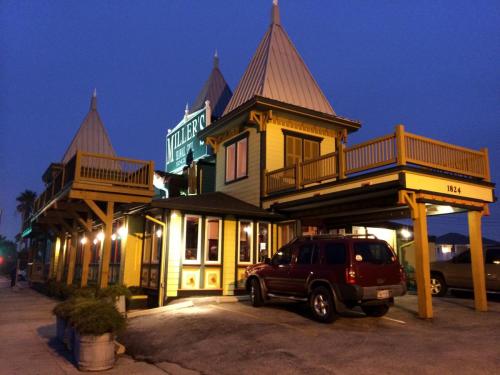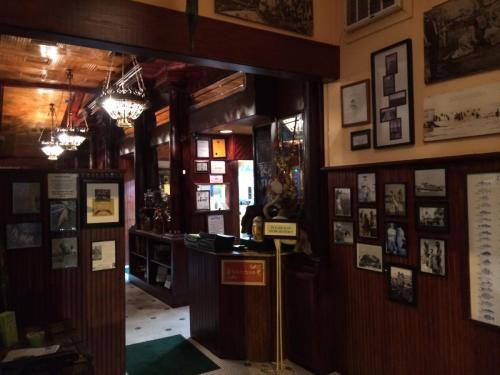 After dinner we were ready to relax and take it easy for the evening. I would have loved to go walk around a little more to see Galveston's night life. Alas, no need to push myself too much and tomorrow is day one of our Navigator of the Seas cruise so I certainly want to have enough energy for that.
Definitely a great first day and we are all even more excited to get onboard the ship and let the real adventure begin.  Our plan is to have breakfast at 9am and then be ready to go to the cruise terminal by 10:00am.  
I also wanted to thank everyone who sent me such great comments and suggestions via email, Twitter and Facebook.  I appreciate the support and hope this will be as fun for you to read as it is for me to write.
We will have a lot of updates in our live blog here but also on Royal Caribbean Blog Twitter and Instagram.  I'm also planning on live streaming sailaway with a web cam so look for the stream right here on the log. Follow along and then get the whole summary here tomorrow.