Finding last minute Royal Caribbean cruise deals
In:
As much as you may try your best to play your cruise vacations well out in advance, the reality is work, school and everything else in life seems to always get in the way.  So when you find a week to go on a Royal Caribbean cruise but it's last minute, what can you do to take advantage of this and make a cruise vacation happen?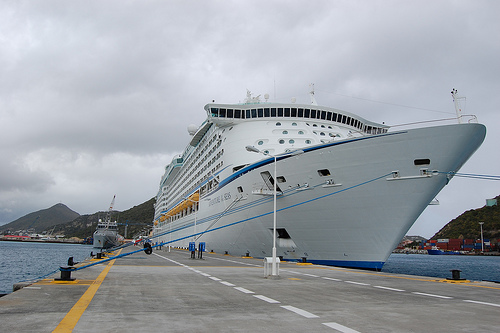 What are last minute deals?
First and foremost, you will need to find a cruise deal on Royal Caribbean.  Last minute deals are around but you will need to dig for them and act fast.  
Last minute cruises really refers to any cruise leaving in the next 60 days or so, with cruises leaving in the next 30 days being even more lucrative.  When Royal Caribbean gets past the point of final payment, they get a good sense of how booked (or unbooked) a sailing is and responds accordingly to fill up the rest of the ship.
If there's a lot of unbooked space, often Royal Caribbean will reduce prices to encourage bookings.  The closer to sailing you get, the deeper the price cuts until they reach a good sales point.
With last minute deals, there's a fine line between good prices and the swing back up to expensive prices.  One week there may be a deep discount available while next week, prices may be back to "normal".
Where can I find last minute Royal Caribbean deals?
To find last minute Royal Caribbean cruise deals, there are a few places to look.
Contact a travel agent

Royal Caribbean sends travel agents deals and offers each week, so they may have knowledge of a deal out there.

Search popular cruise booking sites

There's lots and lots of web sites that claim to offer the best deals on cruises.  Comparing prices on a few of them is also a good way to see what's out there.
What do I need to be aware of with last minute deals?
Last minute deals are fickle and go quickly.  The best deals may only be available for a day or two, or even just a few hours.  
Once you know you want to book a cruise, it's best to book once you find something to your liking.  Royal Caribbean prices tend to rise more than they tend to drop, so book while you can.
Booking last minute also means you will need to make full payment at the time of booking.  That may or may not be a deal-breaker for some people, but it's worth noting.
Also note that select sailings will be on sale with one sailing deeply discounted and the next regular price.  Often, the discounted rate is low because most people can't or are unwilling to take time off for a vacation then.  As an example. the two weeks after New Years Eve are often discounted last minute because a lot of people just took vacation the week earlier and don't want to dip into vacation time so soon.
The harder thing to find than last minute cruise deals? Last minute airfare
Often you will find great last minute deals on Royal Caribbean cruises only to discover the airlines are not as cheap.  In fact, last minute airfare can be prohibitively expensive, to the point it negates any savings the cruise fare had.
The easiest way around high airfare prices is to drive.  There's no question last minute cruise deals benefit those within driving distance of cruise ports, such as those living in the southeastern United States.
If driving is out of the question, look at other airports to fly out of or into.  If your cruise is out of Fort Lauderdale, consider flying into West Palm Beach, Miami or Fort Myers.   Likewise, if you are flying out of New York City, try all the city airports as well as Westchester, Philadelphia or Hartford.  A little drive can save a lot of money.
Also consider flying to or from your cruise a day or two earlier/later to see if prices change.  It's a fun way to extend your vacation while saving money too.
Hotels and rental cars
Unlike airfare, getting a last minute hotel room and rental car for your trip is usually easier to find assuming you aren't that picky. 
If you can fly into your cruise port at least a day early, take a look at last minute hotel booking sites such as TravelZoo and Priceline.
Both of those sites are also good for rental cars but you ought to be able to find rates at many popular sites.  
Like airfare, if you aren't finding much, try other pickup locations for cars or nearby cities for hotels.  Being flexible can open up a lot of other deals to you.