Doing EVERYTHING on a Royal Caribbean cruise: What would it cost?
In:
I was inspired by a friend, who wrote a blog post about what it would cost to do everything in Walt Disney World, to figure out how much would it cost to indulge and do everything on a Royal Caribbean cruise.  After all, Royal Caribbean is always looking for ways for its guests to spend money and there's a lot available to do on Royal Caribbean ships.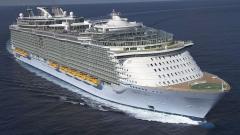 In order to figure this out, I need to set up this hypothetical experiment.  First, we have to define the parameters of our research.  We will assume this would be attempted on a single Royal Caribbean ship (sorry, trying to do everything across the entire fleet just isn't practical).  
Next, I have to come up with what constitutes "doing something".  If there's an excursion that offers cave tubing and a beach break and then there's another excursion with just a beach break, does that mean I need to do both or just one?  The all encompassing excursion sounds good to me.  
All the prices and assumptions you will see are assumed for one person.  It's easier to calculate for just one person and if by some miracle I could ever win the lottery, then I suppose I could bring someone else along.  Until then, this is a solo experiment (sorry wife and daughter).
Next is the ship.  Royal Caribbean has a lot of ships and what they offer on one ship may not be available on another.  I decided to pick Oasis of the Seas with the idea being it's their flagship class and thus, offers the latest and greatest and in my experience, has the most to offer its guests.
What about the stateroom? There are many different stateroom types on Oasis of the Seas. It would be all but impossible to stay in every one of them. To simplify things, I decided to price out the cost for my arbitrary cruise for what would allow me to credibly say that I had stayed at that hotel. Usually this meant I chose the cheapest balcony cabin. It's not as cheap as inside but not as crazy expensive as a suite.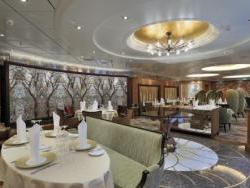 For the specialty restaurants, the cover charge restaurants are the easiest since it's a flat fee.  For the a la carte restaurants, I decided to pay whatever cover charge there was plus one entree.  There isn't any more logic here than "sounded good at the time".
For everything else, I had to use my judgement for what to include and exclude.  
In the case of ordering cakes, I decided one cake was all I needed.  
In the case of spa treatments, if there were spa treatments with different times, I chose the longer one.  
For shore excursions, I picked one shore excursion per port since you really can't do more than one per day, per cruise.
I included no discounts or coupons in the prices.
I haven't factored transportation fees into my plan at all. I'd need a flight and certainly a rental car. Or possibly I'd drive down and then have gas expenses throughout.
The experiment
As I said, I picked Oasis of the Seas as my guinea pig.  I wanted to pick an "average cruise" so Christmas or other holiday cruises are way too expensive, as are hurricane season cruises.  I went with May since it's after spring break and before the real summer rush.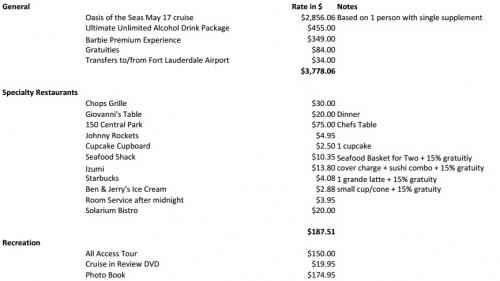 Here is a link to the spreadsheet I used for figuring everything out.
The largest chunk of cost comes from the spa, which when you add gratuity to all the service costs comes out most expensive.  This is followed up by the basic cruise costs plus a few basic add ons.  Gifts are next up in terms of cost followed by excursions, restaurants and other miscellaneous items.
Relatively speaking, the specialty restaurants don't really add up and to me, that was a surprise.  The spa cost being the most expensive is eye opening but then again, I think most people realize the spa services are somewhat expensive to begin with.  
Adding it all up, the total for everything on this cruise is $11,840.75.  Our price does not include transportation, which would probably add a few hundred dollars or so for either a flight and a car rental, or auto wear and tear and gas.