In:
The new cruise port in Falmouth, Jamaica now has a tentative opening date of November 2 according to E Pihl & Son Project Manager Jes Olsen. Olsen says the first two ships to use the historic port will be arriving on November 2.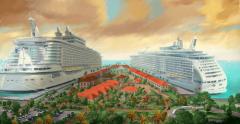 Despite the port welcoming in ships by then, construction work will not be complete by then yet and at that time, "it will be a construction site", Olsen said.  Visitors who do dock in November will be taking buses to nearby Ocho Rios and Montego Bay.
The goal is to have the port fully operational by March 13, 2011 when Oasis of the Seas will dock there.
Olsen would not say how much of a dent the overrun will put in the budget, but he noted that the longer the work takes, the more costly the project becomes.   According to Olsen, the delaying factors include soft soil at a spot where all the utilities are to be run, as well as coral which has had to be removed.
Royal Caribbean has a vested interest in the port opening, as The Port Authority of Jamaica is responsible for the port infrastructure, while Royal Caribbean committed $102 million to the land structures, such as the shops and restaurants.
In addition to Oasis of the Seas, other Royal Caribbean ships are scheduled to stop at the port.  Navigator of the Seas has a visit scheduled as well as Freedom of the Seas a bit later.