Oasis of the Seas to move to Europe?
In:
There's a rumor swirling through the cruise industry right now that Oasis of the Seas may move over to serve European ports sooner rather than later.  Classic Cruises cites a few anonymous rumors they've heard that Oasis of the Seas could be headed for the Mediterranean as several ports are ramping up their facilities to handle larger passenger volumes.  In addition, And Royal Caribbean executives have been reminding Mediterranean port officials that Port Everglades and all the Caribbean ports where Oasis of the Seas pulls into required investments in their infrastructure upgrades.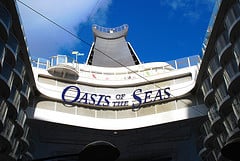 Given Royal Caribbean's recent track history of moving their larger ships "across the pond", (Mariner of the Seas, Independence of the Seas just to name a few), it isn't out of the question and just recently Cruise Manager Carla Salvado said at the recent MedCruise assembly in Constantza that she would welcome the giant ship.
Royal Caribbean does have a 10-year agreement with Port Everglades that stipulates that the it must move 17 million passenger between 2008 and 2018 for its three brands, Royal Caribbean, Celebrity and Azamara, according to a spokesperson.  Royal Caribbean has also said Oasis and Allure of the Seas will home port in Port Everglades.  Of course, at one point in time Royal Caribbean did also say that its Voyager Class ships would never leave Florida.  
It's likely too early to get worried that Oasis will be leaving soon, but you never know what can happen in just a few short years and given Royal Caribbean's recent love affair with Europe (and it's high cruise demand), you can never count this out as a possibility.