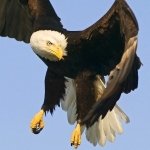 Posts

50

Joined

Last visited
Everything posted by Eaglelover
For anyone booked on a Celebrity Cruise (at least the 2 that I have coming up for sure, but it appears to be across the board), there is a huge sale on the Premium Drink package (50%) for the weekend. No corresponding upgrade discounts. It doesn't appear that other areas have much discount.

We'll be on Celebrity Eclipse 23 - 30 July to Alaska with both sons, their wives, and children - early Christmas!! Last year my wife and I celebrated our 50th anniversary (2 years late - thank you, virus) on Radiance of the Seas to Alaska. It was our first cruise and a dream to go to Alaska and we really liked RCL and Radiance. Now we've tried Viking (Elbe River) and have another Celebrity (Summit, Panama, April 24) and a Windstar (Star Legend - Edinburgh to Amsterdam - 2025) booked! I guess it's safe to say we're liking the cruise stuff! So far we're not too allegiant to any line - but I did buy enough RCL stock to get the benefits! Now the challenge is to stay healthy!

Well, we "splurged" for our first ever cruise (Radiance nb next week - 6 May) and were just contacted by our concierge, IIona. A pretty standard (cookie cutter) letter but I still wonder what is to expect on a Radiance class? Not many of the various options (we do have the unlimited dining package (or whatever)). Any advice? Any experience with IIona? Oh, and can I send her a schedule of when / where we'd like to dine or do I wait? Finally - and perhaps a bit "off the wall" - what happens if we decide to NOT go to a specialty restaurant after scheduling or if I want to change? Do I get some sort of penalty (you know, "loss of down and yardage"???? - OK, a bit of attempted football humor - after all it's NFL draft season). Edit: after reading this I recognized that in 2 weeks I'm likely to look at this post and shake my head... As Alan Jackson (country singer) noted in song, "I'm a work in progress".

Thank you, all, for the responses. Indeed, I don't run much anymore but I do get some miles in walking. I guess even the walking is not likely to be easy. I'll do the treadmill likely.

Q: Generally speaking, what is the distance on the jogging / walking track on a ship? I'm interested, mainly, on Radiance but wondering if they are fairly standard in design / length (width?). Thanks, y'all.

Just a quick request since I'm a new cruiser. What is the Sea Pass like. My question centers around how I might carry it. I have several different types of lanyard (I think I'd prefer to carry it like that). Does it have a hole that I can clip into or do I have to use a lanyard with a pocket (of sorts)? Can I punch a hole in it if it hasn't one? Thank you all for your continued response to this newbie.

This may seem almost too simple for most but for a new cruiser it's helpful for planning: What is a Sea Pass' description? Is it credit card - ish? Does it have a pre-punched hole for attaching to lanyard? I know it has to be like my arm... never leaving my body... but, well, perhaps someone can describe it (or better yet show a photo -doctored, of course). Oh, I'm on Radiance of the Seas. Thanks, folks!

I see you're an N. KY person... We're in W. KY just north of Ft Campbell... enjoying the Bluegrass State. Retired (military)

Thanks, Lexter.... but that would be my last choice... so it goes! I still will have my powder!

Now that is good. Thanks Smokey. (and say hello to Sheriff Justice for me... )

Thank you for your effort. Now the question is whether Radiance has the Freestyle machines. It seems to me that I read that not every ship has them yet. I guess I'll find out in a month.... (by the way a local fast food place has a Freestyle machine and it doesn't have the Powerade option. I guess that varies, too.... I'll carry some of my electrolyte powder with me... Can't even have a glass of wine without insuring I have enough!!! )

I wonder if it is the Powerade Zero. I drink that at home, too.

Thank you. I generally do the same since I spend a lot of time hiking / on pilgrimage. I had never heard whether or not the commercial things are available on RCL. Just an aside, I generally take along Ultima Replenisher (lemonade / 0 Kcal)

Thank you! That looks great.

I note that the suites have an expresso coffee maker. My sweetie and I like strong coffee (neither of us need additives). Is that good enough for the coffee issue in the morning (to get us going)? Can we ask for additional things for the expresso maker? (I appreciate any info).

Folks, I don't see this addressed (and maybe it's not important to most people) but I wonder if there is / are energy or high electrolyte drinks available on most ships? I happen to be going on Radiance, but i suppose they would be available (if at all) on most ships. Anyone with an answer? I do have the Deluxe Beverage Package (but know that makes no difference for the question).

I was able to do a complete check in online, too. I was regularly reminded to get my mobile application (which I've had on my phone for months), too. Sooner or later it will mystically appear, I'm sure! ATTENTION RADIANCE FOLKS! (I shouldn't yell!) While writing the above I thought I might check my app before I posted.. And... Yep, there is the Radiance on the RCL application!! Matt is clairvoyant...

I'm on Radiance in early May (Alaska, obviously) and have had the app for more than a year... Still waiting for that particular ship to show. By the way, I'm officially within 45 days (today) and nothing allows me to register. I thought the 45 day window was the policy / procedure. Am I correct? Are these two things related?

Unless I am missing something, I find this move perplexing. RCL stock was back to (almost) $100 yesterday - Thurstday, 25 Feb 2021 - and it was all based on trust and anticipation. Deceptive moves (clearly for $), even in a time when $ is flowing downstream, won't help in the long run.

Hungry for both humans and leftovers!!

As one of the newbies on board the same sailing, I'm hoping your experience level doesn't give you a clairvoyant edge.... I look forward to meeting you.

And the saga continues.... I'm now working on my third first cruise (living in Kentucky I haven't even figured out Fifth Third Bank). So here I am doing a 7 day Alaska cruise - no more 9 day cruises / Covid is only dangerous after 7 days- out of Vancouver and one of the destinations is Haines, AK. We arrive there at 7 PM and depart at 11:30 PM. I can't, for the life of me, figure out what an old geezer like me will do in Haines, AK at that hour - oh, and that is factoring in that It will be late May and fairly light. There is certainly, among this esteemed group, someone who will make me smarter after reading their wisdom.

JLMoran, I was thinking about your post and I wondered if each of those required a pre-meal cocktail? Bloody Mary, Mamosa, Beer, Gin and Tonic, Beer, Scotch and Soda.... you know the drill. I think I know the evening schedule. All of a sudden the DBP looks valuable.?