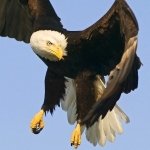 Content Count

22

Joined

Last visited
About Eaglelover
Rank

Gold


Birthday

February 19
Recent Profile Visitors
The recent visitors block is disabled and is not being shown to other users.
And the saga continues.... I'm now working on my third first cruise (living in Kentucky I haven't even figured out Fifth Third Bank). So here I am doing a 7 day Alaska cruise - no more 9 day cruises / Covid is only dangerous after 7 days- out of Vancouver and one of the destinations is Haines, AK. We arrive there at 7 PM and depart at 11:30 PM. I can't, for the life of me, figure out what an old geezer like me will do in Haines, AK at that hour - oh, and that is factoring in that It will be late May and fairly light. There is certainly, among this esteemed group, someone who will make me s

Eaglelover reacted to a post in a topic: Would you volunteer for a test cruise? (Survey only - Not a place to apply)

Eaglelover reacted to a post in a topic: Would you volunteer for a test cruise? (Survey only - Not a place to apply)

Eaglelover reacted to a post in a topic: Would you volunteer for a test cruise? (Survey only - Not a place to apply)

JLMoran, I was thinking about your post and I wondered if each of those required a pre-meal cocktail? Bloody Mary, Mamosa, Beer, Gin and Tonic, Beer, Scotch and Soda.... you know the drill. I think I know the evening schedule. All of a sudden the DBP looks valuable.

Atlantix2000, in a blinding flash of the obvious, I see your light!! We're central time so that means it's already 2 - 3 hours earlier..... Maybe this isn't the issue that I thought it may be. Of course the whole body schedule is messed up anyhow. Now, if I can just get the Captain and crew "onboard" (so to speak) with my time needs!

We, more than once, commented that the Navy folks had all the luck - cruising all the time... while she waited at home and I rode around in vehicles that were not particularly water-friendly! I (we) appreciate the many folks who affirm our crazy life. Many have served - we'll remember that over the next several days. There were a lot who were in harms way more often than I. I give thanks for all of them - many of whom post to this blog.

HeWhoWaits, thanks for the congrats. She lived through 20 + moves (Army, retired) so it was more her patience than me doing something right!

WAAATOOO, again you have provided some sage advice to this neophyte. I've been glued to the computer trying to learn the ins and outs, but sometimes just a simple explanation makes it come clearer. I don't think the 5 night plan is an option (I'll have to check - and Black Friday is coming) so it looks like we just do the earliest seating possible (I do hope that it's available) and enjoy the sea days - there are 3 full ones. Thanks again!

This may sound odd, but I need some help figuring it out. Backgound: Radiance of the Seas - May 2021 - Alaska - 9 days Vancouver and return. Our first cruise - supposed to be this year to celebrate 50 years of wedded bliss... or tolerance in her case Question: My wife and I are in our 70s (healthy but older....!). We've realized that eating is best for us relatively early (4 - 5 PM). I've purchased the UDP because we'd like some things on those menus.. Neither of us eat a lot and we are certainly NOT foodies. It seems that we may be able to eat in the MDR at earlier times and we c

Yes, Can you imagine a more disciplined group of folks? It may even be good for the test animals.... like me. I think they need a few of us who are over 70 (with few, if any health issues).

Agreed, (we're doing the 9 night Vancouver - return) but even though we don't drink a lot, a glass of wine with a meal, select coffee and juice and water and I'm happy to not pay the full $! I"m even going to try some of those craft breweries... not save it up for the ship!

Over the last several days the DBP on Radiance (Alaska May 2021) has become $43 per day. Is this happening all over the fleet? I, of course, hopped right on that deal.

I, also a Kentuckian, believe that every crossroads in KY (especially, out here in the west) Has the best d***ed BBQ (and burgoo - lamb or no lamb) on earth... if you listen to the folks at the crossroads. We'll soon see about them boat cooks....

I am neither a very good stock market follower nor a long-time "cruiser", but having read this blog in preparation for the Alaska trip that didn't happen (it will next spring), I decided to put some cash into what I determined to be a solid market. Y'all seemed to show me that there are a real loyal, dedicated group of folks who do cruise.. Having mentioned it to my banker son and my other son who spends his time following Army camps, they didn't heed my recommendation very well. As of today, I look like a genius (my banker son even said he didn't know I was that savvy). I just wanted to s

Let me join the choir singing praises to all agents in general and my Travel Agent, Patty King, who spent hours on the phone with RCL and confirmed that my FCC has been figured correctly now and that my OBC is also, apparently, correct now. My greatest concern was that there was neither a standard procedure for figuring FCC nor sufficient oversight for the process. That said, our TA (who also spent hours on the phone so I didn't have to do that) is a classic example of a professional and a great reason to use an Agent when booking your cruise. I was a believer in enlisting a TA before, but

I got the taxes, gratuity, and air fare refunded, but no sign of the Protection Plan on either my my refund or (certainly) not on the Credit... I'm short at least $1K from my original payment! My TA is going to work the issue, too. Hopefully she can get someone with a "figgerer" to "figger" it out....

I'm in a similar situation. Even if you subtract the Cruise Cancellation fee (which they shouldn't and I will fuss about since I didn't cancel - it''s a reimbursement) they still granted me over $2000 less than I should get and more than a $1000 less than I paid for the berth alone. This can't fly - or float.... My guess is that they brought in some temps who don't know the business. At least I hope that's the problem. I'm looking for my first cruise and I can go somewhere else (and sell my stock).