In:
Royal Caribbean has added a new option when booking a cruise on its website to also buy a drink package at the same time.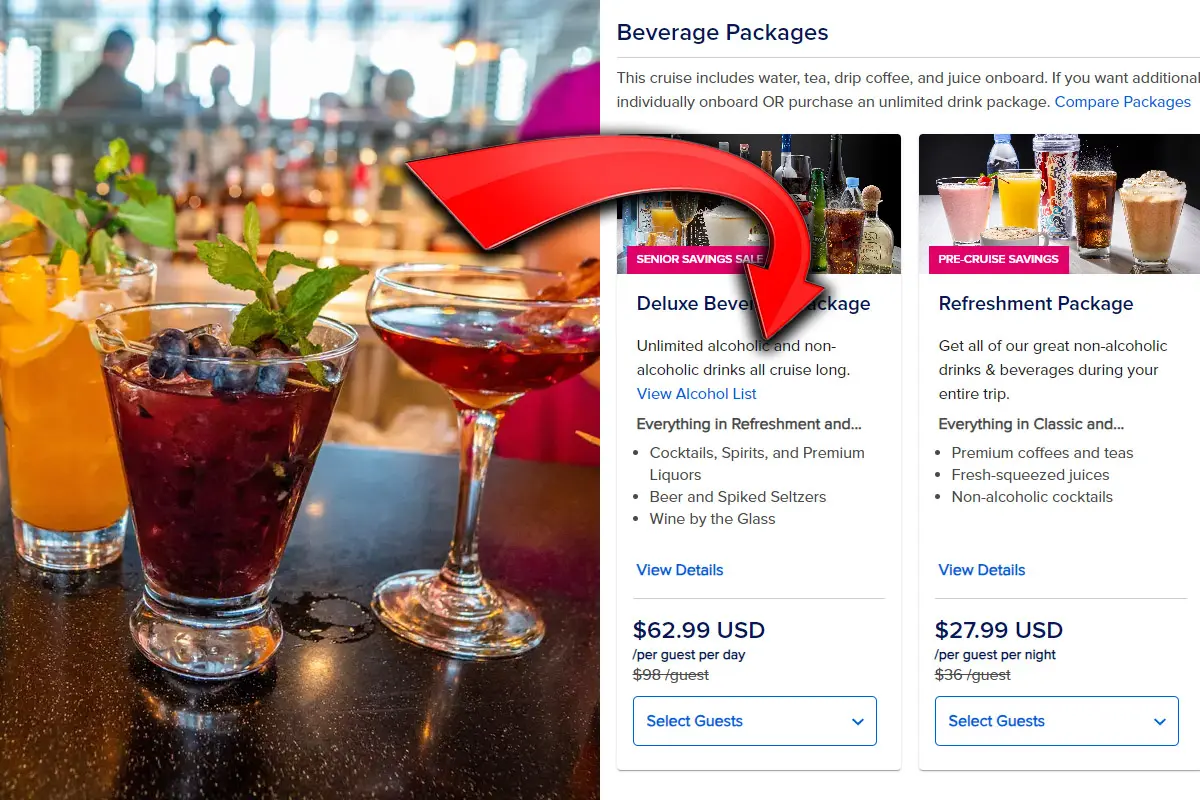 Drink packages are among the most popular extra cost add-ons that Royal Caribbean offers its guests.
These unlimited drink packages include as much of the drinks not included with the Royal Caribbean cruise fare.
The Royal Caribbean website now has a Beverage Package step added to the checkout flow, where guests are given the choice to add them to their cart at the same time of booking the cruise.
Before this feature was added, guests had no access to book drink packages until they had placed a deposit and booked the cruise reservation first.
Moreover, guests can now see how much a drink package will cost them before booking a cruise.
The beverage package screen offers the three primary drink packages available: Deluxe Beverage package, Refreshment Package, and Classic Soda package.
Just like when purchasing a drink package through the Cruise Planner website, there is a discount offered when bought before the cruise.
Royal Caribbean offers a discount on its drink package when purchased before the cruise begins.  The onboard price is always higher.
The price of a drink package pre-cruise can change in the months leading up to a cruise, depending on what sale the line has running.
Read more: Best Time to Buy A Royal Caribbean Drink Package
Don't worry if you change your mind later about a drink package, because all pre-cruise purchases are fully refundable.
Not only that, you can cancel and rebook if there's a better price later.
Read more: How to cancel and rebook pre-cruise purchases on Royal Caribbean's Cruise Planner
What's included with a drink package?
Each of Royal Caribbean's drink packages includes a selection of beverages that would otherwise cost you extra for each purchase.
The Classic Soda package includes:
Coca-Cola Freestyle beverages
Coca-Cola souvenir cup
Fountain soda and refills at any venue
The Refreshment package includes:
Premium coffees and teas
Fresh-squeezed juices
Non-alcoholic cocktails
Coca-Cola Freestyle beverages
Coca-Cola souvenir cup
Fountain soda and refills at any venue
The Deluxe Beverage package includes:
Cocktails, Spirits, and Premium Liquors
Beer and Spiked Seltzers
Wine by the Glass
Fountain soda and refills at any venue
Premium coffees and teas
Fresh-squeezed juices
Non-alcoholic cocktails
Coca-Cola Freestyle beverages
Coca-Cola souvenir cup
Cruise add-ons are big business
Offering a drink package at the time of booking is smart business for Royal Caribbean given how lucrative these add-ons have been for the company.
More people are making pre-cruise purchases than ever before, thanks to a combination of higher demand to splurge on extras, as well as better market penetration.
According to Royal Caribbean Group CEO Jason Liberty, about two thirds of guests bought something for their cruise before the cruise began. 
That's up from 48% in 2019, which indicates the company is seeing the most demand ever for these add-ons.
Not only is this getting them more business, it's generating higher profits too.
Getting people to book things before the cruise commences has an impact on their bottom line, "Every dollar a guest spends, pre-cruise translates into approximately $0.70 of incremental spend."
Royal Caribbean invested heavily in its e-commerce system to provide better sales pitches to guests, and the result is now materializing in passengers spending more money than ever before their cruise begins.
Royal Caribbean International President and CEO Michael Bayley talked about the investment in better software during an earnings call earlier this year, "The investment that we made in the software for pre-cruise revenue, which continued through the pandemic."
"We've really leveraged that now, and we've seen a significant increase in penetration and uptick with up-tick sales."
More features added to booking a cruise
Royal Caribbean has also made other tweaks and updates to its website feature list.
When booking a cruise, there is an option to sign in via a pop-up window.  This will then prepopulate your information once you sign-in.
Previously the log in would take you off the page.
In addition, scheduled payments are available now via the My Reservation section.
If you make a deposit on your booking and then go to manage the booking in the My Reservations section, you can now schedule payments.
This applies to single cabin bookings outside of the final payment period. Once you're past final payment, you can not use this feature because you will have had to pay off the entire balance of the reservation.
Planning a Royal Caribbean cruise? Start here: