In:
Sometimes, Royal Caribbean has to make the tough decision to cancel a sailing because of weather.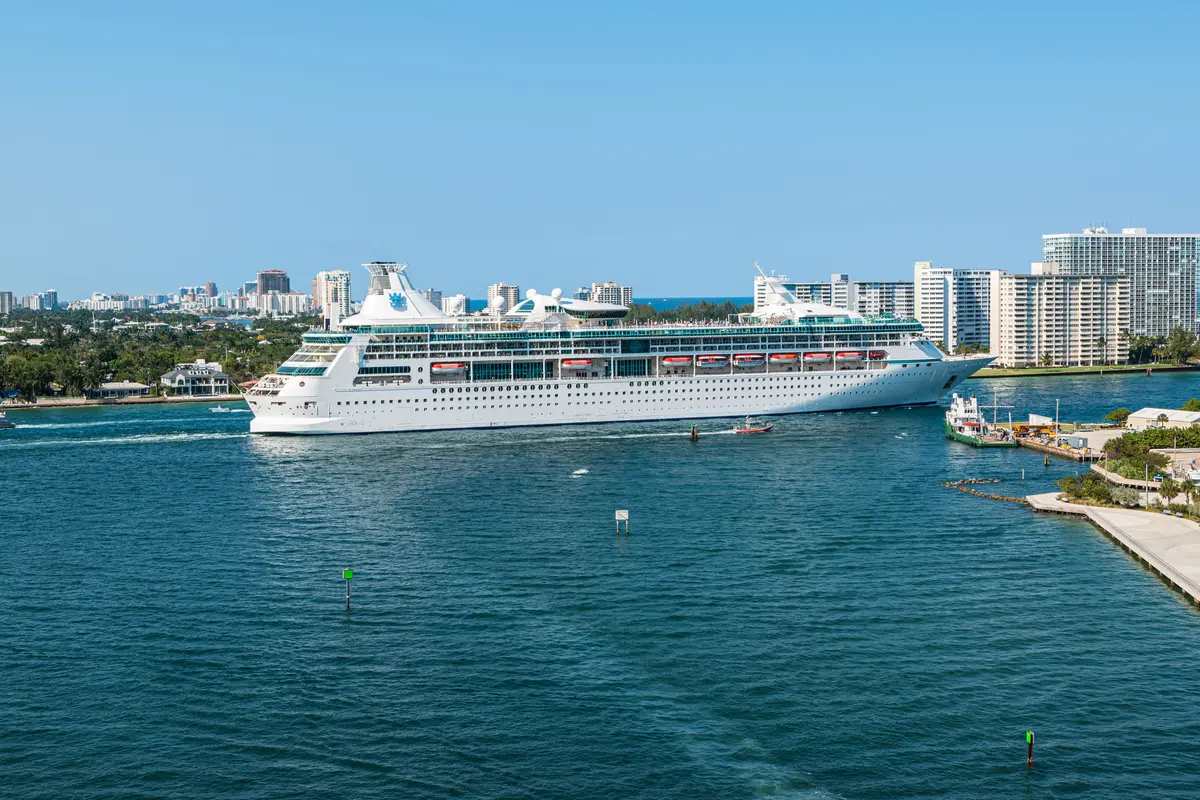 This happened recently for two cruises onboard Radiance of the Seas due to a problem with the ship's propulsion.
Unlike the mechanical issue that forced Royal Caribbean to cancel the sailings to Alaska, another cancellation has been made due to the weather. 
Those who were scheduled to depart on Vision of the Seas on September 23 were notified that their sailing has been canceled due to Tropical Storm Ophelia. 
Read more: All about Vision Class cruise ships
Royal Caribbean made the decision around 7:30pm EST on September 21. The update reads, "Along with our Chief Meteorologist, we've been closely monitoring a developing tropical storm bringing forecasted high winds and inclement weather in and around Baltimore, Maryland."
"Unfortunately, the weather will prevent us from safely conducting our upcoming cruise on Vision of the Seas, and we'll have to cancel our September 23rd, 2023 sailing."
Nobody wants to hear that their highly-anticipated cruise has been canceled, and while compensation is never enough to heal the disappointment, it is a nice gesture made by the cruise line. 
Those who were supposed to set sail on Vision of the Seas tomorrow will receive a 100% refund, including taxes and fees, pre-paid packages and gratuities, amenities, shore excursions and any flights purchased through Royal Caribbean, and pre-purchased Royal Caribbean Travel Protection.
It will be refunded to the payment on file within 14 business days; however, they do say that some banking institutions may take longer.
If a Future Cruise Credit (FCC) was used to pay for the cruise, they will refund any new funds paid above the certificate amount. Plus, they will reinstate the original FCC certificate.
Moreover, everyone will get a 50% FCC to be used towards a future Royal Caribbean sailing that should arrive by September 29, 2023. The new cruise must be booked by December 31, 2023.
The 5-night cruise onboard the 78,340 gross registered ton vessel was scheduled to depart from Baltimore, Maryland and sail to Bermuda for an overnight stay. 
Read more: See how Royal Caribbean ships stack up by size (2023)
Where is Tropical Storm Ophelia 16 headed?
The National Hurricane Center released the newest forces for Tropical Storm Ophelia at 11:00am EST on September 22. Throughout this evening, tropical storm conditions are expected to impact parts of the southeastern and mid-Atlantic coast of the United States.
Swells generated by this storm system will affect the east coast throughout the weekend. Moreover, Tropical Storm Warnings have been put into place for portions of eastern North Carolina, as well as southeastern Virginia.  
Other impacts to Vision of the Seas
The forecasted weather conditions resulted in a cancellation of an entire cruise, rather than an adjusted itinerary as was the case for many cruises during Hurricane Lee.
In fact, Vision of the Seas was one of the ships impacted. Rather than depart Baltimore on September 14th, guests boarded the ship and set sail the following afternoon on September 15th. 
The September 9th sailing was modified, too. The ship returned to Baltimore one day earlier than scheduled. Moreover, rather than sail to Bermuda, guests cruised to Perfect Day at CocoCay and Nassau.