In:
How different is a Royal Caribbean cruise in Europe from one in North America?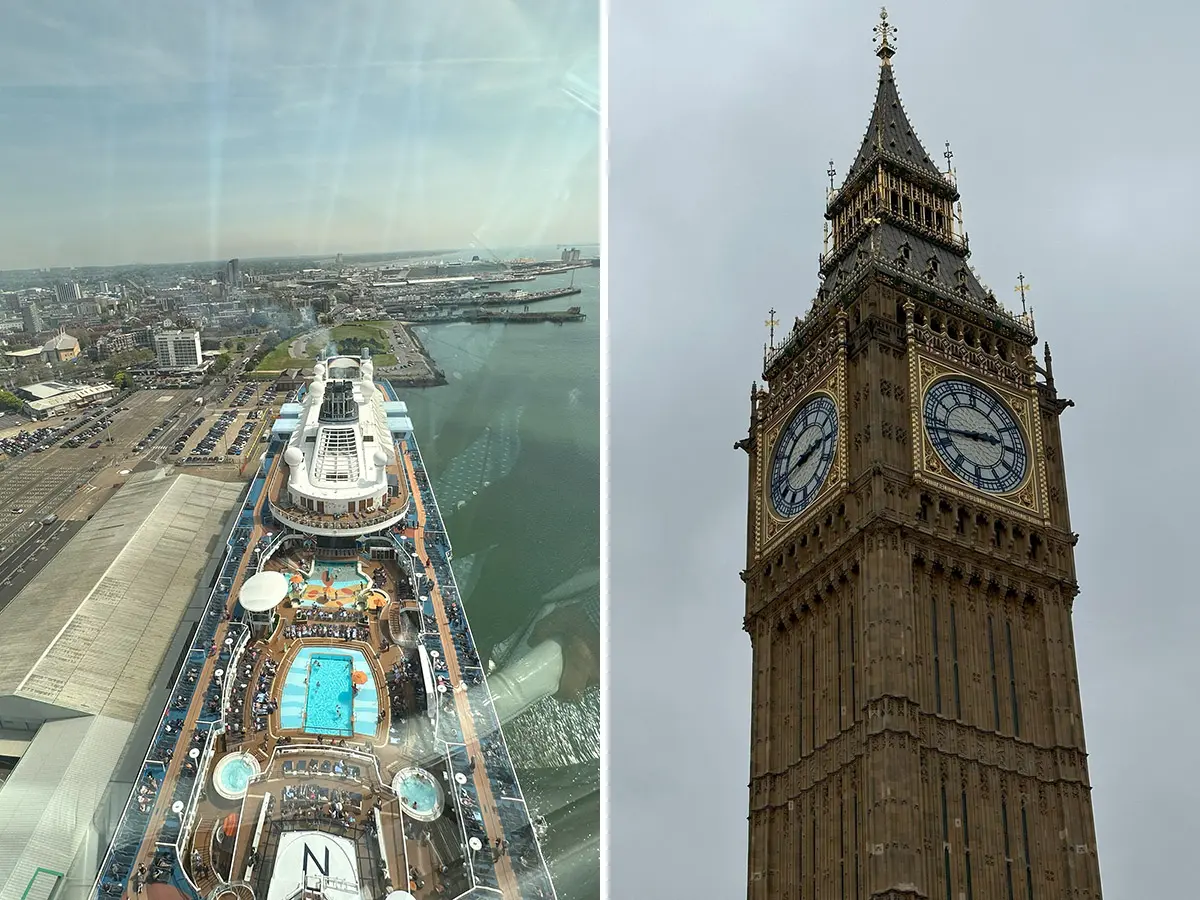 I asked myself that question when I booked my first cruise on the other side of the pond, sailing on Anthem of the Seas from Southampton.
Royal Caribbean strives itself on providing as consistent an experience as it can across the fleet, but there are bound to be regional differences. In fact, cruises from Asia on Spectrum of the Seas have their own suite class and benefits!
Read more: Royal Caribbean suites guide & review
In my pre-cruise planning, I realized there would be a few nuances that would make this different from most other Royal Caribbean cruises I've sailed on.  Of course, "different" doesn't mean "bad" either.
Yesterday I boarded Anthem of the Seas and the experience could not have been smoother, but I found as we sailed away a few differences than I was used to when it comes to embarkation day. I'll have another post later to cover the nuances of the entire voyage.
Read more: 30 Do's and Don'ts for the first day of your cruise
Here are the 4 things I noticed that were different about a European cruises compared to one from the United States.
Jet lag makes getting acclimated difficult
Many of you know not to fly to your cruise the same day it begins, but when you're flying to a different continent, you need more time pre-cruise to get in position.
Read more: Flight attendant shares 20 tips to minimize air travel fiascos
The tip of flying in a day early is meant to ensure a travel delay doesn't impact your ability to make the cruise if there were a travel delay, but the time change can wreak havoc on your ability to enjoy the beginning of the cruise.
Jet lag is annoying enough on its own, but if you're extremely tired in the afternoon and wide awake at 2am, that can lead to a very frustrating start to the cruise.
Most people acclimate to their new time zone in 2 or 3 days after arriving, but that's more than a quarter of your cruise. Considering how much is happening onboard, you don't want to spend your days sleeping and nights awake and annoyed.
If at all possible, it's a good idea to fly in and spend a few days pre-cruise in the city you're sailing from.  
Read more: 4 mistakes & 7 things I did right on my Royal Caribbean European cruise
I flew in two days before my cruise set sail, which meant I was set with England's local time. The added bonus of exploring London was lovely as well.
Not only will this allow you to get on local time, but you'll likely want to explore these historical cities.
Getting to the cruise port requires more steps and planning
You might disagree with me on this point, but I found the logistics of getting from airport/city to cruise terminal more complicated than in the United States.
No matter which city you sail from in the United States, you can easily go from airport or hotel to cruise terminal via taxi, bus, or ride share.  Each cruise terminal in the United States is located less than an hour from a major airport (assuming traffic isn't a factor).
My cruise from Southampton required a great deal more forethought and planning than anything I've done before.
To get from London to Southampton, I had to:
Take a taxi or subway ride to Waterloo Station
Take a 2 hour train ride from London to Southampton
Take a 2 minute taxi ride or walk 10 minutes to the cruise terminal
On top of all of this, I had to factor in the issue of a nation-wide rail strike that crippled mass transit in the two days before the cruise departed.  
I tried to think of the worst commute to a cruise terminal in the United States, and settled on Galveston or Los Angeles as being the most difficult to get to the terminal from where you might start your journey.
Galveston used to be very difficult given the distance from the Houston area airports to Galveston island, but now that Lyft and Uber are allowed to operate, it's become considerably simpler.
Royal Caribbean cruise ships sailing from Los Angeles actually sail from San Pedro, and that's just a longer car ride away.
In both cases, most people use a taxi or car service to get to them, and it's essentially one step to go from their starting point (i.e. hotel or airport) to cruise terminal.
I might be overly critical of a cultural difference in attitudes towards public transportation, but at the very least, planning my commute from London to Southampton required more planning than any US cruise.
Different beers available
One nice benefit of cruising in Europe is there are more beers to choose from.
I've always found Royal Caribbean's beer selections to be lacking, especially in today's world of craft beers. If you want something more than big-name beers, it's slim pickings on Royal Caribbean.
In an attempt to be more appealing to the high number of Brits onboard, Royal Caribbean offers more beers than normal.
You'll find more ciders, as well as a few different brand of beers.
When a ship returns to the United States after a European cruise season, they sometimes have a few leftovers on the first sailing back, but they go quickly.
Read more: 30 Best European cruise tips
Some examples of beers you won't find in the States include Magners Irish Cider, Old Speckled Hen, Whitley Neill Rhubarb & Ginger, and Sipsmith.
Beer drinkers are sure to find more brews to enjoy on a European cruise.
Electric kettle in the cabin
One thing you'll never find on a Royal Caribbean cruise in the United States is an electric kettle in your cabin.
Since tea is such a big part of English culture, an electric kettle is included in cabins for guests to use.
Usually electrical appliances are forbidden because of a fire hazard, but I'm guessing these kettles are vetted for safety and offer the convenience English passengers want.
Read more: What can you not bring on a cruise
Boarding was as easy as the USA
Not all cruise ports are built equally when it comes to the embarkation process, but I'm happy to say the check-in and boarding process in Southampton was just as good as any port in the United States.
I arrived around 11:30am and boarding had already begun, so it was quite a quick process.
There were ample porters to take luggage, and then the security check and checking in went quite quickly.  
Since I completed my pre-cruise check-in, it was just a matter of double-checking everything and being on my way.  
Considering how janky the pier check-in process has been in ports like Los Angeles, Southampton was a breeze!