In:
There is a beach in Labadee, Haiti that you have probably never heard of, even if you have been there multiple times!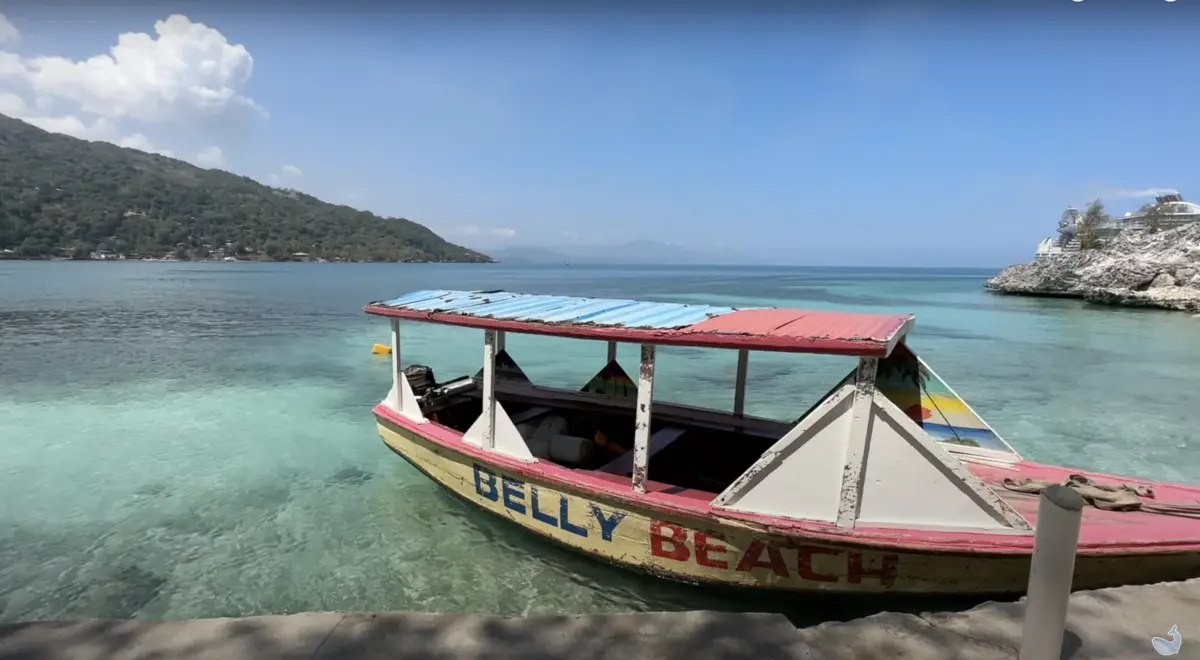 It is not Dragon's Beach, Adrenaline Beach, Barefoot Beat, Nellie's Beach, or Columbus Cove. In fact, this beach is not even on the map!
Belly Beach is located a little further south than Columbus Cove; however, it is only accessible by boat if you are a crew member.
Cruise passengers are not able to visit Belly Beach since it is not part of their privately-owned destination; it is located just outside of the boundaries. 
Oasis of the Seas crew member Lera Synchro recently posted a video on her YouTube channel that documented her day spent at Belly Beach. 
Synchro's YouTube channel has amassed over 7,000 followers, who follow her on her adventures as an AquaTheatre performer onboard, including show rehearsals, exploring in Mexico and Jamaica, and what spending Christmas onboard was like. In one video, she even gives viewers a glimpse into the AquaTheatre's pool, which is one of the deepest pools at sea!
Keep reading to see what Belly Beach is like!
What is Labadee?
Labadee is Royal Caribbean's private destination on the northern coast of Haiti. While it is not a private island like Perfect Day at CocoCay, it does promise guests a relaxing (or thrilling) day with other Royal Caribbean passengers. 
You can spend the day on one of four (or five if you are a suite guest) different complimentary beaches, go zip lining over the ocean or parasailing, ride a jet ski, take a nature walk, and more.
For those looking for a more luxurious beach day, you can rent a private cabana at Nellie's Beach. Only those staying in suites can reserve a cabana at Barefoot Beach. 
There is even an artisan market where you can buy souvenirs from locals. Unlike CocoCay, though, they are unable to take your SeaPass card, so be sure you bring some cash with you when you get off the ship!
How do crew members get to Belly Beach?
A small boat docks near the jet ski landing to transport crew members from the privately-owned section of Labadee to Belly Beach, which is a public beach for locals that crew members are able to visit. 
After a short scenic ride with views of the ship and surrounding mountainous landscape, the boat pulls right up to the beach to let Synchro off, and whomever else is on the boat, off. 
She never expressed any concern of making it back to the ship on time, so it is safe to assume that departures are scheduled around the crew's all aboard time. 
What is the beach like?
Compared to Royal Caribbean's beaches, Belly Beach looks like a private oasis! 
On the day Synchro filmed, there was hardly anyone else there. In fact, some of the footage from the beach revealed empty beach chairs, which is often a rarity on cruise line private islands!
Anyone who has visited a private island will tell you to secure a chair as early as possible, especially if you have your heart set on a first or second row seat. The beaches are packed in the afternoon!
She filmed a group of people in the ocean throwing a ball around, while others were seen lounging in the available chairs. She was able to swim freely without bumping into anyone, and from the clips, it did not seem as though there were any water sports available for rent. 
While there was enough seating to accommodate everyone on this particular day, there were not any umbrellas to provide shade. 
Dining options at Belly Beach
There is a restaurant on-site that is situated feet from the ocean; however, since this beach is not owned by Royal Caribbean, all food items are priced a la carte. And even though the restaurant is open-air, it is shaded. 
Synchro showed fresh mango slices, rice, and lobster! Google reviews indicate that you can purchase a whole fish, too. 
What do crew members do during shore leave?
Do crew members get to spend the day ashore like passengers? Not always, as only a certain percentage of the crew in any given department are allowed to get off the ship.
If everyone was able to get off, who would be on the ship to attend to the passengers who opted to spend the day onboard or who return early?
Those who do have time off usually do not have as long in port as guests; however, they make the most of it by visiting local hotspots, eating at restaurants, or going to supermarkets to stock up on non-perishable items and other necessities that may either cost less than the onboard crew store or that are not available. 
They may also want to search for Wi-Fi to connect with loved ones back home. Regardless of how they spend their time ashore, they are always sure to make the most of it. 
Crew only areas onboard the ship
Just as Belly Beach cannot be visited by regular passengers, there are areas onboard the ships that are off limits, too. And thanks to social media, it is easier than ever to see how crew members live during their contracts.
Bryan James, a former guitarist and vocalist in The Mason Jar Bar onboard Wonder of the Seas, posted videos to his TikTok of crew life and currently has a following of over 730,000! He is no longer on Wonder of the Seas, though. His current contract is onboard Celebrity Edge. 
His previous videos show a secret hangout in the ship's funnel, a shop filled with essential items and snacks for purchase, his tiny cabin, the crew laundry room, and even the crew lounge where they have a foosball table. 
If you are interested in learning more about ship life for Royal Caribbean crew members, follow Bryan James' TikTok @bryanjamescruises, as well as Lera Synchro's YouTube @LeraSynchro! 
Related: A look at the secret crew-only areas on the world's biggest cruise ship