10 of our favorite Royal Caribbean crew members
In:
A Royal Caribbean cruise just would not be possible without the amazing crew members.  These are the hard working folks that make our cruise vacation so very special and in many cases, it is their personal touch that make the memories we will remember for years to come.
Unfortunately, many of them don't receive the recognition that they deserve. Here are ten crew member jobs that are under appreciated.
10. Windjammer greeter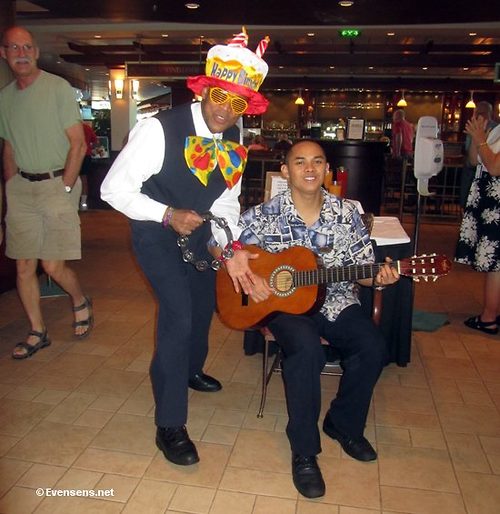 Photo by Lois Evensen
Nothing says "good morning" better than the crew member at the entrance to the Windjammer that welcomes you with a friendly smile, a warm greeting and a reminder to wash your hands.
It is hard to beat starting your day on a Royal Caribbean ship with a visit to the Windjammer, and the crew member working the entrance is responsible officially for counting guests and reminding them to wash their hands, but we also love the ones that give us high-fives, welcome our kids and have a smile on their face.
Some of them dance, some sing and others act silly.  But it's a welcome treat to have a friendly face to say hello to each day.
9. Crew members welcoming you back from shore excursions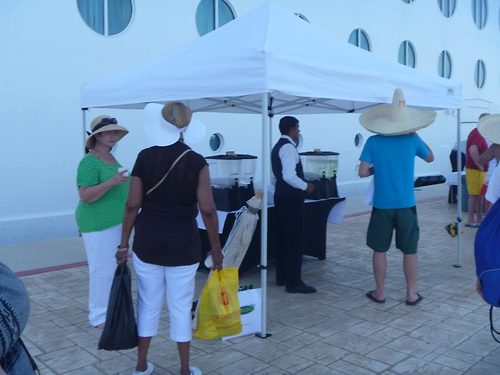 Odds are it will be quite hot on your Royal Caribbean cruise and that includes the ports you will visit.  After a long day exploring beaches, ruins, cities and more, someone with a towel or a drink really makes a difference.
Royal Caribbean often will station a table with water, towels and even ice covered towels near the gangway to welcome back guests returning to the ship.
That little gesture of providing some relief from the hot sun always makes a big difference and it can transform even the most miserable sweaty time into a better situation very quickly.
8. The Captain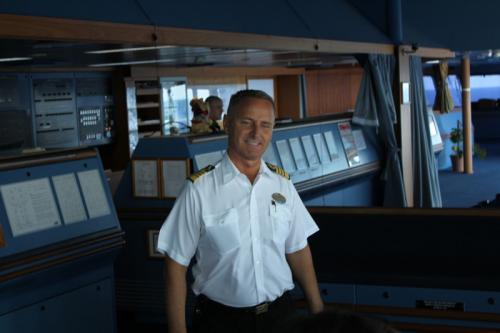 Perhaps no crew member is more visible (or audible) than your Royal Caribbean ship's Captain.
Every day of your cruise, the Captain is around the ship to give updates, answer questions and pose for photos.
After all, the Captain is in charge of the ship and with the lofty responsibility comes also a friendly face to see.  Many of the Captains have a great sense of humor and you will often see him or her around the ship quite often.
7. Loyalty ambassador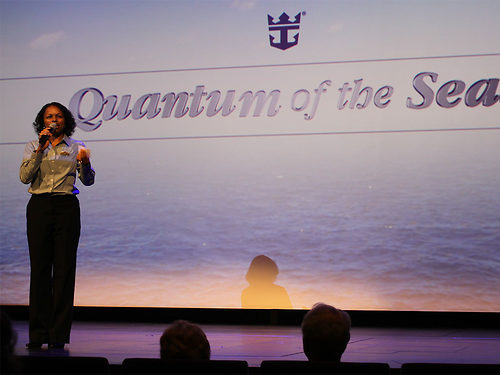 When you get on a Royal Caribbean ship, pretty soon you will begin thinking about booking another Royal Caribbean cruise and the Loyalty Ambassador is there to make that as easy as possible.
Let's face it, the Loyalty Ambassador is your "chief enabler" and someone who can not only answer questions you may have but be your friend all along the way.
It is always fun to stop in and speak with the Loyalty Ambassador on your cruise to discuss upcoming itineraries and sailings that may be of interest, as well as see if they have any news to share about what else is coming around the corner from Royal Caribbean.
6. Main dining room waiters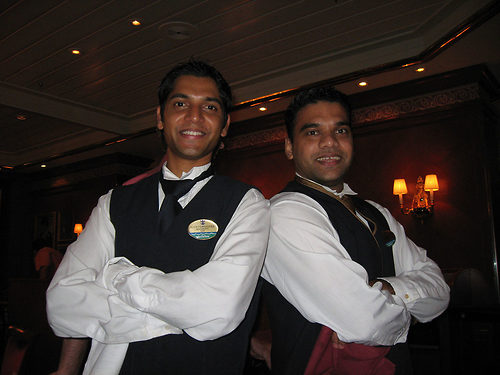 Among the hardest working crew members on your Royal Caribbean ship are the main dining room waiters.
Your waiter and assistant waiter are there for you every day to make your dining room experience exceptional.  They remember your preferences, call you by name and bring you extra servings of coffee ice cream when available (maybe that is just me).
The main dining room wait staff are a very friendly bunch and they will often tell jokes, do magic tricks for kids (and kids' parents) and give recommendations on what is best to eat.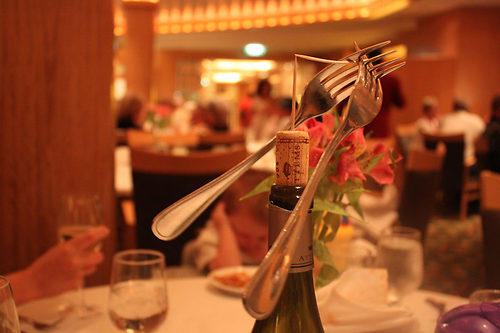 What always strikes me about the wait staff is they will go out of their way to make your cruise better.  Want an extra entree? Think something needs to be heated more? Need something from the Windjammer? They always are there to help.
5. Drink servers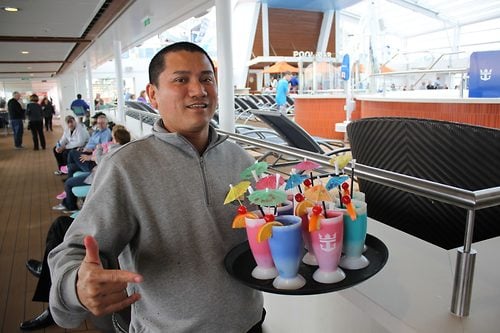 Let's face it, when you are lounging by the pool or at a Royal Caribbean private destination and enjoying the sun, breeze and sounds around you, the last thing you want to do is get up and go to the bar.
The drink servers that walk all around the pool decks and beaches are your best friend in this situation and they make enjoying some time by the water much easier on you.
Just like the main dining room waiters, the drink servers often have a great attitude and a good sense of humor.  Getting to know them is always a great idea!
4. Performers and entertainers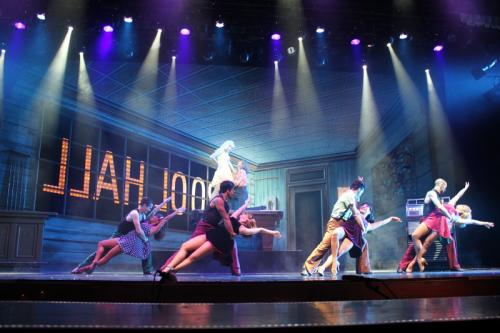 Royal Caribbean has always valued offering high quality entertainment on their ships that mirror what you might find on Broadway or in Las Vegas and it is their performers and entertainers that make these shows so memorable.
Each cruise, you will find a feature performance in the Royal Theater or at Studio B ice rink, or Two70 or in the AquaTheater and the crew members in each of these shows are tremendously talented.
Dancers, singers and acrobats are just some of the crew members that bring these shows to life.  When you can spot one on the ship somewhere, it's almost like meeting a celebrity because you will inevitably get star struck byt the fact you are seeing someone from the show the other day.
3. Cruise director and their staff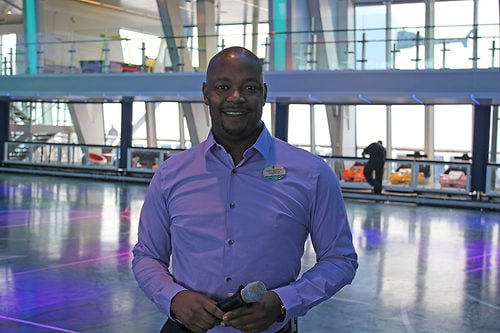 The Cruise Director's job is to make all guests onboard have a great time and it is a task they always seem to do so well.
Each day of your cruise, there are so many fun activities to choose from and it is the Cruise Director and their staff that make them all happen.
Bingo, trivia, game shows, belly flop competitions and more are just a few of the shows the activities staff puts together every day of every cruise.  
It's a tough job and frankly, it is amazing to see how quickly the Cruise Director can get from one event to another and they always have a big smile on their face and infused with enthusiasm.
2. Guest relations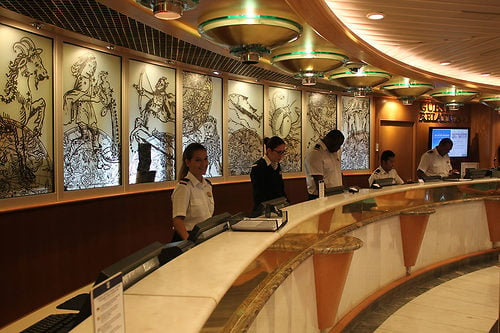 Every cruise there can be something that needs to be remedied and the Guest Services crew members are available 24 hours per day to assist with any of it.
There are lots of things guests go to Guest Services for and the staff there are always available to help and try to make things right.
Most issues can be easily resolved and for the more difficult problems, they will try their very best to make sure guests are satisfied.  Having someone there to at least look at all your options and give some guidance is always appreciated.
1. Stateroom attendant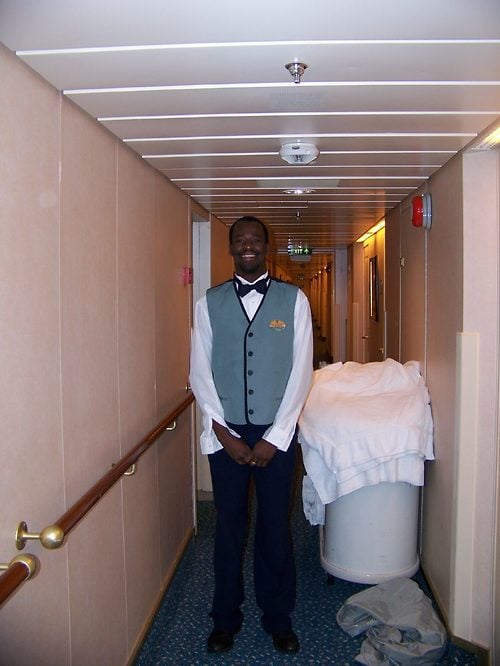 Perhaps no other crew member is as important to guests as their stateroom attendant.
Twice per day, they come to your messy stateroom and help clean everything up, give you new towels and turn down your beds at night. 
This is the kind of service that you rarely see on land these days and your stateroom attendant does it with a smile and the open question of if there is anything else they can do for you.
These dedicated people work a lot and when you walk through a deck, odds are you will run into a few of them and each of them is there with a smile and a "hello".
Who is your favorite Royal Caribbean crew member? Tell us in the comments!