In:
Good news, we are all one week closer to our next Royal Caribbean cruise!  In case you missed any of the Royal Caribbean fun from this week, here is our weekly round up!
Icon of the Seas reached its next major construction milestone this week.
The new ship was floated out of the dry dock and into its outfitting dock at the Meyer Werft shipyard.
Essentially, Icon has moved from a dry dock to a wet dock.
Royal Caribbean News
Royal Caribbean Blog Podcast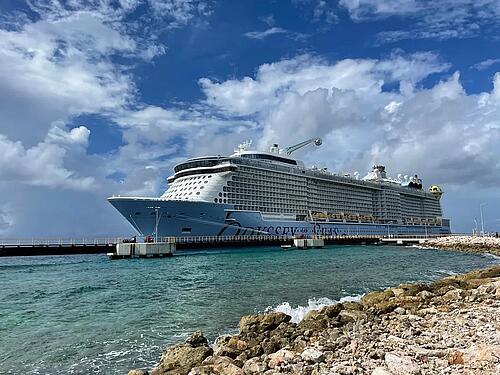 The 478th episode of the Royal Caribbean Blog Podcast is now available, featuring a look at Matt's cruise on Odyssey of the Seas.
Matt is back from an 8-night Odyssey of the Seas cruise to the Southern Caribbean and shares what he liked and didn't like about this cruise.
Please feel free to subscribe via iTunes or RSS, and head over to rate and review the podcast on iTunes if you can! We'd appreciate it.
New RCB Video: How 'Back To Normal' is a Cruise?
Have you subscribed to the Royal Caribbean Blog YouTube Channel? We share some great videos there regularly, all about taking a Royal Caribbean cruise! This week, we are sharing our latest video — How 'Back To Normal' is a Cruise? — and don't forget to subscribe here.
7 TikTok cruise tips and if they actually work
I reviewed 7 cruise tips shared by people on TikTok.
Just like anything on the internet, just because it's on the internet, doesn't mean it's true.  So I wanted to check out the top cruise advice to see which tips were being shared and if I agreed with them or not.
I found 7 popular videos that cover various aspects of going on a cruise with tips and tricks that I thought were worth evaluating since they had fairly high view counts.
Royal Caribbean reveals new restaurants, bars, and activities on Icon of the Seas
More venues were revealed that we can expect to see on Icon of the Seas.
A variety of bars, restaurants, and activities were shared by Royal Caribbean that not only announced what they are, but also shared new concept art for each one.
5 real-life places that inspired Royal Caribbean cruise ship design
Did you know some of Royal Caribbean's best known activities and onboard features were ideas that came from places in the real world?
When new cruise ships are being designed, ideas come from different sources, including well-known locales.
Here are five things on a Royal Caribbean cruise ship that you could recognize as being similar or alluding to places you may have visited.