In:
Wow - I can't believe it's already Day 10 of our 12-night cruise. Today was our second to last port and it was wonderful day in the the idyllic Greek island of Santorini.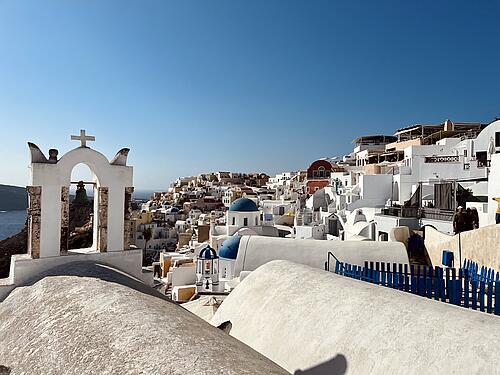 Santorini is best known for its charming village of Oia, located at the end of the island and scattered with gorgeous blue-domed buildings on the cliffside. It's certainly a bucket-list destination for many because there's no other place like it in the world!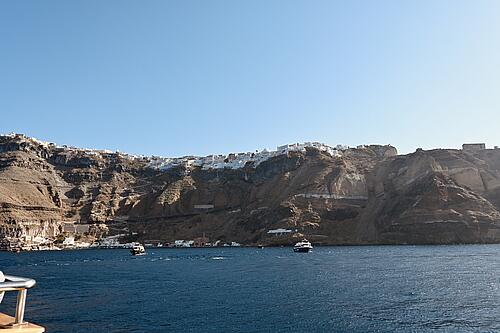 Although I've been to Santorini twice before, this was the first time that Angie and my parents have visited the island. We chose to do a shore excursion through Royal Caribbean that visited the town of Fira, village of Oia and a local winery.
I know that visiting Santorini can be logistically challenging. First, it requires tendering to the island from the ship. When you tender from the ship for independent exploring, it drops you off near Fira. Once here, you are left to either take a cable car, walk up a ton of stairs or ride a donkey.
You can also take the speed boat to Oia from the port of Fira, which is what I've done previously.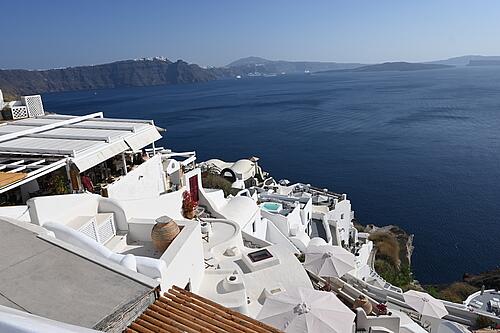 I was a little worried about my parents having to deal with the cable car or donkey scenario in Fira, so we thought the excursion route would be best. We booked an excursion that had a bus ride to and from the port, which I felt would be the most enjoyable experience for everyone.
After the fiasco in Masada (trying to take a cable car with thousands of people) and knowing there would be 5 ships in port today, I was hopeful the shore excursion would alleviate some of those logistical pains.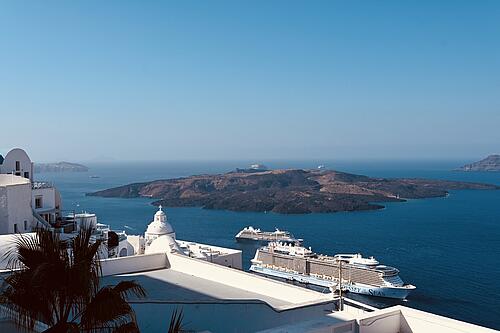 Breakfast Views and Tendering
Since our tour had a meeting time of 9:45am, Angie and I woke up and had breakfast in the Windjammer. We were greeted by sweeping views of the island of Santorini as Odyssey of the Seas pulled into its anchoring spot.
We always enjoy breakfast in the Windjammer for its wide variety and we couldn't stop looking at the island. Even if you choose to stay on the ship for the port of Santorini, you could enjoy the beautiful views all day.
I stopped for a quick coffee in the Diamond Club before meeting with our excursion group in the Royal Theatre.
Within 20 minutes, our tour group was called and we made our way to the tendering spot. I noticed that the excursions used a tender at the front of the ship while tenders for independent explorers (i.e. not on a RCL shore excursion) simultaneously left from the back of the ship.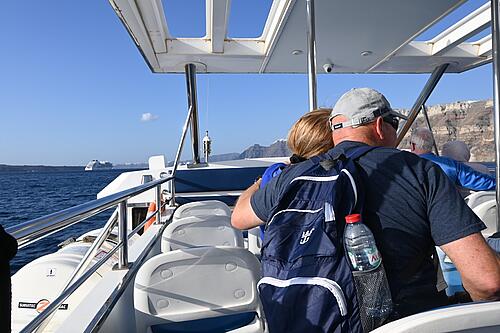 The tender ride was lovely with views of the ship and island. It was a really nice vessel and took no more than 10 minutes. Our tender was brought to the Athinios Port while the other tenders from the ship dropped off passengers at the port near Fira with the cable car.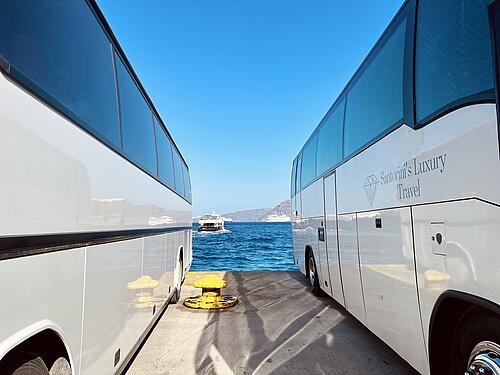 Parade and Shopping in Fira
We boarded a bus with the branding "Santorini Luxury Travel" - which was honestly anything but luxury!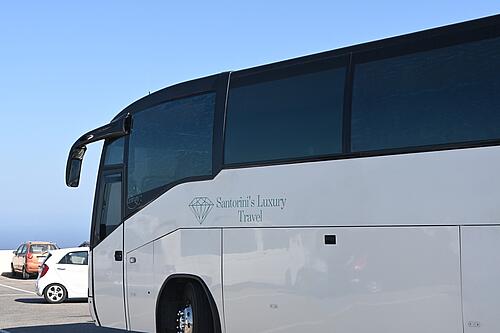 While we sat in the very back, there was a clanking noise from the overhead bin while the bus weaved its way up the cliff on switchbacks. We couldn't hear anything our tour guide said because the clanking was so loud at the back of the bus.
We arrived in Fira right at the start of a local parade! Today was a national holiday in Greece, so there were flags all over the island. It was fun to see the parade happenings while we walked around Fira for some free time.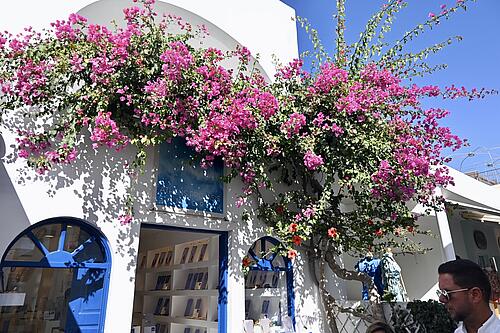 Because of the parade, the bus had to park further away from the town than normal. We didn't mind the walking, but some with mobility issues were grumbling about the inclined walk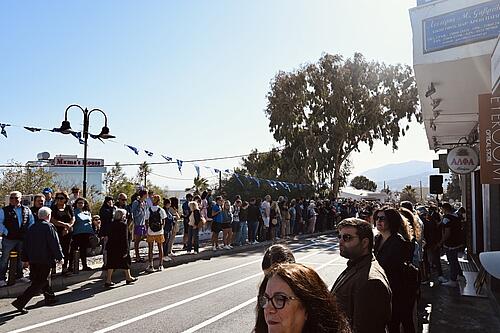 We took this hour of free time to do some shopping and watch bits of the parade. I also enjoyed a little gelato while wandering the streets. It was a nice way to start our day!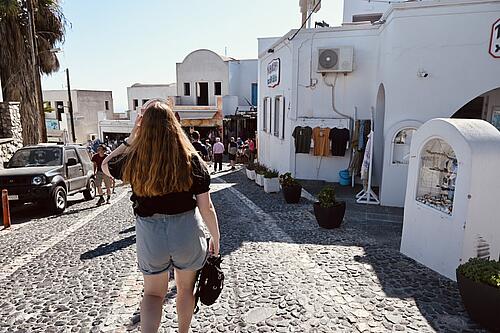 Of course, everywhere you look, there are simply breathtaking views of the island and the Mediterranean Sea. You just can't help but take pictures around every corner while walking around Fira.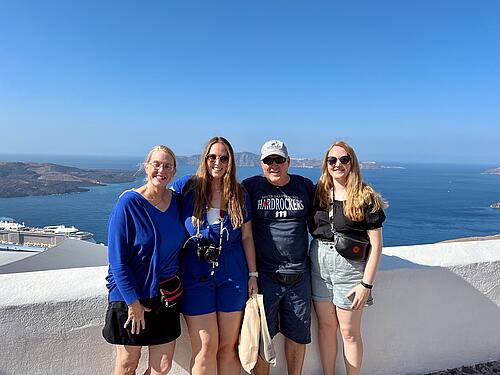 The white buildings, the purple flowers and the deep blue ocean make for some truly beautiful pictures. We couldn't help but take some photos with a backdrop that looks like a painting.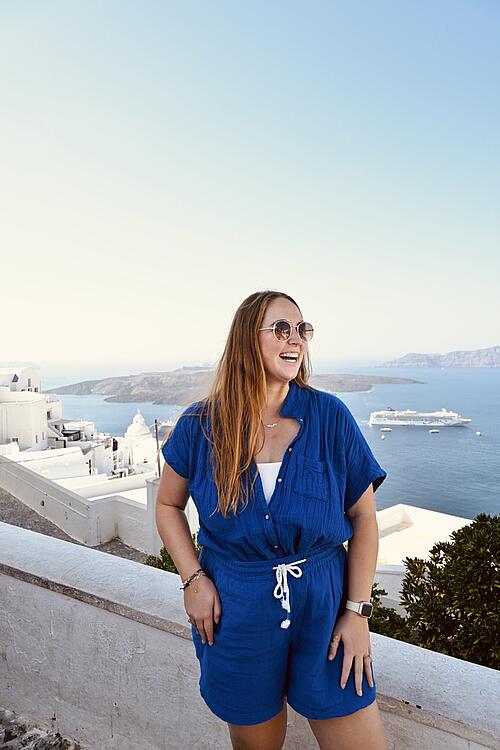 Winery Stop
After our free-time in Fira, we walked back down to the bus and told the bus driver to turn up his microphone so those of us in the back could hear him talk.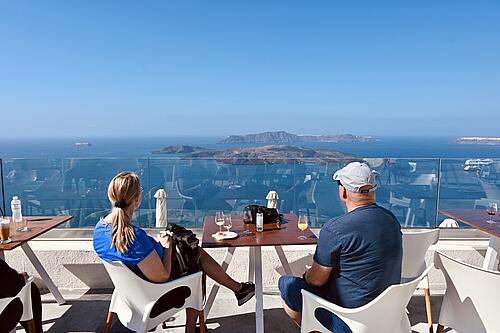 We were part of a line of tour buses made our way to the Santo Wines, which is a local winery on the island. Santorini is the oldest vineyard in Europe. This was a nice and scenic winery where we could sample 3 different wines. We all enjoyed the dessert wine, which was very sweet.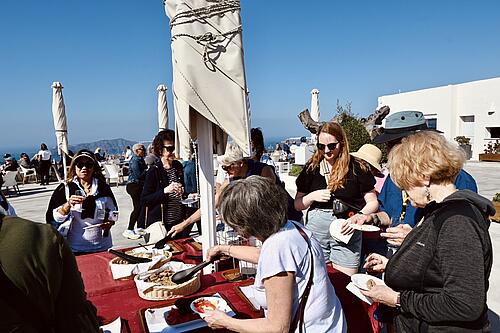 There was also a table of snacks including cheese and tomatoes. Lucky for us, Angie snagged a bunch of cheese cubes before they ran out that we could enjoy with our wines.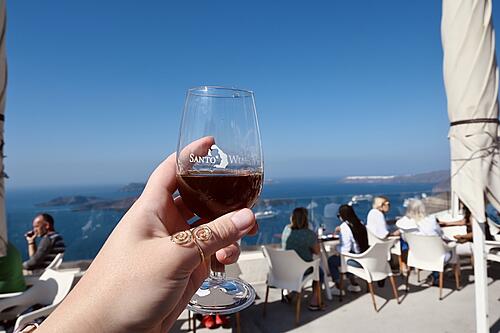 As with everywhere on Santorini, the views were stunning. As I sat there and drank my dessert wine overlooking the cliffside, I thought to myself that I am truly living the dream! How does it get better than this?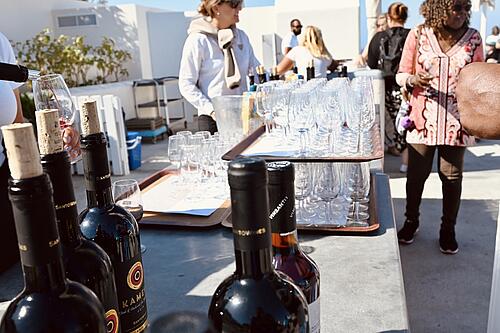 What a blessing it's been to share these memories with not only my family, but also with everyone reading on Royal Caribbean Blog.
Although I could have spent all day at the winery, time was limited and we were shuffled back to the busses for our journey to the main attraction: Oia!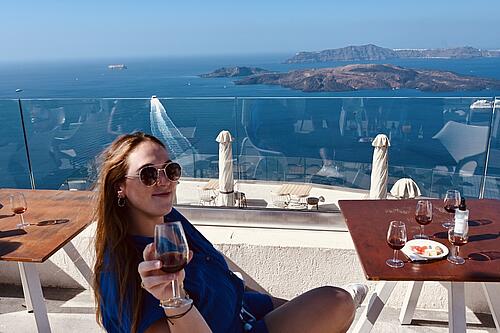 Village of Oia
When you see pictures of Santorini, you are most likely seeing pictures of the beautiful village of Oia with the blue domes overlooking the sea. This is what you come to see in Santorini!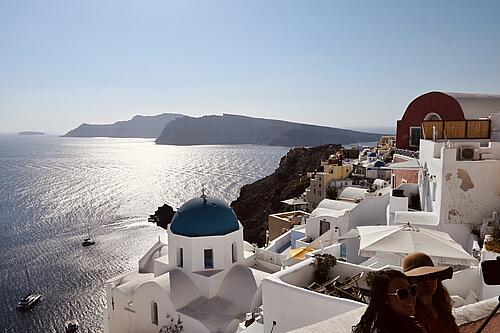 I knew from experience that Oia would be crowded with tourists - both times that I've been to Santorini (once on a cruise and once on a land-trip), it's been super congested in Oia. The alleys are small and everyone wants pictures of the same spots.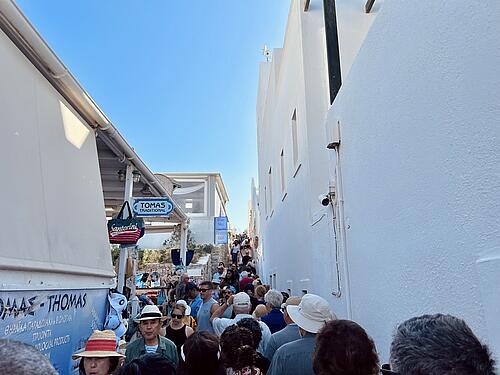 Our bus parked and we walked up the steps by the guidance of our tour director. We were greeted by the most breathtaking view of the island from both sides, along with a view of our ship and the sea below.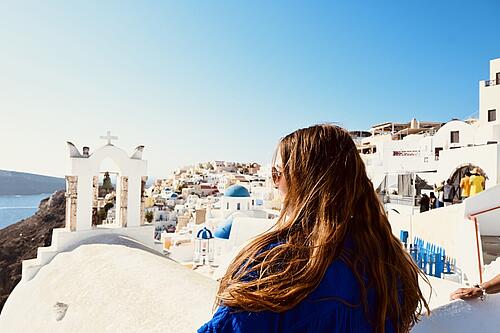 Everyone was awe-struck by the beauty. It's truly like nothing you've seen before.
I had an unexpected encounter with a group of travelers right as we entered Oia. I saw two people wearing Semester at Sea hoodies. Excitedly, I told the group that I sailed with Semester at Sea in college 7 years ago during Fall 2015.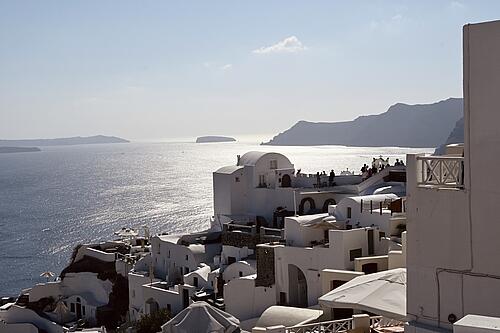 Semester at Sea (a study abroad program that sails around the world on a ship while you take classes at sea) is one of those life-changing experiences that bonds people together.
They said they were students on the current voyage and the ship was docked in Athens! I told the group how I also traveled to Santorini during my voyage; it was such a cool and nostalgic moment that I never anticipated happening. Such a small world!
After chatting for a bit, I met up with my family down the road as they were taking in the sights. We continued to wander the streets.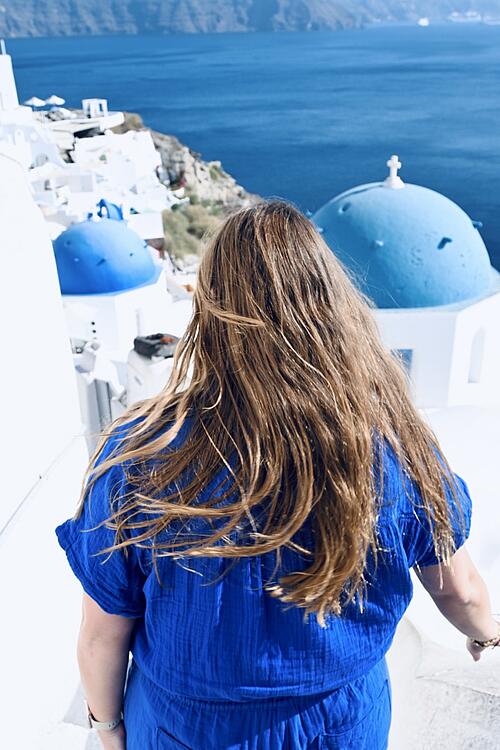 If we saw a bunch of people congregating in one place, we figured there would be a nice view worthwhile so we joined the crowds.
Along everyone else on the island, we took many pictures with the views of the village in the distance. Some of the spots we found were on cobblestone edges where it would be easy to lose your footing and fall. We were careful not to step back too far, as everything on Santorini is on the cliffside.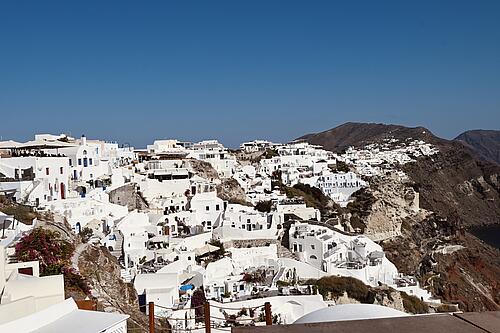 Santorini is like a postcard coming to life; you almost can't believe you're seeing it person.
We only had about 1.5 hours to wander around Oia and we had already shopped while in Fira. Instead, we used our time in Oia to take pictures and walk around the streets.
Everything is so quaint and charming, although flooded with people everywhere you look. This was still quite busy considering we were visiting in the off-season, although there were 4 other ships in port today.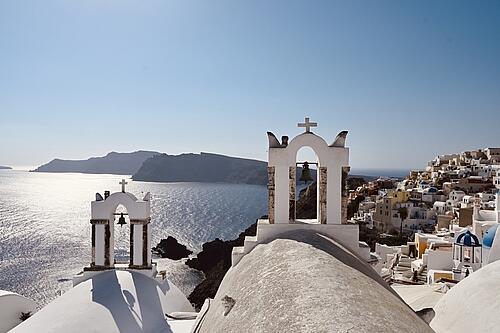 We ventured to a place called Lolita's Gelato, which is where my husband and I went on our honeymoon. Angie, dad and I enjoyed a scoop of ice cream to top off our time in Santorini. I told the owner how I visited his shoppe a few years back and showed him pictures - he was grateful for my return!
Santorini Sunset
Following our time in Oia, the bus drove us back to the Athinios Port. We had the option of getting off in Fira and taking the cable car or donkey ride back down, but no one on the bus opted for this.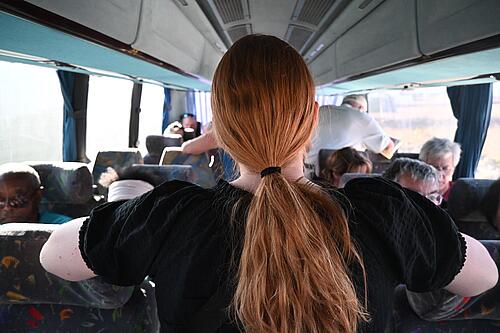 The tender was waiting for us at the port and promptly departed once our bus unloaded and boarded the tender boat. I couldn't believe it was actually a little chilly during the ride back to the ship, so I sported my new Santorini hoodie.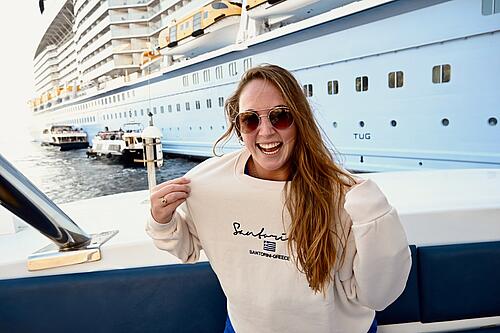 We took even more pictures of the island and ship as it anchored in the harbor. We were grateful for a nice tour that alleviated the logistical issues we were worried about. I would say it was worth the money to take this excursion, especially traveling with my parents.
A few people shared stories about the cable car being swamped with people in a way that couldn't be believed. We also heard from a couple who took donkeys down for $10 each, but the donkey leader forced them to get off after only making it about two-thirds of the way down. When the donkey leader forced them all to get off the saddles, one lady was stuck and ended up falling into donkey poop.
Hearing stories like reassures our decision that the excursion was a good idea, although those do make great stories!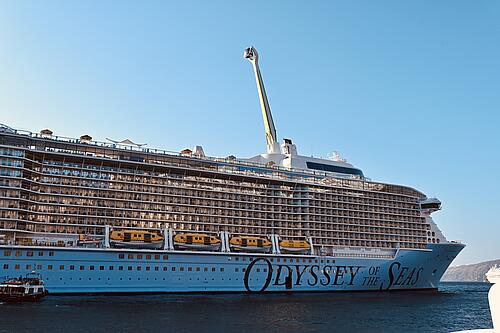 Back onboard, we grabbed pizza at Sorrento's and made our way to the top deck to watch the sunset.
Santorini is famous for its world-class sunsets; I told my family that we needed to be late for dinner tonight because the sunsets are simply unforgettable.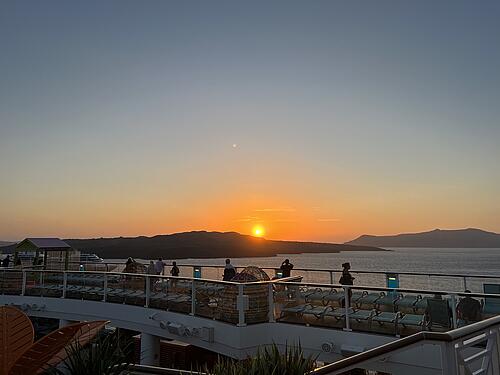 We grabbed a cocktail at Lime & Coconut from our favorite bartender, Dwayne (or Dwa as patty calls him), and snapped many pictures of the stunning sunset. The sun peaked over a tiny island in the distance and lit up the ship and island with a warm golden hour.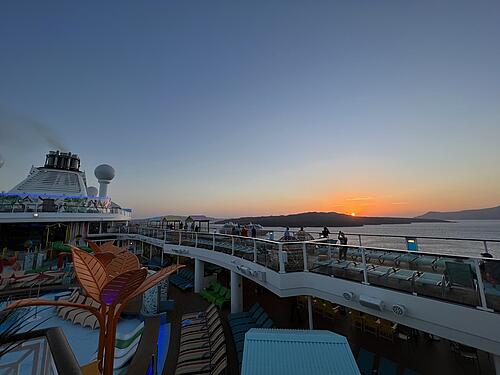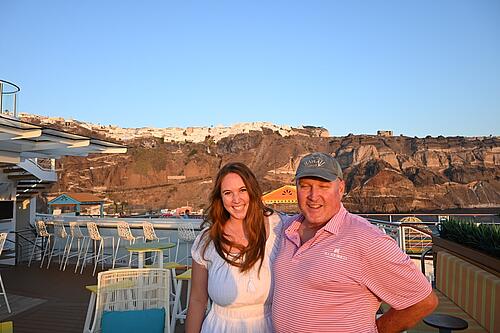 It was a beautiful moment that I will cherish. Of course, we took many pictures because the lighting and scenery were simply too beautiful to not capture the moment in time.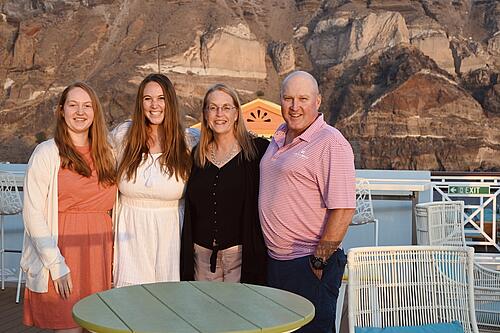 Dinner Onboard
After our Santorini Sunset, we made our way to dinner in the main dining room again. Mom was pleased to find her nightly escargot was improved after her casual conversation with the head waiter last night.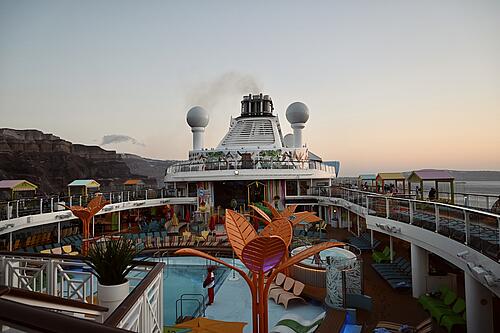 The head waiter, Jayson, came back to our table tonight to ensure everything was up to standards. Mom told him how she noticed the changes in her escargot and we thanked him for being so attentive.
We all enjoyed our meals in the dining room tonight, along with our fun conversations with the table seated right next to us. It was nice to enjoy the window views as Santorini started to light up after the sun went down.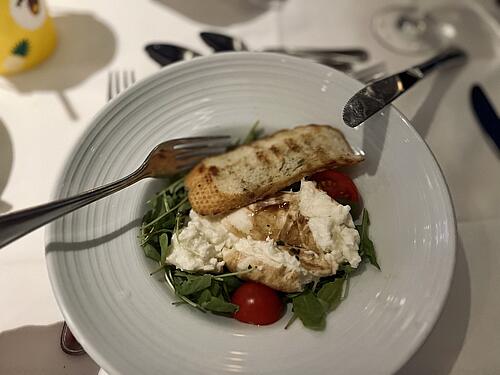 Following dinner, there was little entertainment available tonight, presumably because we did not leave until 9pm tonight. It's nice Royal Caribbean has a late-night stay in Santorini to provide everyone with ample time to see the island and watch the sunset.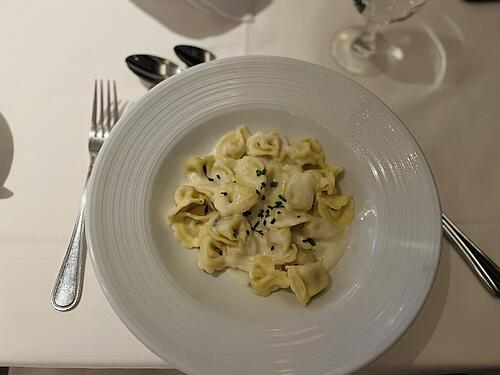 Tomorrow, we will be in our final port of Chania, Crete. We are only docked from 7am-2:30 tomorrow, so we are hoping to get off the ship by 10am to explore. We do not have any plans other than walking around the harbor.
Until tomorrow, happy cruising!