In:
Royal Caribbean's newest cruise ship is Odyssey of the Seas, and I managed to get onboard for a 6-night Western Caribbean cruise to check it out for myself.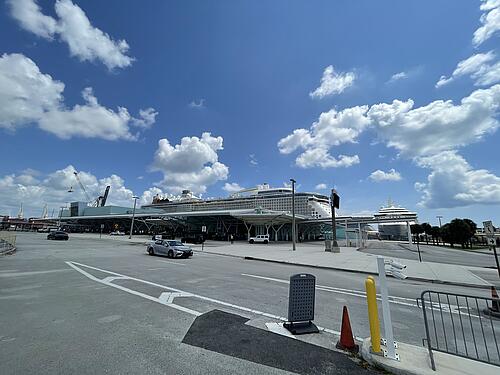 When Royal Caribbean began restarting cruises, I was excited to get back to sea and once more ships started sailing again, I became more strategic with which ships I wanted to sail on.  Being a brand new cruise ship, I did my best to book something as soon as possible on Odyssey.
For this sailing, my wife and I drove down to Fort Lauderdale to hop aboard Odyssey of the Seas. We spent a night in Boca Raton, and then drove down to the terminal for our noon check-in.
This was my first cruise sailing from Port Everglades since the restart, and Odyssey of the Seas is departing from Terminal 18. This terminal has the easiest parking of any port I have been to, because it has a surface lot right across from the terminal.
Check-in was super easy. We arrived at noon for our check-in time, and got through the process very quickly. We had to wait a few minutes in the terminal prior to the ship beginning the boarding process.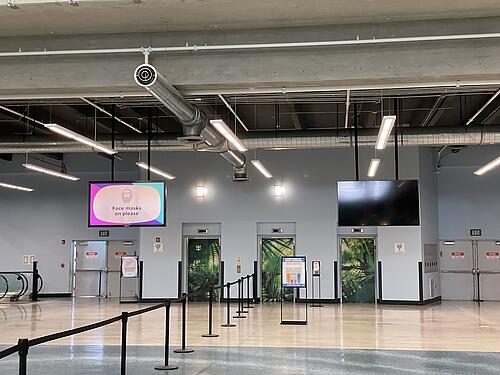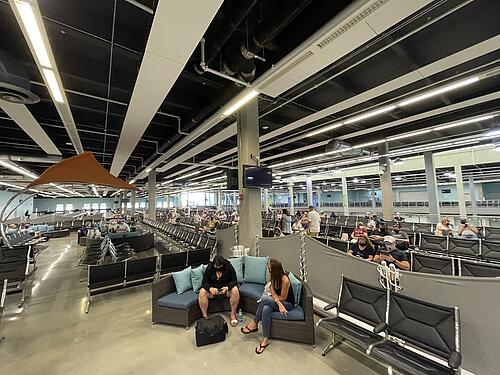 Luckily the cabins were ready as soon as we boarded, so we headed up to deck 8 to our room. For this cruise, we have a two bedroom Grand Suite booked.  Why did we book a two bedroom suite for just me and my wife? We were in a balcony room originally, but the price for a two bedroom Grand Suite was cheaper than a Junior Suite one day and I decided to hop on the special.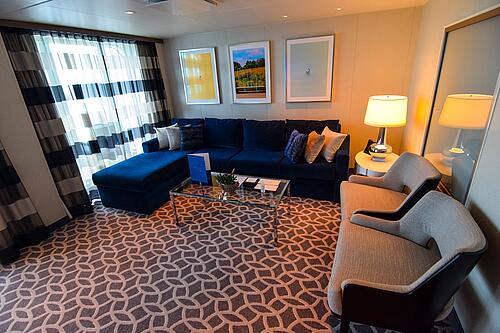 The room looks great, and has way more space than we really need, but it's certainly nice to have!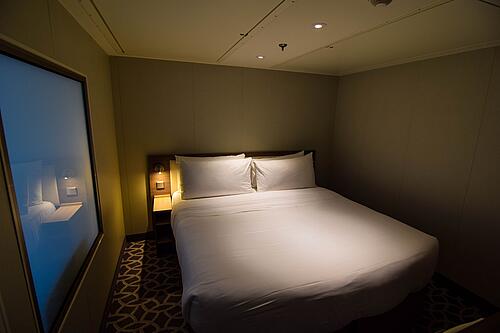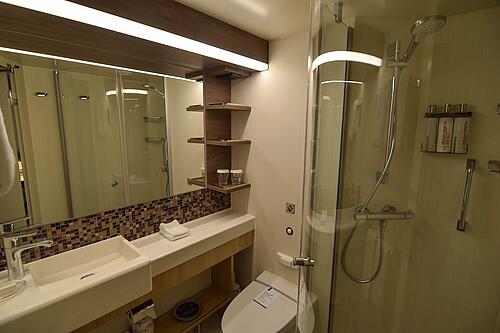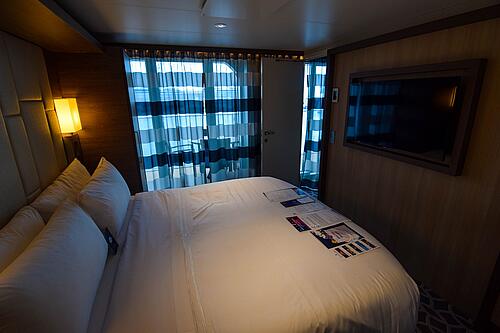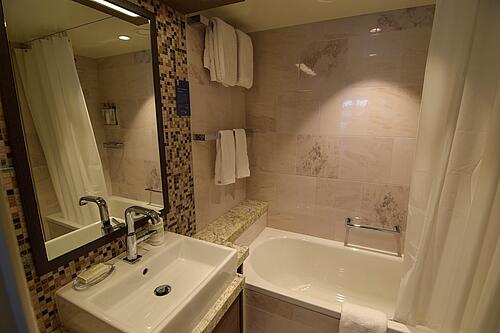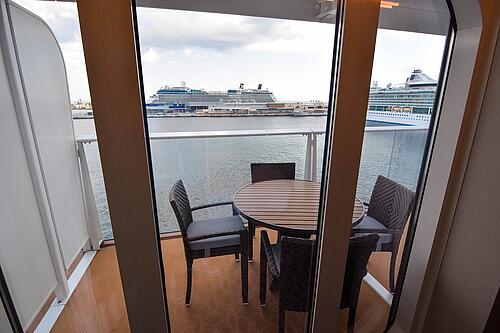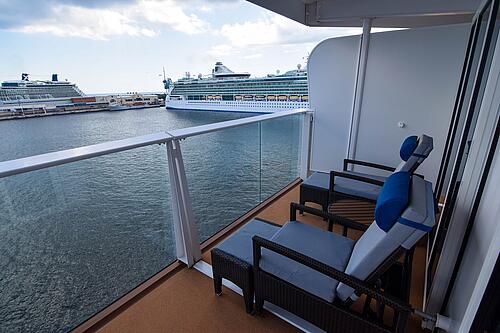 Something this cabin has is a digital control for the blinds and lights, which means you can open the blinds and lights from the panel in the room, or the Royal Caribbean app.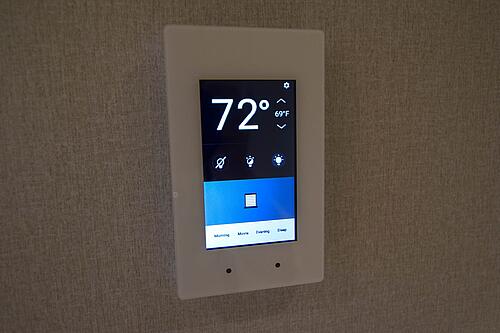 With our things in the room, we headed to the Windjammer for lunch.  We have the unlimited dining package and and access to Coastal Kitchen, but I just wanted something quick and good and the Windjammer fit the bill.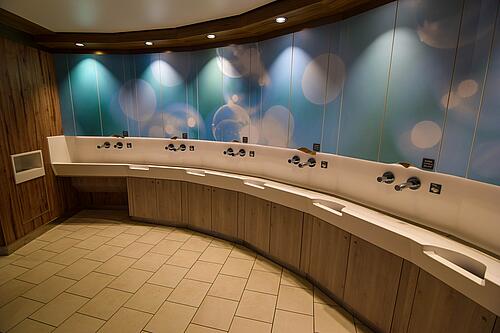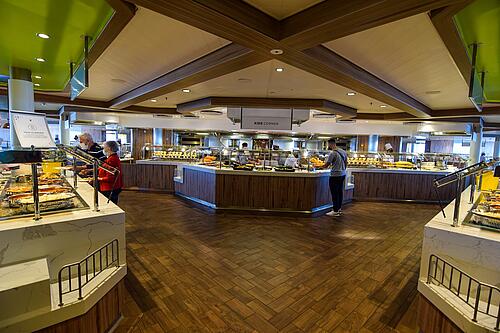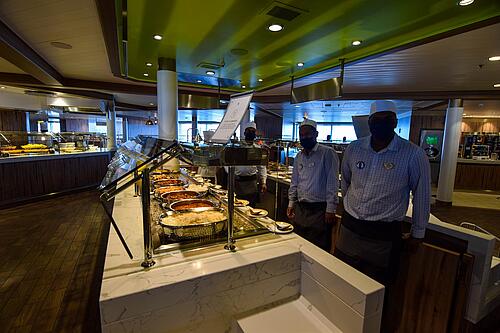 Being a new ship, we spent some time exploring the ship and walking around. Odyssey looks really impressive because of how beautiful everything is, which is quite striking as you check everything out.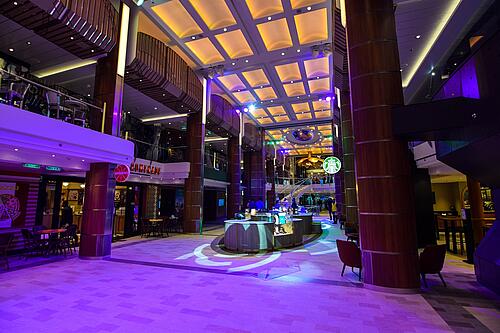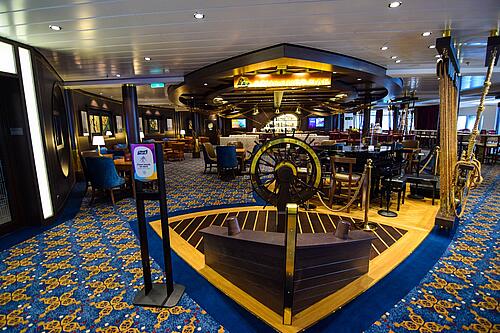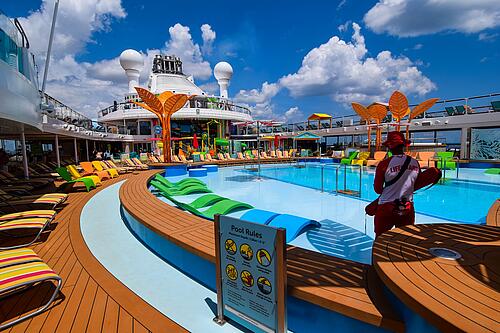 I thought the design of the main dining room was especially striking, and I will be going there for breakfast or lunch just for the look of the venue.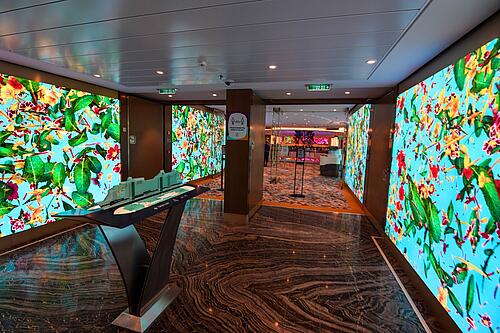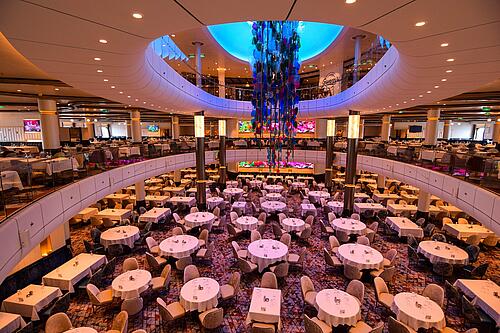 We also toured Adventure Ocean, which has the new updated children's programming onboard.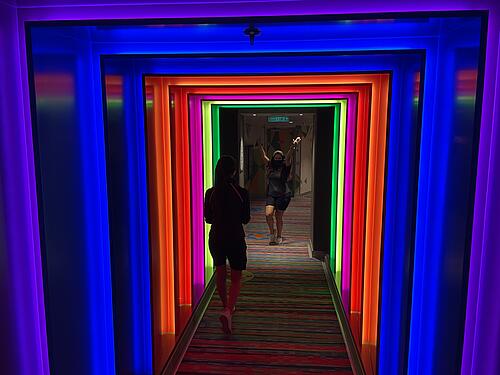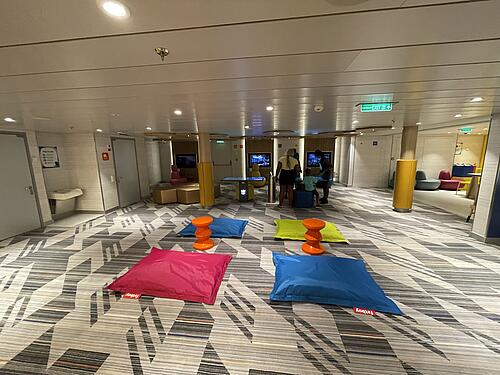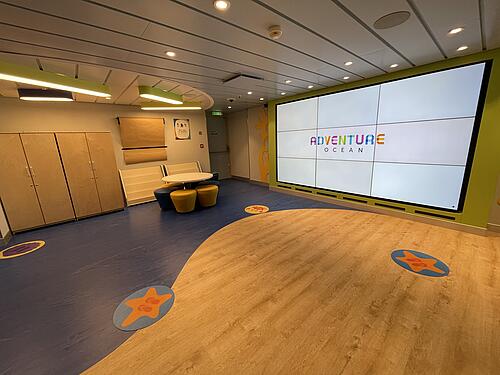 Next up was a tour of the Vitality Spa. The spa staff offers complimentary tours of the spa, and it is nice to see the various venues and offerings they have.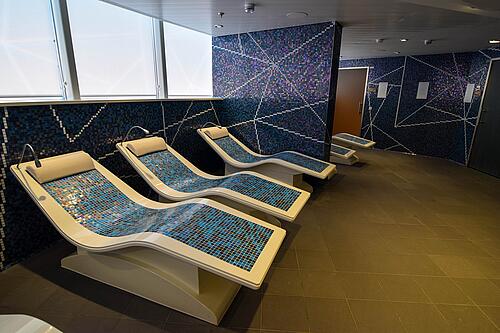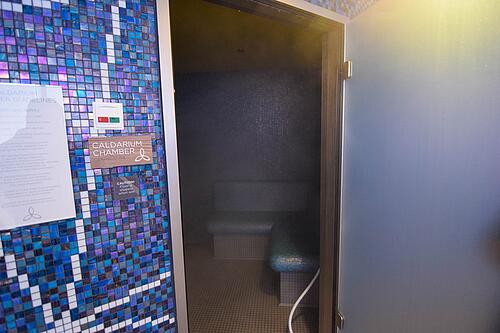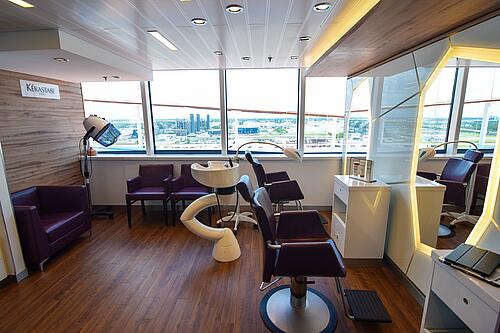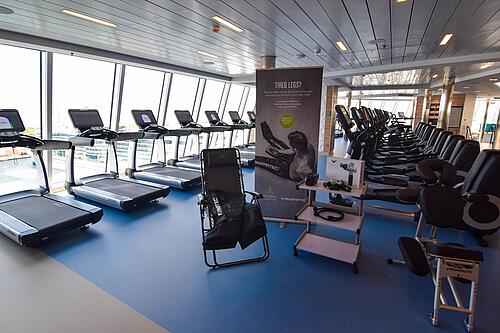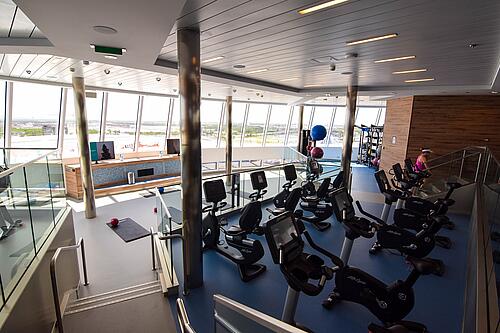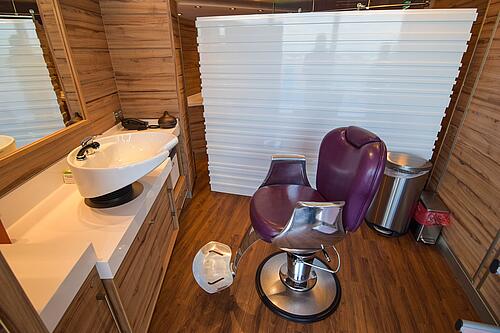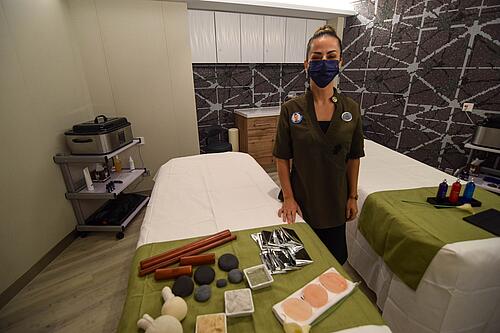 Walking around Odyssey, I had to check out my favorite spot on any Quantum Class ship, Two70.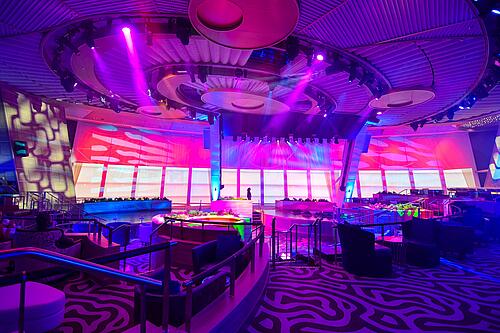 I happened to be there while they were testing out some lighting, but I love this space for how many different things they have in this one space.  My advice for anyone sailing on a Quantum Class ship is when in doubt, go to Two70 to see what is happening there.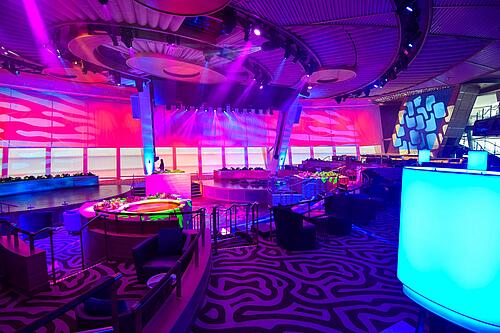 Dinner tonight is at Izumi Teppanyaki.  On Odyssey, there is a separate restaurant for hibachi and a separate restaurant for the sushi.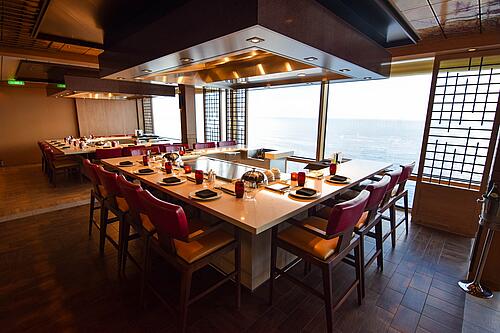 Something I really like about the Teppanyaki on Odyssey is the view of the ocean from every table. And of course the amazing food.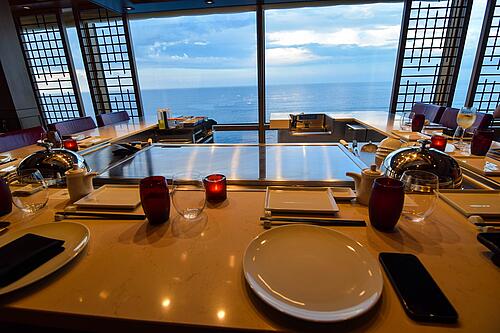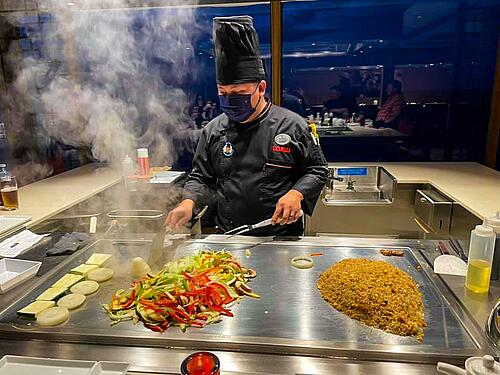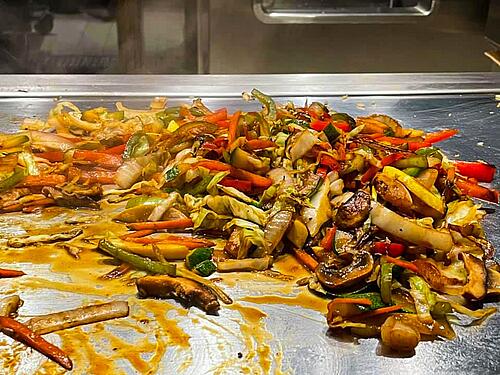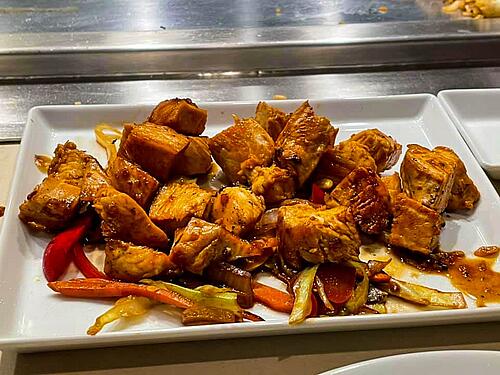 Dinner was fantastic, and we might have had the best hibachi chef I can recall in quite a while.  
After dinner, we headed to the theater to see the welcome aboard comedy show with Cary Long.
Tomorrow we are going to be at our first port of call, Perfect Day at CocoCay.
Stray Observations
The elevators have an air purifier device that I have not seen on other ships yet.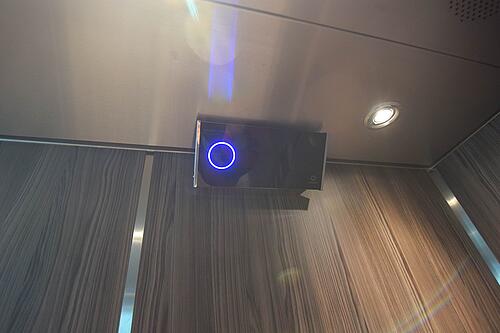 Speaking of the elevators, the elevator buttons are all "touchless" buttons where if your finger gets close, it activates without actually touching. Most of the time it works, but it's aimed at avoiding physical contact.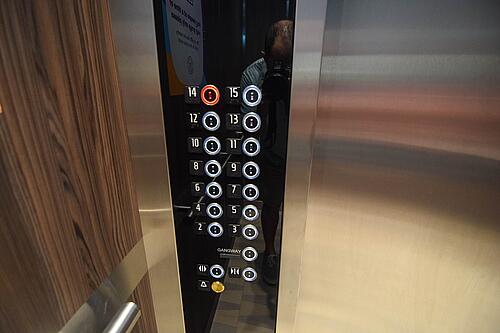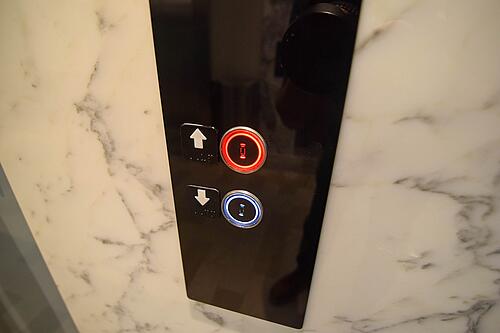 Here is a look at the dining choices for embarkation day.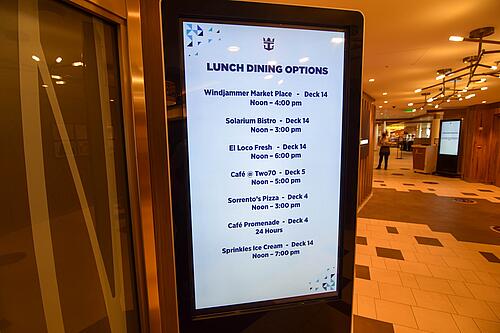 The internet speed on Odyssey is fantastic.  Very fast and responsive.
[block:relative_posts=relative_posts]