In:
I'm back on Royal Caribbean's newest cruise ship for her official inaugural sailing and naming!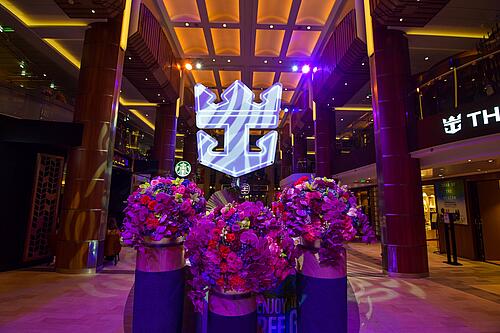 Odyssey of the Seas has been sailing for a few months since the summer, but Royal Caribbean is celebrating her official welcome this weekend.
This is a 2-night cruise open to just members of the media and travel agents. Royal Caribbean invited me to be their guest on this sailing with a complimentary sailing.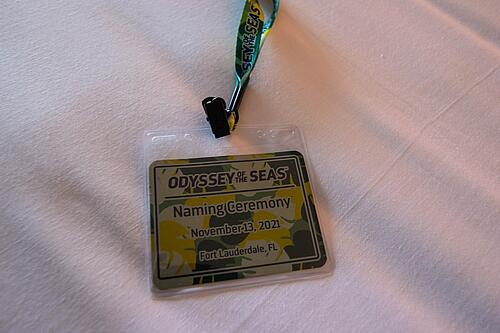 I drove down to Fort Lauderdale the day before the cruise and tried a new hotel near the cruise port, Hyatt House Fort Lauderdale Airport - South & Cruise Port.
I got a good rate for it, and I liked the hotel.  I'll have a review of it to share later, but I think it makes my list of recommended hotels for a pre-cruise stay.
My check-in time was 1pm, so I took my time on Saturday morning before heading over to the port.
The embarkation process was fine, and I was able to get onboard the ship just as quickly as I could make it through the various checks.  I cannot emphasize enough the importance of doing all the check-in steps in advance on the Royal Caribbean app to make it all super quick at the terminal.
My room was ready when I boarded, so I headed there first to drop off my belongings.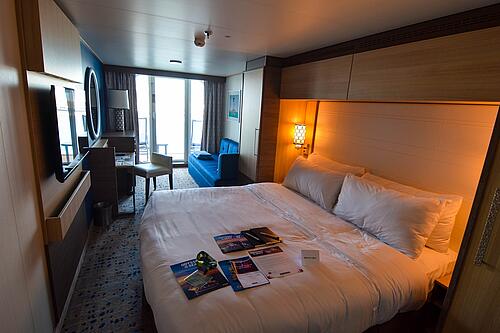 Royal Caribbean provided me with a a balcony cabin for this sailing on deck 9.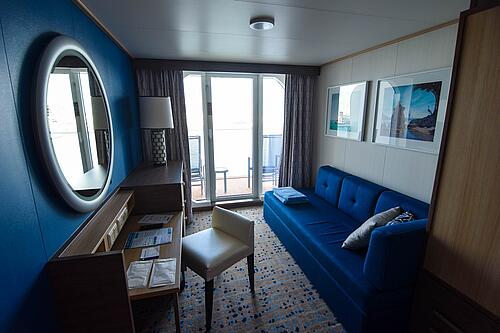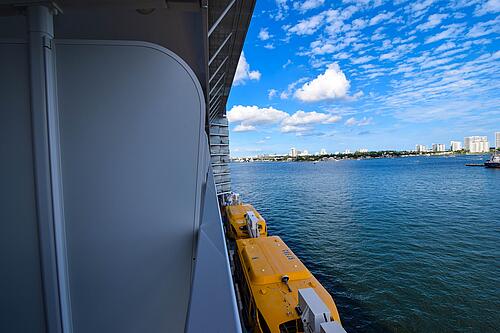 Balcony rooms are always a great room, and since it is just me on this sailing, I have more than enough space.
This room is close to the forward elevator bank, which means a short walk to my room.
With my stuff squared away in my room, it was time to head to lunch at the Windjammer.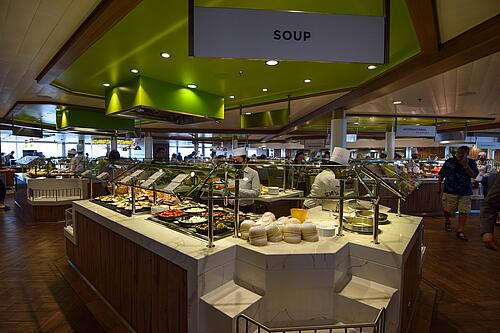 I could quickly tell this was a celebratory sailing, because Royal Caribbean spared no expense with the lunch offerings. Filet mignon, lobster tails and a lot more to choose from across the different stations.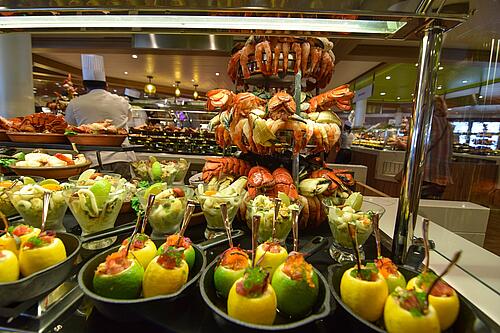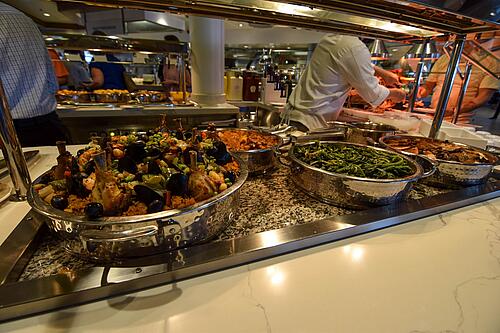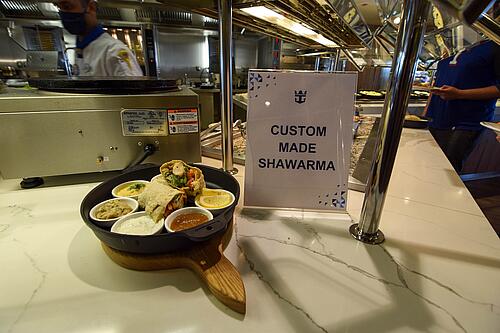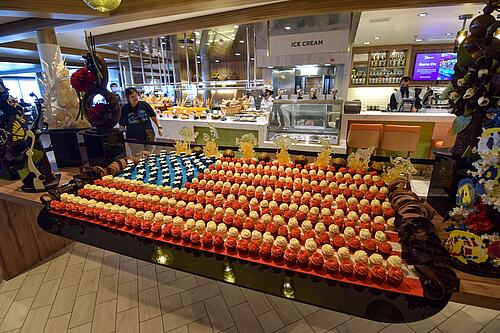 Next up on my agenda was to check out a few of the suites.
On these 2-night media cruises, Royal Caribbean opens up certain cabins for travel agents and media to look at so they can get a better sense of what is offered.
There are rooms across all categories, but I really wanted to see the suites.
I saw the Royal Loft Suite first, and in case you were wondering, yes it is an amazing room.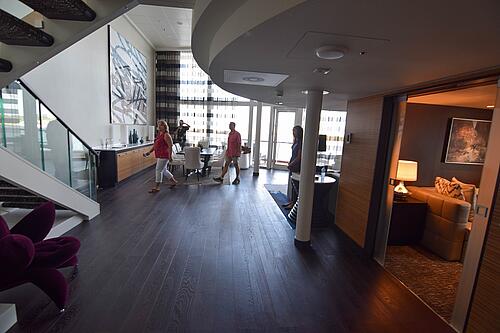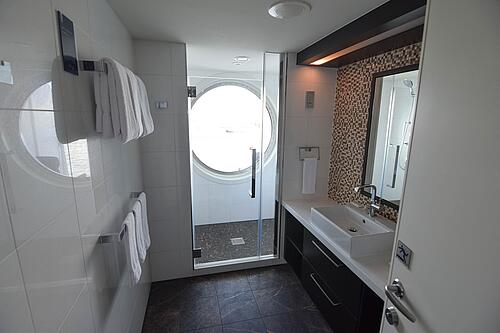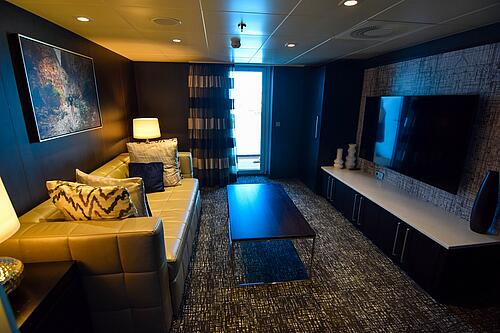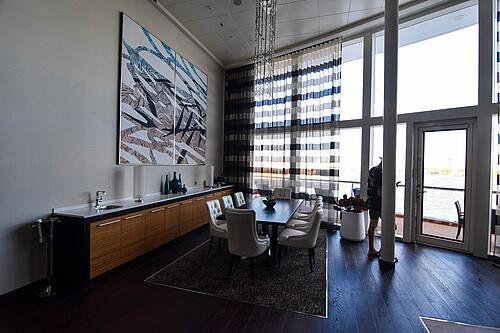 This is a Star Class suite, which means it is a top-tier suite offering with so much space. 
There is just about everything you could want in this room, spread across two decks, with even a hot tub.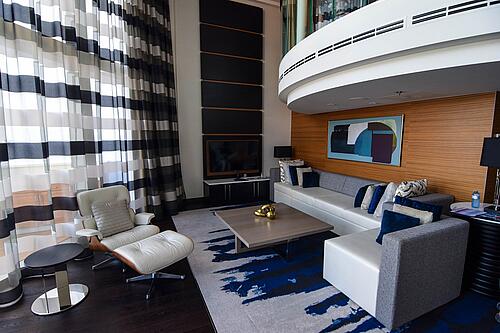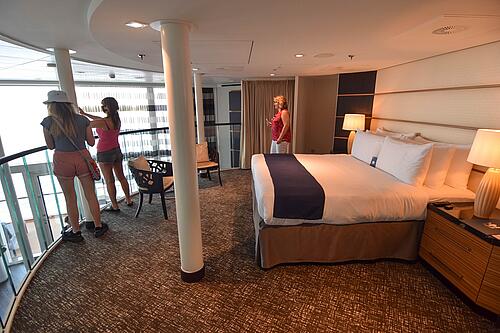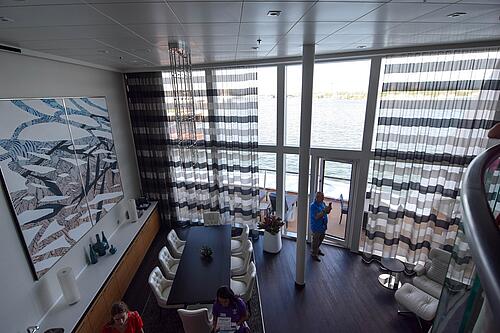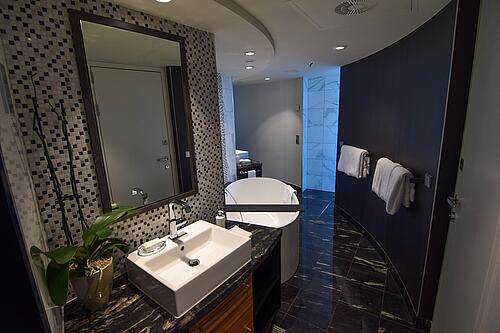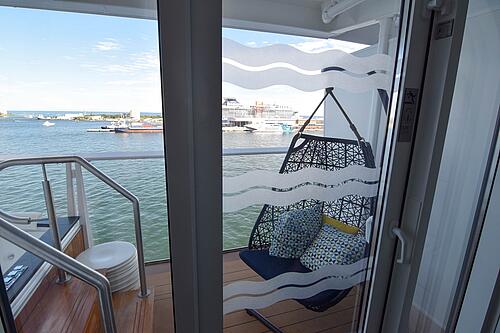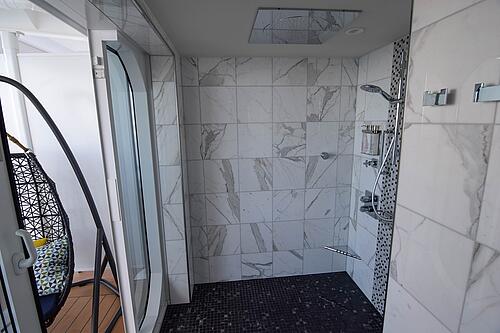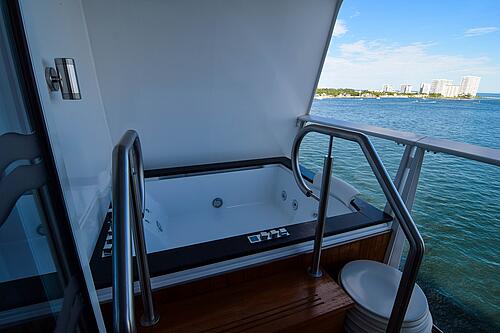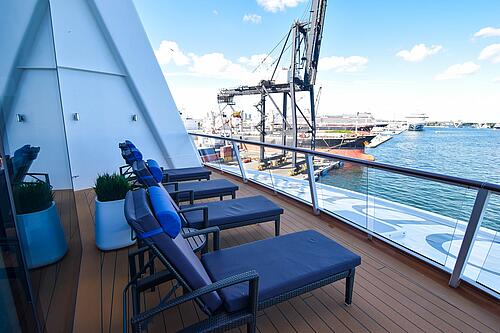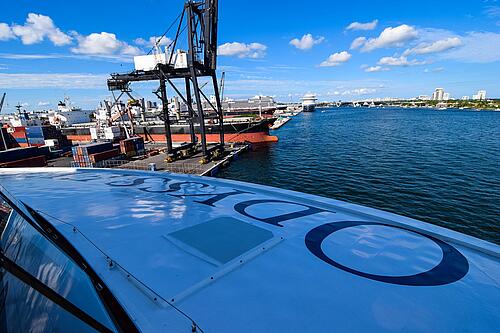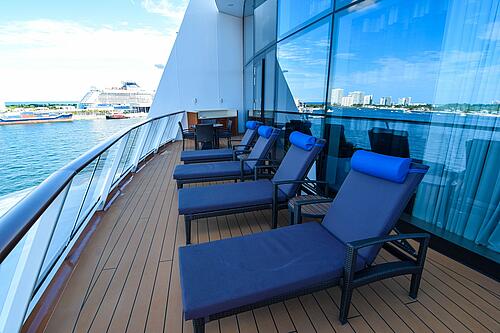 To compare, I looked at a standard loft suite and I am always impressed with how much space you have in these two-deck layouts.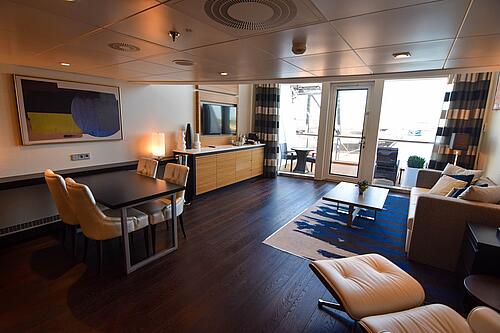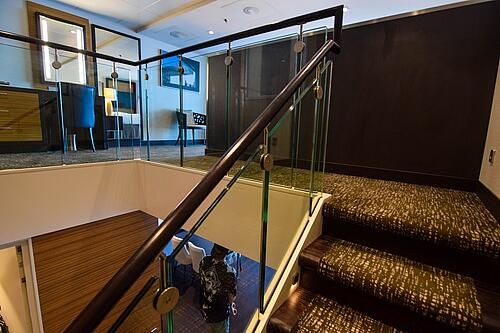 I think the views off the aft of the ship are really nice, and an underrated aspect of these cabins.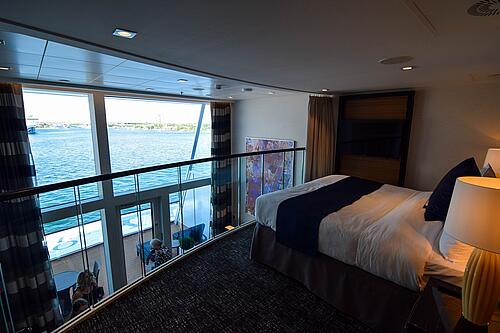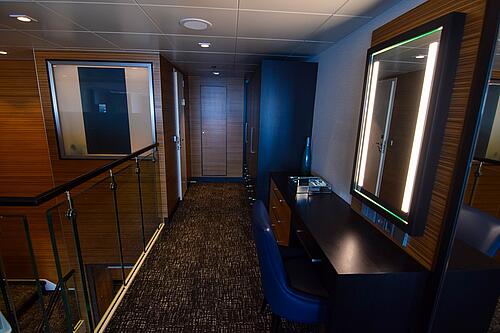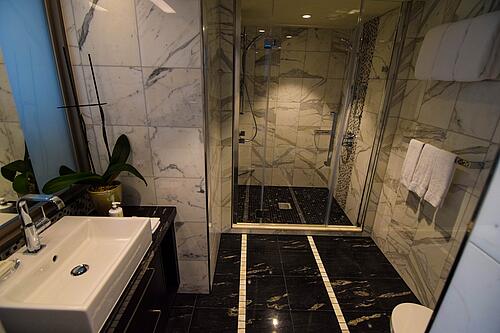 Next up, each of the specialty restaurants was offering tasting samplings so everyone could stop by and get a taste of what it offers.
Far be it for me to pass up on quick bites!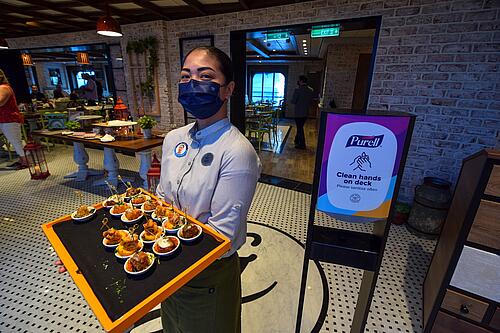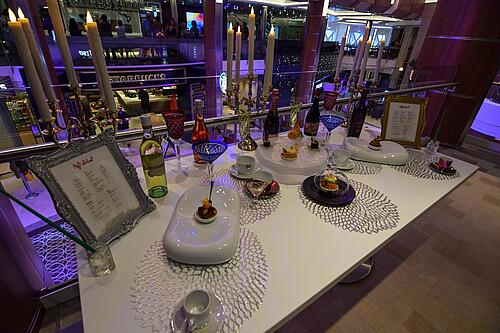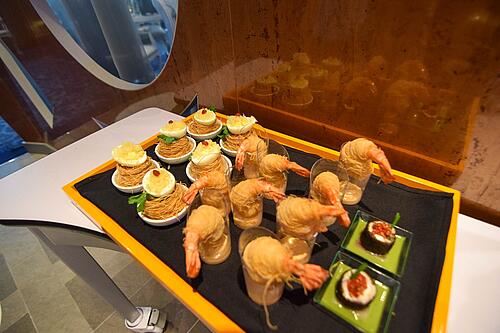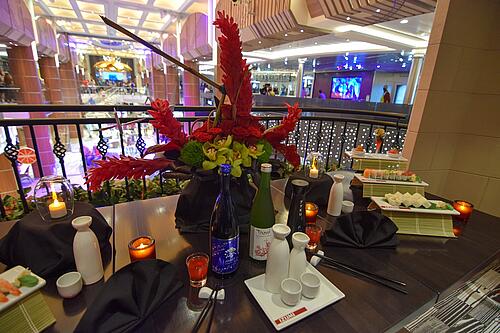 The big event today was the actual naming, where Royal Caribbean officials and the ship's Godmother will name the ship.
The event was held on the pool deck, and the timing and weather could not have been better.  As the sun set, Royal Caribbean Group Chairman and CEO Richard Fain and Royal Caribbean International President & CEO Michael Bayley spoke before Godmother Erin Brown performed her duties of christening the ship.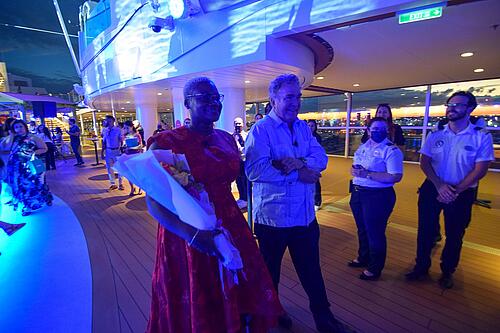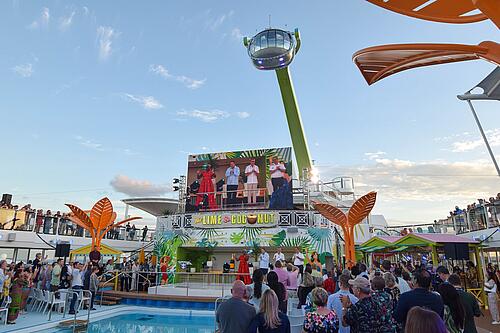 A ship naming is an important occasion for any cruise line to celebrate all the hard work that it took to get the ship from concept to reality, but this particular ship naming had extra significance because it was the first ship to join the fleet since the pandemic.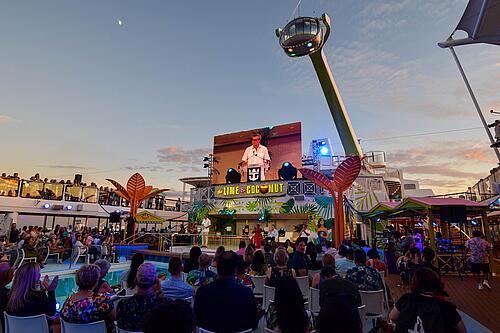 Both Mr. Fain and Mr. Bayley's speeches centered around celebrating not just Odyssey's arrival, but the return of cruising. In fact, Mr. Bayley at one point was choked up talking about the road back to this point.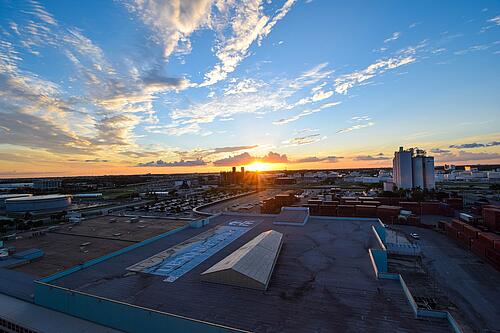 In addition, this was one final public event for Mr. Fain as the CEO.
After the speeches were made, a giant bottle of champagne was smashed across the bow of Odyssey, and she is officially part of the fleet.
In celebration, Royal Caribbean shot fireworks off near the ship, while we were still docked in Port Everglades.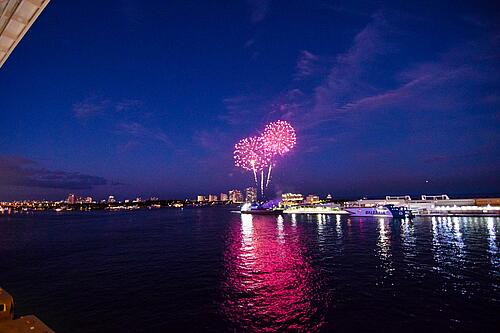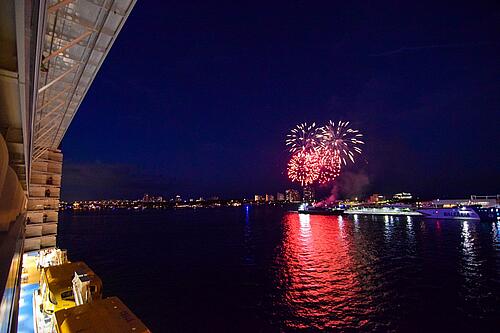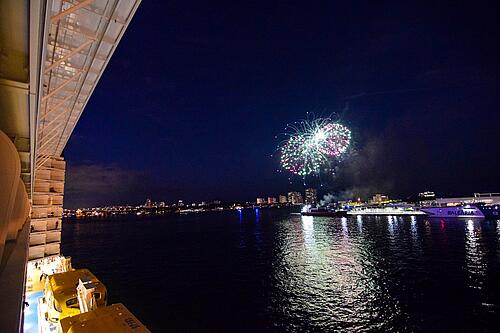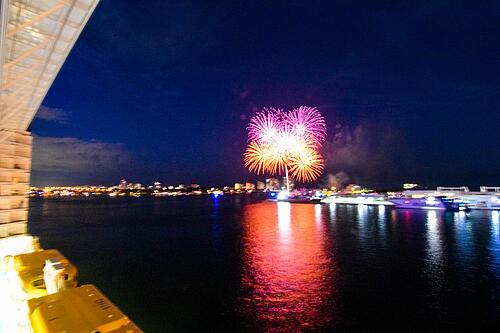 Dinner tonight took me to Teppanyaki, one of my favorite restaurants on any ship.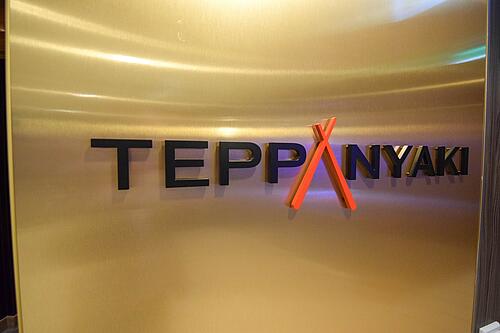 I love hibachi, and it certainly did not disappoint.  Everything tasted good, and the chef put on a great performance.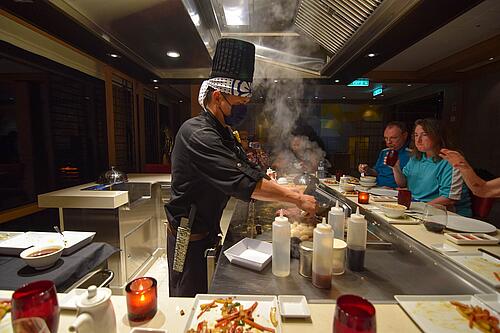 After dinner, I went down to the Royal Theater to see the adult comedy show, featuring Simeon Kirkiles.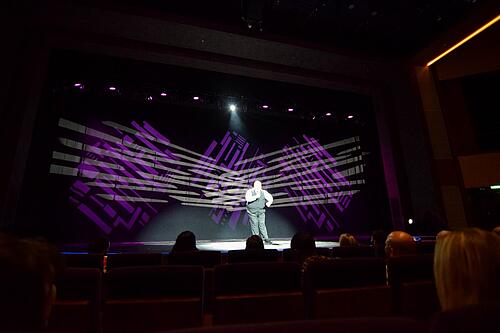 Between Mr. Kirkiles and the other comedian, there were some really good laughs.
Tomorrow we will be at Perfect Day at CocoCay.