In:
And just like that, today was our last port stop during this incredible 12-night sailing on Odyssey of the Seas!
Today, we were docked in the island of Crete, Greece from 7am to 3pm. This was our shortest port stop and we did not have an excursion booked. Instead, we chose to get off the ship on our own so we could have some flexibility. We knew we would be tired today after all the long days we've had, and didn't want to take a 7am excursion!
Since all aboard was 2:30, we decided to get up at 8:30 so we could explore Chania.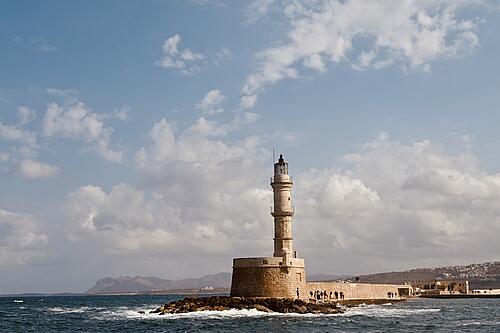 The last time I was in Crete was on my honeymoon cruise and the last time my parents were here was on our first Mediterranean cruise about a decade ago. Both times, we went to the beach so we decided today to spend time in Chania, as I heard from fellow RCB writer Jenna that the town was very charming!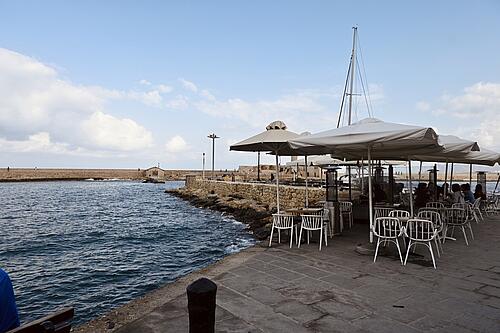 Shuttle to Town
Angie and I had breakfast at Cafe @ 270, where we both enjoyed breakfast sandwiches and coffee to start the day. Mom and dad dined in the Solarium Bistro and had omelets to order.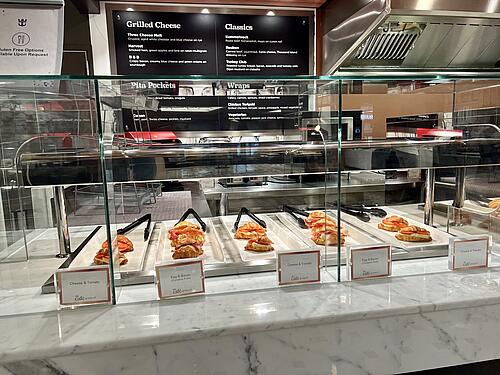 We were off the ship by 10am and chose to take the shuttle into town that was provided conveniently at the port. Jenna said this summer that the shuttle was complimentary but times must be tough because they were charging $6 per person round trip.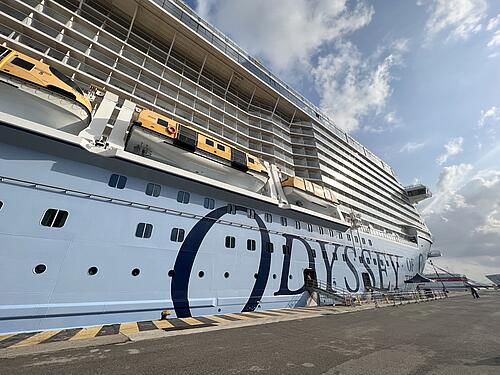 We didn't mind paying the $6 for direct transport into the city, although we saw a couple get on the bus and yell that they refused to pay. The driver looked like he didn't feel like picking a fight so he just rolled his eyes. Makes me laugh that someone would spend all this money to do a cruise but then scuff about spending $6 each to take the shuttle!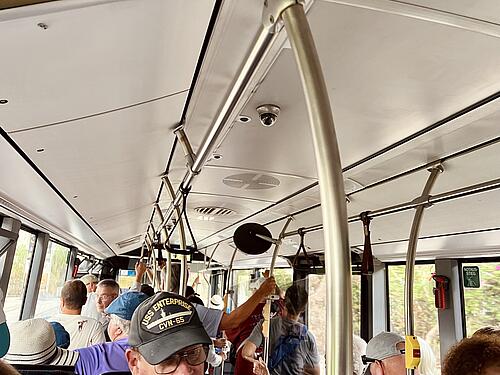 Driving through Crete, we were a little less than impressed. It felt more run down than the other ports we've visited.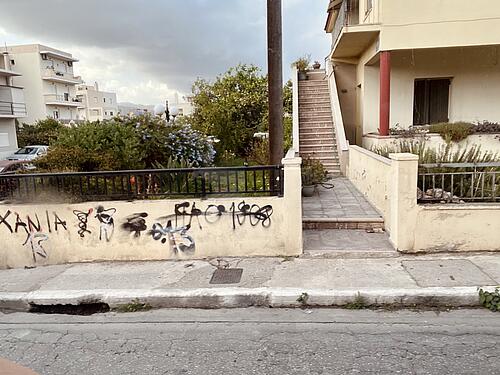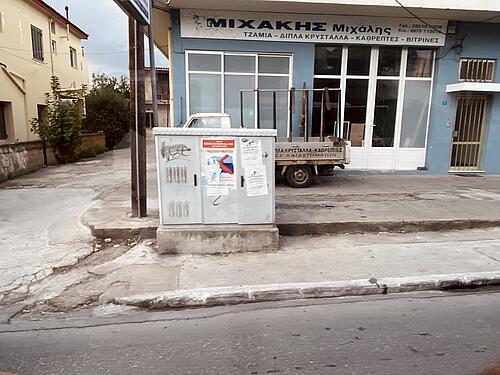 The shuttle dropped us off in Chania in the city center. We started walking towards the Venetian Harbor, passing through many shops on the way.
Since we've all done a little bit too much shopping, we were on the hunt for some cheap suitcases.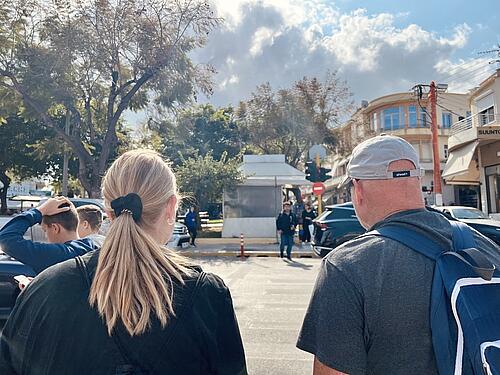 Normally, I bring a small duffle in my checked luggage to bring back all my new treasures while traveling without paying for overweight luggage. I didn't anticipate shopping as much I did during this cruise, so it's pretty necessary for me to get another bag.
Lots of Shopping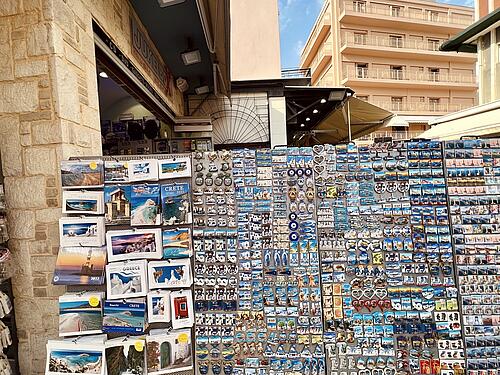 Whoops - don't tell my husband back home!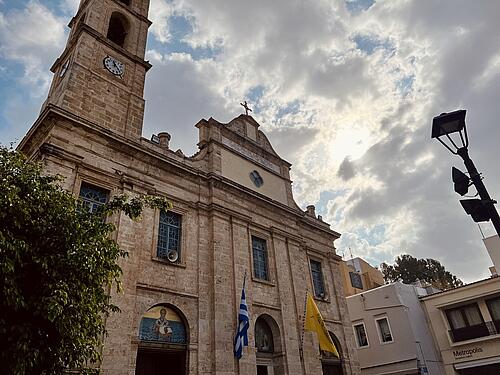 Since I'd already come to terms with the fact that I'd need another suitcase, I let myself go and did even more shopping.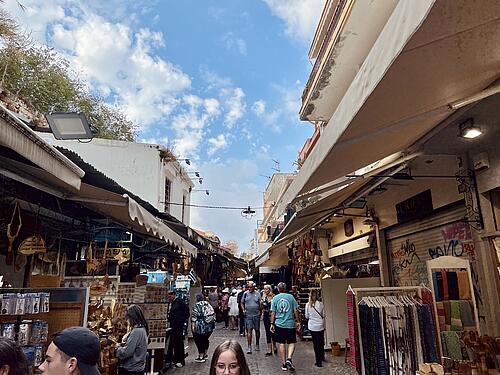 Mom, Angie and I enjoyed shopping in a local leather store where we all got matching pairs of sandals. Dad sat outside on a bench checking football scores while we tried on a myriad of shoes.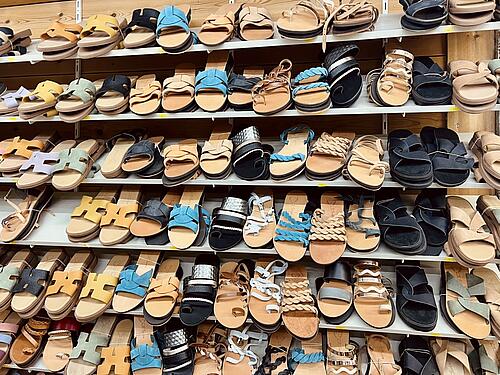 We enjoyed walking around the side streets in the old town, taking in the sights. We saw plenty of other cruisers enjoying the old town as well.
This area was much nicer than the port area and the streets that we drove through to get to the city centre. Based on the view from the ship in the morning, we didn't have super high expectations - especially in comparison to Rhodes and Santorini, which were beautiful port areas.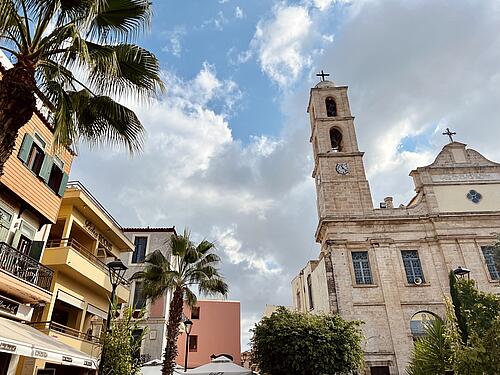 I also found plenty of other lovely shops to support during our walk to the harbor. We've been certainly helping the Greek economy the last few days with our shopping.
Old Venetian Harbor
Upon arriving at the harbor, I was stunned by how beautiful it was! I hadn't done a ton of research for this port since most of our energy went into planning for Israel, so I was really surprised by the beauty.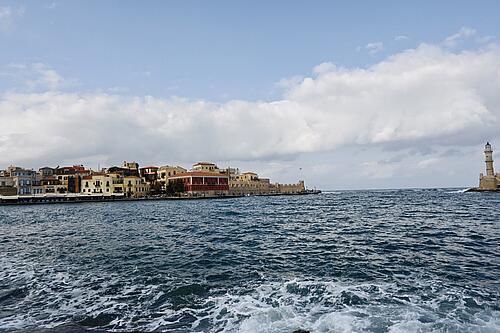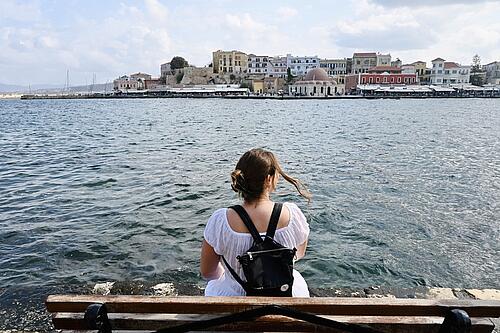 We enjoyed walking all along the harbor and snapping pictures while doing so. We decided to walk along the shore, lined with shops and restaurants.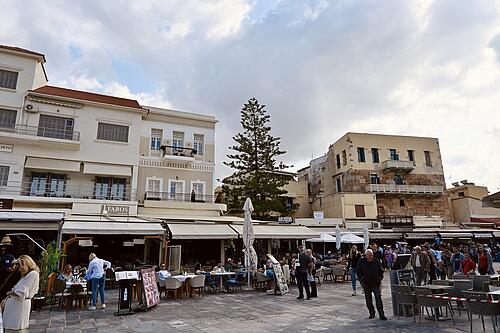 To nobody's surprise, I did a little more shopping to get all the final gifts and souvenirs that I had been holding off on getting. I grabbed a few little olive oil presents for friends and family back home, along with my obligatory magnet for every place I travel.
I love coming home from big adventures and adding my new magnets to the fridge; seeing the collection grow warms my heart!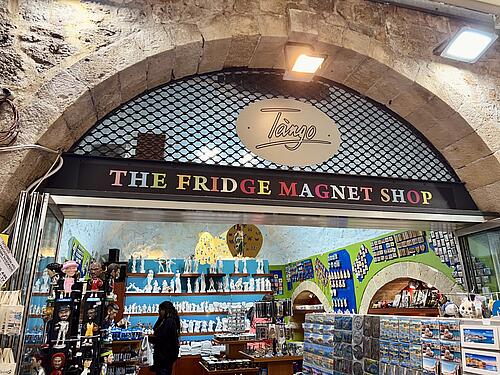 As we walked along the harbor, we found incredible views of the lighthouse across the bay. The waves were crashing along the harbor and even getting the walkway wet a few times.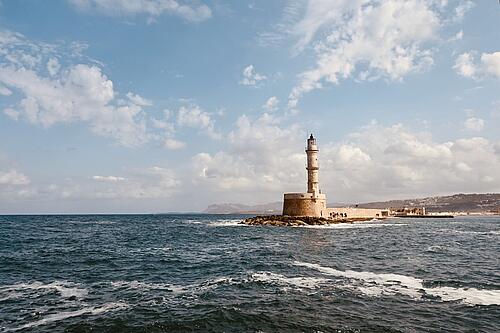 The views were simply too beautiful not to take a ton of pictures, especially as dad spent about 15 minutes trying to find a nearby bathroom to use. The lighting was perfect with the backdrop of the lighthouse in the distance. We even saw a fisherman catch his biggest fish of the day!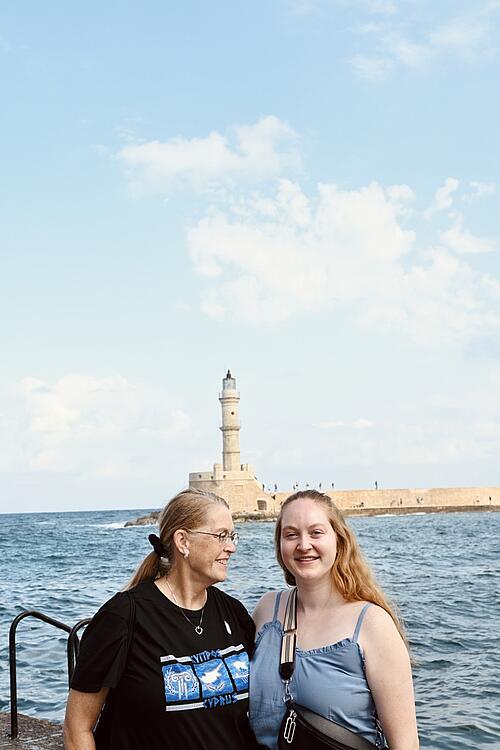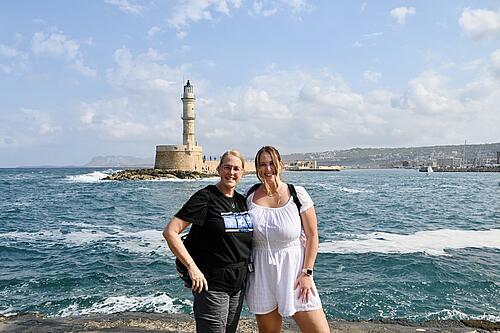 Getting Lost in Town
When I first did research on Chania (admittedly, this morning during breakfast), I punched in 'Venetian Harbor' on my Apple maps and tagged the location for us to visit later. I told the family we had to go to my pinned location after wandering around the water and taking pictures with the lighthouse.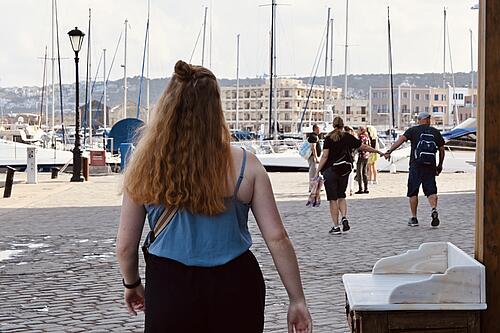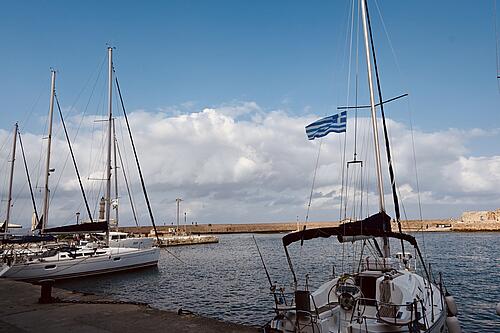 My lack of research was showing, as we were unknowingly at the Old Venetian Harbor; yet, my map was showing there to be another nearby location with the same name. Since we don't mind a little walking, we made our way to the pinned location I had on my phone.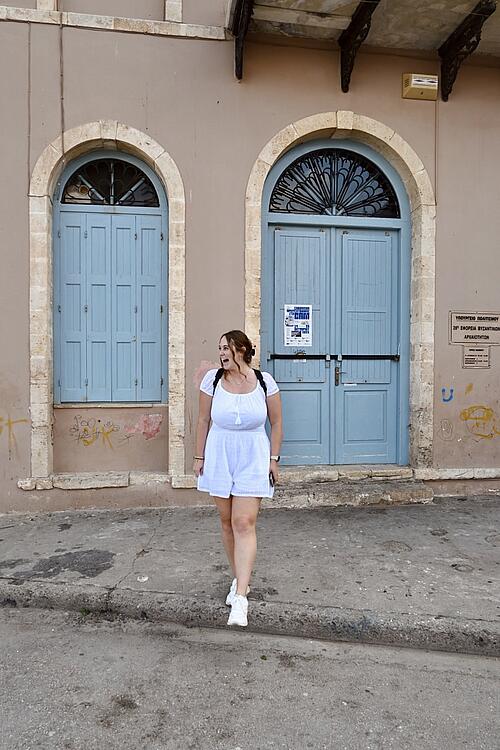 Well, we ultimately ended up on some side streets away from the main attractions. Everyone was questioning my navigation skills, in which I insisted the map showed another location of interest for us to see. We arrived to a corner on a side street with nothing that appeared like Venice but rather a residential area with no other tourists around.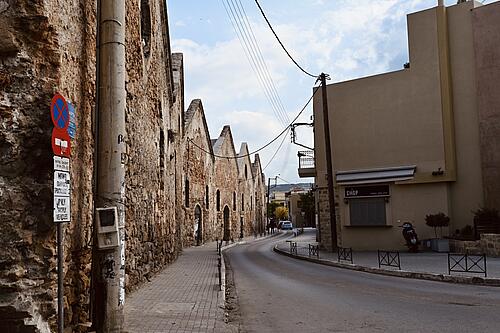 Either way, I led us astray and into the side streets. A quick Google search of 'Old Venetian Harbor Chania' revealed that we had been actually walking around the harbor just before - hence why it was so beautiful! 
We were just a few blocks away, so we made our way back to the harbor area and into the shopping streets once more. This was our last chance to get souvenirs!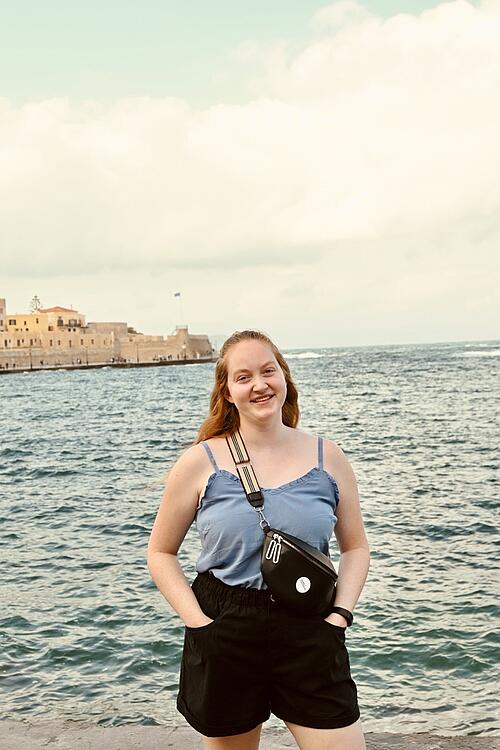 Since we didn't get started too early in the morning, we opted to work our way back to the ship so we didn't feel rushed with all aboard time. We found a deal on 2 hardshell suitcases so my parents could have an additional suitcase and I will have one too.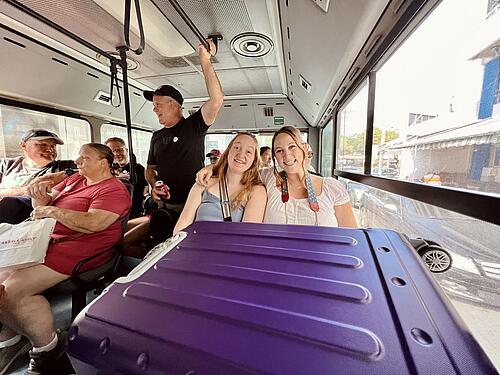 The shuttle was packed with people heading back to the ship since we only had about an hour until the last shuttle would depart for the day.
Back Onboard
Back on the ship, we went to the Windjammer for a bite to eat. We actually have not had lunch in the Windjammer until today! There was a nice selection of food, although it was very busy because everyone must have had the same idea.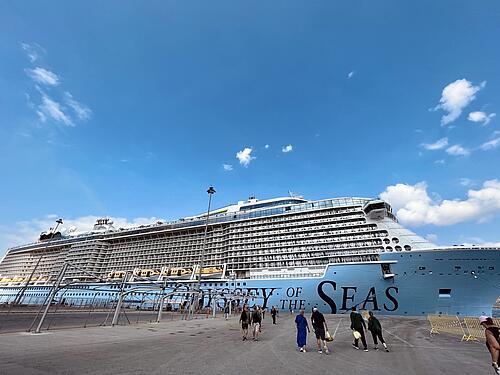 We opted to find an outdoor spot on the top deck; there's a nice set of chairs tucked away on the top deck by the SeaPlex. We had the sun shining while still being in the shade so it was a lovely spot to sit.
I was up very late last night working on the live blog and had way too many pictures from Santorini to sort through and edit. We enjoyed the autumn breeze and watched the ship pull away and start our journey back to Rome.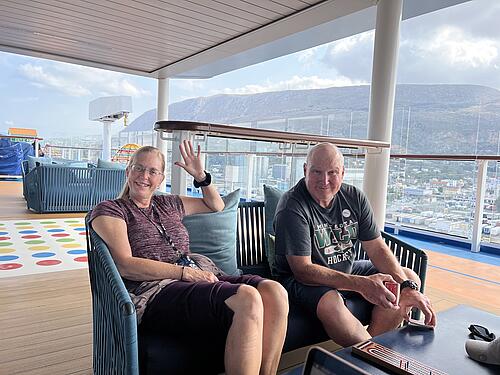 Angie, dad and our new friend Brice decided to take a whirl at the bumper cars. They did 2 rounds and Angie said she was much more cautious this time! Mom and I had too much trauma from our first day when we left bruised, so we opted to head back and get ready for formal night.
While getting ready for dinner, Angie was getting dressed and turned around in a black dress. I told her not to wear my dress tonight, as I was planning to wear it for formal. She insisted that it was her dress, yet I knew that I was planning to wear the exact same dress.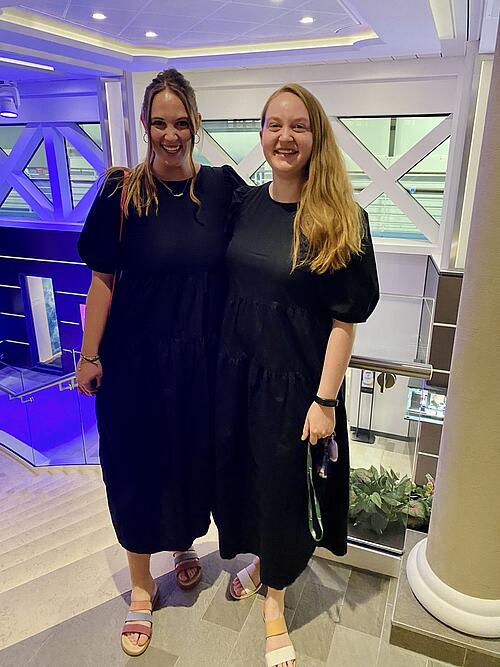 Low and behold, we have the exact same dress that we planned to wear tonight so we chose to embrace the twinning moment. Mom smiled when she saw and said she hadn't seen us in matching dresses since Christmas when we were little girls.
Dinner and The Effectors
We walked into dinner to find the ship rocking and rolling. All of us were shocked to see how big the waves looked from the table, as the dining room is on Deck 3. Luckily, the movement subsided as the night went on.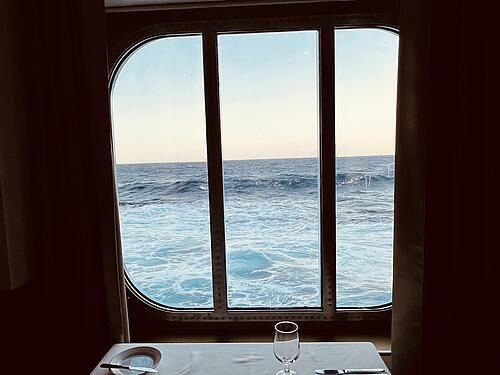 Dinner tonight was excellent with beef tenderloin, lobster and baked Alaska. We enjoyed talking with the table next to us and mom was convinced to join the galley tour tomorrow on our sea day.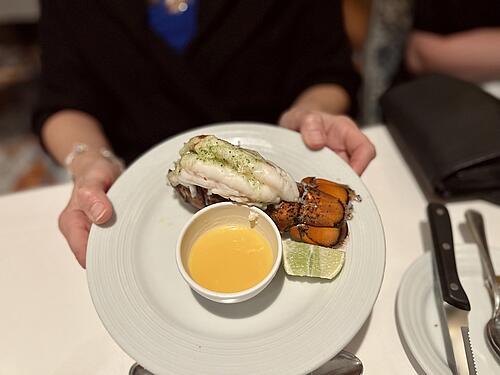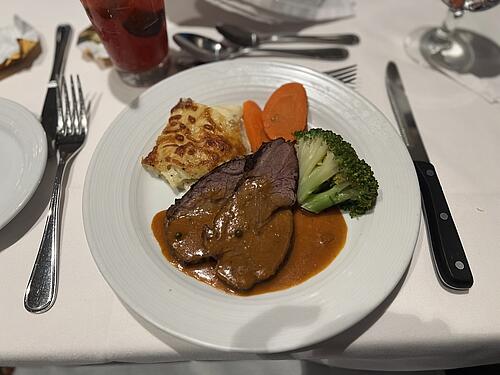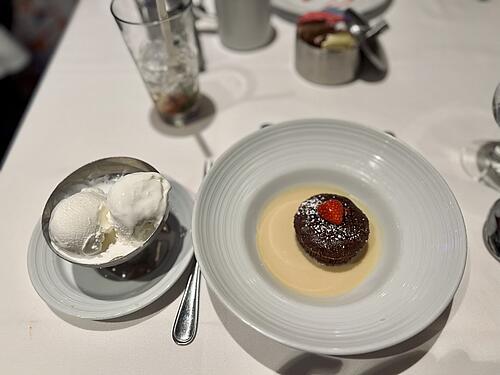 Mom and I sported our new sandals from Chania for the evening - such a fun souvenir!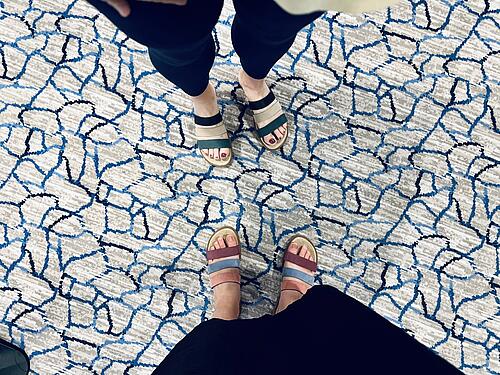 Our evening wrapped with an evening show in the Royal Theatre called The Effectors. The superhero-themed show used some really impressive digital effects, including choreographed drones. I really liked the show, as it had a nice variety of music that included some recent pop songs.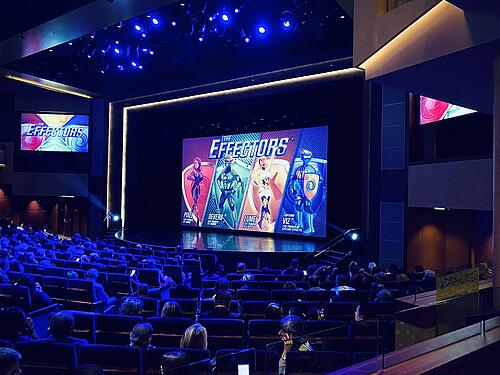 We all agreed the show was excellent, from the costumes to the music to the overall stage production! This was my first time seeing this show. This show really leans into utilizing technology in its entertainment performances - and I think it really elevates the experience.
Was there a clear-cut storyline for us to follow along? Not necessarily. Most of the show involved each member of The Effectors showing off their superpowers with the help of the stage technology.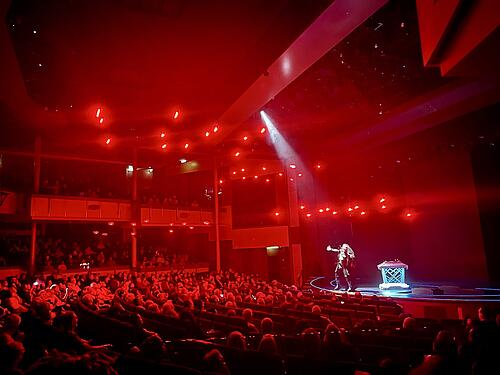 Either way, it was quite entertaining and definitely showed off the technology capabilities of Odyssey of the Seas.
Tomorrow, we have one final day sea day before we arrive back to Rome. We will need to certainly spend some time packing since we've gotten very comfortable in our cabin at this point! I also have an appointment at NextCruise to potentially book an upcoming cruise next summer to Iceland from Amsterdam.
We are blessed with 2 extra hours of sleep tonight, as we gain back the hour we lost last week AND we get an extra hour due to daylight savings occurring in Europe!
Image gallery