In:
The last day of our Odyssey of the Seas cruise concludes with a sea day, and I had a few big things to try.
Any good day starts off with a nice meal, and I went to Solarium Bistro for breakfast.
Solarium Bistro is an underrated spot for any meal on Odyssey of the Seas because I think a lot of people are unaware or forgetful it exists.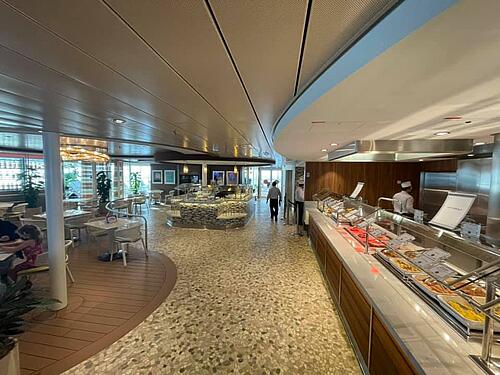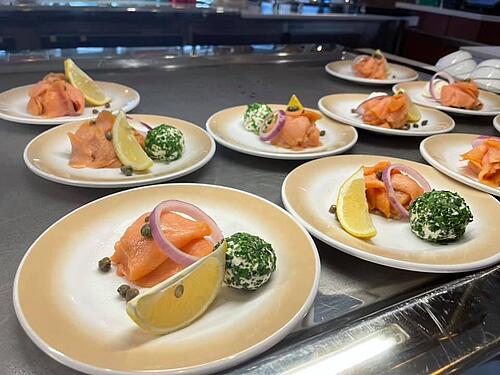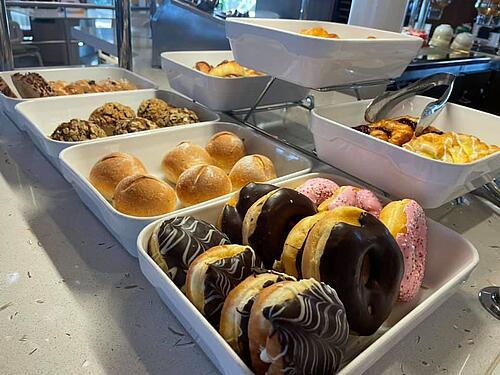 They serve a traditional American breakfast, along with pastries, cheeses, eggs and more.
Next up I had to take time to find the man that has sailed the most with Royal Caribbean, Super Mario.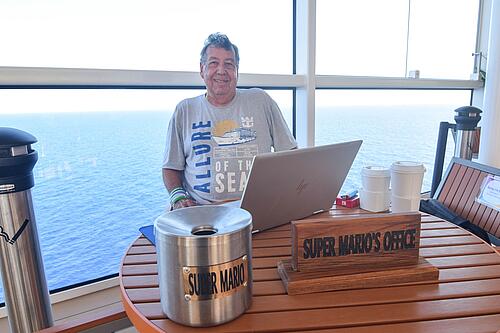 Mario has cruised the most on Royal Caribbean, and has well over 8,000 Crown and Anchor Society points!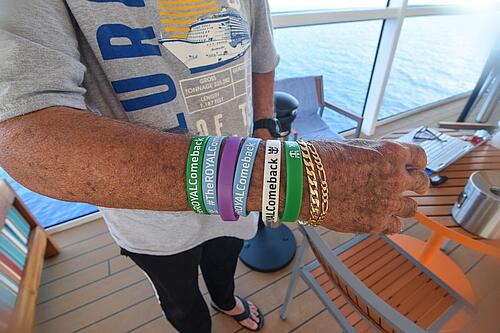 He and I sat down for a interview on our YouTube channel, which you can watch here.
At 10am, I had an appointment for a virtual reality experience at Zone Zero.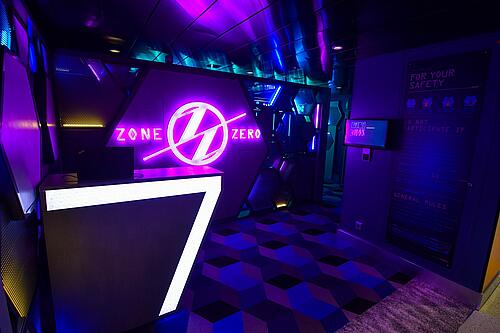 Zone Zero is a new offering for Royal Caribbean, and currently only available on Odyssey of the Seas. It is a fully immersive virtual reality event. It is complimentary, although beginning next week Royal Caribbean will begin charging $18 per person.
Groups of four guests put on a head-to-toe VR suit and then hop into a virtual reality world.  Royal Caribbean designed a space where you can literally walk around this virtual world, and see your teammates and interact together while engaged in a fight against pirate monkeys and a big bad boss at the end.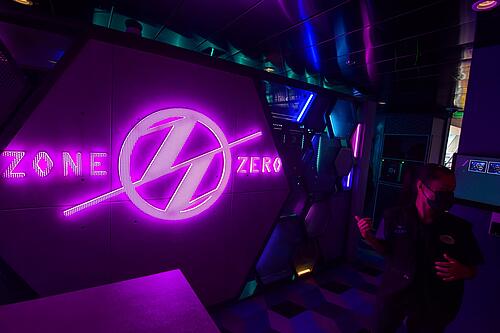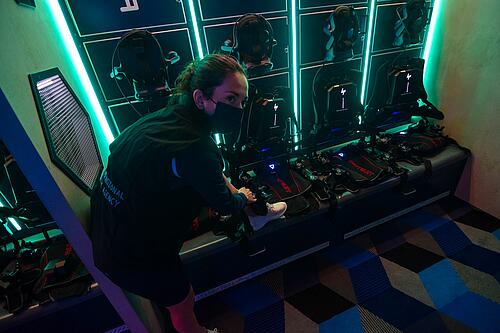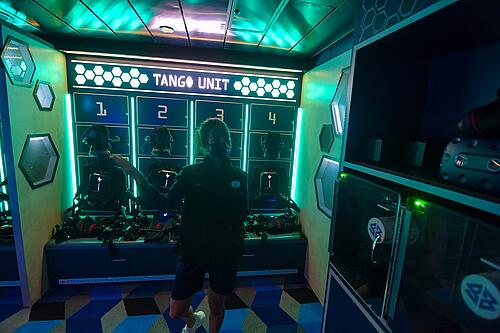 Simply put, this was incredible and unlike anything I have done before.  I've played VR games, but this an untethered experience and the closest thing I have seen yet to a Star Trek holodeck. 
Our team had a lot of fun and I would gladly pay $18 per person to do this again.  
Lunch today was back in Playmakers for one more round of bar food. Great as always, and ever since cruises restarted, I have become more of a Playmakers fan.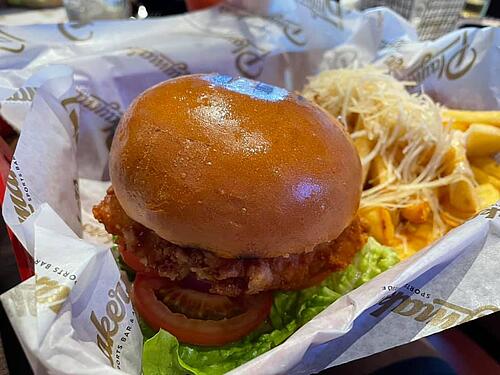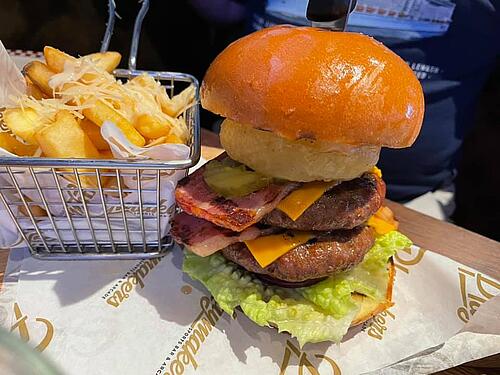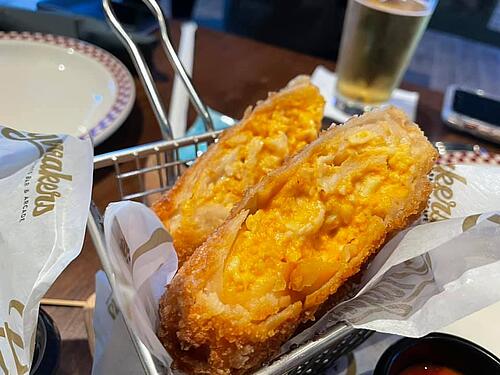 In the afternoon, we did a few trivia sessions in the Music Hall.  Didn't win, but good fun.
Towards the end of the afternoon, we packed up our belongings so the suitcases could be put into the hallway to be delivered to the cruise terminal the next day.
Dinner was in Wonderland, which is somewhere I have dined a few times, but was new to a few friends onboard.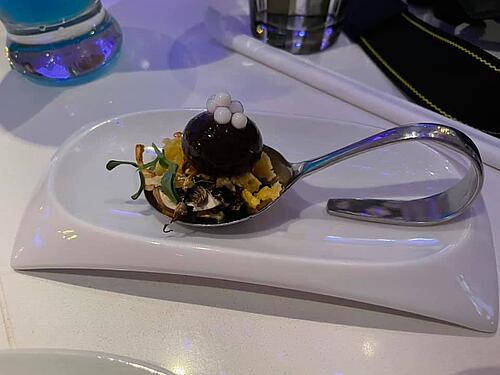 The premise of Wonderland remains unchanged, where your waiter escorts you down the experience with various foods and drink that look unconventional. Some taste great, others are perhaps just a passing sensation.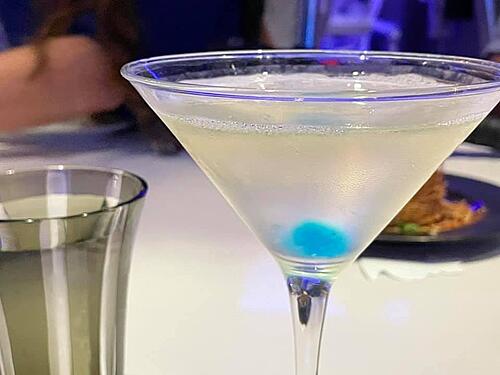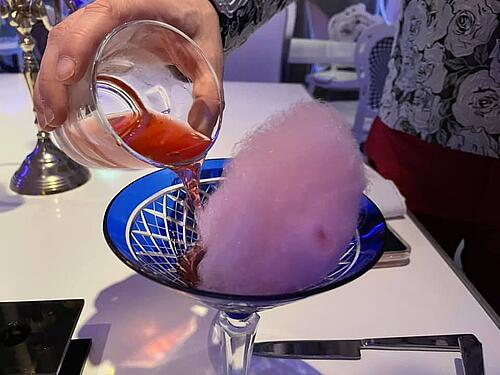 Wonderland may never be my favorite specialty restaurant, but it's a fun time and I think a restaurant everyone should try once because it is just so different.
Overall, I really liked Odyssey of the Seas a lot.  More so than the other Quantum Class ships I have been on, because Odyssey has just enough tweaks, enhancements, and add-ons that make it stand out from her sisters.
Odyssey reminds me a lot of when I went on Harmony of the Seas following my Oasis and Allure sailings, where a newer ship stands out from her predecessors because Royal Caribbean takes the opportunity to add so much more the older ships did not have.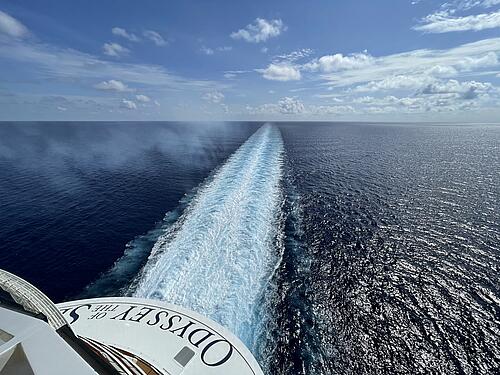 I think the SeaPlex overhaul, pool deck makeover, and Izumi split (separate sushi and hibachi locations) make Odyssey easily my favorite Quantum Class ship in the fleet (full disclosure, I have not been on Ovation or Spectrum) that I have been on.
We had a fabulous time on Odyssey, and I hope I get to sail on her again soon.
Thank you for following along this live blog.  Our next live blog will begin in October when Jenna sails to Alaska on Ovation of the Seas!