In:
It's Day 2 onboard the stunning Odyssey of the Seas. Today was a sea day on the calm Mediterranean as we make our way to The Holy Land!
We have sea days both today and tomorrow before reaching Cyprus for one day and then three full days in Israel.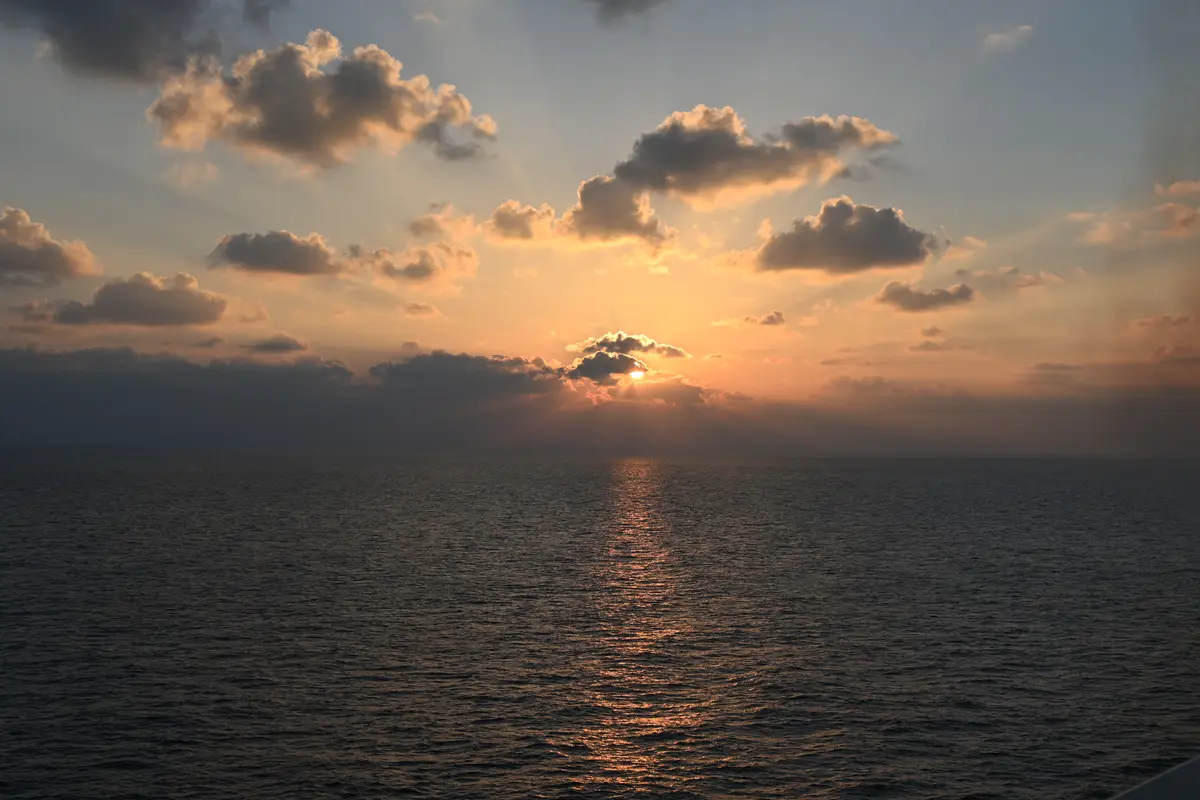 I'm using these two days to get lots of sleep, take it easy and drink a ton of water. After plenty of wine and cocktails in Paris and Rome, I want to stay a little more hydrated before our big tour days in Israel! 
Our morning started late after Angie and I both slept in. I knew I needed to get some rest after the last five days of traveling and exploring; so, I am very grateful that we have these two sea days to relax before the busy port days come up.
When it comes to these longer itineraries, having a few sea days scattered throughout is essential for me to reset. 
After a restful night's sleep, we decided to try brunch in the dining room at 11am. This brunch was served until 12:30pm, which was something new to us! Normally, we find the Windjammer to serve the latest breakfast option, usually until 11am on sea days; but we were pleased to find this brunch option available until 12:30pm.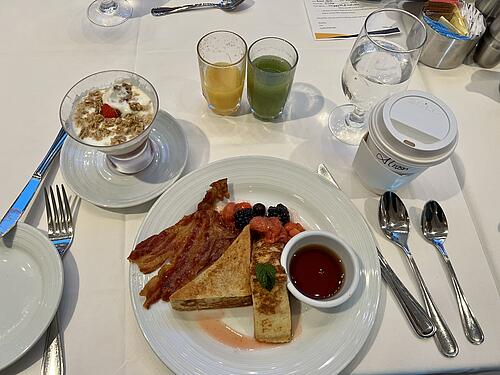 The menu had an assortment of breakfast and lunch options - most of the options I recognized from the normal main dining room breakfast menu.
Angie and I had the French Toast while mom and dad both had omelets. I also enjoyed my morning latte using one of my daily drink vouchers. Everything tasted good to us. 
Bumper Cars
After we finished breakfast, mom suggested we head up to the Seaplex to try out the bumper cars. We thought that would be a fun way to start the day since the line was short. 
As we walked in, we kind of laughed to each other at how everyone was riding in a circle - going rather slowly - instead of actually bumping into each other.
There were only two cars left in the next group so we decided to ride together in the two cars. Angie got behind the wheel, as did my dad, and I brought my camera for blog content.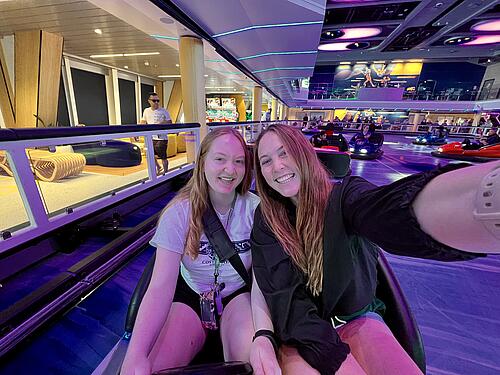 To start, those little suckers go faster than they appear!
Angie thought it would be a great idea to run into our parents at full speed, which was a horrible idea. She slammed into mom and dad's bumper car in a head-on collision!
Mom and I had the wind knocked out of us and exclaimed some not-so-family-friendly words. I also jammed my knee against the dashboard! I think mom and I took the brunt of the hit since we didn't have our hands on the wheel to soften the blow.
Here are a few live-action stills from the video I took - mom's face says it all!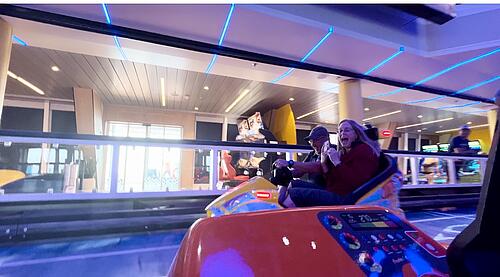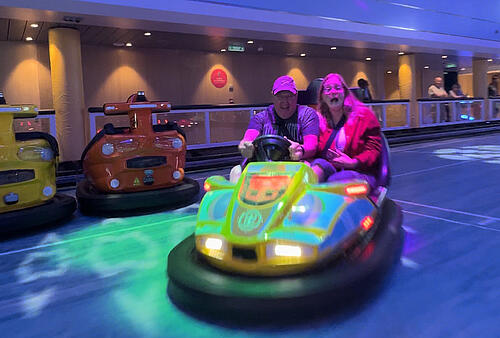 After we scolded Angie for her lapse in judgement, she turned into Driving Miss Daisy and we avoided contact with every car until the end of the session. It was a fun experience but also somewhat of a bust given the collision that was entirely preventable!
We laughed about it later but I definitely have a burn from the seatbelt and I am pretty positive I will wake up with a sore neck tomorrow.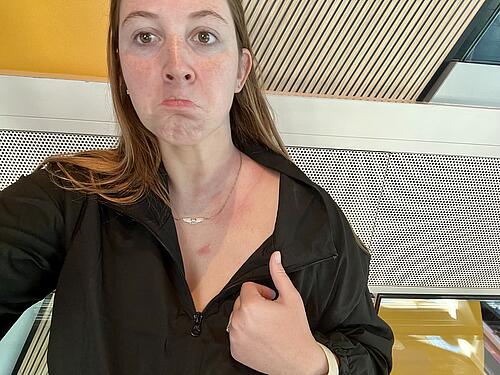 Now, it makes sense why everyone was driving in a circle and NOT engaging in lots of bumping.
After we recovered from the bumper car trauma, I decided to go back to the stateroom and finally unpack my suitcase. I always unpack my suitcase and store it under the bed. Regardless of how long a cruise is, I put everything away because I hate living out of a suitcase.
Our suite has tons of space to unpack comfortably with six large drawers and a closet with about 20 hangers and a shoe rack. We also brought a collapsable, mesh hamper to use for dirty clothes and this fits perfectly in the closet. 
Icon of the Seas Reveal
Last night when we returned to our stateroom, we found an invitation to an Icon of the Seas reveal party for loyalty members.
As hard working gals of Royal Caribbean Blog, we knew we would need to check out this event in the Royal Theatre! Upon entering, there were servers with tons of different snack options. I was looking for any free cocktails that might be served (of course), but we got there right as it started so maybe there were some but they ran out.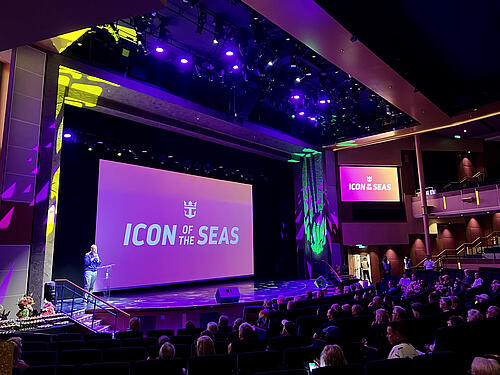 I enjoyed a chocolate covered mousse ball while Angie had some strawberry whipped dessert as the presentation started.
We watched the first two episodes of Making an Icon and then they released the new episode that unveiled Icon of the Seas! Wow - it looks stunning!
Solarium Afternoon
Once the Icon of the Seas reveal event was finished, we made our way upstairs to the Solarium.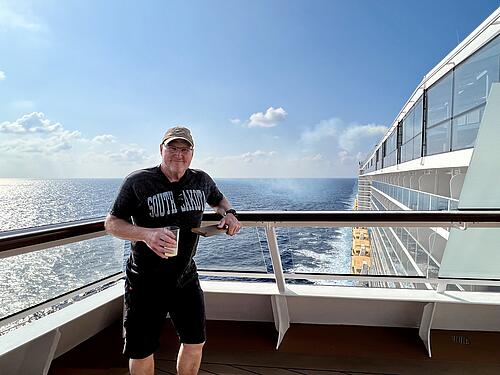 It was unfortunately quite busy in here, but we were able to snag a table and chairs near the side entrance. Mom and dad played cribbage while Angie tried out the Massager Taster event.
Since I am an adjunct instructor (in addition to blogging and my other corporate job), I had to get some grading done for class. I can't complain about the office view though and the Wi-Fi onboard has been pretty good so far.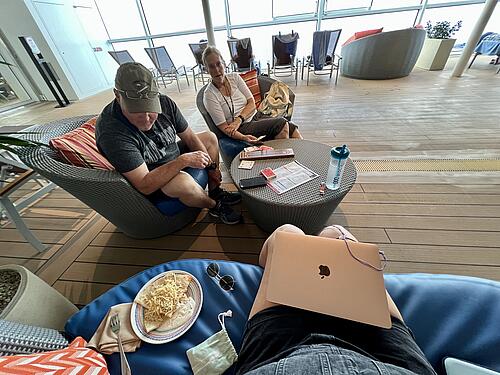 Angie came back from the Massage Taster event with her new favorite cocktail - The Lime & Coconut Cocktail!
I was inspired to head to the El Loco Fresh again for a quick snack, which consisted of cheese and chicken quesadillas with sour cream. I absolutely love this little place on the pool deck for lunch and it hit the spot, again!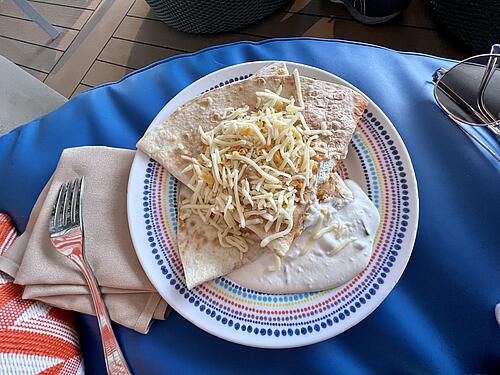 As the sun was starting to set, we went back to our cabin to get ready for formal night. The sunset tonight was so stunning from our balcony that we had to take some pictures.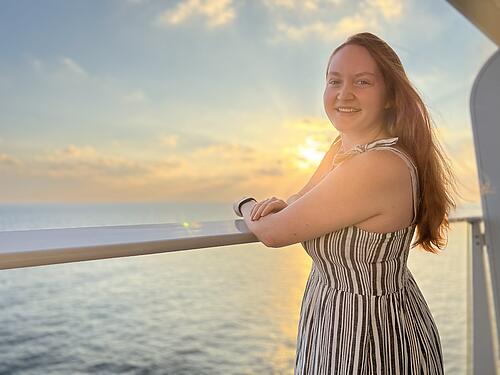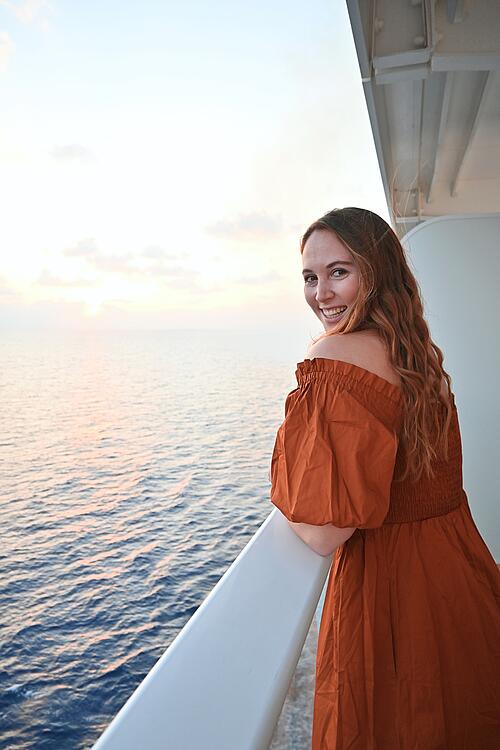 I also realized that our balcony has really nice furniture compared to a standard balcony with a plushy seat, back support pillow and padded footrest. I am definitely going to be spending some time tomorrow on the balcony enjoying the calm seas.
Tales of a Lost SeaPass
While heading out the door for dinner, I searched everywhere for my SeaPass card to no avail. I knew I must have left my SeaPass (on a lanyard) in the Solarium during our afternoon visit.
Before going to dinner, I made my way back to our chairs to find that everything was already cleaned up. I asked the gentleman sitting if he had seen my SeaPass, and he said no.
I then made my way to the Solarium Bar and asked the bartenders if anyone had handed in a lost SeaPass card. They said no and to check with the towel attendants, as that's where left-behind items go on the pool deck and Solarium.
As I rushed to the towel stand, I realized in all my years of cruising that I have NEVER lost my SeaPass card! Walking up to the towel station, I saw a handful of lost and found items. Low and behold, my SeaPass was there in my lanyard.
Although I knew they could just make me a new SeaPass card if the key was really lost, it was a relief to just get it back and move on.
Coastal Kitchen for Dinner
We made reservations yesterday to dine at Coastal Kitchen tonight, as junior suite guests can dine here on a per-availability basis. We were told that reservations can only be made on a daily basis given the number of Pinnacle guests onboard.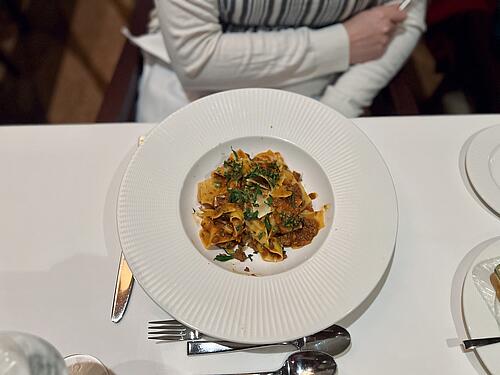 I've heard from some people that they love Coastal Kitchen because it's a great, elevated dining option for suite guests; on the other hand, I've heard from others (like our very own Matt Hochberg) that Coastal Kitchen isn't necessarily anything special or worth the hype.
After tonight's experience, I'd have to agree with Matt that Coastal Kitchen isn't something I'd rave about.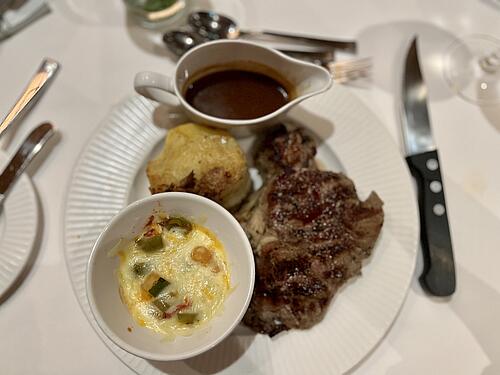 On a positive note, our waitress was very sweet and the dining space is really gorgeous with floor to ceiling windows. It was nice to be in a more intimate dining environment and try something new. However, the food wasn't anything special even though we had expectations that it would be better than the dining room.
For dinner, dad and I ordered the rib eye steak while Angie ordered a pasta dish and mom ordered a seafood dish. The rib eye was excellent and Angie enjoyed her pasta. Mom wasn't wowed by her fish or her lobster salad starter either. Dad and I didn't love the potatoes or ratatouille served with the steak and Angie felt her soup starter lacked flavor. 
Dessert consisted of a chocolate bar, cheesecake, creme brulee and apple blossom - most of these are available in the dining room.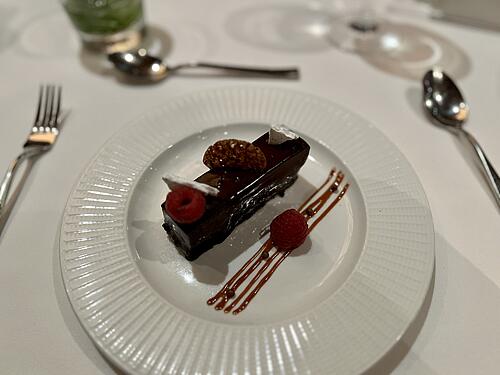 During dinner, the entire room felt a little too quiet and maybe even too stuffy for our liking. For reference, we are a pretty loud family so we don't ever feel like we need to keep it down with the commotion of the main dining room.
Everyone in Coastal Kitchen had their Pinnacle pins on; we joked that we need to order fake Pinnacle pins off Ebay so we can fit in better next time! Our eyes widened as we heard one couple say how they book two separate junior suites for cruises so they can earn four points per night of their cruise - and they've taken 62 cruises. Another couple responded, "You've ONLY done 62 cruises?"
As my mom stated, perhaps we are just more meat-and-potato folks. We might need to give Coastal Kitchen another try depending on the different menu offerings, but we were unfortunately not super impressed tonight with the experience. 
Tomorrow we are dining at Giovanni's Italian Kitchen, which is new to all of us! We've dined at the old Giovanni's Table and Jamie's Italian, but have not tried the reimagined Giovani's Kitchen.