In:
Ciao from Roma, Italia! Our next live blog will be coming daily from Europe onboard Odyssey of the Seas.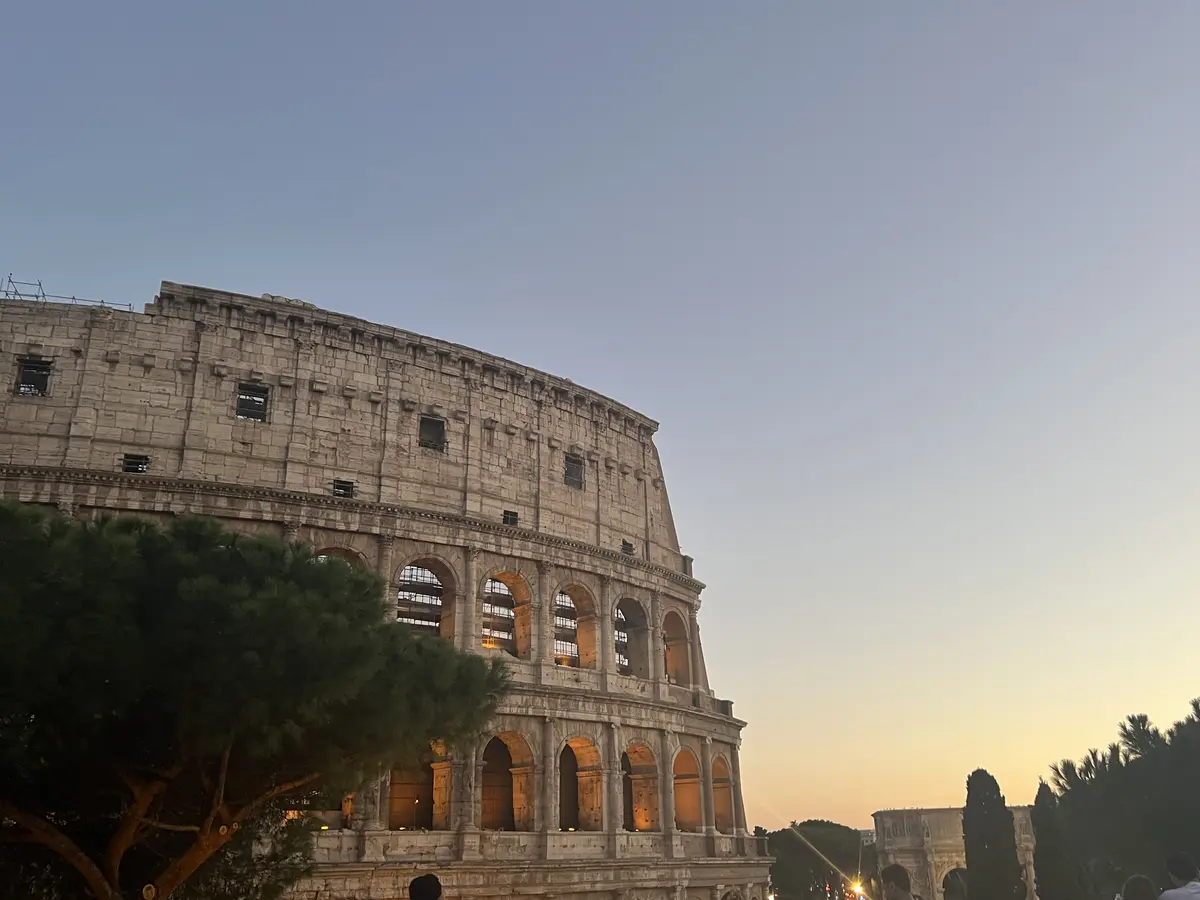 I'm excited to share that I'll be cruising for the next 12 nights on a much-anticipated cruise to the Holy Land; this cruise includes three days in Israel, along with stops in Limmasol (Cyprus), Santorini (Greece), Rhodes (Greece) and Chania (Greece)
During our time in Israel, Odyssey will dock overnight for two days in Jerusalem (Ashdod) and finish with one day in Haifa.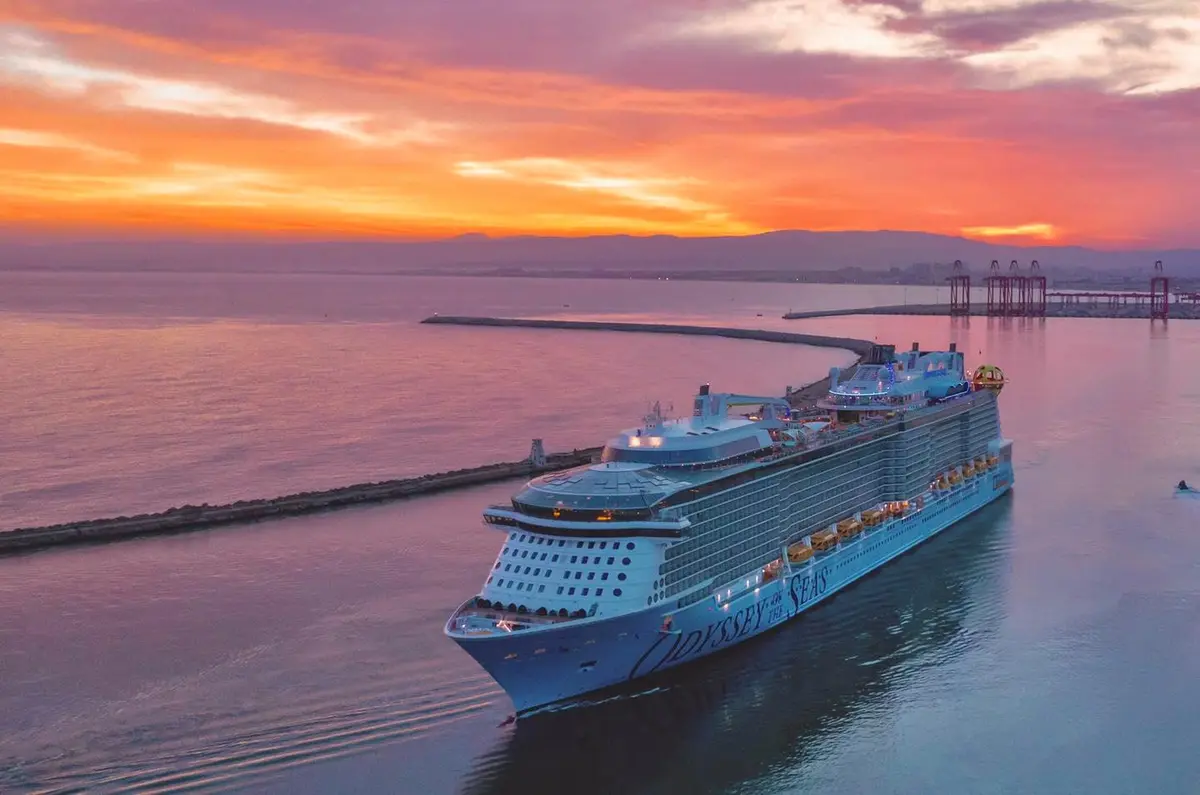 This is a special cruise, as it has been on my dad's bucket list for years. We had to postpone this one many times due to the pandemic, but we are so thrilled to be onboard and heading to Israel!
For this cruise, I'm sailing with Angie, my sister and social media manager for Royal Caribbean Blog. We are also joined by our parents, but we won't make them work too hard during this cruise!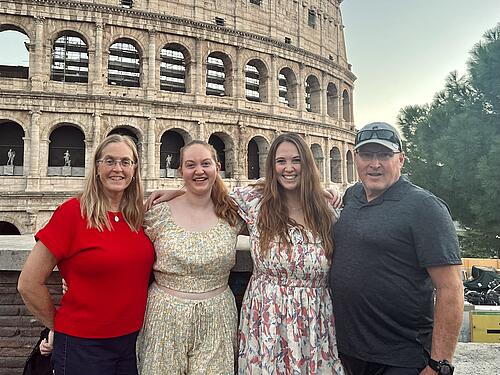 Europe is my absolute favorite place to cruise in the world; the European itineraries are jam-packed with so many destinations rich in culture. This is my eighth time cruising in Europe and my third time onboard a Quantum-class ship.
Traveling to Rome
Cruising in Europe is a great cruise choice for many reasons, but one of my favorites is the opportunity to explore new cities and countries before the cruise departs.
My sister and I traveled from Florida to Paris, France last week to spend a few days in the city of love. We met up with my dear friend, Rosina, whom I actually met at the teen club on a cruise more than 14 years ago! Although I'd been to Paris on a cruise once before, having a full four days to see this incredible city was the perfect start to our cruise vacation.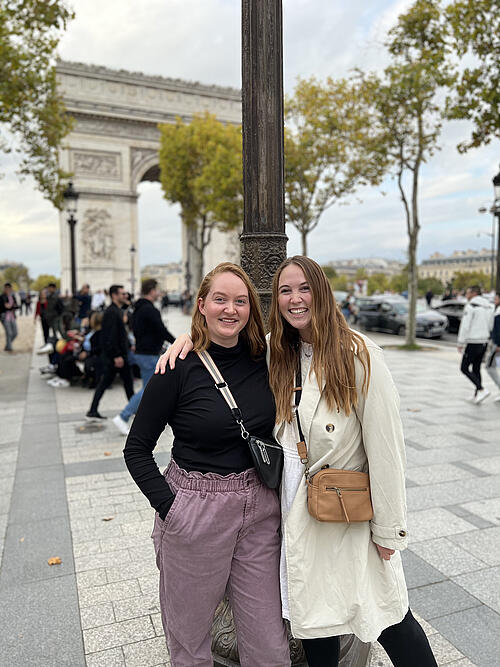 Yesterday, we flew from Paris to Rome on a cheap EasyJet flight where we met up with my parents at the airport. My parents' flight landed on Tuesday morning, just in time for our cruise to depart on Wednesday.
Personally, I would recommend arriving in an international cruise destination at least two days before. This gives you more time to get adjusted to the time zone and accounts for any potential delays you might encounter. Also, this gives you a full day to explore your cruise departure city!
After meeting up with our jet-lagged parents, we made our way into Rome and enjoyed dinner before visiting the Trevi Fountain, Colosseum and Spanish Steps.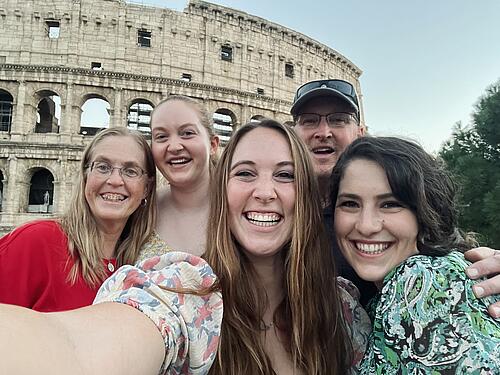 We stayed the night at Crowne Plaza - St. Peters due to its proximity to the city, airport and cruise port. I'd highly recommend staying in this area.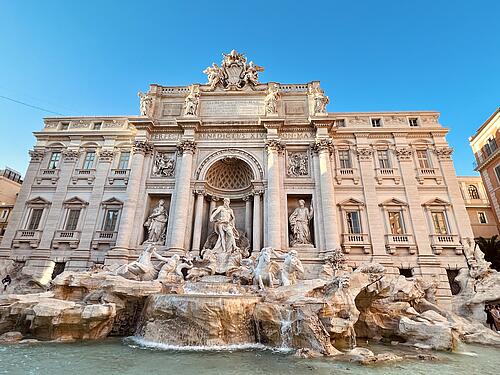 Getting to the Port
After a restful night's sleep, we took a private transfer that we arranged on Viator from our hotel to the port city of Civitavecchia.
There are multiple ways to get to the port from Rome, such as train, bus or taxi, but a scheduled transfer was both relaxing and convenient. Our private transfer was booked for $50 each while the hotel was charging $70 each for a large shuttle bus transfer. We saw the lobby filled with fellow cruisers waiting in a long line for the shuttles and taxis.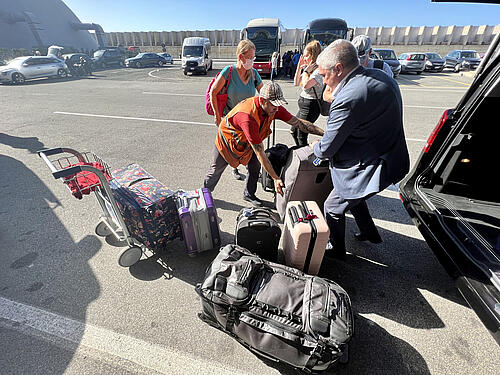 The drive to Civitavecchia took about an hour, getting us to the port around 11:00am. Although we were slotted for a 12:00pm boarding time, there was no issue with us getting onboard earlier.
Embarkation was an absolute breeze - much smoother than any embarkation I've experienced stateside! Since this cruise is 12 nights, we had to take a self-monitored Covid-19 test and present negative results before boarding. We were not asked to show our vaccination cards when boarding.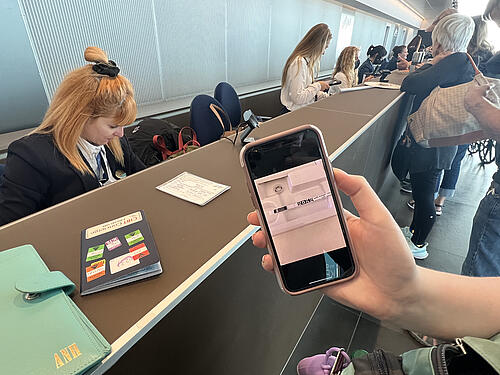 Angie and I both brought Covid-19 home tests to Paris and took these at our hotel before flying to Rome. 
Getting Acquainted
Once onboard Odyssey of the Seas, we went straight to Giovanni's Italian Kitchen to schedule dinner, which allows us to use our BOGO diamond specialty dining benefit.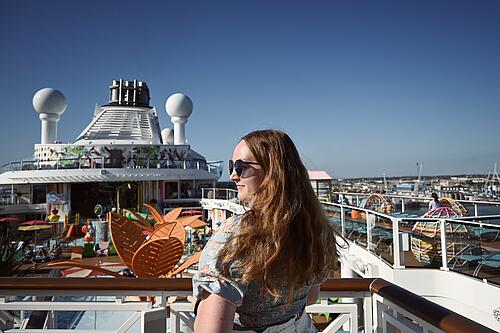 We also made a reservation for Chops Grille for tonight to utilize all of the BOGO deals between the four of us.
Although the benefit states you need to dine on Day 1 or 2, we've found that most of the time you can prepay on the first or second day and then dine on a later date.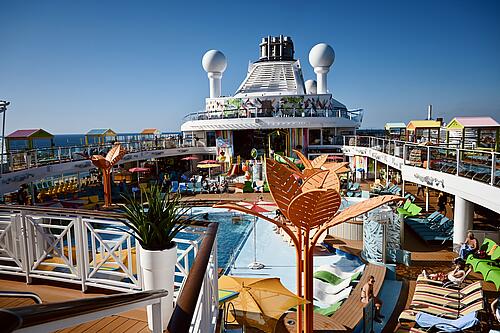 Since we are staying in a Junior Suite for this cruise, I also went to Coastal Kitchen to make a reservation for tomorrow night. We've never dined in Coastal Kitchen before, so we are excited to see what the hype's about. 
Lunch started at the Solarium Bistro, but everything we tried was cold so we made our way to El Loco Fresh. I haven't sailed on a ship with this dining option, so I was ready to try it out!
I really enjoyed my chicken burrito and Angie also liked her quesadilla.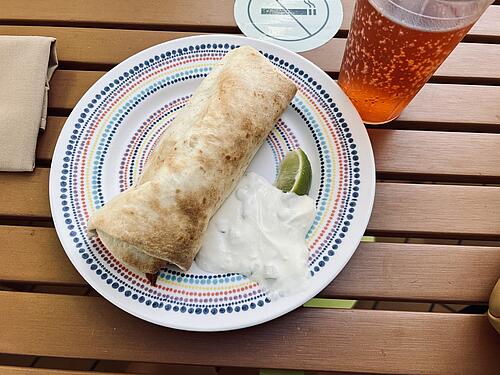 We finished the meal with a creamy mudslide cocktail, made with ice cream fresh from the pool deck machine. It was divine!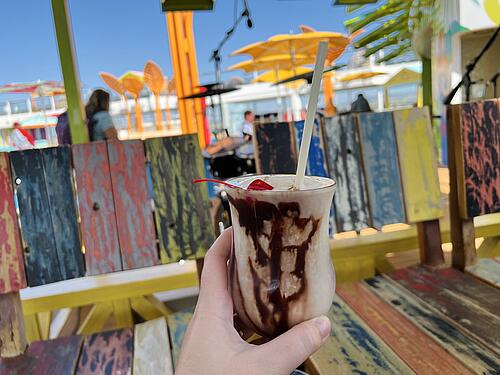 The Suite Life
You might know me as the cheap cruise expert, but sometimes I do like to splurge. Although we originally booked a cheap inside cabin (per usual), we upgraded our room twice during the pre-cruise process.
We booked our inside cabin right when this itinerary was announced in 2020. Back in February, we repriced our cabins and saved $1,400 on our inside cabin while my parents saved $2,400 on their balcony stateroom. 
Book early and reprice often is always the way to go!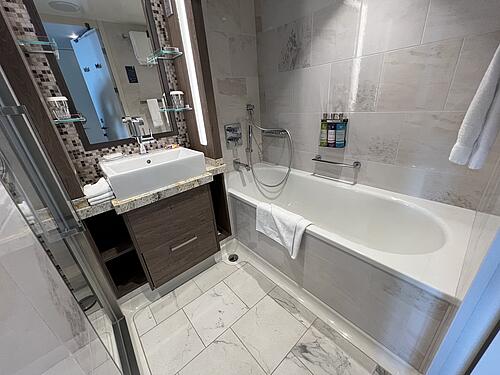 Just a few months ago, I upgraded us to a balcony guarantee for free since the price was slightly less than we paid. When we had the chance to bid on a suite during the Royal Up process, we bid $300 each and were awarded a mid-ship junior suite!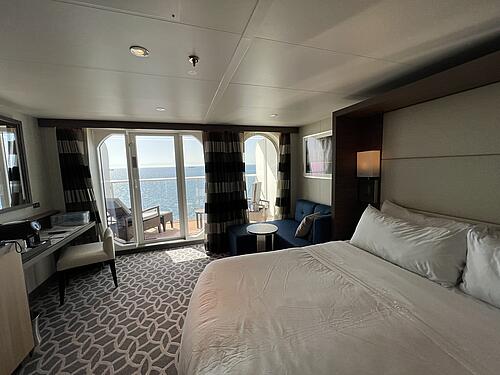 I'm anxious to see if the suite life is worth the price. For this cruise, we are paying right around $100 per person per day before gratuities.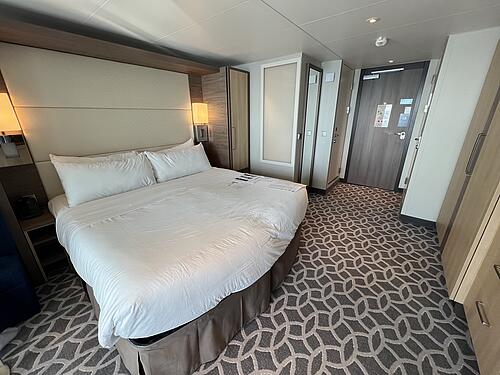 Our room is equally gorgeous as it is spacious. After sailing almost exclusively in inside cabins, it feels like pure luxury.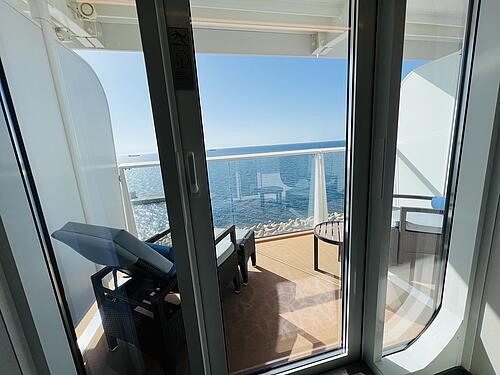 We have a large balcony, bathtub, walk-in shower, and (the best part of all) a separate area with a toilet and additional sink. Our initial impressions of the stateroom were extremely positive - maybe I need to start upgrading myself more often!
The North Star
After making dinner reservations and finding our stateroom, we headed to Deck 14 for our North Star reservation.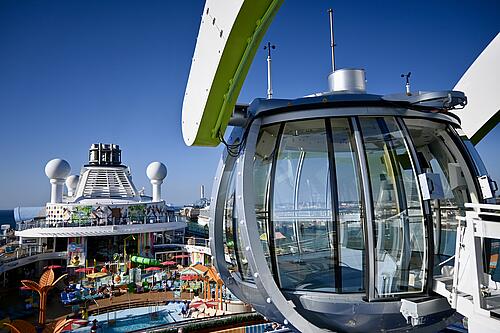 I've heard before to make a reservation on the first day to try North Star - I'm so glad we did! We were able to get a reservation for 3:30pm and this allowed us to see the port and ship from above.
With a small group, we were launched into the air and given some really cool views of the ship and port area. Although I've sailed on both Spectrum of the Seas and Anthem of the Seas, this was my first time trying the North Star!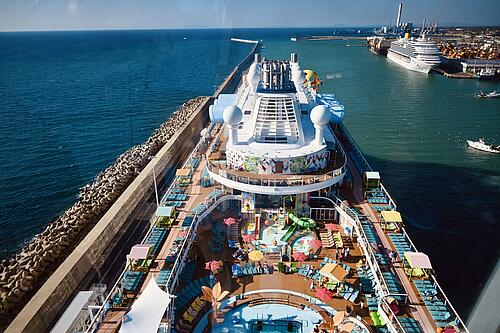 Although it was a cool thing to do once, I wouldn't say it's an absolute must-do and I don't know if I would pay to do it. While in port, you aren't able to go off the side of the ship like they are able to do at sea; therefore, the complimentary ride (available during port days) is shorter. 
Right by the launching pad of the North Star was the Lime & Coconut bar. We decided to try the signature 'Lime & Coconut' cocktail, served in a little Malibu bucket. The cocktail was sweet with creamy coconut. It was so good that Angie and I ordered a second round!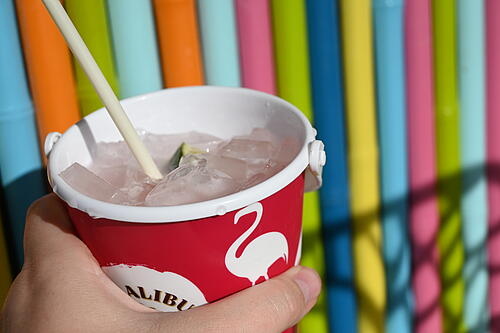 Chops Grille
Since my dad prefers eating dinner very early, I wasn't on the top deck to watch our sail away. Instead, we had a 5:45pm reservation at Chops Grille.
I tend to order the same thing every time I dine at Chops Grille - and it's becoming my new routine to dine there on the first night of every cruise. This allows us to use our BOGO specialty dining benefit and it also keeps me out of the main dining room for the first night.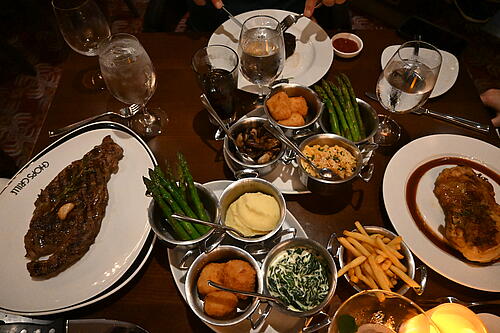 I've learned that Royal Caribbean serves the same Day 1 menu in the main dining room on practically every cruise, regardless of where I sail - and it's just not my favorite menu. 
Upon entering Chops Grille, we saw a familiar face at the check-in counter, but couldn't quite put our fingers on it. We asked what ships the gentleman had worked on; he listed a variety of ships but nothing helped ring a bell.
Finally, he listed at the end of his long list "Spectrum of the Seas" and we all perked up. He was our waiter for our last family cruise from Shanghai to Japan in 2019 where we dined in the Silver Lounge each evening. It's always fun to see familiar faces onboard and reminisce on cruising memories!
For dinner, we enjoyed the thick-cut bacon and crab cakes as starters, followed by creamy wild mushroom soup. Angie doesn't love steak so she chooses the chicken while the rest of us enjoyed tender fillets and flavorful ribeyes.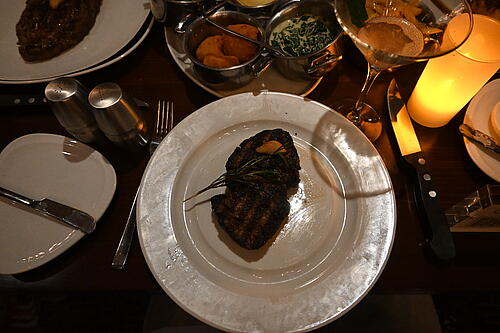 We ended dinner with an assortment of desserts, including key lime pie, chocolate cake and red velvet cake. Everything was wonderful and tasted great. The key lime pie is a showstopper in Chops Grille for us!
I ended the evening with a quiet, relaxing night in the cabin working on this blog and editing photos. Tonight's entertainment was a 50s and 60s Tribute show, which speaks to the general demographic of this itinerary based on my observations.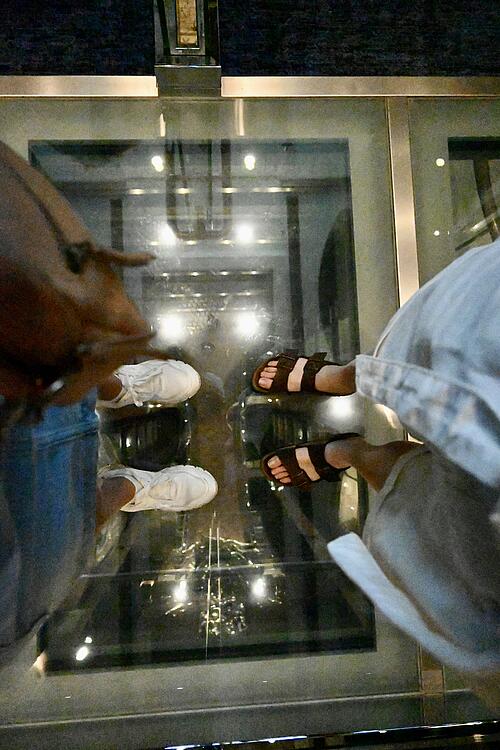 Angie attended the evening show with my parents and said she enjoyed listening to the music. Our parents have yet to return to their stateroom for the night - how the tables have turned!
Tomorrow is a sea day, which is very much needed after five busy days of exploring, touring and walking all over Paris and Rome. I plan to do a lot of sleeping and napping, along with catching up on some work. 
Stray Observations
One of the biggest observations we all made was the sheer number of guests wearing Pinnacle pins. For those who don't know, this is the highest tier of loyalty one can reach with Royal Caribbean and these exclusive guests receive an engraved name tag. These are worn with great pride by Pinnacle members - or so I've been told!
I've truly never seen so many people wearing Pinnacle pins on a cruise. Our server tonight confirmed there is a supposedly a 'record-breaking' number of Pinnacle guests onboard, which explains this unique observation.
This could make it difficult for us to get Coastal Kitchen reservations, as Junior Suite guests are lowest priority and can only dine for dinner if there's availability.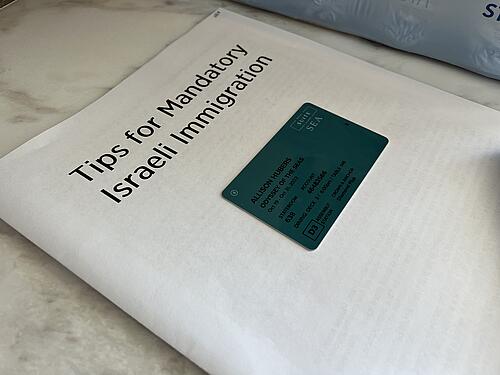 As I mentioned, the demographics on this cruise are certainly on the older side - a stark contrast from my last cruise on Carnival Ecstasy, which was a wild weekend cruise to Mexico from Mobile, Alabama for Cruise.Blog. 
My parents are in their 60s and we would guess that's the average age of most cruisers onboard. This tends to be more common based on my experiences in European cruising, especially on the longer itineraries.
My dad tried to order a Miami Vice twice and apparently the ship is out of the strawberry mix! We will see if this continues to be true in the coming days.